Construction and Characterization of a Humanized Anti-Epstein-Barr Virus gp350 Antibody with Neutralizing Activity in Cell Culture
1
Laboratory of Viral Pathogenesis, Research Centre, CHU Sainte-Justine, Montréal, QC H3T 1C5, Canada
2
Department of Microbiology, Infectiology and Immunology, University of Montreal, 3175 Côte Ste-Catherine Road, Montreal, QC H3T 1C5, Canada
*
Author to whom correspondence should be addressed.
Received: 28 February 2018 / Revised: 30 March 2018 / Accepted: 4 April 2018 / Published: 9 April 2018
Abstract
Acute Epstein-Barr virus (EBV) infection in immunosuppressed transplant patients can give rise to a malignant B-cell proliferation known as post-transplant lymphoproliferative disease (PTLD). The EBV major virion surface glycoprotein (gp)350 is a principal target of naturally occurring neutralizing antibodies and is viewed as the best target to prevent acute infection and PTLD in at-risk transplant recipients. We have constructed a humanized (hu) version of the murine anti-gp350 neutralizing monoclonal antibody 72a1. The hu72a1 IgG1 antibody displayed no significant anti-mouse activity, recognized both gp350 and its splice variant gp220 as well as a gp350 peptide that was shown to constitute the principal EBV gp350 neutralizing epitope when tested in immunoassays. Hu72a1 antibody blocked in vitro EBV infection of B cells at a level which equaled that of a mouse-human chimeric 72a1 antibody construct. This work provides a further structural and immunological understanding of the 72a1 antibody interaction with EBV gp350, and constitutes a launch point for future anti-EBV therapeutic antibodies designed to block EBV infection and prevent PTLD while eliminating the deleterious antigenic murine features of the original 72a1 antibody.
View Full-Text
►

▼

Figures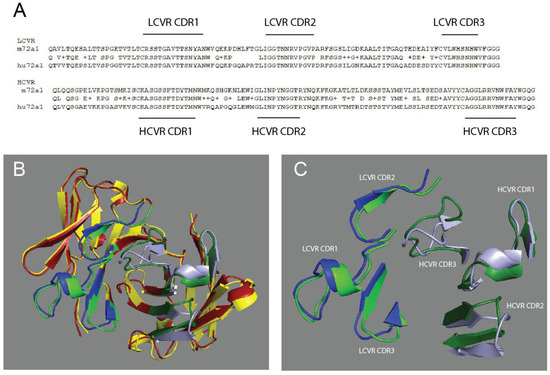 Figure 1
This is an open access article distributed under the
Creative Commons Attribution License
which permits unrestricted use, distribution, and reproduction in any medium, provided the original work is properly cited (CC BY 4.0).

Share & Cite This Article
MDPI and ACS Style
Tanner, J.E.; Hu, J.; Alfieri, C. Construction and Characterization of a Humanized Anti-Epstein-Barr Virus gp350 Antibody with Neutralizing Activity in Cell Culture. Cancers 2018, 10, 112.
Note that from the first issue of 2016, MDPI journals use article numbers instead of page numbers. See further details here.
Related Articles
Comments
[Return to top]