Open Access This article is
freely available
re-usable
Review
Aptamer Therapeutics in Cancer: Current and Future
1
Stephenson Cancer Center, University of Oklahoma Health Sciences Center, 975 NE 10th, BRC-W, Rm 1415, Oklahoma City, OK 73104, USA
2
McGovern Medical School, Institute of Molecular Medicine, University of Texas Health Science Center at Houston, 1825 Hermann Pressler, Houston, TX 77030, USA
3
Department of Pathology, College of Medicine, University of Oklahoma Health Sciences Center, 940 SL Young Blvd, Oklahoma City, OK 73104, USA
*
Author to whom correspondence should be addressed.
Received: 11 February 2018 / Accepted: 15 March 2018 / Published: 19 March 2018
Abstract
:
Aptamer-related technologies represent a revolutionary advancement in the capacity to rapidly develop new classes of targeting ligands. Structurally distinct RNA and DNA oligonucleotides, aptamers mimic small, protein-binding molecules and exhibit high binding affinity and selectivity. Although their molecular weight is relatively small—approximately one-tenth that of monoclonal antibodies—their complex tertiary folded structures create sufficient recognition surface area for tight interaction with target molecules. Additionally, unlike antibodies, aptamers can be readily chemically synthesized and modified. In addition, aptamers' long storage period and low immunogenicity are favorable properties for clinical utility. Due to their flexibility of chemical modification, aptamers are conjugated to other chemical entities including chemotherapeutic agents, siRNA, nanoparticles, and solid phase surfaces for therapeutic and diagnostic applications. However, as relatively small sized oligonucleotides, aptamers present several challenges for successful clinical translation. Their short plasma half-lives due to nuclease degradation and rapid renal excretion necessitate further structural modification of aptamers for clinical application. Since the US Food and Drug Administration (FDA) approval of the first aptamer drug, Macugen® (pegaptanib), which treats wet-age-related macular degeneration, several aptamer therapeutics for oncology have followed and shown promise in pre-clinical models as well as clinical trials. This review discusses the advantages and challenges of aptamers and introduces therapeutic aptamers under investigation and in clinical trials for cancer treatments.
Keywords:
aptamer; cancer; targeted therapy
Acknowledgments
This work was supported by the National Institutes of Health (1R01CA160271-01A1 to T.T).
Conflicts of Interest
The authors declare no conflict of interest. The funding sponsors had no role in the design of the study; in the collection, analyses, or interpretation of data; in the writing of the manuscript, and in the decision to publish the results.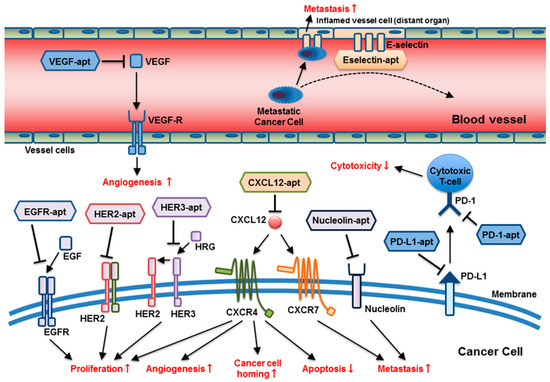 Figure 1. The broad range of molecular targets and targeting mechanisms of anti-cancer aptamers: Aptamers target multiple molecular pathways involving tumor progression and metastasis, including cancer cell proliferation, cell homing, apoptosis suppression, metastasis, impairment of T-cell cytotoxicity, and angiogenesis at different locations. (apt = aptamer).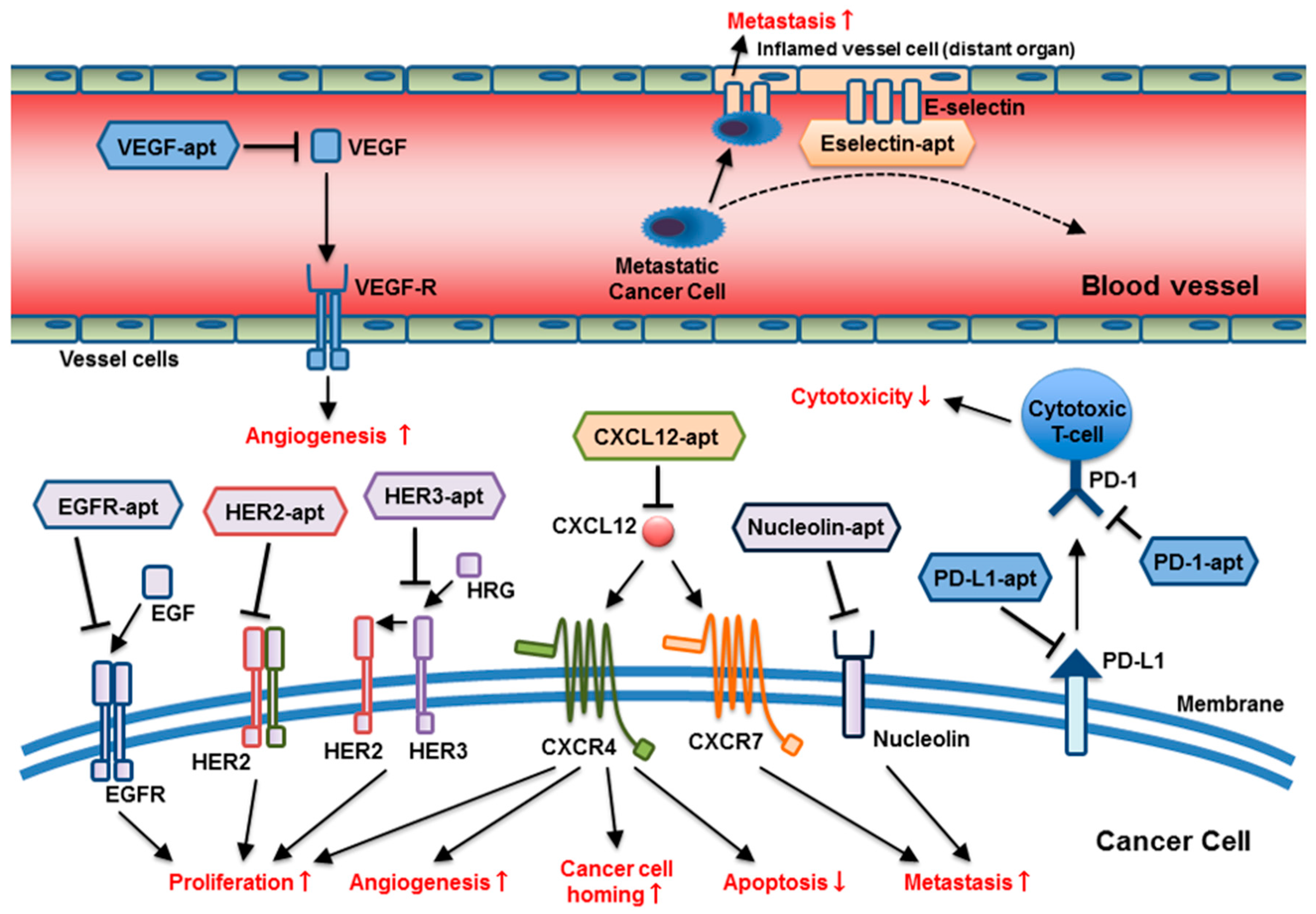 Aptamer Name
Targets
References
ARC126 (RNA)
AX102 (RNA)
PDGF-B
Akiyama, Kachi et al., 2006 [96], Sennino, Falcon et al., 2007 [97]
SL (2)-B (DNA)
RNV66 (DNA)
VEGF-165
Kaur, Li et al., 2013 [98], Gantenbein, Sarikaya et al., 2015 [99]
AS1411 (DNA)
Nucleolin
Ireson and Kelland 2006 [100], Bates, Laber et al., 2009 [101], Mongelard and Bouvet 2010 [102]
FCL-II (DNA, modified form AS1411)
Fan, Sun et al., 2017 [103]
NOX-A12 (RNA)
CXCL12
Vater, Sahlmann et al., 2013 [104], Liu, Alomran et al., 2014 [105], Hoellenriegel, Zboralski et al., 2014 [106], Zboralski, Hoehlig et al., 2017 [107]
E0727 (RNA)
CL428 (RNA)
KDI130 (RNA)
TuTu2231 (RNA)
EGFR
Li, Nguyen et al., 2011 [8], Esposito, Passaro et al., 2011 [7], Wan, Tamuly et al., 2013 [108], Buerger, Nagel-Wolfrum et al., 2003 [109], Wang, Song et al., 2014 [110]
Trimeric apt (DNA)
HER2
Kim and Jeong 2011 [111], Mahlknecht, Maron et al., 2013 [112]
PNDA-3 (DNA)
Periostin
Lee, Kim et al., 2013 [113]
TTA140,41 (DNA)
GBI-1042 (DNA)
TN-C
Hicke, Stephens et al., 2006 [114], Daniels, Chen et al., 2003 [115], Hicke, Marion et al., 2001 [116]
NAS-24 (DNA)
Vimentin
Zamay, Kolovskaya et al., 2014 [117]
YJ-1 (RNA)
CEA
Lee, Han et al., 2012 [118]
AGE-apt (DNA)
AGE
Ojima, Matsui et al., 2014 [119]
A-P50 (RNA)
NF-κB
Mi, Zhang et al., 2008 [120]
GL21.T (RNA)
Axl
Cerchia, Esposito et al., 2012 [121]
OPN-R3 (RNA)
OPN
Mi, Guo et al., 2009 [122], Talbot, Mi et al., 2011 [123]
AGC03 (DNA)
cy-apt (DNA)
HGC-27
Zhang, Zhang et al., 2014 [124], Cao, Yuan et al., 2014 [125]
BC15 (DNA)
hnRNP A1
Li, Wang et al., 2012 [126]
A9g (RNA)
PSMA
Dassie, Hernandez et al., 2014 [127]
ESTA (DNA)
E-selectin
Mann, Somasunderam et al., 2010 [128], Kang, Hasan et al., 2015 [129], Kang, Blache et al., 2016 [130], Morita, Kamal et al., 2016 [62]
M12-23 (RNA)
4-1 BB
McNamara, Kolonias et al., 2008 [131]
OX40-apt (RNA)
OX40
Dollins, Nair et al., 2008 [132], Pratico, Sullenger et al., 2013 [133]
CD28-apt (RNA)
CD28
Pastor, Soldevilla et al., 2013 [134]
Del60 (RNA)
CTLA-4
Santulli-Marotto, Nair et al., 2003 [135]
PSMA-4-1BB-apt (RNA)
PSMA/4-1BB
Pastor, Kolonias et al., 2011 [136]
CD16

α

/c-Met-apt (RNA)
CD16

α

/c-Met
Eder, Vande Woude et al., 2009 [137]
VEGF-4-1BB apt (DNA)
VEGF/4-1BB
Schrand, Berezhnoy et al., 2014 [138]
MP7 (DNA)
PD-1
Prodeus, Abdul-Wahid et al., 2015 [139]
aptPD-L1 (DNA)
PD-L1
Lai, Huang et al., 2016 [140]
R5A1 (RNA)
IL10R
Berezhnoy, Stewart et al., 2012 [141]
CL-42 (RNA)
IL4Rα
Roth, De La Fuente et al., 2012 [142]
CD44-EpCAM aptamer (RNA)
CD44/EpCAM
Zheng, Zhao et al., 2017 [143]
TIM3Apt (RNA)
TIM3
Hervas-Stubbs, Soldevilla et al., 2016 [144]
CD40apt (RNA)
CD40
Soldevilla, Villanueva et al., 2015 [145]
AptCTLA-4 (DNA)
CTLA-4
Huang, Lai et al., 2017 [146]
AON-D21 l-Aptamer (RNA/DNA)
C5a
Ajona, Ortiz-Espinosa et al., 2017 [147]

© 2018 by the authors. Licensee MDPI, Basel, Switzerland. This article is an open access article distributed under the terms and conditions of the Creative Commons Attribution (CC BY) license (http://creativecommons.org/licenses/by/4.0/).