Protein Biomarkers for Early Detection of Pancreatic Ductal Adenocarcinoma: Progress and Challenges
1
Molecular Biology Program, Memorial Sloan Kettering Cancer Center, New York, NY 10065, USA
2
Department of Surgery, Memorial Sloan Kettering Cancer Center, New York, NY 10065, USA
3
Department of Medicine, Weill Cornell Medical College, New York, NY 10065, USA
4
Department of Medicine, Memorial Sloan Kettering Cancer Center, New York, NY 10065, USA
*
Authors to whom correspondence should be addressed.
Received: 29 November 2017 / Revised: 1 March 2018 / Accepted: 3 March 2018 / Published: 7 March 2018
Abstract
Approximately 75% of patients with pancreatic ductal adenocarcinoma are diagnosed with advanced cancer, which cannot be safely resected. The most commonly used biomarker
CA19-9
has inadequate sensitivity and specificity for early detection, which we define as Stage I/II cancers. Therefore, progress in next-generation biomarkers is greatly needed. Recent reports have validated a number of biomarkers, including combination assays of proteins and DNA mutations; however, the history of translating promising biomarkers to clinical utility suggests that several major hurdles require careful consideration by the medical community. The first set of challenges involves nominating and verifying biomarkers. Candidate biomarkers need to discriminate disease from benign controls with high sensitivity and specificity for an intended use, which we describe as a two-tiered strategy of identifying and screening high-risk patients. Community-wide efforts to share samples, data, and analysis methods have been beneficial and progress meeting this challenge has been achieved. The second set of challenges is assay optimization and validating biomarkers. After initial candidate validation, assays need to be refined into accurate, cost-effective, highly reproducible, and multiplexed targeted panels and then validated in large cohorts. To move the most promising candidates forward, ideally, biomarker panels, head-to-head comparisons, meta-analysis, and assessment in independent data sets might mitigate risk of failure. Much more investment is needed to overcome these challenges. The third challenge is achieving clinical translation. To moonshot an early detection test to the clinic requires a large clinical trial and organizational, regulatory, and entrepreneurial know-how. Additional factors, such as imaging technologies, will likely need to improve concomitant with molecular biomarker development. The magnitude of the clinical translational challenge is uncertain, but interdisciplinary cooperation within the PDAC community is poised to confront it.
View Full-Text
►

▼

Figures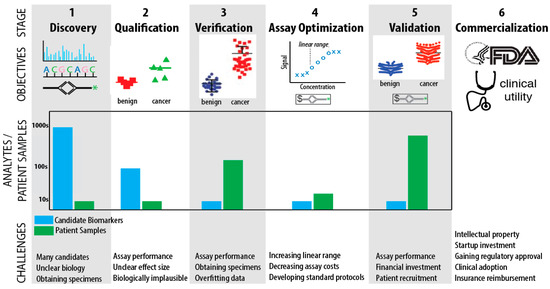 Figure 1
This is an open access article distributed under the
Creative Commons Attribution License
which permits unrestricted use, distribution, and reproduction in any medium, provided the original work is properly cited (CC BY 4.0).

Share & Cite This Article
MDPI and ACS Style
Root, A.; Allen, P.; Tempst, P.; Yu, K. Protein Biomarkers for Early Detection of Pancreatic Ductal Adenocarcinoma: Progress and Challenges. Cancers 2018, 10, 67.
Note that from the first issue of 2016, MDPI journals use article numbers instead of page numbers. See further details here.
Related Articles
Comments
[Return to top]