Mitochondrial VDAC1 Silencing Leads to Metabolic Rewiring and the Reprogramming of Tumour Cells into Advanced Differentiated States
Department of Life Sciences, The National Institute for Biotechnology in the Negev, Ben-Gurion University of the Negev, Beer-Sheva 84105, Israel
*
Author to whom correspondence should be addressed.
†
Contributed equal to these authors.
‡
Present address: Department of Cell, Developmental & Regenerative Biology, Icahn School of Medicine at Mount Sinai, New York, NY 10029, USA
Received: 24 October 2018 / Revised: 27 November 2018 / Accepted: 4 December 2018 / Published: 8 December 2018
Abstract
Oncogenic properties, along with the metabolic reprogramming necessary for tumour growth and motility, are acquired by cancer cells. Thus, tumour metabolism is becoming a target for cancer therapy. Here, cancer cell metabolism was tackled by silencing the expression of voltage-dependent anion channel 1 (VDAC1), a mitochondrial protein that controls cell energy, as well as metabolic and survival pathways and that is often over-expressed in many cancers. We demonstrated that silencing VDAC1 expression using human-specific siRNA (si-hVDAC1) inhibited cancer cell growth, both in vitro and in mouse xenograft models of human glioblastoma (U-87MG), lung cancer (A549), and triple negative breast cancer (MDA-MB-231). Importantly, treatment with si-hVDAC1 induced metabolic rewiring of the cancer cells, reversing their oncogenic properties and diverting them towards differentiated-like cells. The si-hVDAC1-treated residual "tumour" showed reprogrammed metabolism, decreased proliferation, inhibited stemness and altered expression of genes and proteins, leading to cell differentiation toward less malignant lineages. These VDAC1 depletion-mediated effects involved alterations in master transcription factors associated with cancer hallmarks, such as highly increased expression of p53 and decreased expression of HIF-1a and c-Myc that regulate signalling pathways (e.g., AMPK, mTOR). High expression of p53 and the pro-apoptotic proteins cytochrome c and caspases without induction of apoptosis points to functions for these proteins in promoting cell differentiation. These results clearly show that VDAC1 depletion similarly leads to a rewiring of cancer cell metabolism in breast and lung cancer and glioblastoma, regardless of origin or mutational status. This metabolic reprogramming results in cell growth arrest and inhibited tumour growth while encouraging cell differentiation, thus generating cells with decreased proliferation capacity. These results further suggest VDAC1 to be an innovative and markedly potent therapeutic target.
View Full-Text
►

▼

Figures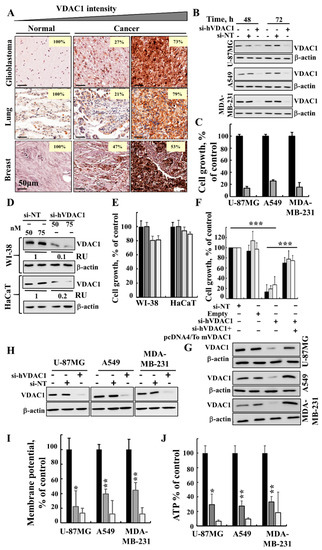 Figure 1
This is an open access article distributed under the
Creative Commons Attribution License
which permits unrestricted use, distribution, and reproduction in any medium, provided the original work is properly cited (CC BY 4.0).

Share & Cite This Article
MDPI and ACS Style
Arif, T.; Paul, A.; Krelin, Y.; Shteinfer-Kuzmine, A.; Shoshan-Barmatz, V. Mitochondrial VDAC1 Silencing Leads to Metabolic Rewiring and the Reprogramming of Tumour Cells into Advanced Differentiated States. Cancers 2018, 10, 499.
Note that from the first issue of 2016, MDPI journals use article numbers instead of page numbers. See further details here.
Related Articles
Comments
[Return to top]