Helicobacter pylori

Infection-Induced Hepatoma-Derived Growth Factor Regulates the Differentiation of Human Mesenchymal Stem Cells to Myofibroblast-Like Cells

1

Division of Gastroenterology, Department of Internal Medicine, Kaohsiung Medical University Hospital, 100 Tz-You 1st road, Kaohsiung 807, Taiwan

2

Center for Stem Cell Research, Kaohsiung Medical University, 100 Shih-Chuan 1st road, Kaohsiung 807, Taiwan

3

Department of Internal Medicine, Kaohsiung Municipal Hsiao-Kang Hospital, 482 Shanming Road, Kaohsiung 812, Taiwan

4

School of Medicine, College of Medicine, E-Da Hospital, I-Shou University, 1 Yida Road, Yanchao District, Kaohsiung City 824, Taiwan

5

Department of Medicine, Faculty of Medicine, College of Medicine, Kaohsiung Medical University, 100 Shih-Chuan 1st Road, Kaohsiung 807, Taiwan

6

Department of Chemistry, National Sun Yat-sen University, 70 Lienhai Rd., Kaohsiung 804, Taiwan

7

Institute of Biomedical Science, National Sun Yat-sen University, 70 Lienhai Rd., Kaohsiung 804, Taiwan

*

Author to whom correspondence should be addressed.

Received: 22 October 2018 / Revised: 24 November 2018 / Accepted: 29 November 2018 / Published: 30 November 2018
Abstract
Hepatoma-derived growth factor (HDGF) plays a critical role in tumor cell proliferation, anti-apoptosis, VEGF expression, lymph node metastasis and poor prognosis in human gastric cancer. Gastric cancer, as one of the most prevalent cancers worldwide, is the second leading cause of cancer-related mortality in the world for the prognosis of gastric cancer is generally poor, especially in patients with advanced stage.
Helicobacter pylori
(
H. pylori
) infection causes the chronic inflammation of stomach as well as the development of gastric cancer, with a three to six-fold increased risk of gastric cancer. Carcinoma-associated fibroblasts (CAFs) are myofibroblasts in tumor microenvironment, which possess various abilities to promote the progression of cancer by stimulating neoangiogenesis, proliferation, migration, invasion and therapy resistance of tumor cell. Mesenchymal stem cells (MSCs) are reported to promote tumor malignance through differentiation of MSCs toward CAFs. In the present study, we demonstrated that
H. pylori
infection promotes HDGF expression in human gastric cancer cells. HBMMSCs treated with HDGF assume properties of CAF-like myofibroblastic phenotypes, including expression of myofibroblast markers (α-smooth muscle actin (α-SMA), procollagen α1, tropomyoson I, desmin, fibroblast activation protein (FAP)), and fibroblast markers (prolyl-4-hydroxylase A1 (PHA1) and fibroblast specific protein-1 (FSP-1)/S100A4). HDGF recruits HBMMSCs, and then HBMMSCs further contributes to cell survival and invasive motility in human gastric cancer cells. Treatment of HDGF neutralizing antibody (HDGF-NAb) and serum significantly inhibit HDGF-regulated differentiation and recruitment of HBMMSCs. These findings suggest that HDGF might play a critical role in gastric cancer progress through stimulation of HBMMSCs differentiation to myofibroblast-like cells.
View Full-Text
►

▼

Figures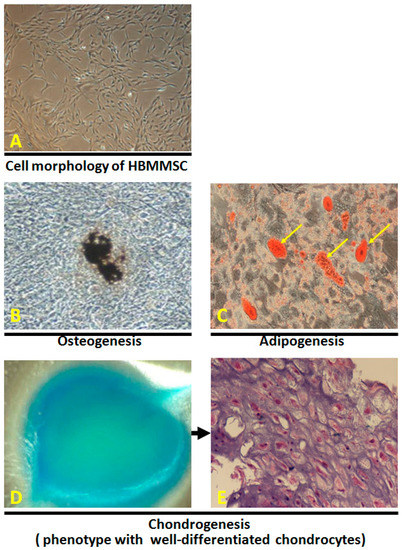 Figure 1
This is an open access article distributed under the
Creative Commons Attribution License
which permits unrestricted use, distribution, and reproduction in any medium, provided the original work is properly cited (CC BY 4.0).

Share & Cite This Article
MDPI and ACS Style
Liu, C.-J.; Wang, Y.-K.; Kuo, F.-C.; Hsu, W.-H.; Yu, F.-J.; Hsieh, S.; Tai, M.-H.; Wu, D.-C.; Kuo, C.-H. Helicobacter pylori Infection-Induced Hepatoma-Derived Growth Factor Regulates the Differentiation of Human Mesenchymal Stem Cells to Myofibroblast-Like Cells. Cancers 2018, 10, 479.
Note that from the first issue of 2016, MDPI journals use article numbers instead of page numbers. See further details here.
Related Articles
Comments
[Return to top]