Prolonged Idasanutlin (RG7388) Treatment Leads to the Generation of p53-Mutated Cells
1
Department of Organic Chemistry, Faculty of Chemistry, Jagiellonian University, Gronostajowa 2, 30-387 Krakow, Poland
2
Department of Endocrinology, Medical Faculty, Jagiellonian University Medical College, Kopernika 17, 31-501 Krakow, Poland
3
Department of Cell Biology, Faculty of Biochemistry, Biophysics and Biotechnology, Jagiellonian University, Gronostajowa 7, 30-387 Krakow, Poland
4
Department of Biophysics, Faculty of Biochemistry, Biophysics and Biotechnology, Jagiellonian University, Gronostajowa 7, 30-387 Krakow, Poland
*
Author to whom correspondence should be addressed.
Received: 11 September 2018 / Revised: 17 October 2018 / Accepted: 22 October 2018 / Published: 24 October 2018
Abstract
The protein p53 protects the organism against carcinogenic events by the induction of cell cycle arrest and DNA repair program upon DNA damage. Virtually all cancers inactivate p53 either by mutations/deletions of the
TP53
gene or by boosting negative regulation of p53 activity. The overexpression of MDM2 protein is one of the most common mechanisms utilized by p53
wt
cancers to keep p53 inactive. Inhibition of MDM2 action by its antagonists has proved its anticancer potential in vitro and is now tested in clinical trials. However, the prolonged treatment of p53
wt
cells with MDM2 antagonists leads to the development of secondary resistance, as shown first for Nutlin-3a, and later for three other small molecules. In the present study, we show that secondary resistance occurs also after treatment of p53
wt
cells with idasanutlin (RG7388, RO5503781), which is the only MDM2 antagonist that has passed phase II and entered phase III clinical trials, so far. Idasanutlin strongly activates p53, as evidenced by the induction of p21 expression and potent cell cycle arrest in all the three cell lines tested, i.e., MCF-7, U-2 OS, and SJSA-1. Notably, apoptosis was induced only in SJSA-1 cells, while MCF-7 and U-2 OS cells were able to restore the proliferation upon the removal of idasanutlin. Moreover, idasanutlin-treated U-2 OS cells could be cultured for long time periods in the presence of the drug. This prolonged treatment led to the generation of p53-mutated resistant cell populations. This resistance was generated de novo, as evidenced by the utilization of monoclonal U-2 OS subpopulations. Thus, although idasanutlin presents much improved activities compared to its precursor, it displays the similar weaknesses, which are limited elimination of cancer cells and the generation of p53-mutated drug-resistant subpopulations.
View Full-Text
►

▼

Figures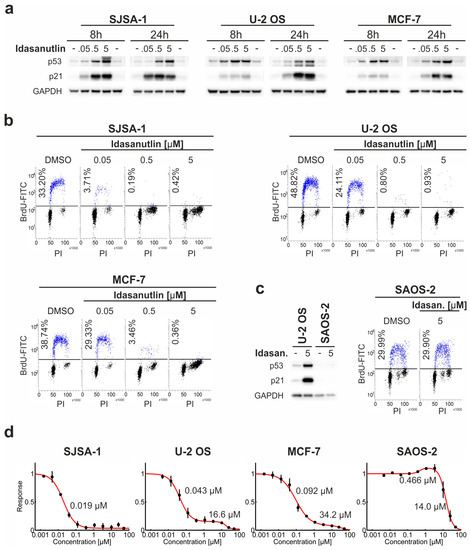 Figure 1
This is an open access article distributed under the
Creative Commons Attribution License
which permits unrestricted use, distribution, and reproduction in any medium, provided the original work is properly cited (CC BY 4.0).

Share & Cite This Article
MDPI and ACS Style
Skalniak, L.; Kocik, J.; Polak, J.; Skalniak, A.; Rak, M.; Wolnicka-Glubisz, A.; Holak, T.A. Prolonged Idasanutlin (RG7388) Treatment Leads to the Generation of p53-Mutated Cells. Cancers 2018, 10, 396.
Note that from the first issue of 2016, MDPI journals use article numbers instead of page numbers. See further details here.
Related Articles
Comments
[Return to top]