Protein Kinase A Distribution Differentiates Human Glioblastoma from Brain Tissue
1
Department of Molecular Medicine, University of Padova, Padova 35131, Italy
2
Biostructures and Biosystems National Institute, Rome 00136, Italy
3
Department of Neuroscience, University of Padova, Padova 35131, Italy
4
Department of Food and Drug, University of Parma, Parma 43121, Italy
*
Author to whom correspondence should be addressed.
Received: 30 November 2017 / Revised: 13 December 2017 / Accepted: 13 December 2017 / Published: 21 December 2017
Abstract
Brain tumor glioblastoma has no clear molecular signature and there is no effective therapy. In rodents, the intracellular distribution of the cyclic AMP (cAMP)-dependent protein kinase (Protein kinase A, PKA) R2Alpha subunit was previously shown to differentiate tumor cells from healthy brain cells. Now, we aim to validate this observation in human tumors. The distribution of regulatory (R1 and R2) and catalytic subunits of PKA was examined via immunohistochemistry and Western blot in primary cell cultures and biopsies from 11 glioblastoma patients. Data were compared with information obtained from 17 other different tumor samples. The R1 subunit was clearly detectable only in some samples. The catalytic subunit was variably distributed in the different tumors. Similar to rodent tumors, all human glioblastoma specimens showed perinuclear R2 distribution in the Golgi area, while it was undetectable outside the tumor. To test the effect of targeting PKA as a therapeutic strategy, the intracellular cyclic AMP concentration was modulated with different agents in four human glioblastoma cell lines. A significant increase in cell death was detected after increasing cAMP levels or modulating PKA activity. These data raise the possibility of targeting the PKA intracellular pathway for the development of diagnostic and/or therapeutic tools for human glioblastoma.
View Full-Text
►

▼

Figures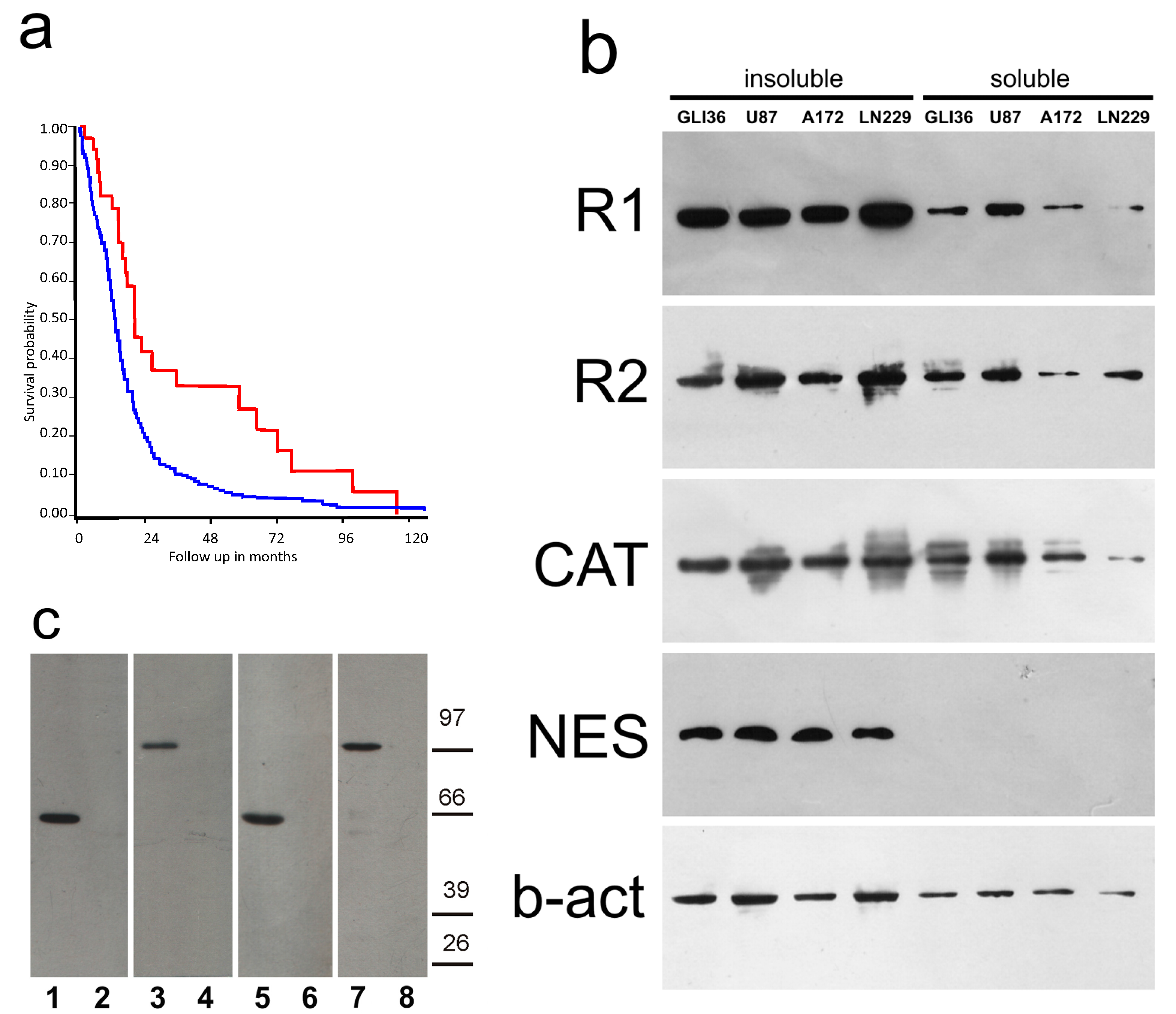 Figure 1
This is an open access article distributed under the
Creative Commons Attribution License
which permits unrestricted use, distribution, and reproduction in any medium, provided the original work is properly cited (CC BY 4.0).

Share & Cite This Article
MDPI and ACS Style
Mucignat-Caretta, C.; Denaro, L.; D'Avella, D.; Caretta, A. Protein Kinase A Distribution Differentiates Human Glioblastoma from Brain Tissue. Cancers 2018, 10, 2.
Note that from the first issue of 2016, MDPI journals use article numbers instead of page numbers. See further details here.
Related Articles
Comments
[Return to top]