Open Access This article is
freely available
re-usable
Article
Height Resolution of Antibody Spots Measured by Spinning-Disk Interferometry on the BioCD
1
Department of Physics, University of California Berkeley, Berkeley, CA 94720-7300, USA
2
Department of Physics, Purdue University, West Lafayette, IN 47907, USA
*
Correspondence: Tel.: +1-765-494-3013
Received: 3 December 2015 / Accepted: 4 February 2016 / Published: 17 February 2016
Abstract
:
Spinning-disc interferometry (SDI) is a high-speed laser scanning approach to surface metrology that uses common-path interferometry to measure protein spots on a BioCD disk. The measurement sensitivity depends on the scanning pitch and on the time-base. Based on high-resolution laser scanning images of printed antibody spots, we quantify the protein sensitivity as a function of the scan parameters. For smoothly printed antibody spots scanned with a transverse spatial resolution of 1 μm, the surface height precision for a single 100 μm diameter protein spot is approximately 1 pm. This detection sensitivity sets the fundamental limit of detection for label-free BioCD biosensors performing immunoassays.
Keywords:
differential phase contrast; common-path interferometry; silicon metrology; molecular interferometry; protein immobilization
Acknowledgments
The authors gratefully acknowledge the help of Xuefeng Wang.
Author Contributions
The data presented here were obtained by Kevin O'Brien as an undergraduate student at Purdue University. The BioCD system was maintained by Ming Zhao who provided computer programs for control and data acquisition. The data analysis was provided by David Nolte.
Conflicts of Interest
The authors declare no conflict of interest.
Abbreviations
The following abbreviations are used in this manuscript:
| | |
| --- | --- |
| BioCD | Biological compact disc |
| APDMES | Aminopropaldimethyl ethoxy silane |
| PBS | Phosphate buffered saline |
| SDI | Spinning disk interferometry |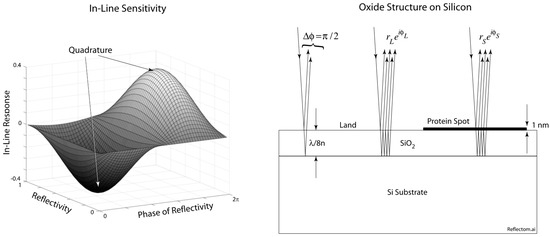 Figure 1.
In-line surface phase quadrature is established with an eighth-wave layer of SiO
2
on silicon. Immobilized protein on the surface converts the optical phase to intensity modulation when the surface reflectance equals ±0.577
i
.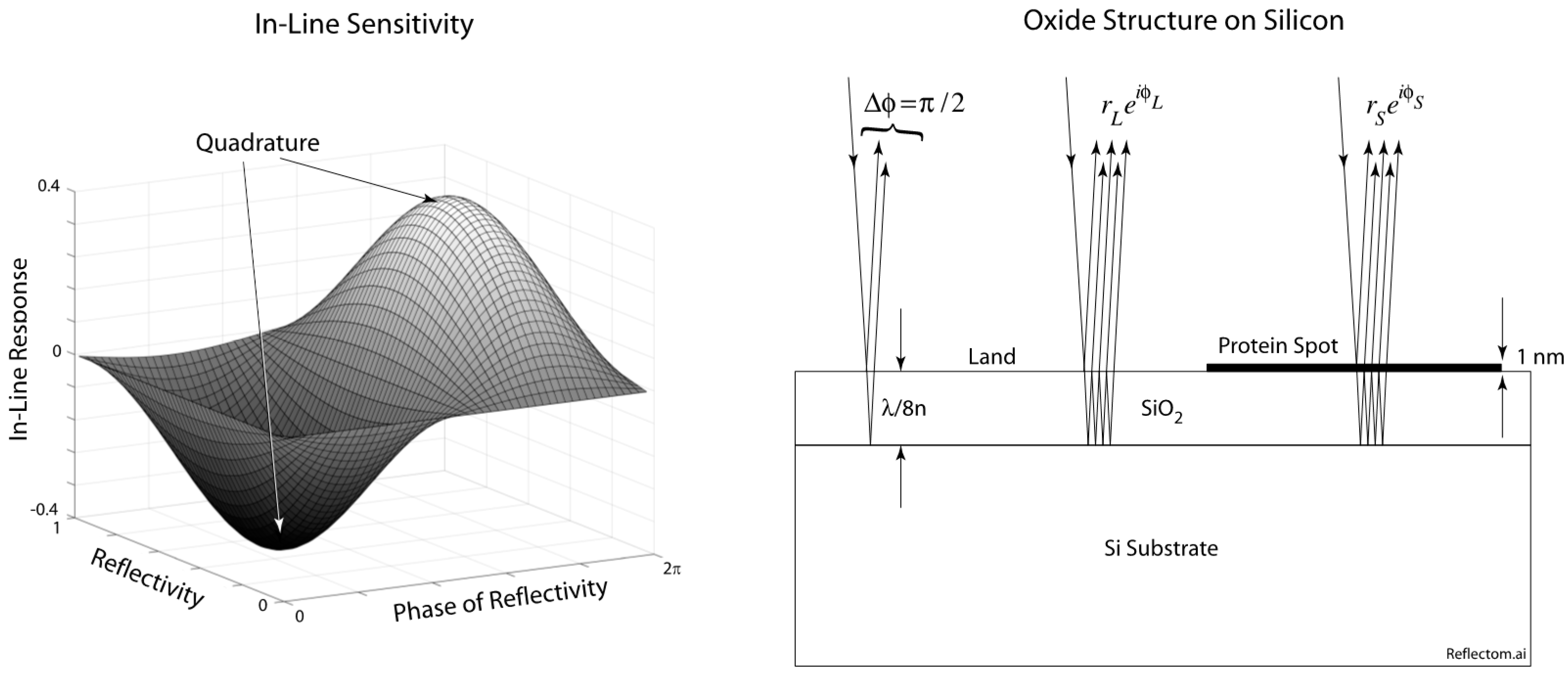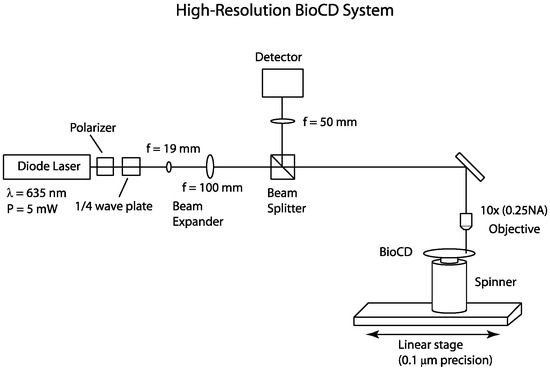 Figure 2. Optical layout for BioCD scanning. The diode laser operates at a wavelength of 635 nm. The disc is positioned on a linear translation stage with 1 μm precision for radial scanning. The beam expander controls the beam size at the disc.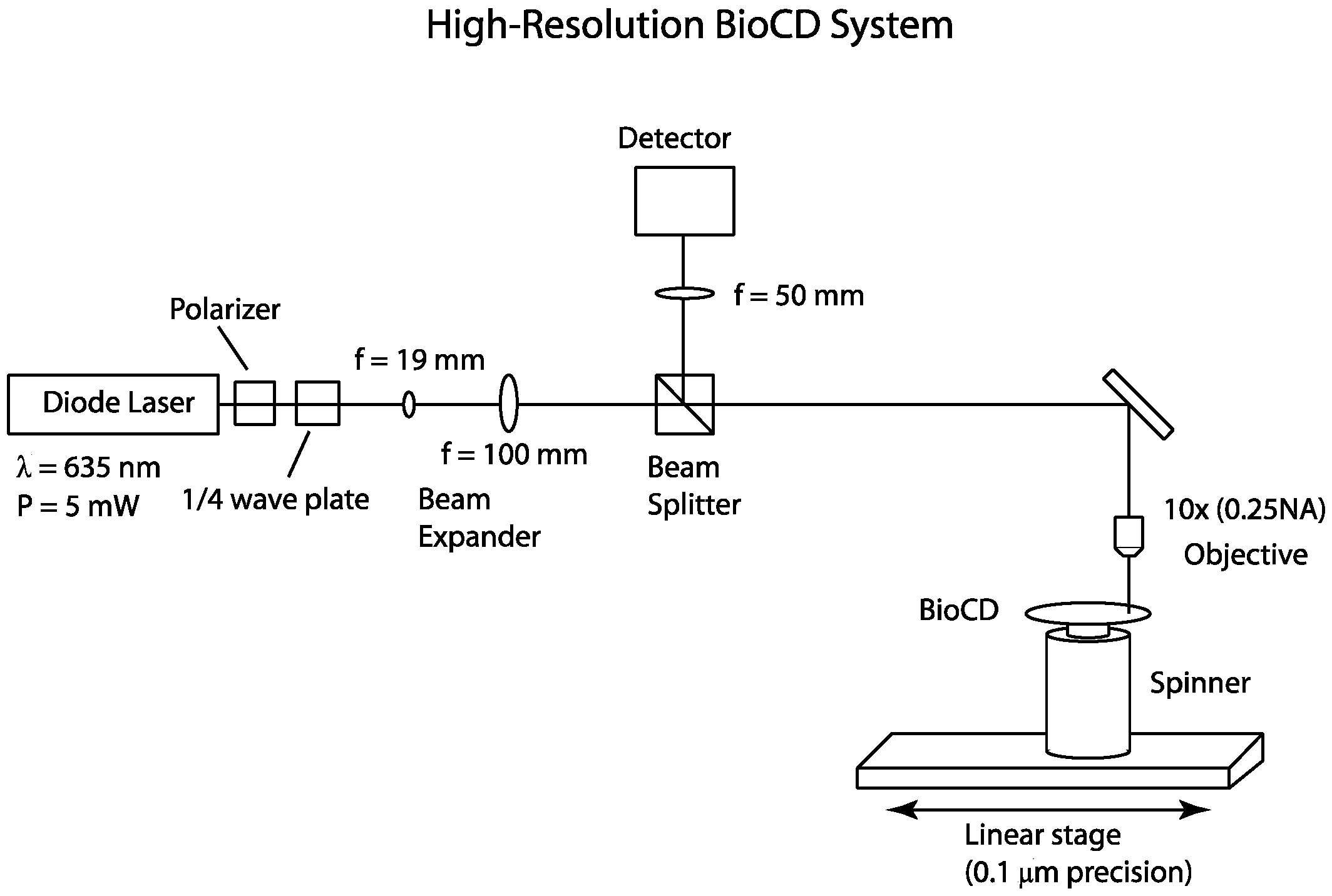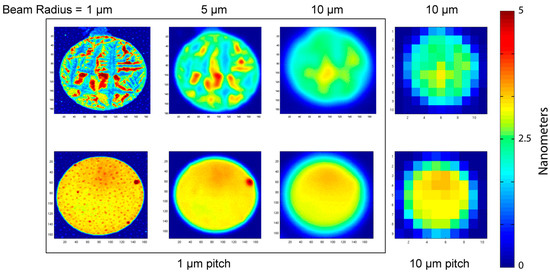 Figure 3. Two antibody spots with 100 μm diameters scanned with different resolutions and pitches. The six images on the left are with a 1 μm pitch at increasing laser beam diameters of 1, 5 and 10 μm. The two images on the right are with 10 μm pitch at 10 μm laser spot size.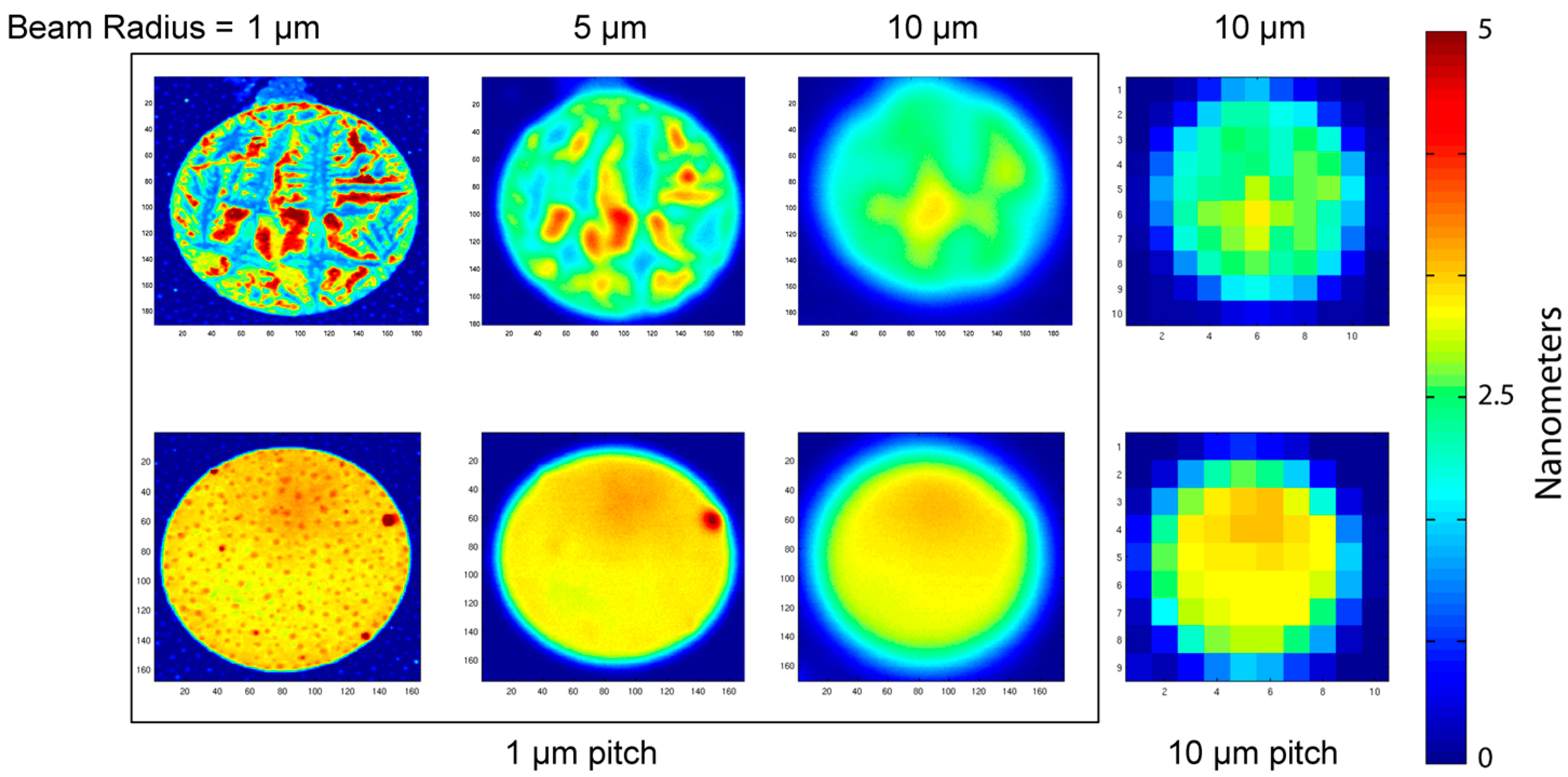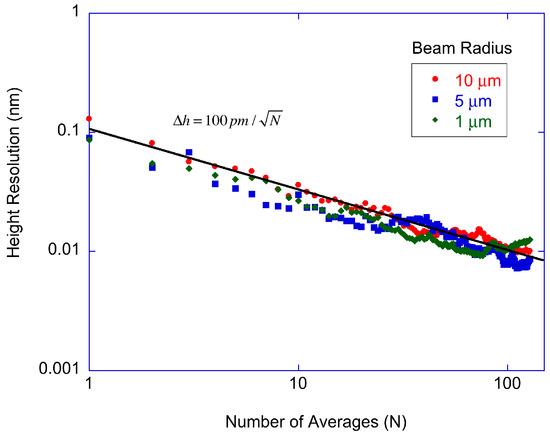 Figure 4. Single-track surface height resolution for repeated scans at the same radius. The data are for beam radii of 1, 5 and 10 μm. The height resolution for each pixel after 100 averages is 10 pm.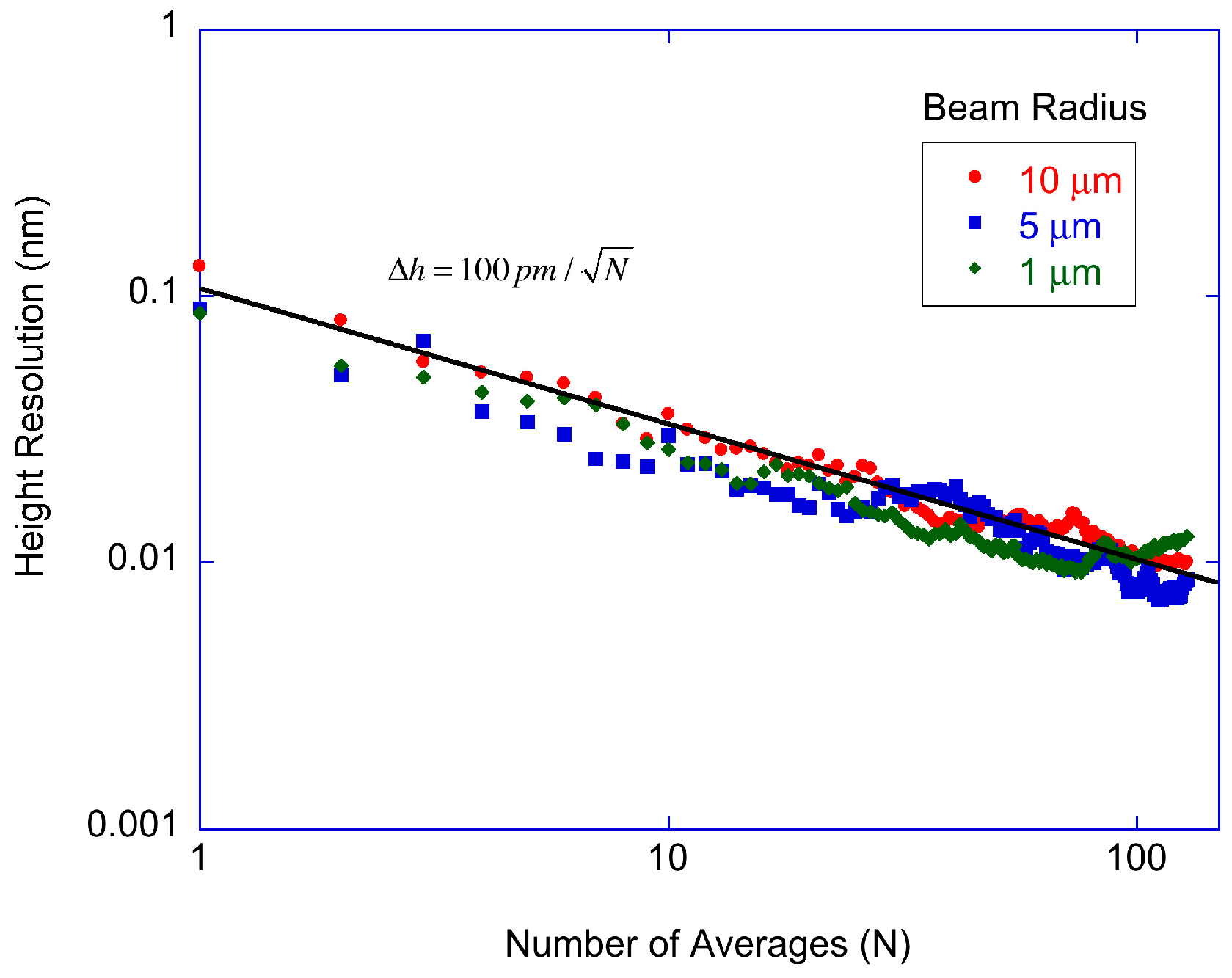 Figure 5. Top row: Scans at different beam radii. Color bar has a maximum at 5 nm. Bottom row: The difference of two consecutive scans (without dismount) showing edge effects and noise. Color bar on the bottom has a maximum at 0.2 nm.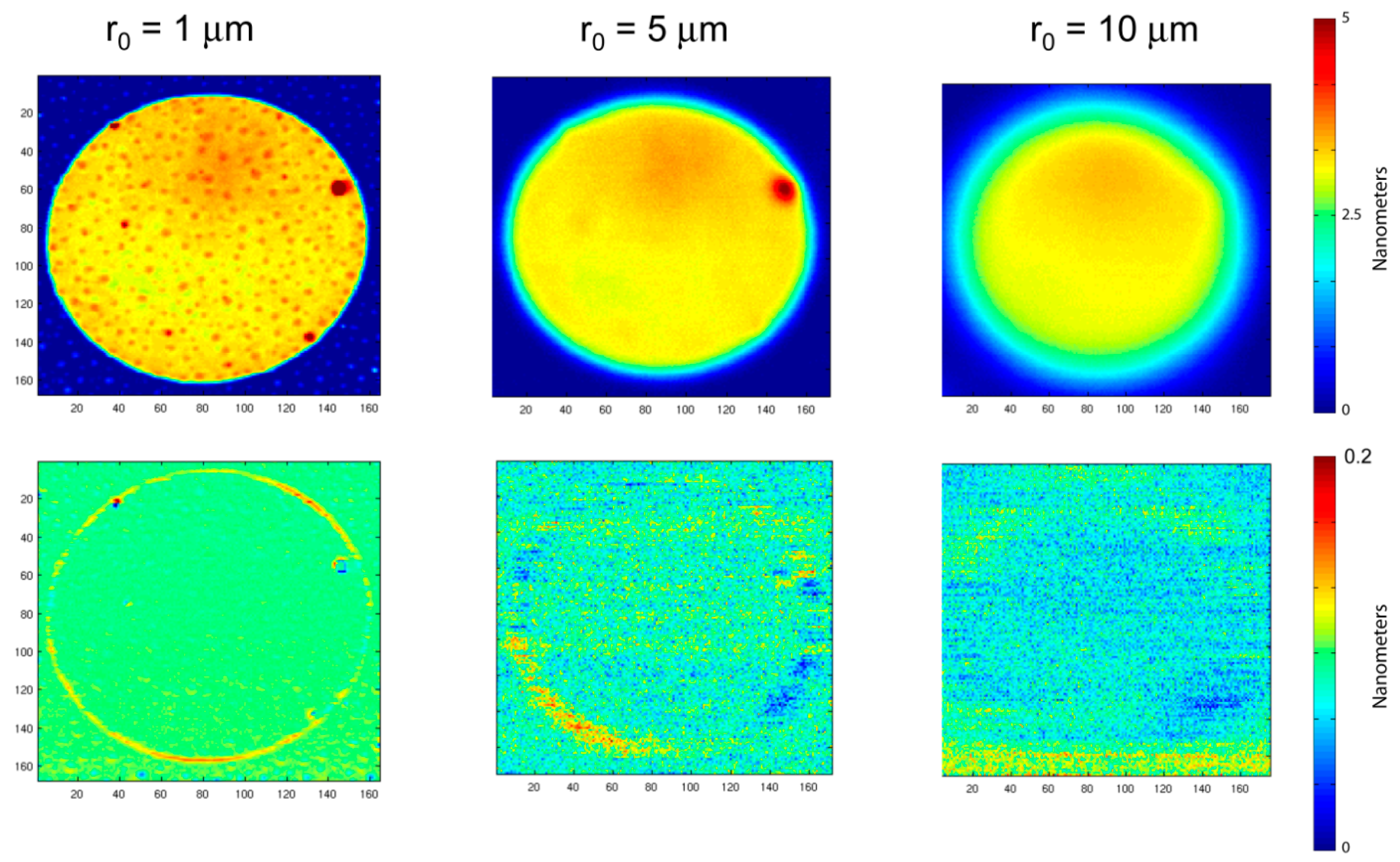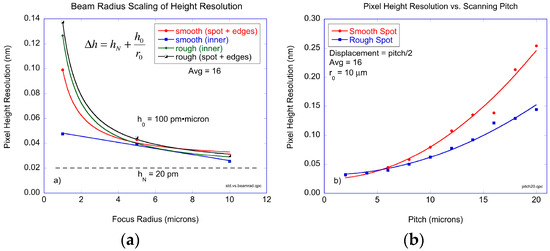 Figure 6. (a) 2D scan surface height resolution without dismount for the smooth and rough protein spots. (b) Pixel height noise as a function of the scan pitch for a fixed beam radius of 10 μm.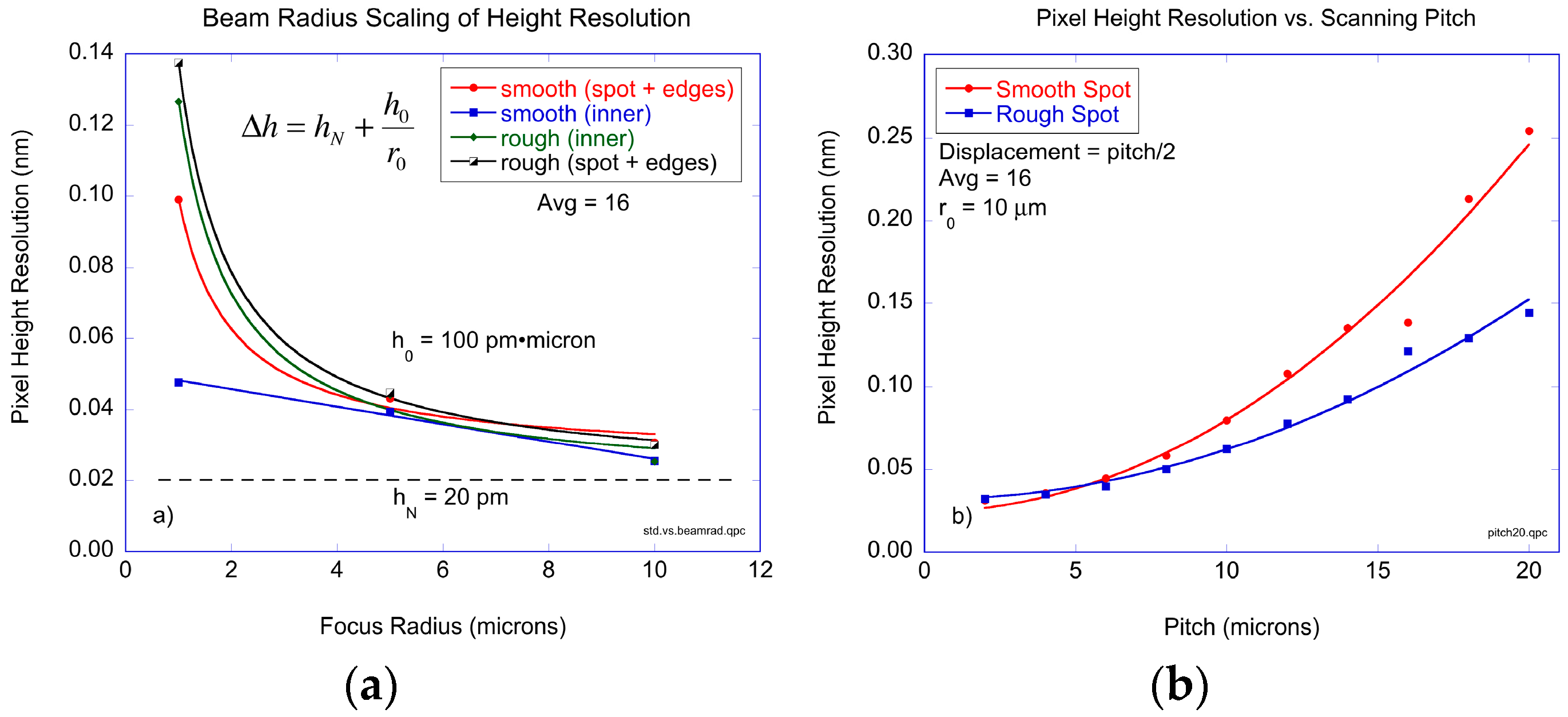 © 2016 by the authors. Licensee MDPI, Basel, Switzerland. This article is an open access article distributed under the terms and conditions of the Creative Commons by Attribution (CC-BY) license ( http://creativecommons.org/licenses/by/4.0/).