Marine Polysaccharide-Collagen Coatings on Ti6Al4V Alloy Formed by Self-Assembly
1
Engineering Department, Lancaster University, Lancaster LA1 4YW, UK
2
Physical Materials Science and Composite Materials Centre, National research Tomsk Polytechnic University, Tomsk 634050, Russia
3
IFREMER, Laboratoire Ecosystèmes Microbiens et Molécules Marines pour les Biotechnologies, F-44311 Nantes, France
4
Sports Tech Research Centre, Mid-Sweden University, Akademigatan 1, 83125 Östersund, Sweden
5
Institut des Matériaux Jean Rouxel (IMN), Université de Nantes-CNRS, 44322 Nantes, France
6
Lancaster Medical School, Faculty of Health and Medicine, Lancaster University, Lancaster LA1 4YW, UK
7
Materials Science Institute (MSI), Lancaster University, Lancaster LA1 4YW, UK
*
Author to whom correspondence should be addressed.
Received: 30 November 2018 / Revised: 16 January 2019 / Accepted: 18 January 2019 / Published: 19 January 2019
Abstract
Polysaccharides of marine origin are gaining interest as biomaterial components. Bacteria derived from deep-sea hydrothermal vents can produce sulfated exopolysaccharides (EPS), which can influence cell behavior. The use of such polysaccharides as components of organic, collagen fibril-based coatings on biomaterial surfaces remains unexplored. In this study, collagen fibril coatings enriched with HE800 and GY785 EPS derivatives were deposited on titanium alloy (Ti6Al4V) scaffolds produced by rapid prototyping and subjected to physicochemical and cell biological characterization. Coatings were formed by a self-assembly process whereby polysaccharides were added to acidic collagen molecule solution, followed by neutralization to induced self-assembly of collagen fibrils. Fibril formation resulted in collagen hydrogel formation. Hydrogels formed directly on Ti6Al4V surfaces, and fibrils adsorbed onto the surface. Scanning electron microscopy (SEM) analysis of collagen fibril coatings revealed association of polysaccharides with fibrils. Cell biological characterization revealed good cell adhesion and growth on bare Ti6Al4V surfaces, as well as coatings of collagen fibrils only and collagen fibrils enhanced with HE800 and GY785 EPS derivatives. Hence, the use of both EPS derivatives as coating components is feasible. Further work should focus on cell differentiation.
View Full-Text
►

▼

Figures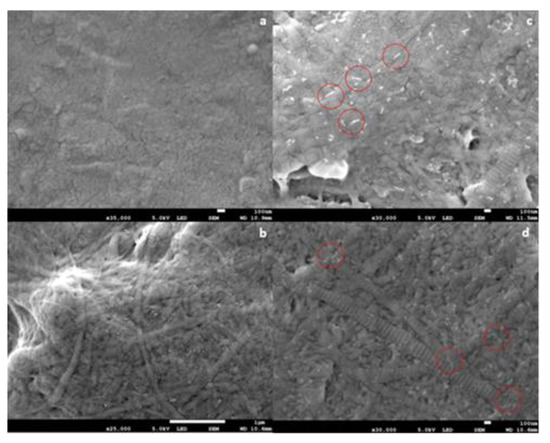 Figure 1
This is an open access article distributed under the
Creative Commons Attribution License
which permits unrestricted use, distribution, and reproduction in any medium, provided the original work is properly cited (CC BY 4.0).

Share & Cite This Article
MDPI and ACS Style
Norris, K.; Mishukova, O.I.; Zykwinska, A.; Colliec-Jouault, S.; Sinquin, C.; Koptioug, A.; Cuenot, S.; Kerns, J.G.; Surmeneva, M.A.; Surmenev, R.A.; Douglas, T.E. Marine Polysaccharide-Collagen Coatings on Ti6Al4V Alloy Formed by Self-Assembly. Micromachines 2019, 10, 68.
Note that from the first issue of 2016, MDPI journals use article numbers instead of page numbers. See further details here.
Related Articles
Comments
[Return to top]