Acoustophoretic Control of Microparticle Transport Using Dual-Wavelength Surface Acoustic Wave Devices
Department of Mechanical Engineering, National Yunlin University of Science and Technology, Douliou, Yunlin 64002, Taiwan
*
Author to whom correspondence should be addressed.
Received: 5 December 2018 / Revised: 6 January 2019 / Accepted: 9 January 2019 / Published: 13 January 2019
Abstract
We present a numerical and experimental study of acoustophoretic manipulation in a microfluidic channel using dual-wavelength standing surface acoustic waves (SSAWs) to transport microparticles into different outlets. The SSAW fields were excited by interdigital transducers (IDTs) composed of two different pitches connected in parallel and series on a lithium niobate substrate such that it yielded spatially superimposed and separated dual-wavelength SSAWs, respectively. SSAWs of a singltablee target wavelength can be efficiently excited by giving an RF voltage of frequency determined by the ratio of the velocity of the SAW to the target IDT pitch (i.e.,
f
=
c
SAW
/
p
). However, the two-pitch IDTs with similar pitches excite, less efficiently, non-target SSAWs with the wavelength associated with the non-target pitch in addition to target SSAWs by giving the target single-frequency RF voltage. As a result, dual-wavelength SSAWs can be formed. Simulated results revealed variations of acoustic pressure fields induced by the dual-wavelength SSAWs and corresponding influences on the particle motion. The acoustic radiation force in the acoustic pressure field was calculated to pinpoint zero-force positions and simulate particle motion trajectories. Then, dual-wavelength SSAW acoustofluidic devices were fabricated in accordance with the simulation results to experimentally demonstrate switching of SSAW fields as a means of transporting particles. The effects of non-target SSAWs on pre-actuating particles were predicted and observed. The study provides the design considerations needed for the fabrication of acoustofluidic devices with IDT-excited multi-wavelength SSAWs for acoustophoresis of microparticles.
View Full-Text
►

▼

Figures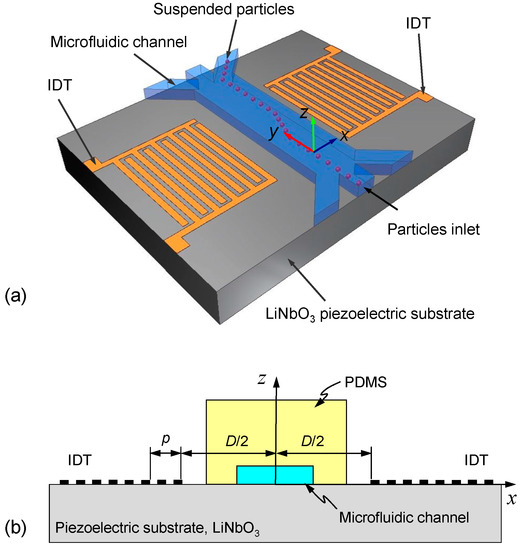 Figure 1
This is an open access article distributed under the
Creative Commons Attribution License
which permits unrestricted use, distribution, and reproduction in any medium, provided the original work is properly cited (CC BY 4.0).

Share & Cite This Article
MDPI and ACS Style
Hsu, J.-C.; Hsu, C.-H.; Huang, Y.-W. Acoustophoretic Control of Microparticle Transport Using Dual-Wavelength Surface Acoustic Wave Devices. Micromachines 2019, 10, 52.
Note that from the first issue of 2016, MDPI journals use article numbers instead of page numbers. See further details here.
Related Articles
Comments
[Return to top]