Open Access This article is
freely available
re-usable
Article
Hadrurid Scorpion Toxins: Evolutionary Conservation and Selective Pressures
1
Department of Biology, Eastern Connecticut State University, 83 Windham St. Willimantic, CT 06266, USA
2
Department of Integrative Biology, University of Wisconsin-Madison, 430 Lincoln Drive, Madison, WI 53706, USA
3
Departamento de Medicina Molecular y Bioprocesos, Instituto de Biotecnología, Universidad Nacional Autónoma de México, Avenida Universidad 2001, Cuernavaca, Morelos 62210, Mexico
*
Author to whom correspondence should be addressed.
Received: 20 September 2019 / Accepted: 30 October 2019 / Published: 1 November 2019
Abstract
:
Scorpion toxins are thought to have originated from ancestral housekeeping genes that underwent diversification and neofunctionalization, as a result of positive selection. Our understanding of the evolutionary origin of these peptides is hindered by the patchiness of existing taxonomic sampling. While recent studies have shown phylogenetic inertia in some scorpion toxins at higher systematic levels, evolutionary dynamics of toxins among closely related taxa remain unexplored. In this study, we used new and previously published transcriptomic resources to assess evolutionary relationships of closely related scorpions from the family Hadruridae and their toxins. In addition, we surveyed the incidence of scorpine-like peptides (SLP, a type of potassium channel toxin), which were previously known from 21 scorpion species. We demonstrate that scorpine-like peptides exhibit gene duplications. Our molecular analyses demonstrate that only eight sites of two SLP copies found in scorpions are evolving under positive selection, with more sites evolving under negative selection, in contrast to previous findings. These results show evolutionary conservation in toxin diversity at shallow taxonomic scale.
Keywords:
evolutionary shifts; Hadruridae; negative selection; phylogenomics; venom transcriptome
Key Contribution: Multiple gene copies encoding scorpine-like peptides occur in iurid scorpions. We show that these paralogs evolved under negative selection.
Supplementary Materials
The following are available online at
https://www.mdpi.com/2072-6651/11/11/637/s1
, Table S1: Putative venom sequences encoded by 96 transcripts of the
Hoffmannihadrurus aztecus
transcriptome, Table S2: Putative venom sequences encoded by 74 transcripts of the
Hadrurus concolorus
transcriptome, Table S3: List of the 24 scorpion species used in the phylogenomic analyses, Table S4: One hundred and seven sequences of Scorpine-like Peptides (SLP) isolated from venoms, or deduced from cDNA or transcriptome analyses of 44 scorpion species, Figure S1: ASTRAL-II topology, Figure S2: Chronogram under the correlated model, Figure S3: Chronogram under the relaxed model, Figure S4: ML gene tree SLPs, Figure S5: Site selection analyses of both SLP1-2 combined, Figure S6: Visualization of PCA and Correlation tests, Figure S7: Multiple sequence alignments of calcins, Kunitz-type inhibitors, and La1-like peptides.
Author Contributions
Conceptualization: C.E.S.-L.; methodology, C.E.S.-L., M.R.G., P.P.S., E.O.; software, C.E.S.-L.; validation, C.E.S.-L., M.R.G., P.P.S., E.O., L.D.P.; formal analysis, C.E.S.-L.; investigation, C.E.S.-L.; resources, M.R.G., P.P.S., L.D.P.; data curation, C.E.S.-L.; writing—original draft preparation, C.E.S.-L.; writing—review and editing, M.R.G., P.P.S., E.O., L.D.P.; visualization, C.E.S.-L.; supervision, M.R.G., P.P.S.; project administration, C.E.S.-L.; funding acquisition, L.D.P.
Funding
C.E.S.L. was supported by postdoctoral CONACyT (reg. 207146/454834) and CONACyT (No. 237864) grants. M.R.G. was supported by NSF grant DEB-1754030. P.P.S. was supported by NSF IOS-1552610. L.D.P. was funded by grant IN202619 from Dirección General del Personal Académico, UNAM.
Acknowledgments
We are greatly indebted to Nick Volpe who kindly gave us permission to use his photographs. We thank G. Contreras, M. Perzabal, and R. Paredes for their help during the collecting field trip. The authors are grateful to Oscar Francke from the Biology Institute of UNAM for support during collection of scorpions used in this work (Scientific Permit FAUT-0175, from SEMARNAT). We are indebted to Jimena I. Cid-Uribe and Maria T. Romero-Gutiérrez for their help with transcriptomic analysis. E.W. Setton made valuable comments on early drafts of this manuscript.
Conflicts of Interest
The authors declare no conflict of interest. The funders had no role in the design of the study, collection, analyses, or interpretation of data, in writing the manuscript, or in the decision to publish the results.
Figure 1.
(
A
) Maximum likelihood tree topology recovered from the analysis of 1982 genes, with 24 scorpion species. Bars to the right of termini indicate numbers of orthologs. Numbers on nodes indicate ultrafast bootstrap support values under 100. (
B
–
G
) Representative species of scorpions studied here: (
B
)
Cercophonius squama
(Gervais, 1843); (
C
)
Urodacus yaschenkoi
(Birula, 1903); (
D
)
Urodacus elongatus
Koch, 1977; (
E
)
Hadrurus spadix
Stahnke, 1940; (
F
)
Hadrurus concolorous
Stahnke, 1969; (
G
)
Hadrurus arizonensis
Ewing, 1928. Photos by Nick Volpe (
C
,
D
), Matthew Graham (
B
,
E
,
G
) and Carlos Santibañez (
F
).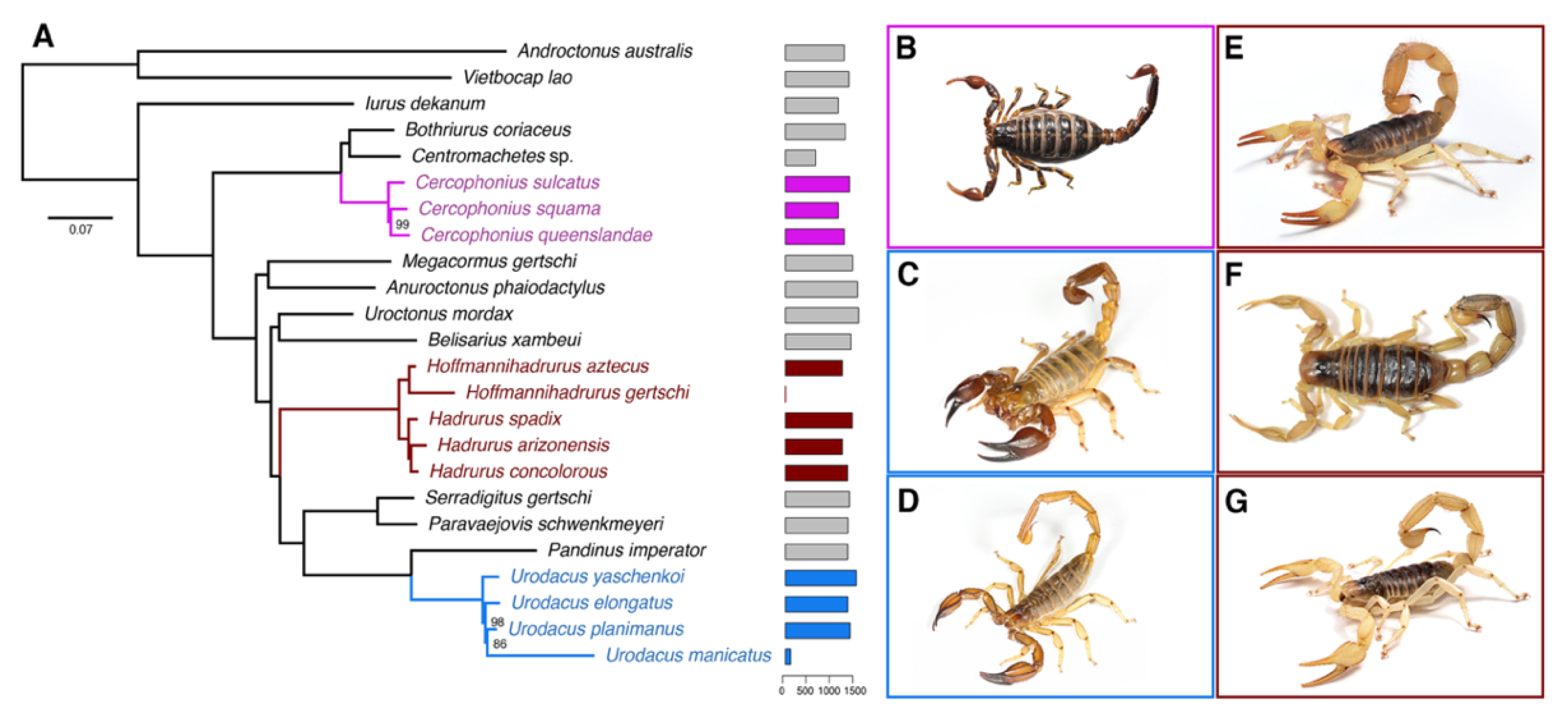 Figure 2.
Comparative transcriptomic analyses. (
A
) Distribution of the annotated transcripts from the venom gland transcriptomes of
Hadrurus concolorous
and
Hoffmannihadrurus aztecus
, according to protein families. (
B
) Comparison of selected venom protein families in the libraries of the scorpion species studied herein.
Figure 3.
Evolutionary analyses of scorpine-like peptides. (
A
). Maximum likelihood (ML) gene tree topology of scorpine-like peptides (SLPs) and related toxins (αKTx and other βKTx). Ultrafast bootstrap values are shown above selected basal nodes (>75%). (
B
,
C
) Site selection analyses of SLP1 (
B
) and SLP2 (
C
) sequences with FUBAR. Visualization of synonymous substitution rates (α, red) and non-synonymous substitution rates (β, blue) for sites exhibiting positive/neutral evolution. Asterisks indicate sites with α greater than β,
p
> 0.95. (
D
,
E
) Site selection analyses of SLP1 (
D
) and SLP2 (
E
) sequences with MEME. + signs indicate sites with β
+
values greater than α,
p
> 0.95.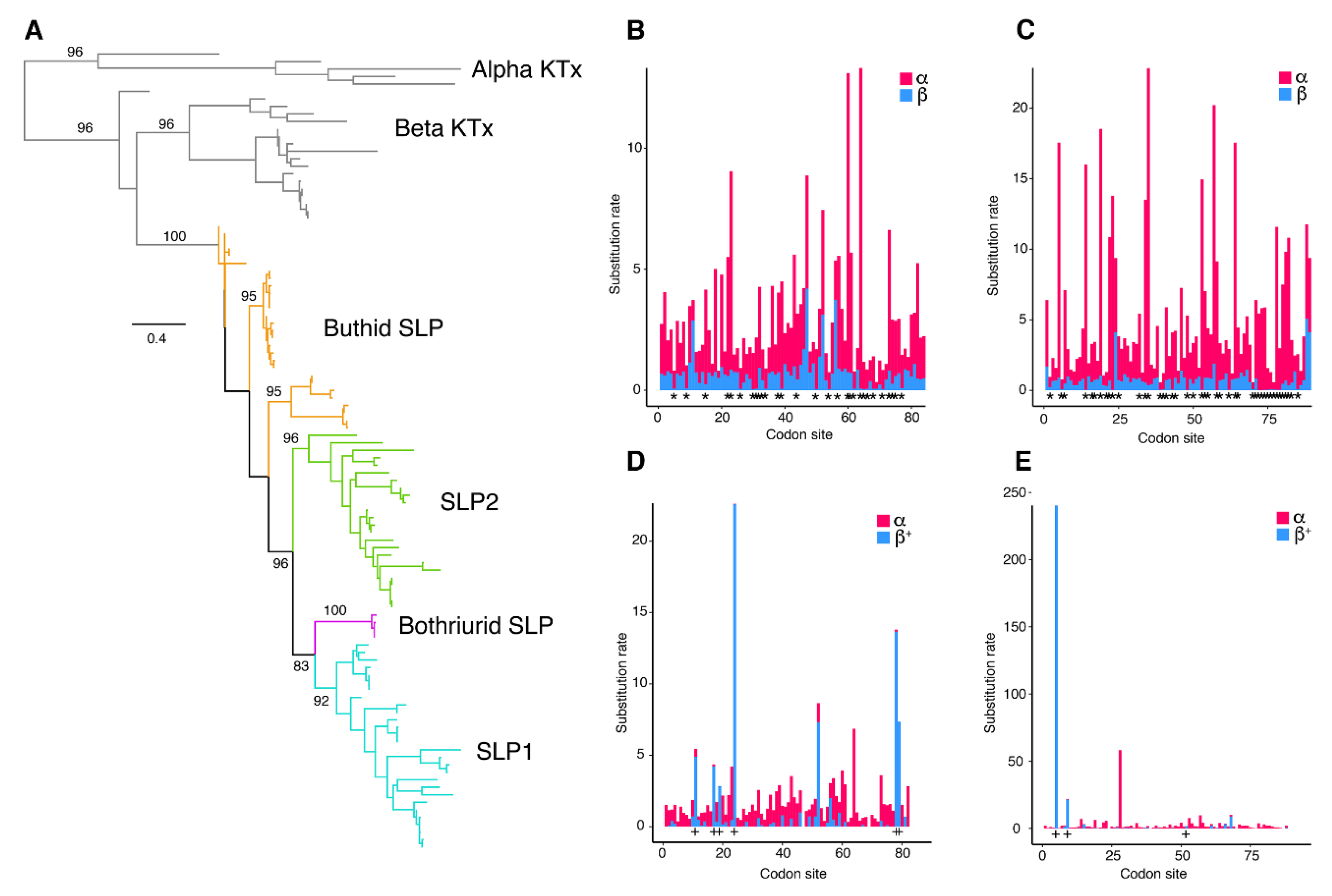 Figure 4.
Multiple sequence alignment (MSA) of the mature peptide of SLP2 (
A
) and SLP1 (
B
) in order of appearance in the phylogeny (left, color coded as in previous figure). Consensus sequence histograms of each clade below the MSA (+ sign indicates a highly variable site). In red, sites evolving under negative selection, as detected with FUBAR, and in blue, sites evolving under positive selection as detected with MEME (see
Figure 3
).
Figure 5.
Evolutionary analyses of the chemical properties of SLP homologs. (
A
) Visualization of the phylogenomic tree on the morphospace of the molecular weight and net charge of SLP1 (
A
) and SLP2 (
C
). Hadrurids, urodacids, and
Cercophonius
are colored accordingly to phylogenomic topology. (
B
–
D
) Two (SLP1) and four (SLP2) evolutionary shifts in the optimum chemical properties of SLPs under an Ornstein–Uhlenbeck (OU) process. Edges with a major shift are annotated with asterisk and bootstrap support values.

© 2019 by the authors. Licensee MDPI, Basel, Switzerland. This article is an open access article distributed under the terms and conditions of the Creative Commons Attribution (CC BY) license (http://creativecommons.org/licenses/by/4.0/).