Open Access This article is
freely available
re-usable
Editorial
We Need Studies of the Mortality Effect of Vitamin A Supplementation, Not Surveys of Vitamin A Deficiency
1
Research Center for Vitamins and Vaccines, Bandim Health Project, Statens Serum Institut, Artillerivej 5, 2300 Copenhagen S, Denmark
2
Odense Patient data Explorative Network, Odense University Hospital/Institute of Clinical Research, University of Southern Denmark, 5000 Odense C, Denmark
Received: 6 March 2017 / Accepted: 9 March 2017 / Published: 15 March 2017
Abstract
:
It is usually acknowledged that high-dose vitamin A supplementation (VAS) provides no sustained improvement in vitamin A status, and that the effect of VAS on mortality is more likely linked to its immunomodulating effects. Nonetheless, it is widely assumed that we can deduce something about the need for continuing or stopping VAS programs based on studies of the biochemical prevalence of vitamin A deficiency (VAD). This is no longer a tenable assumption. The justification for using VAS is to reduce child mortality, but there is now doubt that VAS has any effect on overall child mortality. What we need now are not surveys of VAD, but proper randomized trials to evaluate whether VAS has beneficial effects on overall child survival.
Keywords:
vitamin A deficiency; vitamin A supplementation; child mortality; low-income countries
If VAS is given to reduce mortality, and does not work by preventing VAD, then making the prevalence of VAD determine where to implement or scale back VAS does not make sense.
It is important to set things right for several reasons.
National surveys of VAD are difficult and expensive to conduct, because they require collection of blood samples for biochemical analyses. Furthermore, the surveys suffer from a number of limitations, of which the most important are the difficulties of taking into account ongoing inflammation (which would exaggerate VAD if not controlled for), and that the results of national surveys may mask sub-national variation. The authors, many of whom have economic interests in conducting VAD surveys, acknowledge these limitations.
More importantly, the number one priority for global child health is to reduce mortality. With under-five mortality rates of 73/1000 live births in the least developed countries (World Bank, 2015), that job is far from done. Hence, we should invest in activities with a large potential for reducing mortality, and not waste resources on activities with no impact on mortality.
Only with such data can we decide if and where VAS should be scaled up or scaled back. That decision should not be based on the biochemical prevalence of VAD, when everybody, including the authors, acknowledge that VAS does not work by preventing VAD. There is an urgent need to "de-link" VAS and VAD. VAD should be prevented with food-based interventions and fortification. Mortality should be prevented with clever use of VAS, and that can only be obtained through studies, which focus on mortality.
Acknowledgments
Research Center for Vitamins and Vaccines is supported by the Danish National Research Foundation (DNRF108).
Conflicts of Interest
The author declares no conflict of interest.
Figure 1.
The relative risk comparing vitamin A vs. no vitamin A by prevalence of xerophthalmia in the original eight [
2
], the two subsequent [
8
,
9
], and the two new trials [
10
,
11
] of vitamin A supplementation to children above 6 months of age (Modified by Beaton et al., 1993 [
2
], and first presented in Benn et al.,
Int. J. Epidemiol
. 2015 [
7
]).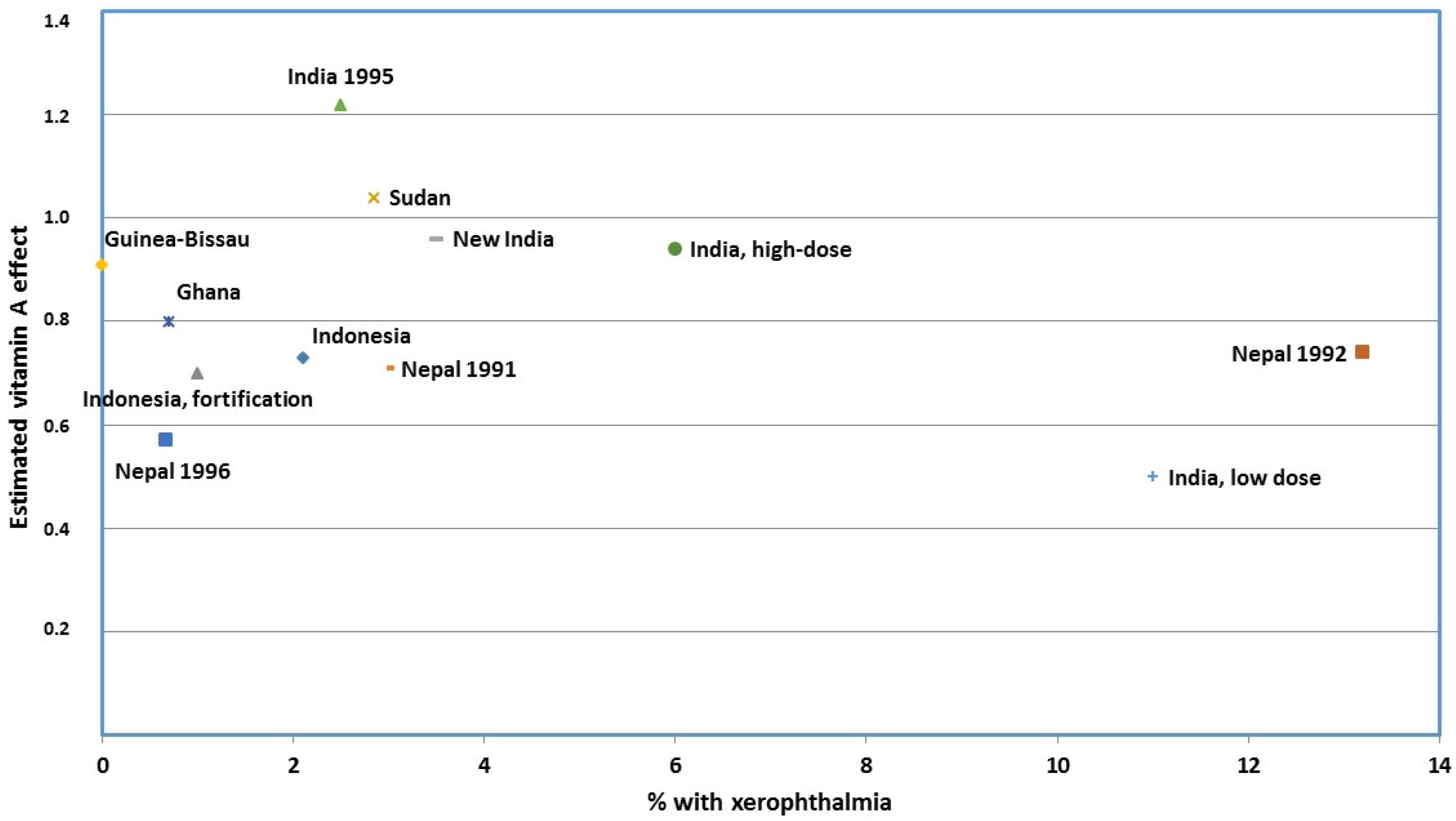 © 2017 by the author. Licensee MDPI, Basel, Switzerland. This article is an open access article distributed under the terms and conditions of the Creative Commons Attribution (CC BY) license ( http://creativecommons.org/licenses/by/4.0/).