Open Access This article is
freely available
re-usable
Review
Retinoic Acid as a Modulator of T Cell Immunity
1
Departamento de Biologia, Facultad de Ciencias, Universidad de Chile, Las Palmeras 3425, Ñuñoa, Santiago 7800003, Chile
2
Fundacion Ciencia & Vida, Santiago 7780272, Chile
3
Facultad de Ciencias Biologicas, Universidad Andres Bello, Santiago 8370146, Chile
*
Author to whom correspondence should be addressed.
Received: 23 April 2016 / Accepted: 1 June 2016 / Published: 13 June 2016
Abstract
:
Vitamin A, a generic designation for an array of organic molecules that includes retinal, retinol and retinoic acid, is an essential nutrient needed in a wide array of aspects including the proper functioning of the visual system, maintenance of cell function and differentiation, epithelial surface integrity, erythrocyte production, reproduction, and normal immune function. Vitamin A deficiency is one of the most common micronutrient deficiencies worldwide and is associated with defects in adaptive immunity. Reports from epidemiological studies, clinical trials and experimental studies have clearly demonstrated that vitamin A plays a central role in immunity and that its deficiency is the cause of broad immune alterations including decreased humoral and cellular responses, inadequate immune regulation, weak response to vaccines and poor lymphoid organ development. In this review, we will examine the role of vitamin A in immunity and focus on several aspects of T cell biology such as T helper cell differentiation, function and homing, as well as lymphoid organ development. Further, we will provide an overview of the effects of vitamin A deficiency in the adaptive immune responses and how retinoic acid, through its effect on T cells can fine-tune the balance between tolerance and immunity.
Keywords:
retinoic acid; vitamin A; T cell; oral tolerance; homing
1. Introduction
In the early 20th century, several researchers performed studies on laboratory animals to identify essential dietary components. Hopkins, McCullum, Osborne, and Mendel reported that animals fed with only fats, proteins, starch and inorganic salts, were more susceptible to infections and failed to grow normally. Administration of the factors present in dairy products and cod liver oil prevented these complications. McCollum called this factor "fat-soluble accessory" [
1
]. In 1928, Green and Mellanby reported that vitamin A, played an important role in conferring resistance to many infections and declared vitamin A as an anti-infective agent [
2
]. The role of vitamin A in immunological fitness was confirmed in randomized clinical trials performed in the 1980–1990s studying the effect of vitamin A supplementation on child mortality in Africa and Asia. These trials resulted in a significant reduction of mortality among children of 1–5 years of age where most of the deaths prevented were associated with less severe clinical manifestations of measles and diarrheal disease [
1
,
3
]. Furthermore, although several studies have reported that vitamin A increases antibody production which has led to the supplementation of vaccines with vitamin A, results from human immunization programs have not shown a significant effect on vaccine efficacy upon vitamin A supplementation [
4
]. Despite all these efforts, today vitamin A deficiency (VAD) is still one of the most common micronutrient deficiencies, affecting approximately one-third of the world's preschool-age population [
5
] and remains the primary cause of immunosuppression worldwide [
6
]. In recent years, and with the development of better models and experimental techniques, it has become clear that vitamin A, through its metabolite retinoic acid (RA), has a broad impact on diverse aspects of the immune response, including mucosal immunity, tolerance, leukocyte trafficking and lymph node organogenesis.
2. Vitamin A Metabolism and Retinoic Acid Signaling
3. Retinoic Acid and T Cell Homing
4. Role of Retinoic Acid in Regulatory T Cell Differentiation
5. Retinoic Acid in T Helper Cell Differentiation and Activation
Following activation, CD4
+
T cells are able to differentiate into different T helper cell subsets that are classified according to their function, expression of lineage-specific master transcription factors, and secreted cytokines. Several T helper (Th) subsets have been described, which include Th1, Th2, Th17, T follicular helper (Tfh) and Tregs cells. CD4
+
T cell differentiation into these different subsets is dependent on the cytokines present in the microenvironment during their activation [
71
].
Although overwhelming evidence supports the contribution of RA in tolerance via the negative regulation of the immune response through the induction or expansion of Tregs, recent evidence has shown that RA may also promote T cell activation and T helper cell responses during an ongoing immune response (
Table A1
and
Table A2
). In this section, we will discuss recent evidence demonstrating a role for RA in T helper differentiation and activation.
5.1. Th17/Th1 Cell Differentiation
5.2. Th2 Cell Differentiation
5.3. T Cell Activation
Although previous evidence has shown that RA is mainly produced by cells from the gut [
27
,
35
,
36
], some reports have shown that RA may also be produced at other sites during an ongoing immune response [
36
,
37
,
89
,
90
]. Using RA signaling reporter mice (RARE-luciferase reporter mice), Pino-Lagos and collaborators showed that RA signaling occurs constitutively in areas of the small and large intestine. Importantly, the intradermal administration of activating stimuli such as LPS elicited local and transient RA signaling in the site of inflammation [
37
]. This finding supports a role for RA in T cell activation during an inflammatory immune response. Similarly, Hall and collaborators have demonstrated that RA-RARα signaling is required for early T cell activation as RARα-deficient T cells proliferate less efficiently than their wild-type counterparts upon polyclonal activation. They further demonstrated that RARα mediates events following T cell receptor activation since RARα-deficient T cells present decreased levels of PLCγ and ERK phosphorylation, Ca
2+
mobilization and mTOR/AKT activation upon T cell receptor stimulation [
67
]. These results strongly argue in favor of RA as an essential metabolite in the development of an appropriate immune response.
6. Role of Retinoic Acid in Thymus and Lymphoid Organogenesis
Thymocytes differentiate into mature T cells in the thymus, where they generate and express a unique T cell receptor. T cells expressing a potentially autoreactive T cell receptor are eliminated by apoptosis in a phenomenon known as negative selection [
91
]. Since the initial report of Wolbach in the early 20th century demonstrating that VAD is associated with thymic atrophy [
92
], several potential functions for RA in thymocyte development have been proposed. Kiss and collaborators have shown that RALDH1 is expressed by cortical and medullary thymic epithelial cells, and accordingly, all-trans-RA was detected in the murine postnatal thymus [
93
]. Iwata and collaborators have shown that RA inhibits TCR-mediated activation-induced thymocyte cell death
in vitro
, suggesting that this metabolite might affect T cell differentiation and negative selection in the thymus [
94
]. Following this report, a study using fetal thymic organ cultures showed that RA increases the proportion of mature CD4
+
T cells that contain autoreactive T cells [
95
]. Using RARα-selective agonists, it was demonstrated that RARα signaling is involved in the prevention of activation-induced cell death in thymocytes [
96
]. On the other hand, the same group reported that RA can induce thymocyte apoptosis when these cells are not activated, and this effect is mediated through RARγ signaling [
97
]. Moreover, the treatment of mice with a RARγ agonist induces rapid thymic involution [
97
]. These observations raise the possibility that RA may have an effect on negative selection in the thymus thus shaping the T cell repertoire in adults.
Lymphoid tissue inducer cells (LTi) constitute a subset within ILCs closely related to type 3 ILCs (ILC3s). LTi cells are essential for lymphoid organogenesis during embryogenesis, and they are also considered important regulators of lymphoid tissue architecture after birth [
98
,
99
,
100
]. Similar to Th17 cells, LTi cells are controlled by the RORγt transcription factor, and thus, it has been reported that RORγt-deficient mice do not have LTi cells and have important alterations in secondary lymph node development [
101
]. Recent evidence has noted a relevant role of maternal vitamin A intake in the immune fitness of the offspring. Van de Pavert recently reported a cross-talk between the developing neuronal system and hematopoietic stromal cells since the initiation of lymph node development is controlled by the RA-mediated expression of CXCL13 by adjacent neurons, promoting the migration of LTi cells [
102
]. In a following report, the same group demonstrated that local LTi cell differentiation is controlled by maternal vitamin A intake and fetal RA signaling. In this latter study, the authors demonstrate that maternal retinoids control LTi differentiation within the developing lymph nodes. Moreover, impaired RA signaling results in reduced fetal inguinal and brachial lymph node size and a reduced numbers of Peyer's patches [
102
]. This report reached the significant conclusion that the efficiency of adaptive immune responses against infections may be somehow pre-established during embryogenesis through vitamin A ingestion and the nutritional status of the mother.
Recently, Zhang
et al.
established that the gut microbiota, in particular gut fungi, is required for secondary lymphoid organ development through the induction of the migration of CD103
+
DCs into the gut from the periphery. These CD103
+
DCs produce RA and signal to initiate an increase in lymph node cellularity and volume. Interestingly, they report that VAD in 5 week-old mice severely disrupts the peripheral lymph node architecture, establishing not only that gut-associated lymph nodes may be regulated by vitamin A, as shown by van de Pavert, but also that vitamin A may be involved in the postnatal regulation of peripheral lymph node structure [
103
].
7. Concluding Remarks
An initial association between vitamin A supplementation and reduced childhood mortality due to measles and diarrhea led to the assumption that vitamin A was crucial in the fitness of the immune system. This finding sparked curiosity about the mechanisms through which vitamin A could modulate the immune response. Today, it is recognized that vitamin A, through its metabolite retinoic acid, is able to induce gut homing receptors on T and B cells, allowing the trafficking of these cells to the intestine (and probably also to the inflamed tissues) to perform their effector functions and maintain an appropriate gastrointestinal balance between immunity and tolerance. Moreover, exposure to vitamin A in the womb is an important determinant for the development of secondary lymphoid organs during embryogenesis and after birth through induction of lymphoid tissue-inducer cells. In addition, vitamin A has shown to be essential for T cell activation and differentiation into different T helper subsets, such as Th1, Th2 and Th17 cells. On the other hand,
in vitro
studies have shown that RA is able to induce regulatory T cells, however the role of vitamin A in promoting oral tolerance has not yet been fully established. A far more complex picture has emerged for the role of retinoic acid in gut immunity since there is contradictory evidence for several of aspects of T cell differentiation. Such discrepancies could be explained by the fact that RA can mediate different effects depending on the dose used in different experimental settings and the context in which an immune response is occurring. Accordingly, it has been proposed that RA may have a dual effect, modulating regulatory T cell differentiation in the steady state while promoting T cell activation and Th1 and Th17 cell responses during an ongoing immune response. In addition, results in VAD mice should be interpreted with caution; taking into consideration that VAD mice present important alterations in intestinal epithelial cells, which affects the resident microbiota. The gut microbiota has an important effect on the differentiation of T helper subsets and Tregs in the gut. Therefore, the effects observed in VAD mice could be the consequence of an altered gut microbiota rather than a direct effect of RA on T cells. Although the development of better models and experimental techniques has allowed significant progress in the discovery of the mechanisms through which vitamin A broadly impacts the immune response, further studies are needed to fully unravel the role of vitamin A in T cell-mediated immunity.
Acknowledgments
This work was supported by Fondo Nacional de Desarrollo Cientifico y Tecnologico (FONDECYT) 1140431 and by Programa de Financiamiento Basal para Centros Cientificos y Tecnologicos de Excelencia PFB-16.
Author Contributions
Daniela Sauma, Mario Rosemblatt and Maria Rosa Bono conceived and designed the review. Gabriela Tejon, Felipe Flores-Santibañez and Dominique Fernandez wrote the review. Daniela Sauma, Mario Rosemblatt and Maria Rosa Bono revised the review. All authors discussed and approved the final version.
Conflicts of Interest
The authors declare no conflict of interest.
Figure 1. Retinoic acid induces T cell homing to the gut. A specialized subset of gut-resident dendritic cells which express CD103 integrin is able to produce retinoic acid during the interaction with T cells in the mesenteric lymph node. Retinoic acid induces the expression of α4 which binds to β7 forming the α4β7 integrin. α4β7 integrin binds to the mucosal addressin cell adhesion molecule 1 (MadCAM-1) which is expressed by high endothelial venules (HEV) in the intestinal tissue. Retinoic acid also induces the expression of the chemokine receptor CCR9, which binds to CCL25 chemokine produced by intestinal epithelial cells. The expression of α4β7 and CCR9 allows the trafficking of T cells to the lamina propria.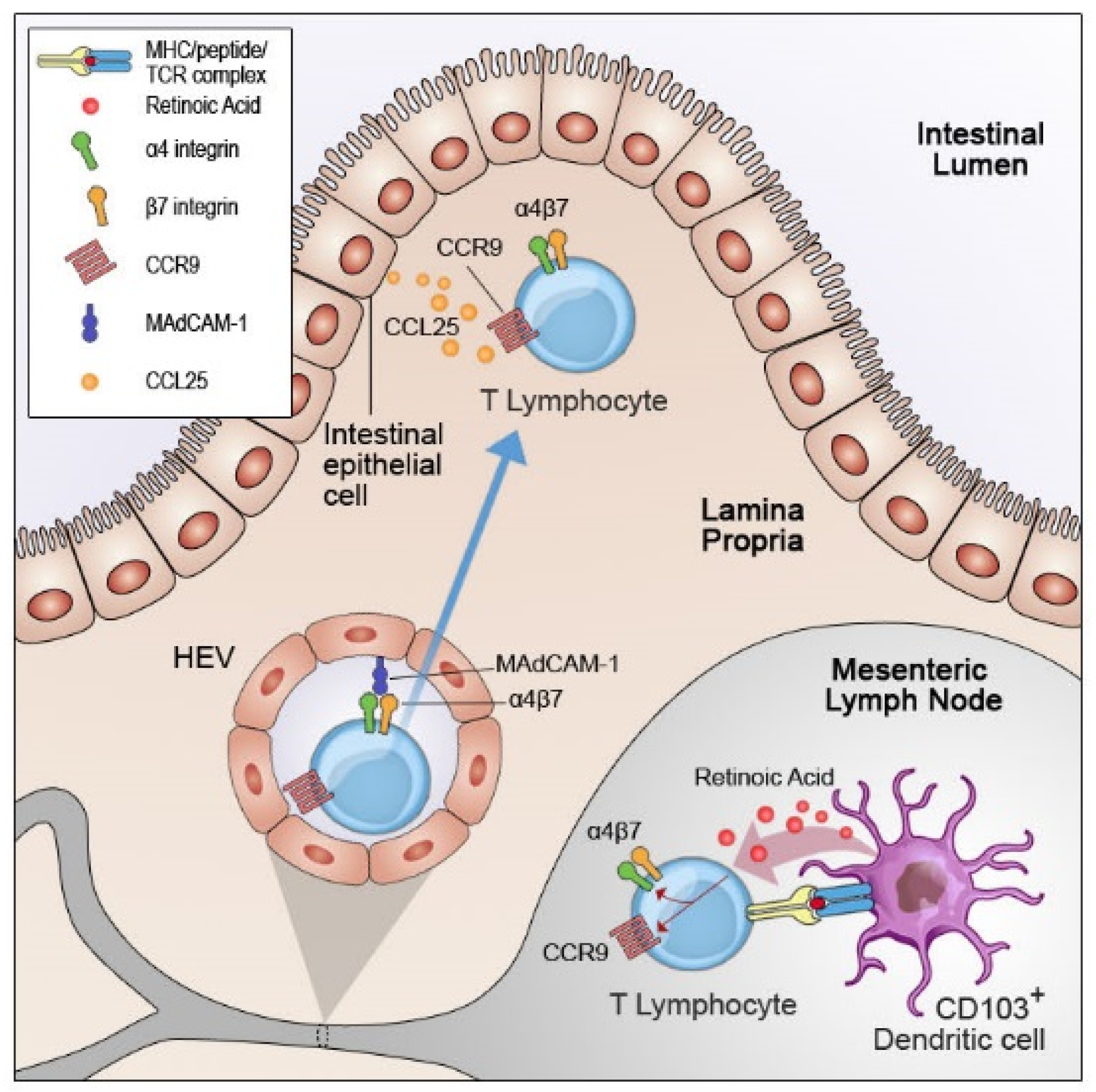 © 2016 by the authors; licensee MDPI, Basel, Switzerland. This article is an open access article distributed under the terms and conditions of the Creative Commons Attribution (CC-BY) license (http://creativecommons.org/licenses/by/4.0/).