Probiotic
Streptococcus thermophilus

FP4 and

Bifidobacterium breve

BR03 Supplementation Attenuates Performance and Range-of-Motion Decrements Following Muscle Damaging Exercise

1

Increnovo LLC, 2138 E Lafayette Pl, Milwaukee, WI 53202, USA

2

Exercise & Sport Performance Laboratory, Department of Kinesiology, Texas Christian University, P.O. Box 297730, Fort Worth, TX 76129, USA

3

R & D Bioloab, Via E. Mattei 3, Novara 28100, Italy

4

School of Sport and Exercise, Massey University, 63 Wallace St., Wellington 6021, New Zealand

*

Author to whom correspondence should be addressed.

Received: 10 September 2016 / Revised: 8 October 2016 / Accepted: 10 October 2016 / Published: 14 October 2016
Abstract
Probiotics have immunomodulatory effects. However, little is known about the potential benefit of probiotics on the inflammation subsequent to strenuous exercise. In a double-blind, randomized, placebo controlled, crossover design separated by a 21-day washout, 15 healthy resistance-trained men ingested an encapsulated probiotic
Streptococcus
(
S.
)
thermophilus
FP4 and
Bifidobacterium
(
B.
)
breve
BR03 at 5 bn live cells (AFU) concentration each, or a placebo, daily for 3 weeks prior to muscle-damaging exercise (ClinicalTrials.gov NCT02520583). Isometric strength, muscle soreness, range of motion and girth, and blood interleukin-6 (IL-6) and creatine kinase (CK) concentrations were measured from pre- to 72 h post-exercise. Statistical analysis was via mixed models and magnitude-based inference to the standardized difference. Probiotic supplementation resulted in an overall decrease in circulating IL-6, which was sustained to 48 h post-exercise. In addition, probiotic supplementation likely enhanced isometric average peak torque production at 24 to 72 h into the recovery period following exercise (probiotic–placebo point effect ±90% CI: 24 h, 11% ± 7%; 48 h, 12% ± 18%; 72 h, 8% ± 8%). Probiotics also likely moderately increased resting arm angle at 24 h (2.4% ± 2.0%) and 48 h (1.9% ± 1.9%) following exercise, but effects on soreness and flexed arm angle and CK were unclear. These data suggest that dietary supplementation with probiotic strains
S. thermophilus
FP4 and
B. breve
BR03 attenuates performance decrements and muscle tension in the days following muscle-damaging exercise.
View Full-Text
►

▼

Figures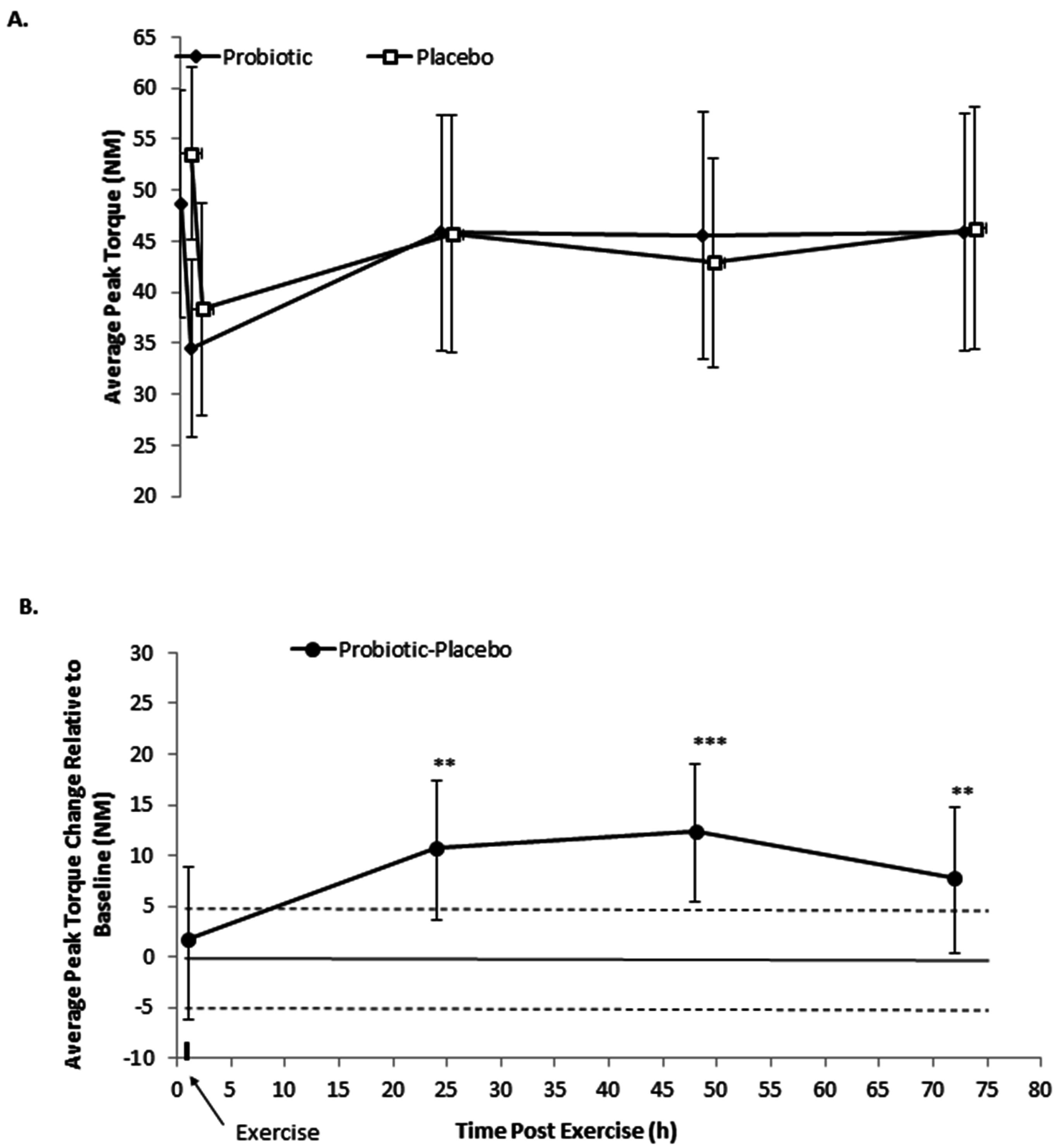 Figure 1
This is an open access article distributed under the
Creative Commons Attribution License
which permits unrestricted use, distribution, and reproduction in any medium, provided the original work is properly cited (CC BY 4.0).

Share & Cite This Article
MDPI and ACS Style
Jäger, R.; Purpura, M.; Stone, J.D.; Turner, S.M.; Anzalone, A.J.; Eimerbrink, M.J.; Pane, M.; Amoruso, A.; Rowlands, D.S.; Oliver, J.M. Probiotic Streptococcus thermophilus FP4 and Bifidobacterium breve BR03 Supplementation Attenuates Performance and Range-of-Motion Decrements Following Muscle Damaging Exercise. Nutrients 2016, 8, 642.
Note that from the first issue of 2016, MDPI journals use article numbers instead of page numbers. See further details here.
Related Articles
Comments
[Return to top]