Open Access This article is
freely available
re-usable
Review
The Role of Bioactive Dietary Components in Modulating miRNA Expression in Colorectal Cancer
1
Department of Bromatology, Hygiene, Nutrition, University of Medicine and Pharmacy "Iuliu Hatieganu", Marinescu Street 23, Cluj-Napoca 400337, Romania
2
Department of Pharmaceutical Biochemistry and Clinical Laboratory, University of Medicine and Pharmacy "Iuliu Hatieganu", Louis Pasteur Street 6, Cluj-Napoca 400349, Romania
3
Department of Functional Genomics, Proteomics and Experimental Pathology, The Oncology Institute "Prof. Dr. Ion Chiricuta", Republicii Street 34-36, Cluj-Napoca 400015, Romania
4
Department of Surgical and Gynecological Oncology, University of Medicine and Pharmacy "Iuliu Hatieganu", Republicii Street 34-36, Cluj-Napoca 400015, Romania
5
Department of Surgery, The Oncology Institute "Prof. Dr. Ion Chiricuta", Republicii Street 34-36, Cluj-Napoca 400015, Romania
*
Author to whom correspondence should be addressed.
Received: 29 July 2016 / Accepted: 18 September 2016 / Published: 26 September 2016
Abstract
:
Colorectal cancer is the third most common cancer in the world and considered to be one of the most diet-related types of cancer. Extensive research has been conducted but still the link between diet and colorectal cancer is complex. Recent studies have highlight microRNAs (miRNAs) as key players in cancer-related pathways in the context of dietary modulation. MicroRNAs are involved in most biological processes related to tumor development and progression; therefore, it is of great interest to understand the underlying mechanisms by which dietary patterns and components influence the expression of these powerful molecules in colorectal cancer. In this review, we discuss relevant dietary patterns in terms of miRNAs modulation in colorectal cancer, as well as bioactive dietary components able to modify gene expression through changes in miRNA expression. Furthermore, we emphasize on protective components such as resveratrol, curcumin, quercetin, α-mangostin, omega-3 fatty acids, vitamin D and dietary fiber, with a focus on the molecular mechanisms in the context of prevention and even treatment. In addition, several bioactive dietary components that have the ability to re-sensitize treatment resistant cells are described.
Keywords:
colorectal cancer; microRNA; diet; bioactive dietary components
2. Biogenesis of miRNA
MiRNA synthesis takes place in the cell nucleus where miRNA are transcribed by RNA polymerase II into a hairpin-shaped primary transcript (pri-miRNA), which is hundreds to thousands of nucleotides in length [
26
,
27
]. The pri-miRNA will become a regulatory miRNA after several steps of processing stages. First, the pri-miRNA is processed into smaller transcripts (~70 nucleotides long) named pre-miRNA, by a microprocessor complex including DGCR8 (DiGeorge syndrome critical region 8) and RNA polymerase III Drosha [
28
,
29
,
30
]. The pre-miRNA is then carried out from the nucleus to the cytoplasm through nuclear pores by the nuclear export factor Exportin 5 [
31
,
32
].
In the cytoplasm, the pre-miRNA is processed by Dicer (a helicase with RNase motif) to generate a mature miRNA of 21–23 nucleotides in length [
27
]. MicroRNAs negatively regulate the activity of mRNA of all protein-coding genes at post transcriptional level [
33
]. Generally, miRNAs bind through imperfect complementarity at the 3′UTR of specific mRNA target sequence [
34
,
35
], leading to the inhibition of translation and/or its degradation [
36
] (
Figure 1
). Recent evidence suggests that miRNAs can be packed into exosomes and transferred to other cells through the bloodstream, producing remote effects [
36
,
37
].
In normal cells, the expression of miRNAs is precisely controlled both for biogenesis and function, while, in tumor cells, miRNAs are abnormally expressed and processed. The genomic location of miRNAs is diverse, including introns (~40%), exons (~30%), uncertain transcriptional regions (~30%) and genomics repeats (~20%) [
38
]. In a previous study, Calin et al. [
39
] demonstrated that miRNA genes are frequently located at fragile sites that can be subjected to a variety of mechanisms including deletions, amplifications or mutations. These alterations modify the expression profile of miRNAs related to specific miRNA loci and therefore alter the expression of their mRNA target genes and also the mechanism they regulate. Moreover, even if the expression of miRNA is normal but mutations or a single-nucleotide polymorphism will occur in its sequence, the mRNA regulatory role can be altered [
40
,
41
]. A second mechanism responsible for aberrant expression of miRNAs is related to alterations in processing machinery, such as mutations in the Drosha and Dicer genes. Low expression of these genes was associated with advanced tumor stage and poor clinical outcome [
42
]. Epigenetic regulation represents the third mechanism responsible for aberrant regulation of miRNA expression. Hypermethylation represents one of the most important mechanisms that causes loss of tumor-suppressor miRNA expression. Thereby, by hypermethylation and/or deletion, the expression of miR-34b and miR-34C was downregulated in 90% of colorectal cancers, and was associated with oncogenesis [
43
]. Restoring the expression of tumor-suppressor miRNAs and/or blocking the expression of onco-miRNAs could be considered as alternative approaches for cancer prevention and treatment.
3. Colorectal Cancer and miRNA
Discovery of miRNA and their utility as molecular tools in diagnosis, prognosis and therapy of CRC has opened lately countless research possibilities. MicroRNAs, through their action of oncomir and/or tumor-suppressing gene, are involved in all stages of CRC development and progress including carcinogenesis, progression, cell proliferation and angiogenesis [
44
,
45
,
46
]. Overproduction of miRNA arises as a response of amplification, translocation, pleomorphism or mutation in miRNA transcribing genes, whereas mutation, deletion, promoter methylation or any abnormalities in the miRNA biogenesis results in silencing of miRNAs in tumor cells [
44
,
47
]. MiRNAs that are up-regulated in tumor cells might act as oncomirs by down-regulating tumor suppressor genes.
Extensive research effort has been conducted recently to investigate the potential of using miRNAs as biomarkers for diagnosis, tumor stage as well as for predicting patients' outcome [
48
,
49
,
50
]. MiRNAs present unique features such as high tissue specificity, good sensitivity and stability. These molecules can also be identified in blood serum, as they are secreted in membrane vesicles as exosomes, in other body fluids, and in the stool sample [
51
,
52
]; therefore, they become promising candidates for ideal noninvasive biomarkers. Important miRNAs considered diagnostic biomarkers are: miR-29a, miR-221, miR-13-3p and miR-92a, found in plasma and miR-17-92 cluster; and miR-135, miR-92a, miR-21, miR-143, miR-154, miR-106a and miR-144 present in the stool sample [
46
,
53
].
The link between miRNAs and CRC progression has been described previously in mechanistic studies presenting that important proteins involved in key signaling pathways of CRC, such as Wnt/β-catenin, phosphatidylinositol 3-kinase (PI3K), KRAS, tumor protein 53 (p53) that are influenced by miRNA expression [
47
]. For example, EGFR/MAPK activation via KRAS down-regulation is strongly associated with let-7, miR-18a* and miR-143 [
54
,
55
,
56
]. In addition, PI3K pathway is activated by miR-126 [
57
], whereas miR-21 up-regulation leads to PI3K inactivation [
58
]. As a consequence, these pathways lead to increased cell survival, cell proliferation and initiation of angiogenesis. In addition, involved in the progression of adenoma to carcinoma is the CRC-specific miR-17-92 cluster by up-regulation of c-myc [
59
]. Chang et al. reported p53, a well-known apoptotic gene and of major importance in transformation of adenoma to carcinoma as a direct target of miR-34a [
60
]. Furthermore, modified miRNA expression can also be correlated to tumor stages and can regulate important factors associated with the metastatic cascade [
53
]. For example, the level of miR-31 is significantly higher in stage IV colorectal tumors as compared to stage II, while miR-21 expression is higher in metastatic than in non-metastatic CRC [
61
]. In addition, miRNAs are now investigated as therapeutic agents being excellent candidates due to their ability to target multiple genes and therefore restore important molecular pathways altered during cancer initiation and progression [
47
]. However in its early research stage, miRNA gene therapy presents great potential but there are still major challenges to unravel such as safe delivery to target tissue and possible side effects. The role of miRNA expression in colorectal cancer development and diagnostic is extensively described as well as manipulation strategies for miRNA gene therapy [
37
]. The present paper will further discuss the ability of diet and dietary components to modulate miRNA expression in colorectal cancer, offering possible explanations for the importance of dietary choices in order to prevent or even treat colorectal cancer.
4. Dietary Patterns and miRNA
5. Bioactive Dietary Components and miRNA
Natural agents such as curcumin, resveratrol, quercetin, α-mangostin, ω-3-polyunsaturated fatty acids, vitamin D and dietary fiber have been reported to modulate the expression of miRNAs, affecting proliferation, migration, invasion and apoptosis (
Figure 2
).
6. Conclusions
There is increasing interest in using dietary interventions to prevent, slow and even reverse chronic disease, especially cancer. Decades of observations and epidemiological studies suggested that our everyday food choices influence the risk of cancer. Epigenetic changes and molecular alterations which link nutrition to carcinogenesis is an active area of research, including emerging data indicating that diet and bioactive dietary components can modify gene expression through miRNA modulation.
Nutrition factors and dietary patterns influence colorectal cancer risk. The majority of colorectal cancer cases is sporadic and thought to be preventable through diet, which remains an equally important link during and after treatment. We highlighted in this review the newest data on dietary modulation of miRNA in colorectal cancer. Western dietary patterns can modify miRNA expression linking obesity with cancer. However, there are healthy dietary patterns such as MD and DASH inversely associated with CRC risk. The majority of bioactive dietary components presented in this paper (curcumin, resveratrol, quercetin, ω-3 PUFA, α-mangostin, and vitamin D) are thought to be powerful tools in colorectal cancer prevention and treatment due to their ability to change miRNA expression, thereby modulating important pathways involved in cell proliferation, tumor growth, apoptosis, invasion and metastasis. Considering the extensive benefit in terms of miRNA regulation by bioactive dietary agents and their potential to down-regulate oncomirs (miR-21, miR-17-92 cluster, miR-92, etc.), activate tumor suppressor genes (p53, PDCD4, and PTEN) and re-sensitize treatment-resistant cells, we strongly believe that in the near future, dietary based miRNA manipulation can be used along with other forms of anticancer therapy. Further knowledge from mechanistic studies able to identify molecular targets and signaling pathways modulated by miRNA–diet interaction are still challenging. Although extensive research of both, nutrition and cancer, is still needed until results from in vitro or animal studies can be translated in everyday diet, the potential benefit in terms of cancer prevention and even treatment will be worth our time and patience.
Acknowledgments
This paper was (partially) supported by Ph.D. research grant contract No. 7690/8/15.04.2016 with the University of Medicine and Pharmacy "Iuliu Hatieganu" Cluj-Napoca.
Author Contributions
L.I.G. and D.M. designed, and drafted the manuscript. C.I., O.T. and C.L planed and draw the figures, organized key references and helped to wrote whole manuscript. O.B. designed, coordinated and drafted the manuscript. All authors read and approved the final form of the manuscript.
Conflicts of Interest
The authors declare no conflict of interest.
Figure 1. The biogenesis of miRNAs. MiRNAs are initially transcribed from introns or intergenic regions of DNA as long primary miRNA transcripts (pri-miRNA) and cleaved in pre-miRNAs smaller transcripts (~70 nucleotides long). After their export to the cytoplasm, pre-miRNAs are processed, unwind to mature miRNAs and loading into the RNA-induced silencing complex (RISC). This complex actively binds to mRNA targets and negatively regulates their gene expression and/or translational repression.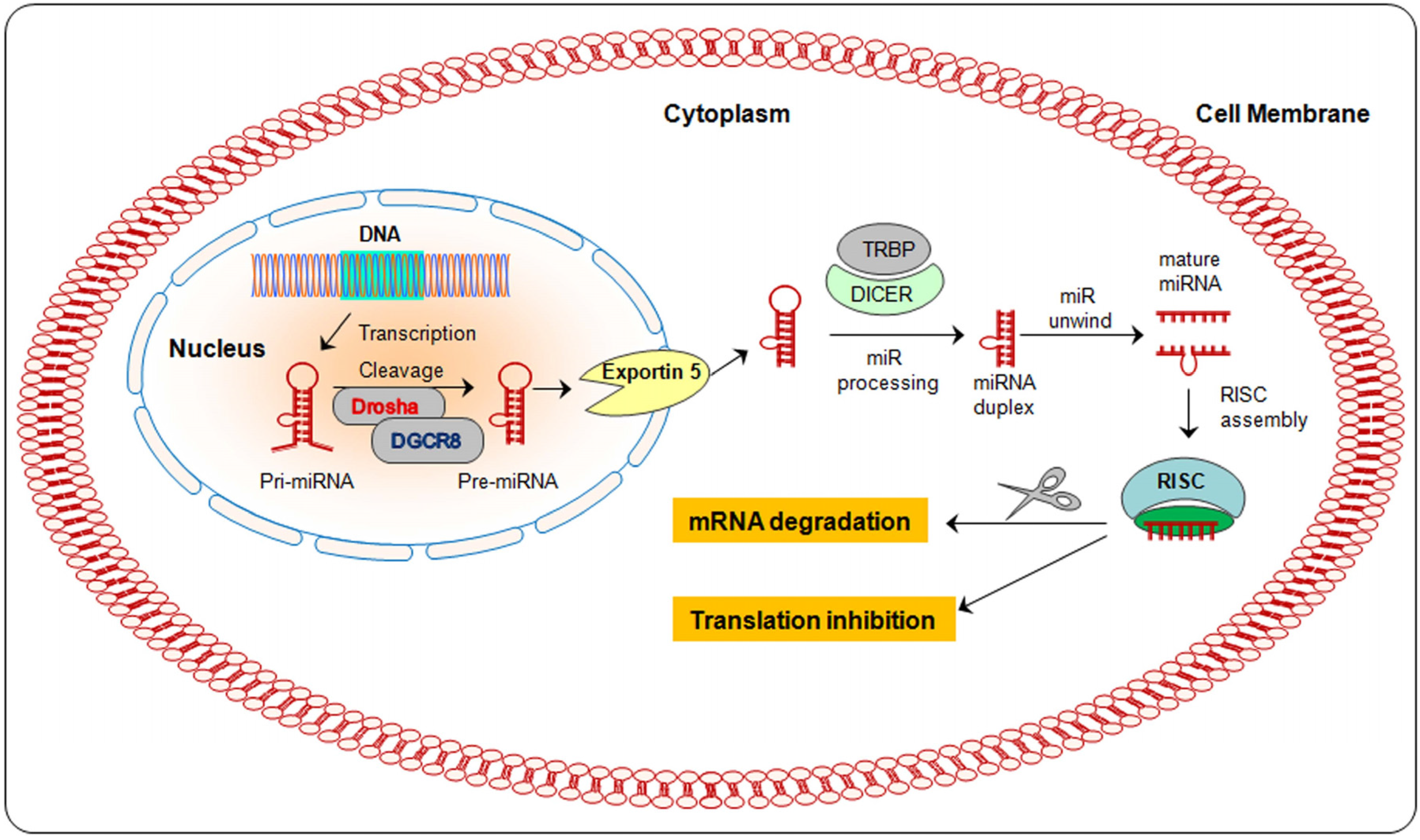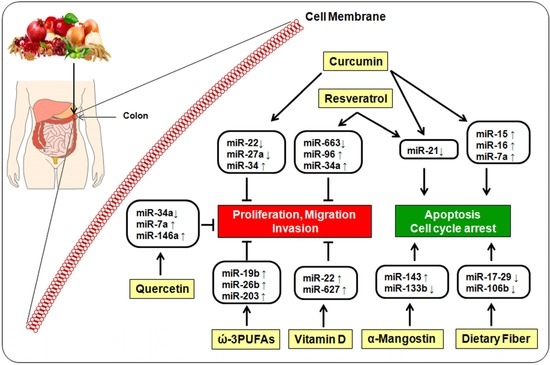 Figure 2. The protective role of bioactive dietary components in colorectal cells. Molecular mechanisms such as proliferation migration, invasion and apoptosis are tightly controlled by miRNAs-based epigenetic mechanisms.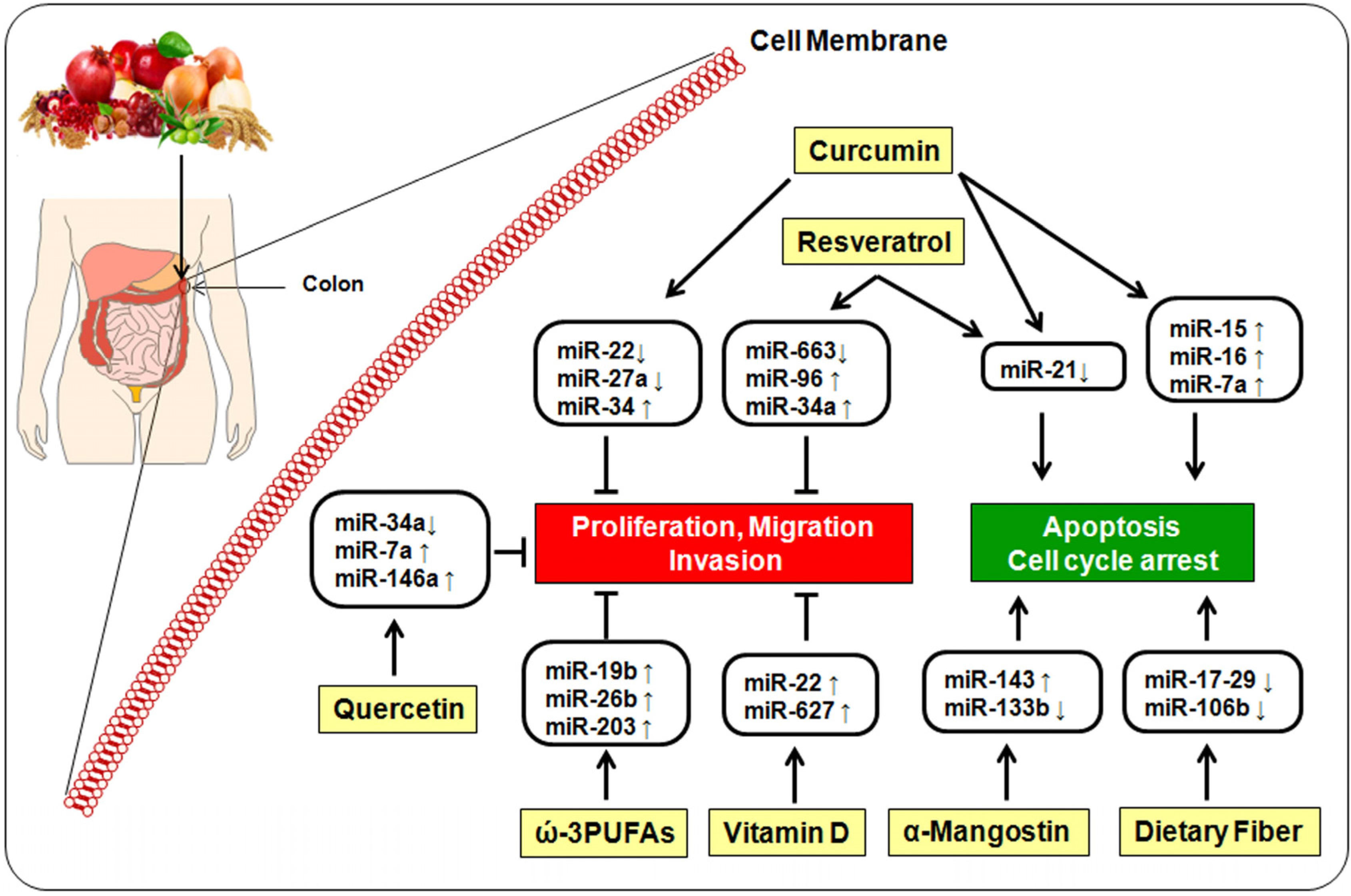 Table 1. Examples of bioactive dietary components that modulate miRNA expression: molecular targets and biological effects.
Table 1. Examples of bioactive dietary components that modulate miRNA expression: molecular targets and biological effects.
Dietary Component
miRNA Modulated by Dietary Compounds
Molecular Target
Biological Effect
References
Curcumin
Curcumin (synthetic analog (CDF))
↓miR-21
PDCD4
Cell cycle arrest, invasion, metastasis
[72]
↑miR-34a, ↑miR-34c
Notch-1
Apoptosis, cell proliferation
[74]
↓miR-27a
Sp1, Sp3, Sp4, ZBTB10
Cell growth, angiogenesis, inflammation
[75]
Resveratrol
↑miR-663, ↓miR-17, ↓miR-21, ↓miR-25, ↓miR-92a-2, ↓miR-103-1, ↓miR-103-2
TGF-β1, PDCD4, PTEN, Dicer
Cell proliferation
[83]
↑miR-34a
E2F3
Growth inhibition
[86]
↑miR-96
KRAS
Chemoprevention, tumor growth
[85]
Quercetin
Quercetin + Resveratrol
↑miR-146a
NF-kβ
Inflammation
[96]
↓miR-27a
Sp1, Sp3, Sp4, ZBTB10
Cell growth, angiogenesis, inflammation
[97]
α-mangostin
↑miR-143
ERK-5
Apoptosis
[102]
↓miR-133b
DR5
Apoptosis
[103]
ω-3 PUFA
* miR-15b
Bacel, Serbp1
Plasminogen Activation
[105]
* miR-107
Bcl-2, CCNE1
Apoptosis, Cell cycle
* miR-191, * miR324-5p, * let-7d
-
-
ω-3 PUFA + soluble fiber (pectin)
↑miR-19b, ↑miR-26b, ↑miR-203
IGF1R, IGF2R, TCF4
Cell proliferation, migration
[113]
Vitamin D
↑miR-627
JMJD1A
Cell proliferation
[119]
↑miR-22
NELL2, OGN, HNRPH1, RERE, NFAT5
Cell proliferation, migration
[118]
Fiber (butyrate)
↓miR-17-92
PTEN, Bcl-2L11, CDKN11A
Cell proliferation, apoptosis
[122,123]
↓miR-106b
p21
Cell cycle arrest
[125]
* Not affected in the presence of natural agent when exposed to a colon-specific carcinogen; Abbreviations: Bcl-2, B-cell lymphoma-2; EGFR, epidermal growth factor receptor; DR5, death receptor 5; ERK, Extracellular signal-regulated protein kinases; IGF1/2R, Insulin-like growth factor-1/2 receptor; JMJD1A, Jumanji domain containing 1A; KRAS, V-Ki-ras2 Kirsten rat sarcoma viral oncogene homolog; miR, microRNA; NF-κB, nuclear factor κB; p21, protein 21; PDCD4, Programmed cell death4; PTEN, phosphatase and tensin homolog; Sp, specificity protein; TCF4, transcription factor 4; TGFβ, Transforming growth factor beta; TNF-α, Tumor necrosis factor-α; ZBTB10, zinc finger protein.
© 2016 by the authors; licensee MDPI, Basel, Switzerland. This article is an open access article distributed under the terms and conditions of the Creative Commons Attribution (CC-BY) license (http://creativecommons.org/licenses/by/4.0/).