Postprandial Responses to Lipid and Carbohydrate Ingestion in Repeated Subcutaneous Adipose Tissue Biopsies in Healthy Adults
1
School of Exercise & Nutrition Sciences, Deakin University, Victoria 3125, Australia
2
Department of Nutrition & Dietetics, Monash University, Victoria 3168, Australia
3
School of Biological Sciences, University of Auckland, Auckland 1142, New Zealand
4
Basic and Clinical Myology Laboratory, Department of Physiology, University of Melbourne, Victoria 3010, Australia
5
Department of Physiology, Anatomy and Microbiology, College of Science, Health and Engineering, LaTrobe University, Victoria 3086, Australia
6
Metabolic Research Unit, Deakin University, Waurn Ponds, Victoria 3216, Australia
7
Liggins Institute, University of Auckland, Auckland 1142, New Zealand
*
Author to whom correspondence should be addressed.
Received: 3 June 2015 / Revised: 24 June 2015 / Accepted: 24 June 2015 / Published: 1 July 2015
Abstract
Adipose tissue is a primary site of meta-inflammation. Diet composition influences adipose tissue metabolism and a single meal can drive an inflammatory response in postprandial period. This study aimed to examine the effect lipid and carbohydrate ingestion compared with a non-caloric placebo on adipose tissue response. Thirty-three healthy adults (age 24.5 ± 3.3 year (mean ± standard deviation (SD)); body mass index (BMI) 24.1 ± 3.2 kg/m
2
, were randomised into one of three parallel beverage groups; placebo (water), carbohydrate (maltodextrin) or lipid (dairy-cream). Subcutaneous, abdominal adipose tissue biopsies and serum samples were collected prior to (0 h), as well as 2 h and 4 h after consumption of the beverage. Adipose tissue gene expression levels of monocyte chemoattractant protein-1 (MCP-1), interleukin 6 (IL-6) and tumor necrosis factor-α (TNF-α) increased in all three groups, without an increase in circulating TNF-α. Serum leptin (0.6-fold,
p
= 0.03) and adipose tissue leptin gene expression levels (0.6-fold,
p
= 0.001) decreased in the hours following the placebo beverage, but not the nutrient beverages. Despite increased inflammatory cytokine gene expression in adipose tissue with all beverages, suggesting a confounding effect of the repeated biopsy method, differences in metabolic responses of adipose tissue and circulating adipokines to ingestion of lipid and carbohydrate beverages were observed.
View Full-Text
►

▼

Figures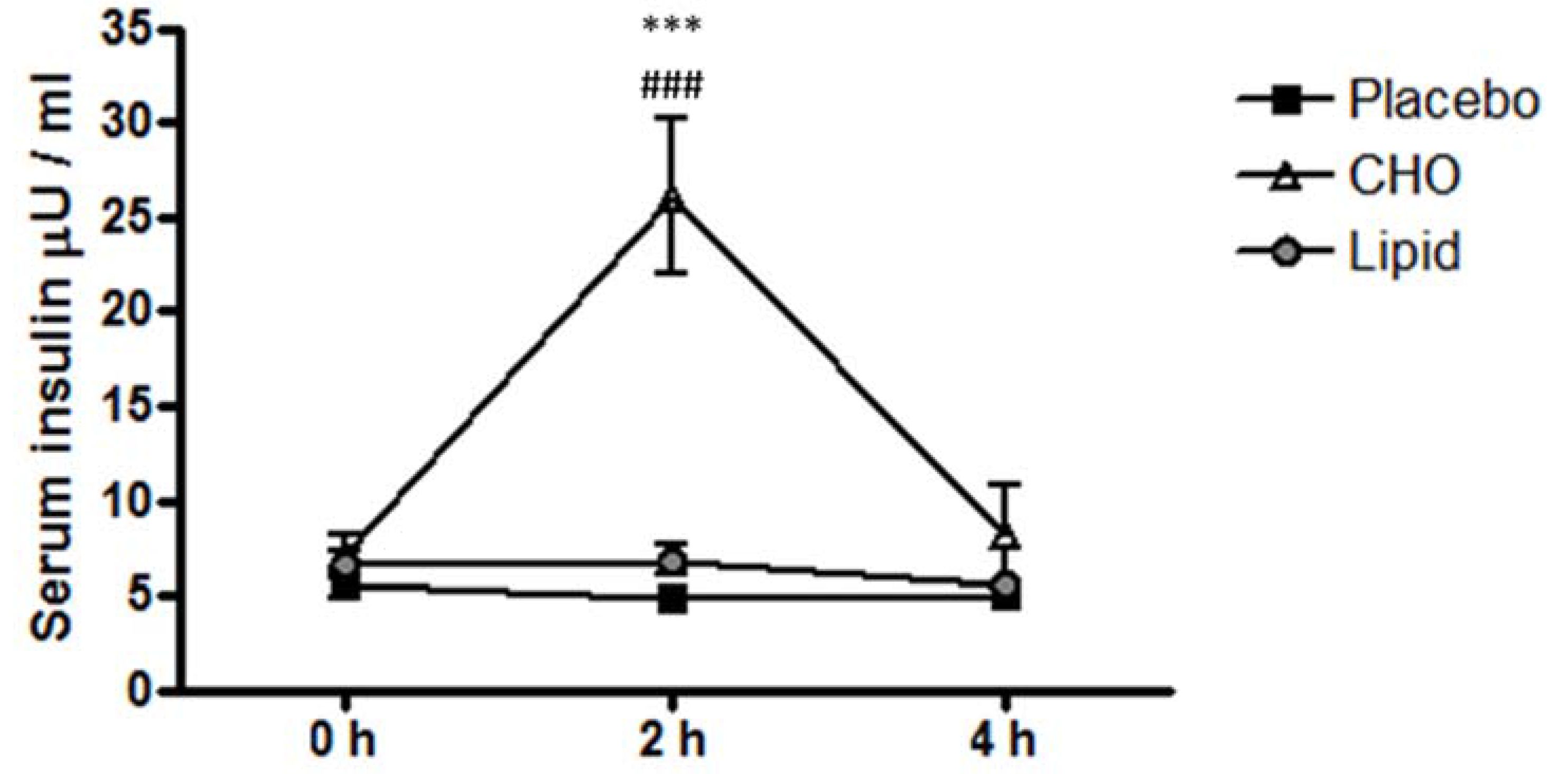 Figure 1
This is an open access article distributed under the
Creative Commons Attribution License
which permits unrestricted use, distribution, and reproduction in any medium, provided the original work is properly cited (CC BY 4.0).

Share & Cite This Article
MDPI and ACS Style
Dordevic, A.L.; Pendergast, F.J.; Morgan, H.; Villas-Boas, S.; Caldow, M.K.; Larsen, A.E.; Sinclair, A.J.; Cameron-Smith, D. Postprandial Responses to Lipid and Carbohydrate Ingestion in Repeated Subcutaneous Adipose Tissue Biopsies in Healthy Adults. Nutrients 2015, 7, 5347-5361.
Related Articles
Comments
[Return to top]