Open Access This article is
freely available
re-usable
Review
Non-Responsive Coeliac Disease: A Comprehensive Review from the NHS England National Centre for Refractory Coeliac Disease
1
Academic Unit of Gastroenterology, University of Sheffield, Sheffield S10 2TN, UK
2
Lydia Becker Institute of Inflammation and Immunology, University of Manchester, Manchester M13 9PL, UK
3
Department of Haematology, Sheffield Teaching Hospitals NHS Foundation Trust, Sheffield S10 2JF, UK
*
Author to whom correspondence should be addressed.
Received: 19 December 2019 / Accepted: 9 January 2020 / Published: 14 January 2020
Abstract
:
Coeliac disease is a common small intestinal enteropathy which manifests following ingestion of gluten in genetically susceptible individuals. Since gluten was identified as the driving factor in coeliac disease, the gluten-free diet (GFD) has remained the mainstay of treatment. While most individuals will display improvement in symptoms and signs of coeliac disease following institution of the GFD, up to 30% will continue to experience symptoms and/or have persisting intestinal inflammation. These individuals can be classified as having non-responsive coeliac disease (NRCD), which may be associated with dietary indiscretion, slow healing, refractory coeliac disease, and/or an alternative condition. The purpose of this review is to provide an overview of the causes of NRCD in adults, highlight a systematic approach to investigate these patients, and appraise the latest management aspects of this subset of coeliac disease.
Keywords:
coeliac disease; non-responsiveness; refractory coeliac disease; gluten free diet
1. Introduction
Coeliac disease (CD) is a chronic, autoimmune condition that develops in genetically susceptible individuals and has a reported prevalence of around 1% [
1
]. While the disease is characterized by a small intestinal enteropathy, the manifestations are broad and can involve both the gastrointestinal intestinal tract and distinct extra-intestinal sites throughout the body [
2
]. Inflammation and tissue damage in the small intestine results from an abnormal immune response towards ingested gluten. Persisting inflammation in active CD puts individuals at risk of osteoporosis, nutrient deficiencies, and malignancies [
2
]. Thus, a life-long gluten-free diet (GFD) is the mainstay treatment and reduces the long-term complications of this condition [
2
]. While most individuals will display improvement in symptoms and signs of CD following institution of the GFD, up to 30% will continue to experience symptoms and/or have persisting intestinal inflammation [
3
]. These individuals are classified as having non-responsive CD (NRCD), which may be associated with dietary indiscretion, slow healing, refractory CD (RCD), and/or an alternative diagnosis to CD [
3
].
In this article, we provide a comprehensive overview of the causes of NRCD in adults and highlight a systematic approach to investigate these patients. Furthermore, we appraise the latest management aspects of NRCD, with a particular focus on RCD. In doing so, it is hoped that this article will help promote the correct and timely identification, multi-disciplinary appraisal, and treatment of individuals with NRCD, in order to reduce morbidity and mortality associated with this subset of CD.
2. Defining Non-Responsive Coeliac Disease
It is generally accepted that NRCD is defined as persistent symptoms, signs, laboratory abnormalities, or histological changes typical of CD, despite at least 6 to 12 months of presumed adherence to a GFD [
4
]. Whilst this time length is often quoted in the definition of NRCD, it is arbitrary, as the length of time needed to respond to a GFD is variable and thus it is important to be guided by the clinical picture [
5
]. NRCD can be categorized as primary, where there is no response to a GFD, or secondary, where individuals initially respond to a GFD, but then develop symptoms despite ongoing adherence to a GFD [
3
]. Some expert gastroenterologists have suggested that the definition of NRCD causes confusion, primarily because the underlying cause of symptoms in these individuals may be related, or unrelated, to CD [
6
]. In contrast, we consider this definition appropriate, as it puts CD at the forefront of the clinical approach when considering the causes of persisting symptoms in these patients.
3. Causes of Non-Responsive Coeliac Disease
3.1. An Alternative Primary Diagnosis
3.2. An Associated Condition
Coeliac disease is associated with a number of conditions, including microscopic colitis, pancreatic insufficiency, small intestinal bacterial overgrowth (SIBO), inflammatory bowel disease (IBD), and lactose or fructose intolerance (
Table 1
) [
5
,
19
,
20
,
21
,
22
]. These are either related (SIBO, lactose/fructose intolerance) or unrelated (IBD, microscopic colitis) to mucosal damage in CD and can co-present at the time of index CD diagnosis or manifest after diagnosis. Therefore, the presence of these conditions should be considered as a cause for persisting symptoms in coeliac patients and managed accordingly.
In addition, functional gastrointestinal disorders, such as irritable bowel syndrome (IBS) and gastrointestinal dysmotility, are more prevalent in individuals with CD [
23
,
24
] and should not be overlooked as a cause of persisting symptoms in individuals with normal repeat duodenal histology. For these individuals, a low fermentable oligo-, di-, mono-saccharide and polyol (FODMAP) diet may improve symptoms and quality of life [
25
,
26
]. In one study, 41 CD patients with IBS who had been on a GFD for at least 1 year demonstrated significant improvement in IBS-symptom severity scores after 3 months on the low FODMAP diet [
25
]. The benefits of a low FODMAP diet have also been shown in a recent randomized controlled trial; 50 patients with CD and persisting symptoms were randomized to follow either a regular GFD (R-GFD,
n
= 25) or a low FODMAP GFD (LF-GFD,
n
= 25) for 21 days. At the end of the 21 days, symptoms were reduced in the LF-GFD group, but not in the R-GFD group. General wellbeing increased in both groups, but a significantly higher improvement was noted in the LF-GFD group [
26
]. This suggests an additive effect of combining a low FODMAP diet with a GFD in certain individuals with NRCD. However, notably, these studies did not rule-out persistent villous atrophy as a cause for ongoing symptoms.
In addition to the low FODMAP diet, probiotics have shown potential benefits in individuals with CD and IBS symptoms. A recent randomized, double-blind, placebo-controlled multicenter trial investigated the use of a probiotic mixture in patients with CD with persisting IBS-type symptoms despite a strict GFD [
27
]. In total, 109 CD patients were randomized to receive either probiotics or a placebo for 6 weeks. The investigators noted a significantly greater reduction in symptoms with the use of probiotics compared with the placebo [
27
]. However, while these results are promising, further studies are needed to evaluate the use of the low FODMAP diet and/or probiotics in NRCD associated with functional gastrointestinal disorders.
3.3. Dietary Indiscretion
3.4. Gluten Super-Sensitivity
In the UK, foods that contain 20 parts per million or less gluten can be branded as gluten free. It is generally considered that the vast majority of individuals with CD will tolerate foodstuffs with gluten at this level [
5
]. However, some individuals are sensitive to small traces of gluten (less than 20 parts per million) and thus display an incomplete response to a strict GFD [
40
].
The Gluten Contamination Elimination Diet (GCED) comprises whole, unprocessed foods and has been developed to prevent ingestion of trace amounts of gluten [
40
]. This has been shown to result in an improvement in symptoms in this (super-sensitive) subset of individuals with NRCD who are adherent to a GFD [
40
]. It is thought that the GCED may also be used to distinguish between individuals who are 'supersensitive' to a GFD and those with true RCD [
41
]. This could be particularly useful in preventing patients receiving unnecessary corticosteroid and immunosuppressive treatment for an incorrect diagnosis of RCD [
4
]. Notably, other diets exclusive of trace gluten have also been trialed in this setting, including the elemental diet. This has demonstrated potential benefits, with both histological and clinical improvement being demonstrated in small case series [
42
,
43
]. However, there is a lack of large, long-term studies assessing the efficacy and acceptability of either diets in this patient cohort.
3.5. Refractory Coeliac Disease
3.5.3. Management
(i)

General Measures
(ii)

RCD1
(iii)

RCD2
4. Conclusions
Up to a third of individuals with CD develop NRCD. Dietary indiscretion is the commonest cause of NRCD, yet currently there is no reliable objective assessment of ongoing gluten ingestion in these patients. The diagnosis and management of RCD is challenging, and patients should be referred to a specialist center with multi-disciplinary experience in RCD for assessment, diagnostics, treatment, and follow-up. Novel therapeutic strategies are required to provide realistic treatment options in RCD2 to impact the dismal mortality in this condition.
Author Contributions
H.A.P., E.M.R.B., A.R., J.A.S., and D.S.S. wrote the manuscript. All authors have read and agreed to the published version of the manuscript.
Funding
This research received no external funding
Acknowledgments
No funding was obtained for this review. H.A.P. is a Wellcome Clinical Fellow funded on grant 203914/Z/16/Z to the Universities of Manchester, Leeds, Newcastle, and Sheffield. D.S.S. receives an educational grant from Dr Schär (a gluten-free food manufacturer). Dr Schär did not have any input in drafting of this manuscript.
Conflicts of Interest
The authors declare no conflict of interest.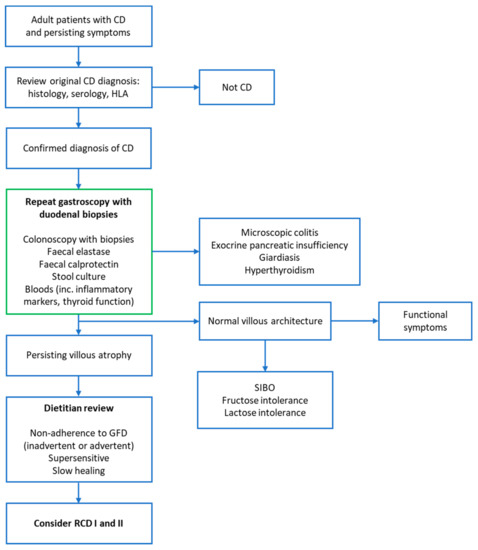 Figure 1.
Algorithm for investigating coeliac patients with persisting symptoms. Investigations outlined in the green box can be planned for during the initial follow-up appointment in suspected non-responsive coeliac disease (NRCD). This may expedite the identification and diagnosis of RCD. Where there is clear clinical concern of ongoing gluten ingestion, a dietary review earlier in the investigation pathway may prevent unnecessary tests for some patients. However, we would always advocate repeat duodenal biopsies in individuals presenting with NRCD. Modified with permission from [
4
].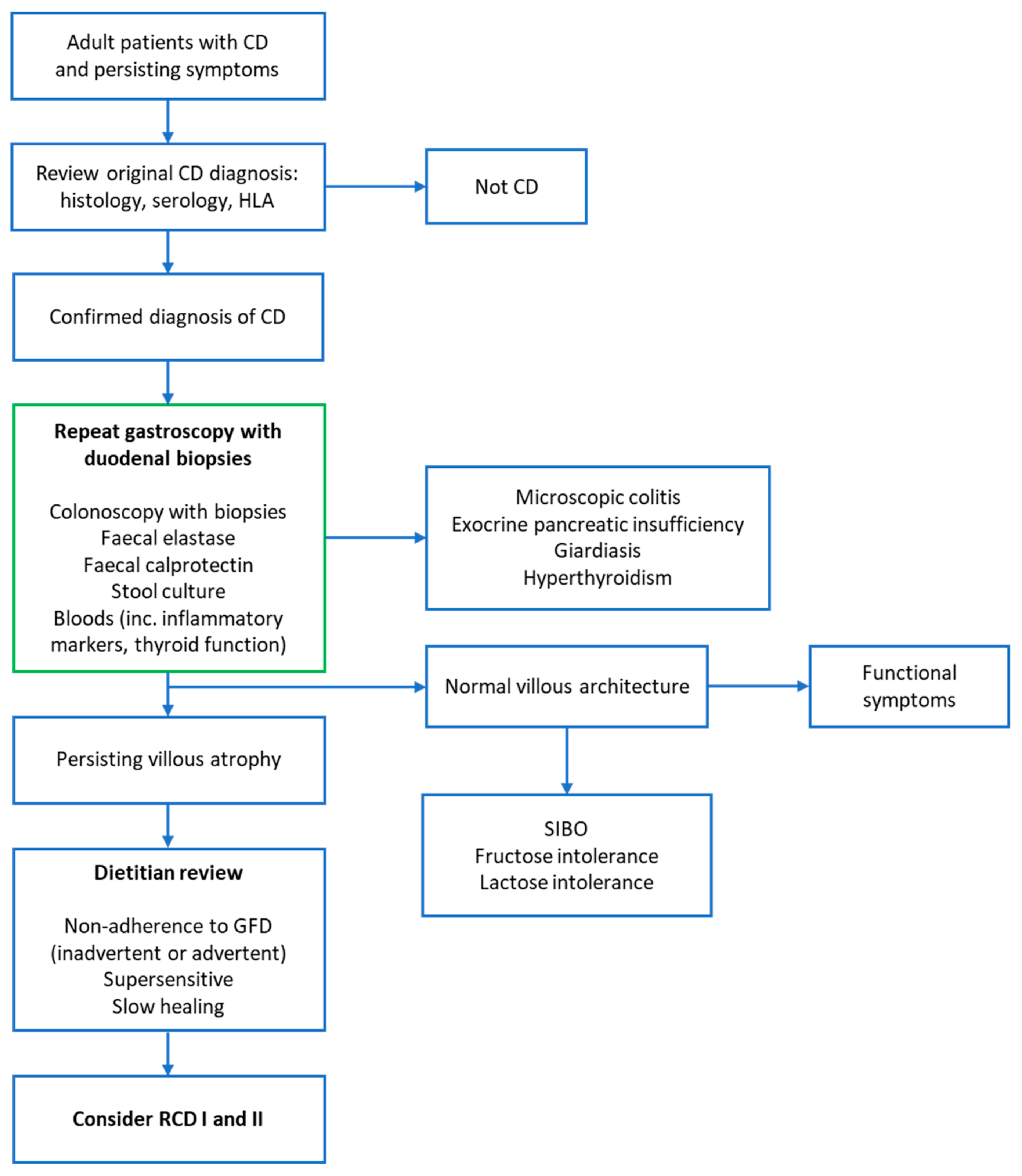 Pancreatic insufficiency
Inflammatory bowel disease
Lactose and/or fructose intolerance
Small intestinal bacterial overgrowth
Microscopic colitis
Irritable bowel syndrome
Functional dysmotility

© 2020 by the authors. Licensee MDPI, Basel, Switzerland. This article is an open access article distributed under the terms and conditions of the Creative Commons Attribution (CC BY) license (http://creativecommons.org/licenses/by/4.0/).