Appetite Perceptions, Gastrointestinal Symptoms, Ghrelin, Peptide YY and State Anxiety Are Disturbed in Adolescent Females with Anorexia Nervosa and Only Partially Restored with Short-Term Refeeding
1
Adelaide Medical School and National Health and Medical Research Council of Australia Centre of Research Excellence in Translating Nutritional Science to Good Health, Level 5 Adelaide Health and Medical Sciences Building, Corner North Terrace and George Street, Adelaide 5005, Australia
2
The Children's Hospital at Westmead, Sydney 2145, Australia
3
Adolescent and Young Adult Medicine Department, Westmead Hospital, Sydney 2145, Australia
†
Current address: Department of Psychological Medicine, The Children's Hospital at Westmead, Sydney 2145, Australia.
*
Author to whom correspondence should be addressed.
Received: 19 November 2018 / Revised: 23 December 2018 / Accepted: 25 December 2018 / Published: 28 December 2018
Abstract
Factors underlying disturbed appetite perception in anorexia nervosa (AN) are poorly characterized. We examined in patients with AN whether fasting and postprandial appetite perceptions, gastrointestinal (GI) hormones, GI symptoms and state anxiety (i) differed from healthy controls (HCs) and (ii) were modified by two weeks of refeeding. 22 female adolescent inpatients with restricting AN, studied on hospital admission once medically stable (Wk0), and after one (Wk1) and two (Wk2) weeks of high-calorie refeeding, were compared with 17 age-matched HCs. After a 4 h fast, appetite perceptions, GI symptoms, state anxiety, and plasma acyl-ghrelin, cholecystokinin (CCK), peptide tyrosine tyrosine (PYY) and pancreatic polypeptide (PP) concentrations were assessed at baseline and in response to a mixed-nutrient test-meal (479 kcal). Compared with HCs, in patients with AN at Wk0, baseline ghrelin, PYY, fullness, bloating and anxiety were higher, and hunger less, and in response to the meal, ghrelin, bloating and anxiety were greater, and hunger less (all
p
< 0.05). After two weeks of refeeding, there was no change in baseline or postprandial ghrelin or bloating, or postprandial anxiety, but baseline PYY, fullness and anxiety decreased, and baseline and postprandial hunger increased (
p
< 0.05). We conclude that in AN, refeeding for 2 weeks was associated with improvements in PYY, appetite and baseline anxiety, while increased ghrelin, bloating and postprandial anxiety persisted.
View Full-Text
►

▼

Figures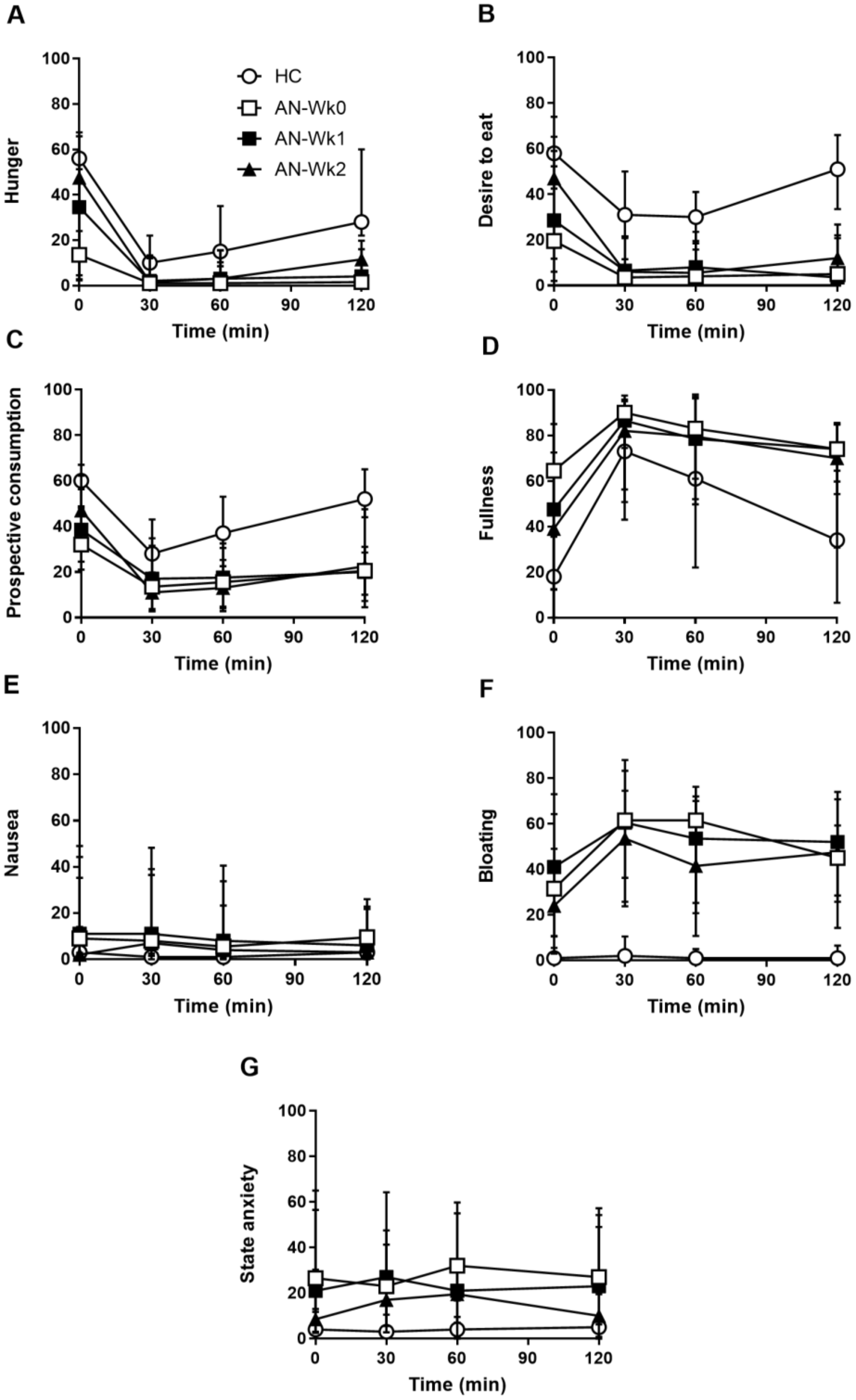 Figure 1
This is an open access article distributed under the
Creative Commons Attribution License
which permits unrestricted use, distribution, and reproduction in any medium, provided the original work is properly cited (CC BY 4.0).

Share & Cite This Article
MDPI and ACS Style
Heruc, G.A.; Little, T.J.; Kohn, M.; Madden, S.; Clarke, S.; Horowitz, M.; Feinle-Bisset, C. Appetite Perceptions, Gastrointestinal Symptoms, Ghrelin, Peptide YY and State Anxiety Are Disturbed in Adolescent Females with Anorexia Nervosa and Only Partially Restored with Short-Term Refeeding. Nutrients 2019, 11, 59.
Note that from the first issue of 2016, MDPI journals use article numbers instead of page numbers. See further details here.
Related Articles
Comments
[Return to top]