n

-6 Linoleic Acid Induces Epigenetics Alterations Associated with Colonic Inflammation and Cancer

1

The University of Arizona Cancer Center, Tucson, AZ 85724, USA

2

Department of Nutritional Sciences, University of Arizona, Tucson, AZ 85721, USA

3

Interdisciplinary Cancer Biology Graduate Program, University of Arizona, Tucson, AZ 85724, USA

4

Department of Cellular & Molecular Medicine, University of Arizona, Tucson, AZ 85724, USA

*

Author to whom correspondence should be addressed.

Received: 2 December 2018 / Revised: 3 January 2019 / Accepted: 10 January 2019 / Published: 15 January 2019
Abstract
The farnesoid-X-receptor (FXR) protects against inflammation and cancer of the colon through maintenance of intestinal bile acid (BA) homeostasis. Conversely, higher levels of BA and cyclooxygenase-2 (COX-2) are risk factors for inflammation and cancer of the colon. In the United States,
n
-6 linoleic acid (LA) is the most commonly used dietary vegetable fat. Metabolism of
n
-6 fatty acids has been linked to a higher risk of intestinal cancer. The objectives of this study were to investigate in colonic mucosa the effects of a high-fat diet rich in LA (
n
-6HFD) on CpG methylation of
Fxr
and prostaglandin-endoperoxide synthase-2 (
Ptsg-2
) genes, and the impact on the expression of tumor suppressor adenomatous polyposis Coli (
Apc
) and proliferative cyclin D1 (
Ccnd1
) genes. Weaned C57BL/6J male mice were fed for 6 weeks either an
n
-6HFD containing 44% energy (44%E) from 22% safflower oil (SO, 76% LA by weight) or a 13% energy (13%E) control diet (Control) from SO (5% by weight). Mice fed the
n
-6HFD had reduced (60%)
Fxr
promoter CpG methylation and increased (~50%)
Fxr
mRNA. The expression of FXR-target ileal bile acid-binding protein (
Ibabp
), small heterodimer protein (
Shp
), and anti-inflammatory peroxisome proliferator-activated-γ1 genes was increased. The
n
-6HFD reduced
Ptgs-2
CpG methylation, increased the expression of
Cox-2
, and increased
Apc
CpG methylation in colonic mucosa. Accordingly, reduced expression of
Apc
was coupled to accumulation of c-JUN and
Ccnd1,
respectively cofactor and gene targets for the β-catenin/Wnt signaling pathway. Finally, the
n
-6HFD reduced the expression of histone deacetylase-1 while favoring the accumulation of acetylated histone 3. We conclude that an
n
-6HFD epigenetically modifies
Fxr
, leading to the activation of downstream factors that participate in BA homeostasis. However, epigenetic activation of
Ptsg-2
coupled with silencing of
Apc
and accumulation of C-JUN and
Ccnd1
may increase the risk of inflammation and cancer of the colon.
View Full-Text
►

▼

Figures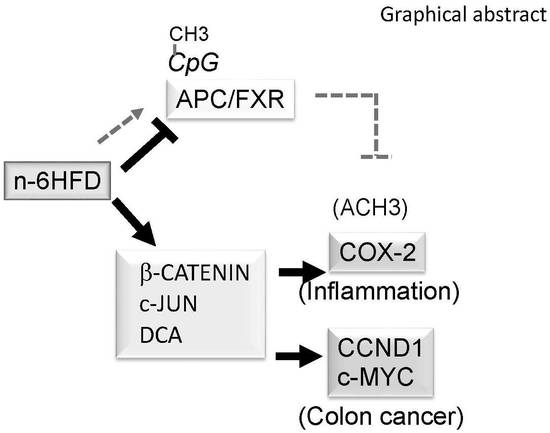 Graphical abstract
This is an open access article distributed under the
Creative Commons Attribution License
which permits unrestricted use, distribution, and reproduction in any medium, provided the original work is properly cited (CC BY 4.0).

Share & Cite This Article
MDPI and ACS Style
Romagnolo, D.F.; Donovan, M.G.; Doetschman, T.C.; Selmin, O.I. n-6 Linoleic Acid Induces Epigenetics Alterations Associated with Colonic Inflammation and Cancer. Nutrients 2019, 11, 171.
Note that from the first issue of 2016, MDPI journals use article numbers instead of page numbers. See further details here.
Related Articles
Comments
[Return to top]