Effectiveness of A Multifactorial Intervention in Increasing Adherence to the Mediterranean Diet among Patients with Diabetes Mellitus Type 2: A Controlled and Randomized Study (EMID Study)
1
Primary Care Research Unit, The Alamedilla Health Center, Biomedical Research Institute of Salamanca (IBSAL), Castilla and León Health Service (SACYL), Department of Nursing and Physiotherapy, University of Salamanca, Spanish Network for Preventive Activities and Health Promotion (redIAPP), 37003 Salamanca, Spain
2
Primary Care Research Unit, The Alamedilla Health Center, Biomedical Research Institute of Salamanca (IBSAL), Castilla and León Health Service (SACYL), Department of Biomedical and Diagnostic Sciences, University of Salamanca, Spanish Network for Preventive Activities and Health Promotion (redIAPP), 37003 Salamanca, Spain
3
Biomedical Research Institute of Salamanca (IBSAL), Castilla and León Health Service (SACYL), Department of Statistics, University of Salamanca, Spanish Network for Preventive Activities and Health Promotion (redIAPP), 37003 Salamanca, Spain
4
Primary Care Research Unit, The Alamedilla Health Center, Biomedical Research Institute of Salamanca (IBSAL), Castilla and León Health Service (SACYL), Department of Medicine, University of Salamanca, Spanish Network for Preventive Activities and Health Promotion (redIAPP), 37003 Salamanca, Spain
5
Biomedical Research Institute of Salamanca (IBSAL), Spanish Network for Preventive Activities and Health Promotion (redIAPP), 37003 Salamanca, Spain
6
Faculty of Health Sciences, University of Burgos, 09001 Burgos, Spain
*
Author to whom correspondence should be addressed.
†
These authors contributed equally to this work.
Received: 26 November 2018 / Revised: 9 January 2019 / Accepted: 10 January 2019 / Published: 14 January 2019
Abstract
The Mediterranean diet (MD) is recognized as one of the healthiest dietary patterns and has benefits such as improving glycaemic control among patients with type 2 diabetes (T2DM). Our aim is to assess the effectiveness of a multifactorial intervention to improve adherence to the MD, diet quality and biomedical parameters. The EMID study is a randomized and controlled clinical trial with two parallel groups and a 12-month follow-up period. The study included 204 subjects between 25–70 years with T2DM. The participants were randomized into intervention group (IG) and control group (CG). Both groups received brief advice about healthy eating and physical activity. The IG participants additionally took part in a food workshop, five walks and received a smartphone application for three months. The population studied had a mean age of 60.6 years. At the 3-month follow-up visit, there were improvements in adherence to the MD and diet quality of 2.2 and 2.5 points, compared to the baseline visit, respectively, in favour of the IG. This tendency of the improvement was maintained, in favour of the IG, at the 12-month follow-up visit. In conclusion, the multifactorial intervention performed could improve adherence to the MD and diet quality among patients with T2DM.
View Full-Text
►

▼

Figures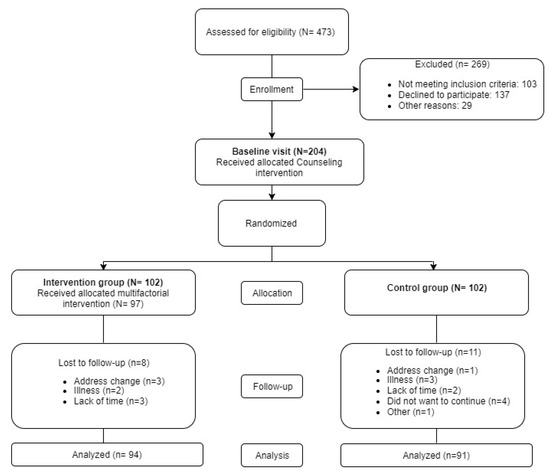 Figure 1
This is an open access article distributed under the
Creative Commons Attribution License
which permits unrestricted use, distribution, and reproduction in any medium, provided the original work is properly cited (CC BY 4.0).

Share & Cite This Article
MDPI and ACS Style
Alonso-Domínguez, R.; García-Ortiz, L.; Patino-Alonso, M.C.; Sánchez-Aguadero, N.; Gómez-Marcos, M.A.; Recio-Rodríguez, J.I. Effectiveness of A Multifactorial Intervention in Increasing Adherence to the Mediterranean Diet among Patients with Diabetes Mellitus Type 2: A Controlled and Randomized Study (EMID Study). Nutrients 2019, 11, 162.
Note that from the first issue of 2016, MDPI journals use article numbers instead of page numbers. See further details here.
Related Articles
Comments
[Return to top]