Dietary Protein Intake, Protein Energy Wasting, and the Progression of Chronic Kidney Disease: Analysis from the KNOW-CKD Study
1
Department of Internal Medicine, Nowon Eulji Medical Center, Eulji University, Seoul 01830, Korea
2
Department of Internal Medicine, College of Medicine, Catholic University of Korea, Seoul 06591, Korea
3
Department of Internal Medicine, Inje University, Busan Paik Hospital, Busan 47392, Korea
4
Department of Internal Medicine, Gachon University, Gil Hospital, Incheon 21565, Korea
5
Department of Preventive Medicine, Seoul National University College of Medicine, Seoul 03082, Korea
6
Cancer Research Institute, Seoul National University, Seoul 08826, Korea
7
Department of Biomedical Science, Seoul National University Graduate School, Seoul 03081, Korea
8
Department of Internal Medicine, College of Medicine, Institute of Kidney Disease Research, Yonsei University, Seoul 03722, Korea
9
Department of Internal Medicine, Seoul National University Hospital, Seoul 03080, Korea
*
Author to whom correspondence should be addressed.
Received: 3 December 2018 / Revised: 11 December 2018 / Accepted: 4 January 2019 / Published: 8 January 2019
Abstract
Studies on the effect of dietary protein intake (DPI) on chronic kidney disease (CKD) progression, along with the potential hazard of protein-energy wasting (PEW), are scarce. We evaluated the association between DPI and kidney function both cross-sectionally and longitudinally, particularly emphasizing the role of PEW, in a large-scale, observational, multicenter, prospective study. We enrolled 1572 patients with non-dialysis CKD between 2011 and 2016. CKD progression was defined by a >50% estimated glomerular filtration rate (eGFR) decrease, serum creatinine doubling, or dialysis initiation. A Cox proportional hazard regression analysis was conducted. During the mean follow-up period of 41.6 months, CKD progression was observed in 296 patients. Cross-sectionally, increased DPI was significantly associated with increased eGFR. Similarly, increased DPI tertile was significantly associated with increased renal survival in a Kaplan–Meier curve analysis. In the multivariate Cox proportional hazard regression analysis, the statistical significance of the DPI tertile group in CKD progression was lost when PEW-related variables were added as covariates. In penalized spline curve analysis, the adjusted odds ratio of PEW significantly increased as DPI decreased. DPI, per se was not a major determinant of CKD progression. An intimate association between reduced DPI and PEW may be a more important predictor of CKD progression than DPI.
View Full-Text
►

▼

Figures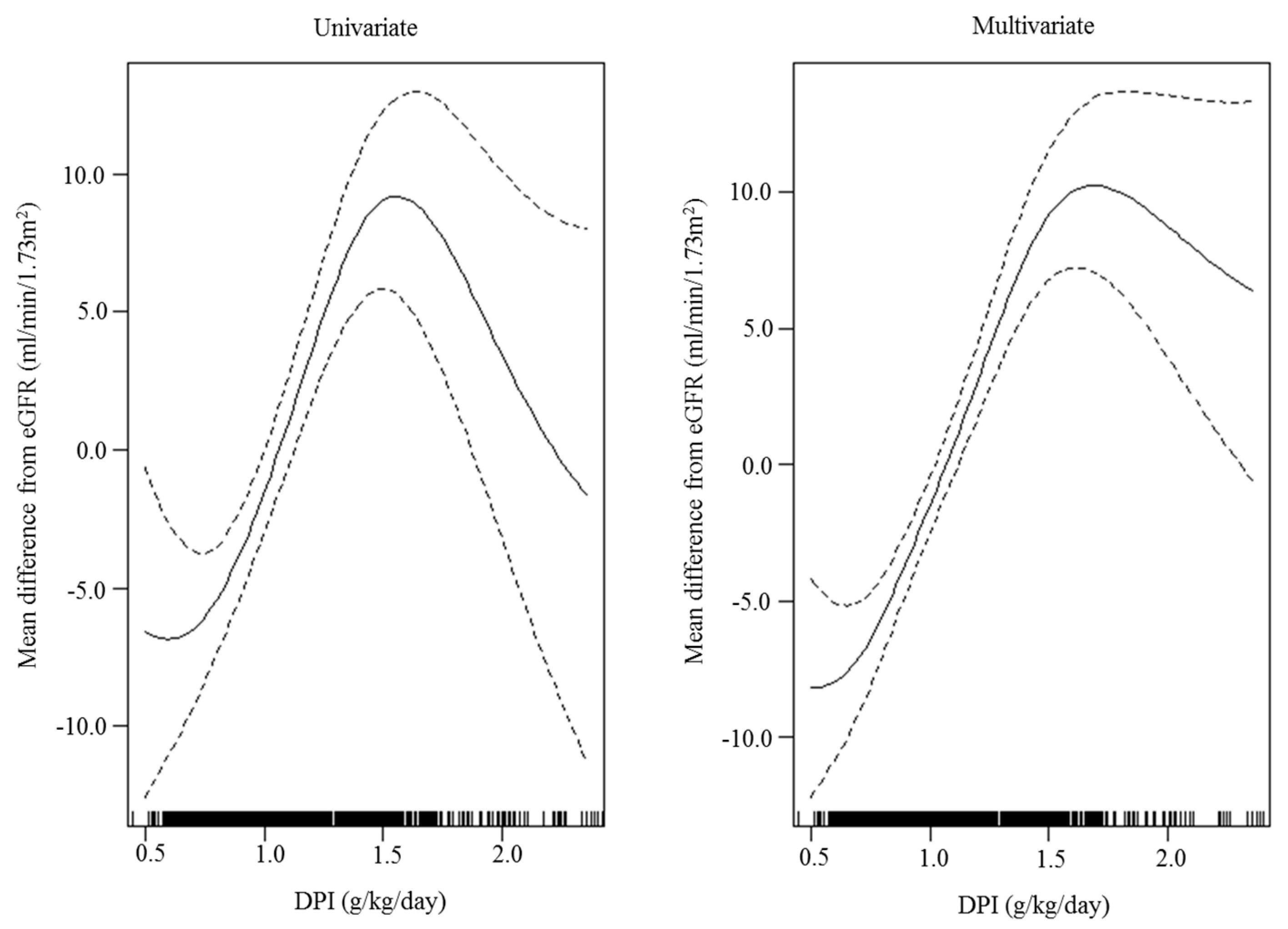 Figure 1
This is an open access article distributed under the
Creative Commons Attribution License
which permits unrestricted use, distribution, and reproduction in any medium, provided the original work is properly cited (CC BY 4.0).

Share & Cite This Article
MDPI and ACS Style
Lee, S.W.; Kim, Y.-S.; Kim, Y.H.; Chung, W.; Park, S.K.; Choi, K.H.; Ahn, C.; Oh, K.-H. Dietary Protein Intake, Protein Energy Wasting, and the Progression of Chronic Kidney Disease: Analysis from the KNOW-CKD Study. Nutrients 2019, 11, 121.
Note that from the first issue of 2016, MDPI journals use article numbers instead of page numbers. See further details here.
Related Articles
Comments
[Return to top]