Repressed Exercise-Induced Hepcidin Levels after Danggui Buxue Tang Supplementation in Male Recreational Runners
1
School of Pharmacy, Kaohsiung Medical University, Kaohsiung 80708, Taiwan
2
Center for Physical Education, Kaohsiung Medical University, Kaohsiung 80708, Taiwan
3
Department of Medical Research, Kaohsiung Medical University Hospital, Kaohsiung 80756, Taiwan
4
Department of Sports Medicine, Kaohsiung Medical University, Kaohsiung 80708, Taiwan
*
Author to whom correspondence should be addressed.
Received: 13 August 2018 / Revised: 13 September 2018 / Accepted: 15 September 2018 / Published: 18 September 2018
Abstract
This study was to investigate the protective and recovery effects of Danggui Buxue Tang (DBT) supplementation on exercise performance, hepcidin, iron status, and other related biochemical parameters after being challenged by a single bout of intense aerobic exercise. A total of 36 recreationally active males were pair-matched and randomly assigned to receive DBT or a placebo for 11 days, while using clusters based on their aerobic capacities. On the eighth day of the supplementation, the participants performed a 13-km run with maximal effort. Blood and urine samples were collected and analysed before treatment (Pre-Tre) and immediately after (Post-Ex), 24 h after (24-h Rec), and 72 h after (72-h Rec) the run. DBT supplementation dramatically shortened the finish times by 14.0% (12.3 min) when compared with that in the placebo group. Significant group × time effects were observed in serum hepcidin and iron levels. DBT supplementation repressed hepcidin levels at Post-Ex and 24-h Rec, thereby causing a significant increase in iron levels by 63.3% and 31.4% at Post-Ex and 72-h Rec, respectively. However, DBT supplementation had no significant anti-inflammatory or haemolysis-preventative effects. Short-term DBT supplementation shortened the running time and repressed exercise-induced hepcidin levels, thereby boosting iron levels and accelerating iron homeostasis during recovery.
View Full-Text
►

▼

Figures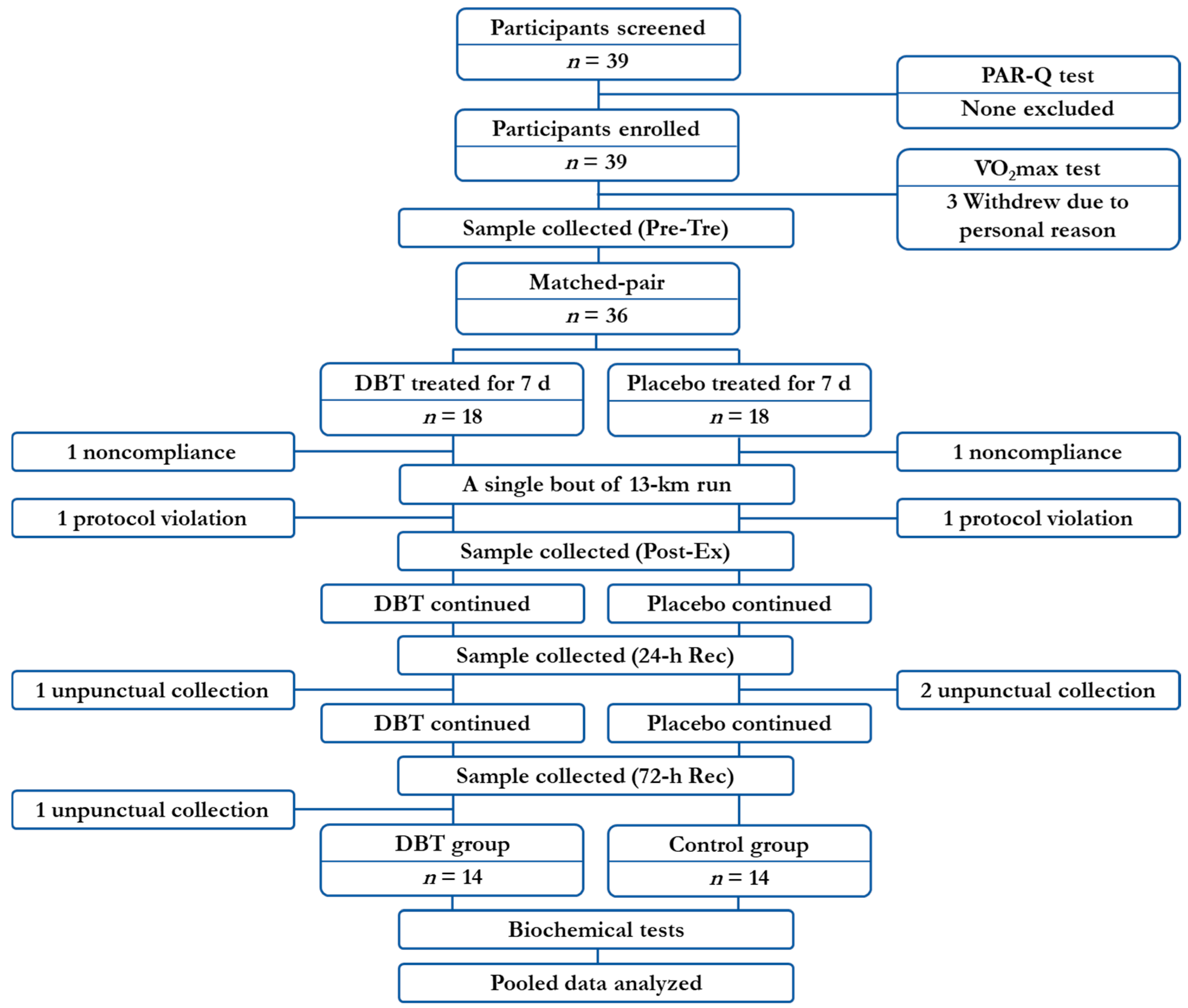 Figure 1
This is an open access article distributed under the
Creative Commons Attribution License
which permits unrestricted use, distribution, and reproduction in any medium, provided the original work is properly cited (CC BY 4.0).

Share & Cite This Article
MDPI and ACS Style
Chang, C.-W.; Chen, C.-Y.; Yen, C.-C.; Wu, Y.-T.; Hsu, M.-C. Repressed Exercise-Induced Hepcidin Levels after Danggui Buxue Tang Supplementation in Male Recreational Runners. Nutrients 2018, 10, 1318.
Note that from the first issue of 2016, MDPI journals use article numbers instead of page numbers. See further details here.
Related Articles
Comments
[Return to top]