Open Access This article is
freely available
re-usable
Review
The Potential of Gut Commensals in Reinforcing Intestinal Barrier Function and Alleviating Inflammation
1
Immunobiology Research Program, Faculty of Medicine, University of Helsinki, 00290 Helsinki, Finland
2
Pharmacology, Faculty of Medicine, University of Helsinki, 00290 Helsinki, Finland
*
Author to whom correspondence should be addressed.
Received: 1 July 2018 / Accepted: 27 July 2018 / Published: 29 July 2018
Abstract
:
The intestinal microbiota, composed of pro- and anti-inflammatory microbes, has an essential role in maintaining gut homeostasis and functionality. An overly hygienic lifestyle, consumption of processed and fiber-poor foods, or antibiotics are major factors modulating the microbiota and possibly leading to longstanding dysbiosis. Dysbiotic microbiota is characterized to have altered composition, reduced diversity and stability, as well as increased levels of lipopolysaccharide-containing, proinflammatory bacteria. Specific commensal species as novel probiotics, so-called next-generation probiotics, could restore the intestinal health by means of attenuating inflammation and strengthening the epithelial barrier. In this review we summarize the latest findings considering the beneficial effects of the promising commensals across all major intestinal phyla. These include the already well-known bifidobacteria, which use extracellular structures or secreted substances to promote intestinal health.
Faecalibacterium prausnitzii
,
Roseburia intestinalis
, and
Eubacterium hallii
metabolize dietary fibers as major short-chain fatty acid producers providing energy sources for enterocytes and achieving anti-inflammatory effects in the gut.
Akkermansia muciniphila
exerts beneficial action in metabolic diseases and fortifies the barrier function. The health-promoting effects of
Bacteroides
species are relatively recently discovered with the findings of excreted immunomodulatory molecules. These promising, unconventional probiotics could be a part of biotherapeutic strategies in the future.
Keywords:
commensal bacteria; intestinal health; next generation probiotics; dysbiosis; intestinal permeability; butyrate producing bacteria; anti-inflammatory
Author Contributions
All authors participated in writing and revising of the manuscript and accepted the final version of the manuscript.
Funding
Academy of Finland grants 304490 and 285632.
Acknowledgments
The financial support from the Academy of Finland (grants 304490 for RS and 285632 for VK), Sigrid Juselius, Paulo and Päivikki, and Sakari Sohlberg Foundations (for RS) and University of Helsinki, Microbiology and Biotechnology Doctoral Program (for KH) is gratefully acknowledged.
Conflicts of Interest
The authors declare no conflict of interest.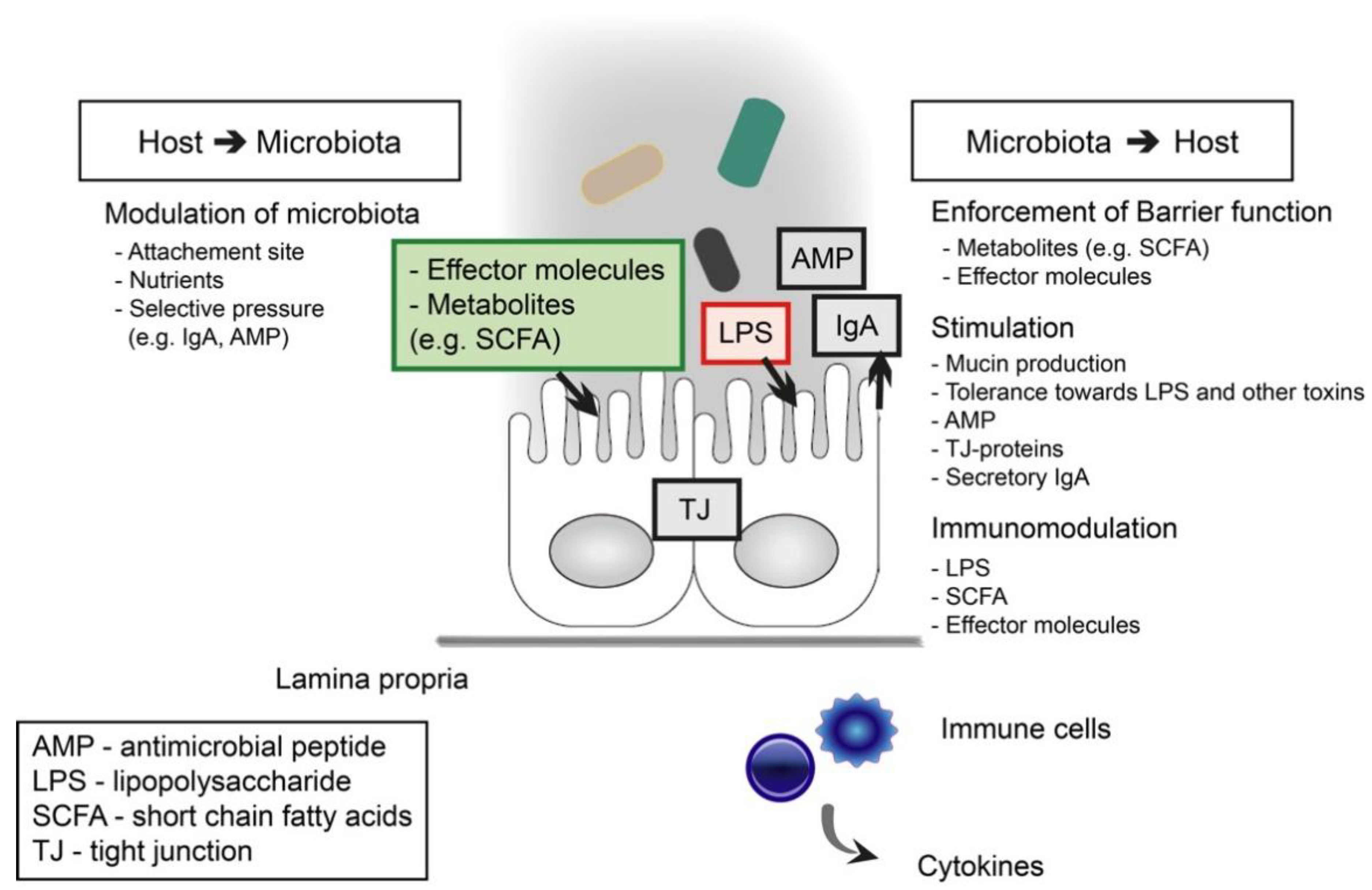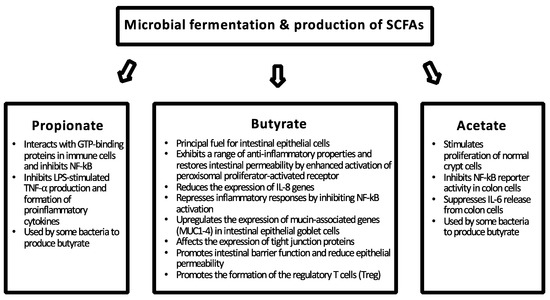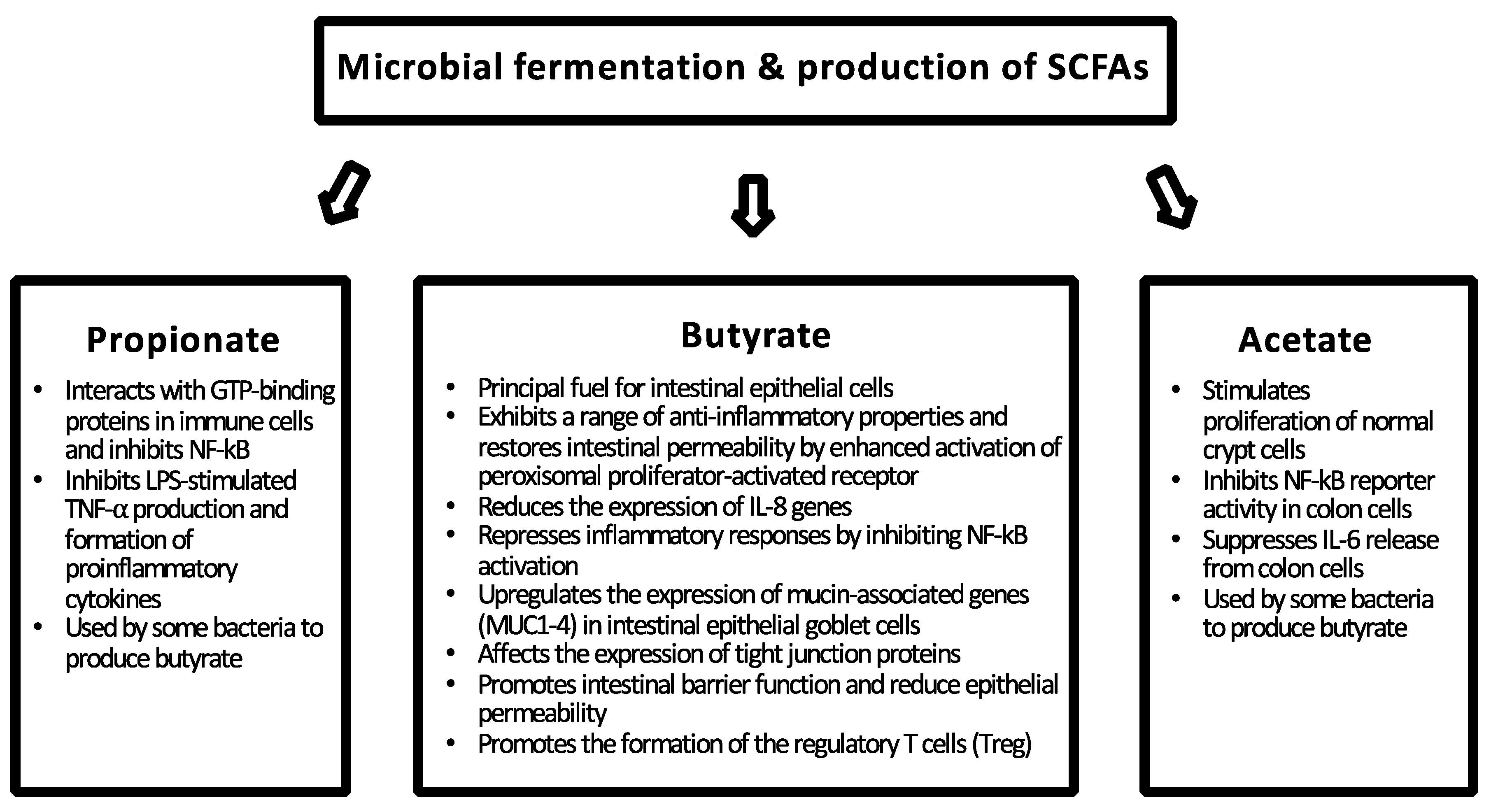 Table 1. Known effector molecules of the selected commensal bacteria and their effect on intestinal health. All in vivo studies were mice studies.
Organism
Effector Molecule
Mediated Effect
Study Type
Reference

B. breve

UCC2003
IVb tight adherence (Tad) pili
Host colonization and persistence mechanism
in silico, in vivo
[76]

B. breve

UCC2003
Surface exopolysaccharide (EPS)
Acid and bile tolerance, immunomodulation, protection against pathogen colonization and burden
in silico, in vitro, in vivo
[77]
Several bifidobacterial strains
Sortase-dependent pili
Adhesion to host mucus components
in silico, in vitro, in vivo
[82]

B. bifidum

PRL2010
Sortase-dependent pili
Autoaggregation, evoked TNF-α expression and a significantly lower IL-10 response
in vitro, in vivo
[75]

B. longum

ssp.

longum

CCM 7952
Ligands for NOD2
Reduced clinical symptoms in a colitis mouse model, preserved expression of tight junction proteins
in vitro, in vivo
[81]

A. muciniphila

MucT
Amuc_1100 (OM pili-like protein)
Induction of cytokine production, interactionwith TLR 2, improves gut barrier
in vitro
[83,84]

A. muciniphila ATCC BA-835

Extracellular vesicles
Improves intestinal barrier integrity, improved body weight & glucose tolerance
in vitro, in vivo
[85]

F. prausnitzii A2-165

Microbial anti-inflammatory molecule (MAM)
Peptides of MAM inhibit the activation of NF-κB, ameliorate colitis symptoms in mice
in vitro, in vivo
[86]

R. intestinalis DSMZ-14610

Flagellin
Upregulation of IncRNA, alleviation of colonic inflammation
in vitro, in vivo
[87]

B. fragilis NCTC 9343

Polysaccharide A
Immune activation, elicits cytokine production, protects and treats colitis in an animal model
in vitro, in vivo
[88]

B. fragilis 323-J-86

Outer-membrane vesicle
Transports PSA molecule to immune cells
in vitro, in vivo
[89]

© 2018 by the authors. Licensee MDPI, Basel, Switzerland. This article is an open access article distributed under the terms and conditions of the Creative Commons Attribution (CC BY) license (http://creativecommons.org/licenses/by/4.0/).