Phloretin as a Potent Natural TLR2/1 Inhibitor Suppresses TLR2-Induced Inflammation
1
Department of Bioscience and Biotechnology, Konkuk University, Seoul 05029, Korea
2
Department of Immunology, School of Medicine, Konkuk University, Chungju 380-701, Korea
*
Author to whom correspondence should be addressed.
†
These authors contributed equally to this work.
Received: 24 May 2018 / Revised: 22 June 2018 / Accepted: 2 July 2018 / Published: 5 July 2018
Abstract
Toll-like receptor 2 (TLR2) responses are involved in various inflammatory immune disorders. Phloretin is a naturally occurring dietary flavonoid that is abundant in fruit. Here, we investigated whether the anti-inflammatory activity of phloretin is mediated through TLR2 pathways, and whether phloretin acts as an inhibitor of TLR2/1 heterodimerization using the TLR2/1 agonist Pam
3
CSK
4
. We tested the effects of phloretin on tumor necrosis factor (TNF)-α production induced by various TLRs using known TLR-specific agonists. Phloretin significantly inhibited Pam
3
CSK
4
-induced TRL2/1 signaling in Raw264.7 cells compared to TLR signaling induced by the other agonists tested. Therefore, we further tested the effects of phloretin in human embryonic kidney (HEK) 293-hTLR2 cells induced by Pam
3
CSK
4
, and confirmed that phloretin has comparable inhibition of TLR2/1 heterodimerization to that induced by the known TLR2 inhibitor CU-CPT22. Moreover, phloretin reduced the secretion of the inflammatory cytokines TNF-α and interleukin (IL)-8 in Pam
3
CSK
4
-induced HEK293-hTLR2 cells, whereas it did not significantly reduce these cytokines under Pam
2
CSK
4
-induced activation. Western blot results showed that phloretin significantly suppressed Pam
3
CSK
4
-induced TLR2 and NF-κB p65 expression. The molecular interactions between phloretin and TLR2 were investigated using bio-layer interferometry and in silico docking. Phloretin bound to TLR2 with micromolar binding affinity, and we proposed a binding model of phloretin at the TLR2–TLR1 interface. Overall, we confirmed that phloretin inhibits the heterodimerization of TLR2/1, highlighting TLR2 signaling as a therapeutic target for treating TLR2-mediated inflammatory immune diseases.
View Full-Text
►

▼

Figures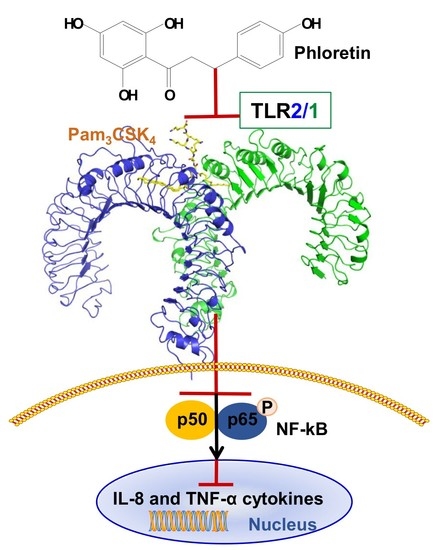 Graphical abstract
This is an open access article distributed under the
Creative Commons Attribution License
which permits unrestricted use, distribution, and reproduction in any medium, provided the original work is properly cited (CC BY 4.0).

Share & Cite This Article
MDPI and ACS Style
Kim, J.; Durai, P.; Jeon, D.; Jung, I.D.; Lee, S.J.; Park, Y.-M.; Kim, Y. Phloretin as a Potent Natural TLR2/1 Inhibitor Suppresses TLR2-Induced Inflammation. Nutrients 2018, 10, 868.
Note that from the first issue of 2016, MDPI journals use article numbers instead of page numbers. See further details here.
Related Articles
Comments
[Return to top]