Ethanolic Extracts of
Artemisia apiacea

Hance Improved Atopic Dermatitis-Like Skin Lesions In Vivo and Suppressed TNF-Alpha/IFN-Gamma–Induced Proinflammatory Chemokine Production In Vitro

1

Korean Medicine Application Center, Korea Institute of Oriental Medicine, 70 Cheomdan-ro, Dong-gu, Daegu 41062, Korea

2

ViroMed Co., Ltd., Seoul National University 1, Gwanak-ro, Gwanak-gu, Seoul 151-747, Korea

*

Authors to whom correspondence should be addressed.

Received: 19 April 2018 / Revised: 15 June 2018 / Accepted: 19 June 2018 / Published: 22 June 2018
Abstract
Artemisia apiacea
Hance is a traditional herbal medicine used for treating eczema and jaundice in Eastern Asia including China, Korea, and Japan. However, the biological and pharmacological actions of
Artemisia apiacea
Hance in atopic dermatitis (AD) are not fully understood. An ethanolic extract of
Artemisia apiacea
Hance (EAH) was tested in vitro and in vivo to investigate its anti-inflammatory activity and anti-atopic dermatitis effects. The results showed that EAH dose-dependence inhibited production of regulated on activation, normal T-cell expressed and secreted (RANTES), interleukin (IL)-6, IL-8, and thymus and activation-regulated chemokine (TARC). EAH inhibited the activation of p38, extracellular signal-regulated kinases (ERK), and STAT-1 and suppressed the degradation of inhibited both nuclear factor of kappa light polypeptide gene enhancer in B-cells inhibitor-alpha (IκB-α) in TNF-α/IFN-γ–stimulated HaCaT cells. EAH also suppressed the translocation of inflammation transcription factors such as NF-κB p65 in TNF-α/IFN-γ–stimulated HaCaT cells. In addition, EAH reduced 2,4-dinitrochlorobenzene (DNCB)-induced ear thickness and dorsal skin thickness in a dose-dependent manner. EAH appeared to regulate chemokine formation by inhibiting activation of and ERK as well as the NK-κB pathways. Furthermore, EAH significantly improved the skin p38 conditions in a DNCB-induced AD-like mouse model.
View Full-Text
►

▼

Figures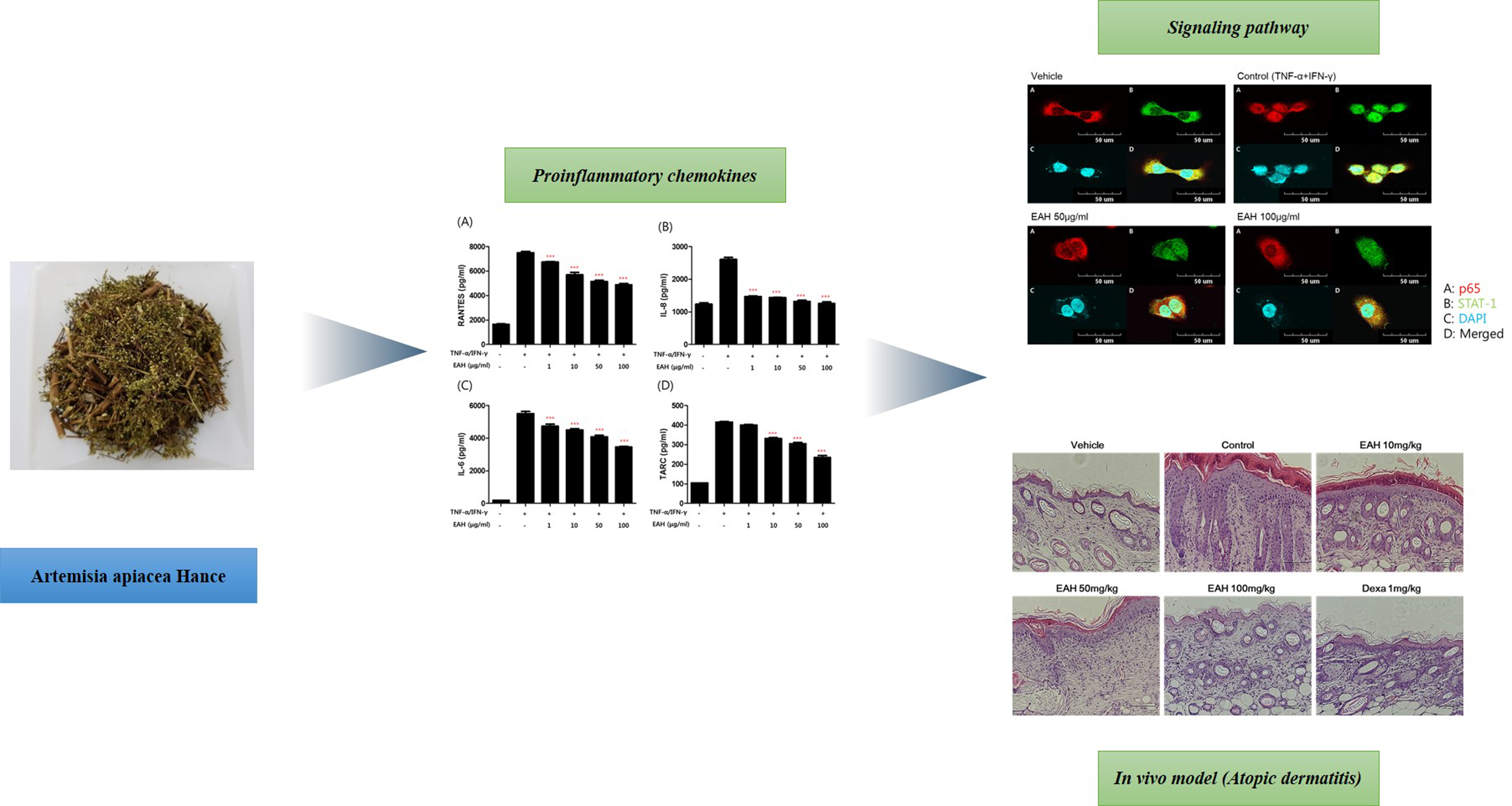 Graphical abstract
This is an open access article distributed under the
Creative Commons Attribution License
which permits unrestricted use, distribution, and reproduction in any medium, provided the original work is properly cited (CC BY 4.0).

Share & Cite This Article
MDPI and ACS Style
Yang, J.-H.; Lee, E.; Lee, B.; Cho, W.-K.; Ma, J.Y.; Park, K.-I. Ethanolic Extracts of Artemisia apiacea Hance Improved Atopic Dermatitis-Like Skin Lesions In Vivo and Suppressed TNF-Alpha/IFN-Gamma–Induced Proinflammatory Chemokine Production In Vitro. Nutrients 2018, 10, 806.
Note that from the first issue of 2016, MDPI journals use article numbers instead of page numbers. See further details here.
Related Articles
Comments
[Return to top]