Nobiletin Inhibits CD36-Dependent Tumor Angiogenesis, Migration, Invasion, and Sphere Formation Through the Cd36/Stat3/Nf-Κb Signaling Axis
1
Department of Pathology, School of Medicine, Institute of Biomedical Science and Technology, Konkuk University, Seoul 05029, Korea
2
Inha University College of Medicine, 27 Inhang-Ro, Jung Gu, Incheon 400-103, Korea
3
Department of Animal Science, College of Natural Resources and Life Sciences, Pusan National University, Miryang, Gyeongsangnam 50463, Korea
4
King's College London GKT School of Medical Education, London SE1 1UL, UK
5
Cancer Research Center, Qatar Biomedical Research Institute, Hamad Bin Khalifa University, Qatar Foundation, PO Box 5825 Doha, Qatar
6
Department of Immunology, School of Medicine, Konkuk University, Chungju 27478, Korea
*
Author to whom correspondence should be addressed.
Received: 10 May 2018 / Revised: 11 June 2018 / Accepted: 12 June 2018 / Published: 15 June 2018
Abstract
Targeted cancer therapy with natural compounds is more effective than nontargeted therapy. Nobiletin is a flavonoid derived from citrus peel that has anticancer activity. Cluster of differentiation 36 (CD36) is a member of the class B scavenger receptor family that is involved in importing fatty acids into cells. CD36 plays a role in tumor angiogenesis by binding to its ligand, thrombospondin-1 (TSP-1), and then interacting with transforming growth factor beta 1 (TGFβ1). CD36 is implicated in tumor metastasis through its roles in fatty acid metabolism. This study investigated the molecular mechanisms underlying nobiletin's anticancer activity by characterizing its interactions with CD36 as the target molecule. We hypothesize that the anti-angiogenic activity of nobiletin involving its regulation of CD36 via signal transducer and activator of transcription 3 (STAT3) rather than through TSP-1. Gene analysis identified a Gamma interferon activation site (GAS) element in the CD36 gene promoter that acts as a STAT3 binding site, an interaction that was confirmed by ChIP assay. STAT3 interacts with nuclear factor kappa-light-chain-enhancer of activated B cells (NF-κB), suggesting that nobiletin also acts through the CD36/ (STAT3)/NF-κB signaling axis. Nobiletin inhibited CD36-dependent breast cancer cell migration and invasion as well as CD36-mediated tumor sphere formation. Taken together, these results suggest that nobiletin inhibits cancer stem cells in multiple ways.
View Full-Text
►

▼

Figures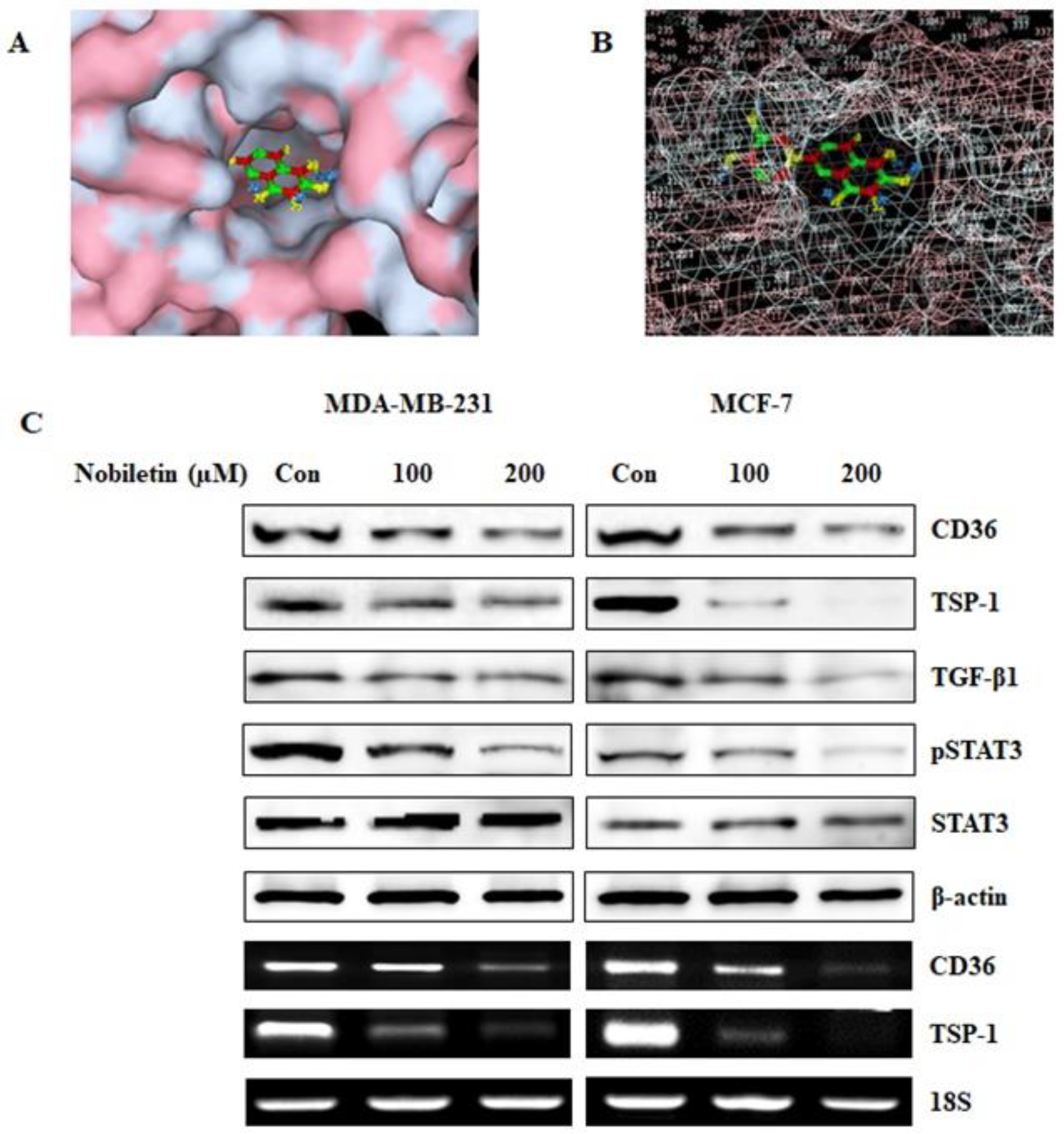 Figure 1
This is an open access article distributed under the
Creative Commons Attribution License
which permits unrestricted use, distribution, and reproduction in any medium, provided the original work is properly cited (CC BY 4.0).

Share & Cite This Article
MDPI and ACS Style
Sp, N.; Kang, D.Y.; Kim, D.H.; Park, J.H.; Lee, H.G.; Kim, H.J.; Darvin, P.; Park, Y.-M.; Yang, Y.M. Nobiletin Inhibits CD36-Dependent Tumor Angiogenesis, Migration, Invasion, and Sphere Formation Through the Cd36/Stat3/Nf-Κb Signaling Axis. Nutrients 2018, 10, 772.
Note that from the first issue of 2016, MDPI journals use article numbers instead of page numbers. See further details here.
Related Articles
Comments
[Return to top]