Blackcurrant Anthocyanins Increase the Levels of Collagen, Elastin, and Hyaluronic Acid in Human Skin Fibroblasts and Ovariectomized Rats
1
Department of Bioscience and Laboratory Medicine, Hirosaki University Graduate School of Health Sciences, 66-1 Hon-cho, Hirosaki, Aomori 036-8564, Japan
2
Faculty of Agriculture and Life Science, Hirosaki University, 3 Bunkyo-cho, Hirosaki, Aomori 036-8561, Japan
3
Department of Nursing Sciences, Hirosaki University Graduate School of Health Sciences, 66-1 Hon-cho, Hirosaki, Aomori 036-8564, Japan
*
Author to whom correspondence should be addressed.
Received: 3 March 2018 / Revised: 10 April 2018 / Accepted: 12 April 2018 / Published: 16 April 2018
Abstract
Blackcurrants (
Ribes nigrum
L.) contain high levels of anthocyanin polyphenols, which have beneficial effects on health, owing to their antioxidant and anticarcinogenic properties. Phytoestrogens are plant-derived substances with estrogenic activity, which could have beneficial effects on the skin. Estradiol secretion decreases during menopause, reducing extracellular matrix (ECM) component production by skin fibroblasts. Using a normal human female skin fibroblast cell line (TIG113) and ovariectomized rats, the present study investigated whether an anthocyanin-rich blackcurrant extract (BCE) and four blackcurrant anthocyanins have novel phytoestrogenic activities that could benefit the skin in menopausal women. In TIG113 cells, a microarray and the Ingenuity
®
Pathway Analysis showed that 1.0 μg/mL of BCE upregulated the expression of many estrogen signaling-related genes. A quantitative RT-PCR analysis confirmed that BCE (1.0 or 10.0 μg/mL) and four types of anthocyanins (10 μM) altered the mRNA expression of ECM proteins and enzymes involved in ECM turnover. Immunofluorescence staining indicated that the anthocyanins stimulated the expression of ECM proteins, such as collagen (types I and III) and elastin. Dietary administration of 3% BCE to ovariectomized rats for 3 months increased skin levels of collagen, elastin, and hyaluronic acid. This is the first study to show that blackcurrant phytoestrogens have beneficial effects on skin experimental models.
View Full-Text
►

▼

Figures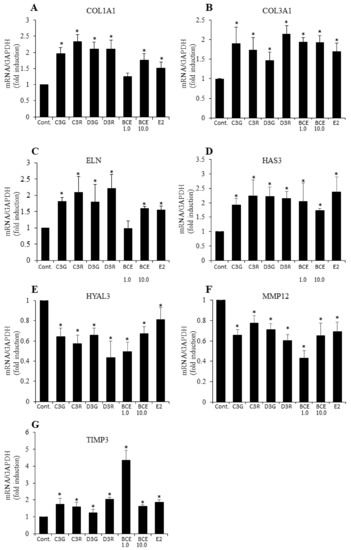 Figure 1
This is an open access article distributed under the
Creative Commons Attribution License
which permits unrestricted use, distribution, and reproduction in any medium, provided the original work is properly cited (CC BY 4.0).

Share & Cite This Article
MDPI and ACS Style
Nanashima, N.; Horie, K.; Maeda, H.; Tomisawa, T.; Kitajima, M.; Nakamura, T. Blackcurrant Anthocyanins Increase the Levels of Collagen, Elastin, and Hyaluronic Acid in Human Skin Fibroblasts and Ovariectomized Rats. Nutrients 2018, 10, 495.
Note that from the first issue of 2016, MDPI journals use article numbers instead of page numbers. See further details here.
Related Articles
Comments
[Return to top]