Effects of Cholesterol Levels on Mortality in Patients with Long-Term Peritoneal Dialysis Based on Residual Renal Function
1
Graduate Institute of Clinical Medicine, College of Medicine, Taipei Medical University, 111 Taipei, Taiwan
2
Department of Internal Medicine, School of Medicine, College of Medicine, Taipei Medical University, 111 Taipei, Taiwan
3
Division of Nephrology, Department of Internal Medicine, Taipei Medical University Hospital, 111 Taipei, Taiwan
4
Division of Endocrinology & Metabolism, Department of Medicine, Taipei Veterans General Hospital, 112 Taipei, Taiwan
5
Faculty of Medicine, National Yang-Ming University, 112 Taipei, Taiwan
6
Department of Urology, Taipei Medical University-Shuang Ho Hospital, 235 New Taipei City, Taiwan
7
The Ph.D. Program for Translational Medicine, College of Medical Science and Technology, Taipei Medical University, 111 Taipei, Taiwan
8
Division of Nephrology, Department of Internal Medicine, Taipei Medical University-Shuang Ho Hospital, 235 New Taipei City, Taiwan
*
Authors to whom correspondence should be addressed.
Received: 5 February 2018 / Revised: 28 February 2018 / Accepted: 28 February 2018 / Published: 3 March 2018
Abstract
The effect of dyslipidemia on peritoneal dialysis (PD) patients based on the presence of residual renal function (RRF; renal creatinine clearance >2 mL/min/1.73 m
2
) is unknown. Data from the Taiwan Renal Registry Data System between 2005 and 2012 were analyzed to estimate the association between dyslipidemia and mortality in PD patients. Long-term PD patients (
n
= 8032) were divided into groups with (RRF;
n
= 2691, 33.5%) and without RRF (non-RRF;
n
= 5341, 66.5%). The primary outcome was three-year mortality, and multivariate Cox regression was used for survival analysis. After stratifying the total cholesterol (TC) level between the first and third years, the hazard ratio for mortality was estimated. In the non-RRF group, TC < 120 mg/dL was associated with independently increased risk of mortality. In the RRF group, low TC was not independently correlated with increased mortality, but TC > 285 mg/dL was associated with increased risk. PD patients with higher level of TC (>200 mg/dL) in both first and third years of dialysis had significantly lower risk of mortality. In this nationwide cohort study, PD patients without RRF who had low TC level had the highest mortality, in contrast to those with RRF. Malnutrition in long-term PD patients without RRF is an important issue to be monitored.
View Full-Text
►

▼

Figures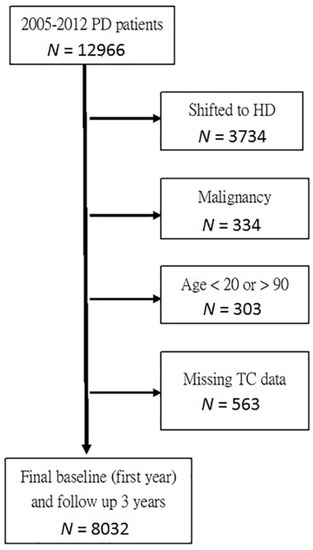 Figure 1
This is an open access article distributed under the
Creative Commons Attribution License
which permits unrestricted use, distribution, and reproduction in any medium, provided the original work is properly cited (CC BY 4.0).

Share & Cite This Article
MDPI and ACS Style
Lin, Y.-C.; Lin, Y.-C.; Peng, C.-C.; Chen, K.-C.; Chen, H.-H.; Fang, T.-C.; Sung, S.-Y.; Wu, M.-S. Effects of Cholesterol Levels on Mortality in Patients with Long-Term Peritoneal Dialysis Based on Residual Renal Function. Nutrients 2018, 10, 300.
Note that from the first issue of 2016, MDPI journals use article numbers instead of page numbers. See further details here.
Related Articles
Comments
[Return to top]