Essential Amino Acid Profile in Parenteral Nutrition Mixtures: Does It Meet Needs?
Internal Medicine and Clinical Nutrition, Department of Clinical Medicine and Surgery, "Federico II", University Hospital, 80131 Naples, Italy
*
Author to whom correspondence should be addressed.
Received: 4 November 2018 / Revised: 29 November 2018 / Accepted: 30 November 2018 / Published: 6 December 2018
Abstract
Background and Aims: The study compares the essential amino acid (EAA) composition of different parenteral nutrition (PN) mixtures with whey protein EAA profile and the theoretical daily EAA requirements (set by WHO/FAO/UNU or IAAO method). According to the individual EAA profile, the potential effect of several PN mixtures was evaluated on the skeletal muscle mass (SMM) of patients on home PN. Methods: Eight AA solutions and fifteen complete PN mixtures were considered. Twenty-nine clinically stable patients with short bowel syndrome on home total PN were retrospectively evaluated. SMM was estimated by bioelectrical impedance analysis. Results: The prescribed doses of EAA that showed a significant increase in home PN patients muscle mass were considerably greater than the theoretical ones, showing an EAA profile similar to whey protein. At the daily dose of 1 g of total AA s/kg body weight (BW), the considered PN mixtures mostly failed to improve SMM. Only prescribed doses which included more than 0.25 g/kg BW of total BCAA with at least 0.10 g/kg BW leucine, 0.08 g/kg BW isoleucine, and 0.06 g/kg BW methionine showed a significant increase in SMM. Conclusions: The theoretical daily requirement for each EAA was met by all considered PN solutions when the prescribed daily dose of total AAs was set at 1 g/kg BW. Nevertheless, our data suggest that only an increase in total BCAA, also richer in single AA leucine, isoleucine, and methionine, is associated with the maintenance and/or increase of SMM. According to these preliminary observations, we support the prescription of an EAA composition of PN mixtures close to that of whey protein for the preservation of SMM in patients on long-term total PN.
View Full-Text
►

▼

Figures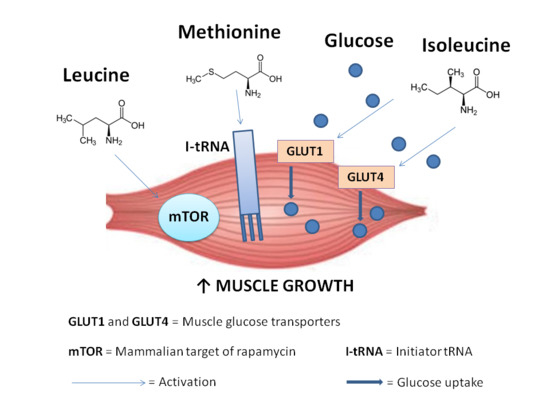 Graphical abstract
This is an open access article distributed under the
Creative Commons Attribution License
which permits unrestricted use, distribution, and reproduction in any medium, provided the original work is properly cited (CC BY 4.0).

Share & Cite This Article
MDPI and ACS Style
Iacone, R.; Scanzano, C.; Santarpia, L.; Alfonsi, L.; Marra, M.; Pagano, M.C.; D'Isanto, A.; Frangipane, I.; Vitalone, A.; D'Angeli, M.; Contaldo, F.; Pasanisi, F. Essential Amino Acid Profile in Parenteral Nutrition Mixtures: Does It Meet Needs? Nutrients 2018, 10, 1937.
Note that from the first issue of 2016, MDPI journals use article numbers instead of page numbers. See further details here.
Related Articles
Comments
[Return to top]