Open Access This article is
freely available
re-usable
Article
The 2015 Surge of Hispar Glacier in the Karakoram
1
Department of Geography, University of Zurich, 8057 Zurich, Switzerland
2
Gamma Remote Sensing, 3073 Gümligen, Switzerland
3
Department of Geosciences, University of Oslo, 0316 Oslo, Norway
*
Author to whom correspondence should be addressed.
Received: 14 June 2017 / Accepted: 15 August 2017 / Published: 26 August 2017
Abstract
:
The Karakoram mountain range is well known for its numerous surge-type glaciers of which several have recently surged or are still doing so. Analysis of multi-temporal satellite images and digital elevation models have revealed impressive details about the related changes (e.g., in glacier length, surface elevation and flow velocities) and considerably expanded the database of known surge-type glaciers. One glacier that has so far only been reported as impacted by surging tributaries, rather than surging itself, is the 50 km long main trunk of Hispar Glacier in the Hunza catchment. We here present the evolution of flow velocities and surface features from its 2015/16 surge as revealed from a dense time series of SAR and optical images along with an analysis of historic satellite images. We observed maximum flow velocities of up to 14 m d−1 (5 km a−1) in spring 2015, sudden drops in summer velocities, a second increase in winter 2015/16 and a total advance of the surge front of about 6 km. During a few months the surge front velocity was much higher (about 90 m d−1) than the maximum flow velocity. We assume that one of its northern tributary glaciers, Yutmaru, initiated the surge at the end of summer 2014 and that the variability in flow velocities was driven by changes in the basal hydrologic regime (Alaska-type surge). We further provide evidence that Hispar Glacier has surged before (around 1960) over a distance of about 10 km so that it can also be regarded as a surge-type glacier.
Keywords:
Karakoram; Hispar Glacier; surge; hydrology controlled; velocity; time series; Landsat; Sentinel-1; Corona
3. Data Sets and Image Processing Methods
3.2. Methods
Feature tracking of 19 Landsat 7 ETM+ scenes and 14 Landsat 8 OLI scenes (panchromatic band with 15 m spatial resolution) acquired between July 2013 and January 2016 was performed using the CIAS software [
26
,
27
]. We used the orientation correlation function to extract displacements with a reference block size of 15 pixels (225 m), a search area size of 50 pixels (750 m) at a grid of 100 m.
Table 1
provides the parameters used for the tracking algorithm.
Three RADARSAT-2 Wide Fine (RS-2 WF) scenes were acquired between December 2014 and February 2015. These repeat data were used to retrieve two glacier surface velocity maps using the offset tracking method of the GAMMA software [
28
]. The size of the correlation matching window was adjusted according to the image resolution and expected maximum displacements during the repeat pass cycle to 38 × 77 pixels in range and azimuth (see
Table 1
). The resulting RS-2 velocity maps were then geocoded using the SRTM DEM to a 100 m resolution raster.
A series of Sentinel-1 Interferometric Wide Swath (IWS) images were acquired between March 2015 and December 2016 along both ascending and descending orbits (
Appendix B
Table A3
). The repeat Sentinel-1 IWS data were used to retrieve a time-series of surface velocity maps using the offset tracking method of the GAMMA software [
28
] (see
Table 1
for parameters). Slant-range and azimuth offset-fields were combined to retrieve horizontal surface velocity maps. These were geocoded using the SRTM DEM at a 100 m resolution raster.
The Corona images were only analysed qualitatively and not geocoded. All Landsat satellite images were used as is, i.e., terrain corrected by USGS (Level 1T). Mismatches and outliers were identified and removed from the velocity maps using different tests. For the Sentinel 1 and RADARSAT-2 data the signal-to-noise ratio had to be above 2.0 to result in a valid match. Landsat velocity maps were filtered with a standard deviation filter. Values are defined as outlier when the standard deviation of a pixel in a 3 × 3 window surrounding it exceeded 32 m. Moreover, in all maps values above 15 m d−1 (the maximum flow velocity) were removed. The accuracy of the derived velocity fields for Sentinel-1 was estimated from the displacement over stable terrain (using the RGI glacier outlines as a mask and restricting calculations to flat terrain.
To follow the spatio-temporal development of flow velocities in more detail, we manually digitized three centre lines: one along the main glacier and two for its middle and eastern tributaries. These were converted to points with discrete IDs and a distance of 50 m (see
Figure 1
). Their coordinates and IDs were exported to a csv file and used in a small script for automated extraction of values from the computed velocity fields. Resulting values were organized and further processed for visualisation. Values for the eastern tributary (Khani Bassa) are not shown as the analysis revealed that it did not participate in the surge studied here.
4. Results
4.1. Historic Development of Hispar Glacier from Landsat Data
The surface changes of HG from the available historic satellite data from Landsat (sensors MSS/TM/ETM+/OLI) reveal some interesting details about its past development, all of which are not obvious from its stagnant terminus, geodetic volume changes or analysis of flow velocities.
Figure 2
shows a time series of the glacier surface from 1977 (MSS), 1990 (TM), 2013 (OLI) and 2015 (ETM+) with some characteristic features marked by arrows with different colours. Through the full near 40-year time series the terminus position has not changed (green arrow at top left). Characteristic surface features (distorted moraines) indicated by yellow, white and orange arrows move slowly down-glacier from 1977 to 2013, with a somewhat higher velocity in the upper glacier regions (larger displacement of the yellow arrow). In total, five of such marks are visible in the 1977 MSS image (
Figure 2
a) indicating previous disturbances of the flow. A prominent moraine distortion (without arrow in the figure) at the confluence with Pumarikish Glacier (
Figure 2
a) was destroyed by its 1989 surge [
29
] that is marked by a white circle on
Figure 2
b. Another surge mark to the east of the confluences with Kunyang Glacier is still visible in the 1990 image but no longer present in 2013 (
Figure 2
c).
Further extracts from the time-series of Landsat images reveal that Kunyang Glacier started to surge in 2006 and advanced into HG in 2008 with some further advance until 2009. This surge is also visible in
Figure 9
of the study by [
14
] in which they calculated DEM differences between 1999 (from SRTM) and 2008 (from SPOT). In the 2013 image (
Figure 2
c) the glacier is again in its quiescent phase, but the marks of the surge are still recognizable by its lobate form, covering about 3/4 of the width of HG. The good contrast in the 2013 image reveals the exposed northern lateral moraine (shorter black arrows), indicating that the glacier surface had been previously higher.
4.2. The 2015/16 Surge from Optical Images
When contrasting the appearance of the autumn 2015 glacier surface (
Figure 2
d) with the appearance in 2013 (
Figure 2
c), strong changes can be recognized. Most prominent is the reduced debris load due to the increased crevassing (indicated by the more "bluish" surface in regions marked by the light blue arrows) for both HG and its tributary Yutmaru Glacier. The synchronous surge of both glaciers is supported by the stable position of the medial moraine between them (if Yutmaru had surged onto HG, the moraine should have been translated and deformed). One can also recognize the lateral expansion of the tongue and the increased ice thickness (the lateral moraine in the 2013 image disappeared), along with the forward movement of the surface marks (large orange and white arrows). Further downstream the surge front can be identified (light blue line with half elliptical shape in
Figure 2
d). The lakes west of the orange arrow in the 2013 image have disappeared. The animation of the 2015/16 Landsat images (see
Table A1
) clearly reveals a mass wave with a related surge front travelling down glacier in 2015/16. The surge front stopped before the confluence with Kunyang Glacier that is still occupying about 3/4 of the width of HG.
4.3. Flow Velocities before, during and after the Surge
4.4. Accuracy of the Derived Flow Velocities
The displacement over stable terrain for Sentinel-1 gives on average values of about 13 m a
−1
with a standard deviation of 20 m a
−1
(18.3 for descending, 21.9 for ascending orbits) in the mean over all processed scenes. This is about two orders of magnitude smaller than the observed displacements and should thus have no impact on the results. Similarly, a recent study by [
30
] found in comparison to higher resolution sensors a displacement error of about 30 m a
−1
for Sentinel-1 interferometric wide swath (IWS) images with 12 days repeat, and 15 m a
−1
for RADARSAT-2 Wide Ultra Fine (WUF) images over a 24 days period. Uncertainties for Landsat-derived velocities are similar to previous investigations (e.g., [
31
,
32
,
33
]), revealing displacement accuracies of one pixel or better, i.e., 15 m for Landsat 8, or 1 m d
−1
for 16-day repeat [
27
,
34
].
5. Discussion
5.1. Interpretation of the Observations
Based on the available optical and SAR datasets, the observed geomorphometric changes, and the spatio-temporal variability of the flow velocities, it seems that the 2015/16 surge of HG started at the confluence region of HG and Yutmaru glacier in October 2014, with steadily increasing flow velocities (up to 5 km a
−1
or 14 m d
−1
) until May 2015. At about the same time, the previously stagnant surge front started to move forward by about 5 km in about two months. Flow velocities quickly dropped by about one half in summer 2015 and stayed at this level until winter 2015 before they slightly increased again in spring 2016. The final drop in speeds back to pre-surge values was strong and fast (see
Figure 8
).
Taken together, this seems to be a surge of Alaska-type that is controlled by the hydrologic regime, (e.g., [
7
,
35
]). The build-up during winter 2014/15 points to an acceleration due to increased basal water pressure resulting from an ineffective basal drainage system (linked cavities). This pressure could have been strongly reduced after basal flow became more efficient during the summer (connected channels), causing the first strong decrease in flow velocity. However, velocities remained high during summer/autumn 2015 when basal sliding was maybe increased due to water generated by friction from the high flow velocities, additional meltwater input, or the water drainage system constantly being destroyed by the high basal deformation. The second winter/spring increase of flow velocities indicates that basal drainage was getting even more inefficient again and water pressure increased, before drainage changed again to the more efficient channelized mode in summer 2016, terminating the surge. A speed-up in the flow during winter and spring has also been observed at other surging glaciers, (e.g., [
5
,
7
,
15
,
36
]) and hints to a common hydrologic cause for the observed timing of the surge. The observed seasonal variability before the surge is much lower in magnitude, influenced larger parts of the main glacier and had a different timing (highest velocities in summer). Regarding the double peak of flow velocities and the sudden drop at the end of the surge (see
Figure 8
) we find some resemblance with the 2015 surge of Kyagar Glacier which is located to the north east in the Shaksgam valley and described by [
37
]. However, for Kyagar Glacier maximum velocities were much lower (2 m d
−1
) and reached in September. So, its surge mechanism might be different. A speed up in flow during winter was also observed by [
38
] for the West Kunlun Glacier, but we assume that the surge mechanism is different here as the glacier is at least poly-thermal if not cold based.
The surge of HG started in October 2014 during the autumn deceleration phase and was probably initiated by a flow acceleration (or maybe a surge?) of Yutmaru Glacier (
Figure 3
e). In contrast to other glaciers where surging tributaries deform medial moraines of a main glacier (e.g., Panmah or Skamri glaciers), the acceleration of Yutmaru did not deform the medial moraine of HG. Instead, HG immediately started to surge itself with about the same flow velocity (
Figure 3
f,h). We speculate that the reason for this quick response is related to its still higher than normal summer flow velocity with considerable lubrication at the bed. The region with the increased flow velocities is identical with the region of faster flow before the surge (cf.
Figure 3
e,f). But already in January 2015 the region upstream of the confluence region had much lower flow velocities. This early 'decoupling' can also be seen in
Figure 8
. For the Yutmaru tributary the decoupling took place by the end of April 2015 (
Figure 5
c) before the maximum flow velocities were reached. Considering that Yutmaru Glacier only provided a small push to HG before its surge started suggests that HG was ready to surge before, but a trigger was missing. It is also noteworthy that for a considerable time of flow acceleration (1/2 year) there was no forward movement of the surge front. This happened only after maximum flow velocities were reached in May/June 2015. By then, a considerable amount of ice accumulated upstream before it could finally break through and the mass wave visible in the satellite animation started to travel downward at high velocities. There is maybe an obstacle at the bed at km 15 that is difficult to pass.
5.2. Is the Surge Unprecedented?
Going further back in time, there are no reports of a surging HG from the 19th and 20th century [
1
] and early topographic maps of the glacier surveyed in 1892 by W. Martin Conway and in 1908 by the Bullock-Workmann expedition do also not show any signs of irregular flow. Medial moraines are lined up in parallel and overall the glacier seems to have less debris cover than nowadays. However, there is one source indicating a possible previous surge of the main HG, a Corona image from 1965 (
Figure 9
). This image with a spatial resolution of a few metres shows a chaotic and highly crevassed surface typical of a glacier surface a few years after a surge. On that image one can also see that the Kunyang Glacier tributary—that is now occupying 3/4 of the valley width—was nearly completely pushed away and occupied less than 20% of the width of the main valley. A well visible surge front is indicating that this 'surge' reached about 4 km further downstream compared to the 2015/16 surge but has also not reached the terminus.
About four years later, another Corona image reveals an impressive change of the surface morphology (
Appendix A
,
Figure A1
). Whereas the extent of the former surge is still well visible, the surface is strongly smoothed and the previous crevasses are barely visible. Instead, the entire surface is covered with (partly water-filled) depressions and sinkholes, indicating a massive down-wasting and collapse, which is a typical post-surge phenomenon when the surged ice mass becomes stagnant. The limited movement after the surge is also supported by three surge marks (loops and distorted moraines) that are in 1977 (MSS image in
Figure 2
a) in the same position as in 1969 (they are located in front of Pumarikish and Kunyang glaciers). Interestingly, Kunyang Glacier in 1977 is again occupying about 50% of the valley width, indicating that the down-wasting post-surge ice mass of Hispar Glacier could be easily pushed away. The Corona image from 1969 (
Figure A1
) also shows a lobate, dual-coloured surge mark before the surge front, indicating that this former surge (it might have taken place around 1960, i.e., 55 years before the current surge) might have sheared of the lower part of a southern tributary, likely from Gandar Glacier (see
Figure 2
a), which both have a dual-shaded moraine. In the latter case, the surge would have also started at km 15 and must have travelled at least 9 km downstream. Finally, a recent study by [
39
] showed elevation differences from 1973 to 1999 using DEMs derived from Hexagon KH-9 stereo pairs and SRTM for the Hunza catchment. In this study HG shows a strongly down-wasting middle section that is compliant with the extent of the surge and the typical post-surge down-wasting described before from the morphological change. So the 2015/16 surge of HG seems not unprecedented but has at least one precursor.
The teardrop-shaped moraine distortions visible in
Figure 2
a and
Figure A1
indicate that additional surges of HG should have happened in the past as each loop has to be created and pushed forward by a separate surge (or fast flow event). The only obvious glacier upstream of Kunyang being able to create the flow distortions of the main glacier is Yutmaru. The three surge marks suggest that Yutmaru had at least three periods with unstable flow that slightly deformed the medial moraine and—different from the here-reported event—might have partly blocked the flow of HG. Considering their elongated/stretched shape and the very low flow velocities of HG during its quiescent phase (see
Figure 2
), it can be assumed that HG has responded to this partial flow-blocking also with a surge (or fast-flow event) that pushed the surge marks forward into their current elongated (tear-drop) shape. Apart from the 1960s event suggested by the Corona images we do not know when these former surges might have happened. For comparison, the Sentinel-2A image in
Figure A2
shows how HG looks shortly after the current surge ended.
5.3. Interpretation of Observations
Our interpretation of the observed temporal evolution of flow velocities and geomorphological evidence is largely based on a translation of what has been reported and observed in previous studies to the case of HG. We think that the assumption that changes in basal hydrology had a major impact on the variability in flow velocities is robust and not unexpected, as this has been reported for other surging glaciers with a sub-seasonal analysis of flow velocities [
15
,
32
]. Our assumption that HG was ready to surge and just "waited" for a trigger to start it is more speculative, but we think reasonable in view of the observations. However, our interpretation does not necessarily mean that the surge mechanism for HG works exactly as we speculate. Further research and additional observations (e.g., elevation changes) would be required to improve on the current (limited) understanding, in particular when considering that other surging glaciers in the region show a very different behaviour (e.g., the continuous advance over 15 years of First Feriole Glacier).
Our speculation about former surges of HG and its Yutmaru tributary are based on analysing time series of historic satellite images (Corona, Landsat). They are supported by multiple lines of evidence and are fully compliant with what has been observed elsewhere in terms of surge marks, looped moraines, crevasse decay patterns and surface elevation changes. We thus think our interpretation is robust in this regard. Together with Skamri Glacier to the north-east, HG is thus one of the largest surging glacier in the Karakoram. It is likely that further surge-type glaciers will be identified in the future based on their sudden change in surface flow, and new interpretation of surge marks and historic evidence. Thereby, the high temporal resolution of the current satellite coverage (Sentinel-1/2 every 5–6 days, Landsat 7/8 every 8 days) will likely also help reveal potential surge mechanisms and thus improve our understanding of this fascinating phenomenon.
6. Conclusions
We presented a detailed description of the 2015/16 surge of Hispar Glacier as derived from the qualitative interpretation of optical image time series (Corona, Landsat) and the quantitative determination of flow velocities from both optical (Landsat 7 and 8) and SAR images (Sentinel-1 time series). Whereas the optical images allowed us to obtain pre-surge variability and the onset of the surge, the dense time series (partly every 2 weeks) of Sentinel-1 images allowed us to follow the spatio-temporal development of the surge in detail. The surge started in autumn 2014 and peaked with surface flow velocities of up-to 5 km a−1 (14 m d−1) over a short period in May/June 2015. During summer 2015 maximum velocities decreased substantially before they increased again in winter 2015/16. In June 2016 the surge ended abruptly. We assume that the variability of velocities over the full almost two-year duration of the surge are related to changes in the basal hydrologic regime and would thus classify the surge as Alaskan type.
The most interesting aspects of the surge are: (1) the near-synchronous surge of HG and its tributary Yutmaru, (2) the stationary surge front (for 6 months), and (3) the high velocities of the surge front (up to 90 m d−1) once it started moving down-glacier. We interpret an end-of-summer fast-flow event of the Yutmaru tributary as a trigger of the main HG surge that was likely "ready to go" before. We do not know what kept the surge front stationary for half a year but interpret its rapid advance afterwards as a kinematic wave travelling down-glacier about six times faster than the maximum flow velocity.
So far, surges have only been reported for some of the HG tributaries (Kunyang, Pumarikish) but not for HG itself. We have shown here that HG has very likely also surged around 1960 and maybe also before. None of these surges seem to have reached the terminus that has been stationary for >120 years according to the literature and historic maps. The high temporal resolution of satellite images now available will likely reveal similar details of surge evolution for other glaciers and contribute to an improved understanding of glacier surges.
Acknowledgments
This study has been performed in the framework of the ESA project Glaciers_cci (4000109873/14/I-NB). T.S. was funded by the Norwegian Space Centre as part of European Space Agency's PRODEX program (C4000106033), and the European Union FP7 ERC project ICEMASS (320816). A.K. also received funding from the European Union FP7 ERC project ICEMASS (320816) and the ESA project Glaciers_cci (4000109873/14/I-NB). RADARSAT-2 data was provided by the Canadian Space Agency under the proposal SOAR-EI 5166. Glacier outlines were obtained from the Randolph Glacier Inventory (RGI5.0).
Author Contributions
F.P. conceived and designed the study, wrote the paper, and analysed the results. T.S. processed all Sentinel-1 data, T.S. processed most of the Landsat and all RADARSAT-2 data and created the velocity plots in
Figure 3
,
Figure 4
,
Figure 5
and
Figure 6
, A.K. processed further Landsat data. All authors contributed to the interpretation of the results and the writing and editing of the manuscript.
Conflicts of Interest
The authors declare no conflict of interest.
Abbreviations
The following abbreviations are used in this paper:
| | |
| --- | --- |
| a.s.l. | above sea level |
| csv | comma separated values |
| DEM | Digital Elevation Model |
| ETM+ | Enhanced Thematic Mapper Plus |
| HG | Hispar Glacier |
| RADAR | RAdio Detection And Ranging |
| RGB | Red, Green, and Blue |
| MSS | Multispectral Scanner |
| SAR | Synthetic Aperture Radar |
| SLC | Scan-line-corrector |
| SRTM | Shuttle Radar Topography Mission |
| TM | Thematic Mapper |
| USGS | United States Geological Survey |
Appendix A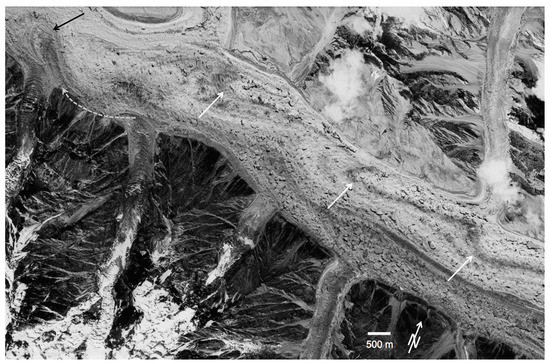 Figure A1. Corona image from 1969 showing the closure of crevasses, multiple surface lakes and collapse structures typical of a down-wasting glacier surface. Three dark-banded surge marks from previous surges can be seen in the brighter part of the surface debris cover (white arrows). The black arrow is pointing to the dual-shaded surge mark that might have been sheared-off from Gandar glacier (dashed grey arrow).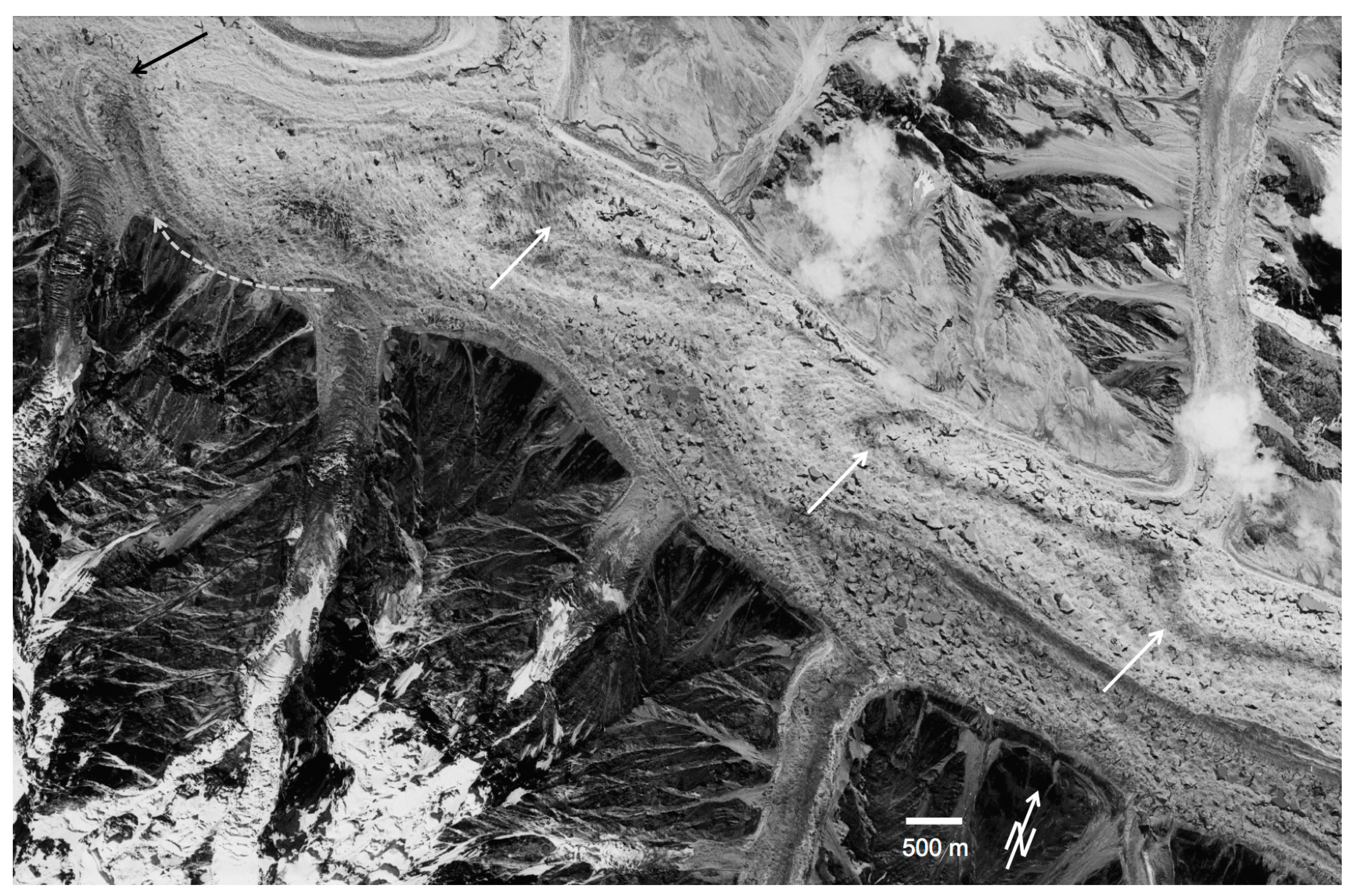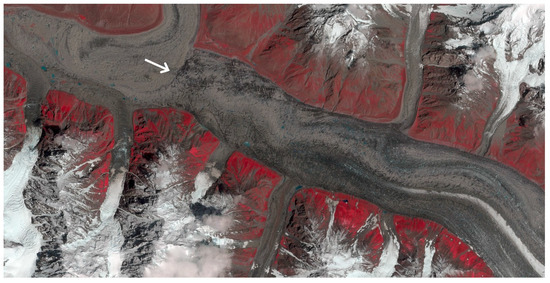 Figure A2. The middle part of Hispar Glacier at the end of the surge. The surge front (arrow) is located before the confluence region with Kunyang Glacier. Sentinel 2A image from 20 July 2016 with bands 8, 4, and 3 as RGB (showing vegetation in red). Copernicus Sentinel data 2016.
Appendix B

Table A1.
Scenes used for the time series in the supplement (ID 1 to 12) and
Figure 2
(IDs 1, 8, 13, 14). DoY is Day of Year.
| ID | Sensor | Date | DoY | ID | Sensor | Date | DoY |
| --- | --- | --- | --- | --- | --- | --- | --- |
| 1 | L8 OLI | 9 October 2013 | 282 | 8 | L7 ETM+ | 20 August 2015 | 232 |
| 2 | L8 OLI | 25 August 2014 | 237 | 9 | L8 OLI | 13 September 2015 | 256 |
| 3 | L8 OLI | 26 September 2014 | 269 | 10 | L8 OLI | 15 October 2015 | 288 |
| 4 | L8 OLI | 16 January 2015 | 16 | 11 | L8 OLI | 10 May 2016 | 131 |
| 5 | L8 OLI | 21 March 2015 | 80 | 12 | L8 OLI | 26 May 2016 | 147 |
| 6 | L8 OLI | 22 April 2015 | 112 | 13 | MSS | 2 August 1977 | 214 |
| 7 | L8 OLI | 9 June 2015 | 160 | 14 | TM | 7 August 1990 | 219 |

Date 1
Date 2
∆

t

Sensor
Figure
Date 1
Date 2
∆

t

Sensor
Figure
5 July 2013
21 July 2013
16
L8 OLI
3a
29 January 2014
3 April 2014
64
L8 OLI
21 July 2013
7 September 2013
48
L8 OLI
3b
3 April 2014
6 June 2014
64
L8 OLI
7 September 2013
9 October 2013
32
L8 OLI
6 June 2014
8 July 2014
32
L8 OLI
9 October 2013
25 October 2013
16
L8 OLI
8 July 2014
24 July 2014
16
L8 OLI
3c
25 October 2013
10 November 2013
16
L8 OLI
24 July 2014
25 August 2014
32
L8 OLI
3d
10 November 2013
26 November 2013
16
L8 OLI
25 August 2014
5 November 2014
16
L8 OLI
3e
26 November 2013
12 December 2013
16
L8 OLI
5 November 2014
8 January 2015
64
L7 ETM+
3f/g
12 December 2013
29 January 2014
48
L8 OLI
8 January 2015
9 February 2015
32
L7 ETM+
3h

Date 1
Date 2
∆

t

Sensor
Date 1
Date 2
∆

t

Sensor

13 March 15

6 April 15

24

Sentinel-1

18 December 15
3 January 16
16
L8 OLI

6 April 15

18 April 15

12

Sentinel-1

3 January 16
19 January 16
16
L8 OLI

30 April 15

12 May 15

12

Sentinel-1

19 January 16
12 February 16
24
Sentinel-1

24 May 15

5 June 15

12

Sentinel-1

12 February 16

7 March 16

24

Sentinel-1

17 June 15
3 July 15
16
L7 ETM+
7 March 16
31 March 16
24
Sentinel-1

23 July 15

16 August 15

24

Sentinel-1

31 March.16
24 April 16
24
Sentinel-1

16 August 15

9 September 15

24

Sentinel-1

24 April 16
18 May 16
24
Sentinel-1
13 September 15
15 October 15
32
L8 OLI

18 May 16

11 June 16

24

Sentinel-1

15 October 15
31 October 15
16
L8 OLI
11 June 16
29 July 16
48
Sentinel-1
31 October 15
2 December 15
32
L8 OLI
29 July 16
22 August 16
24
Sentinel-1
2 December 15
18 December 15
16
L8 OLI
22 August 16
15 September 16
24
Sentinel-1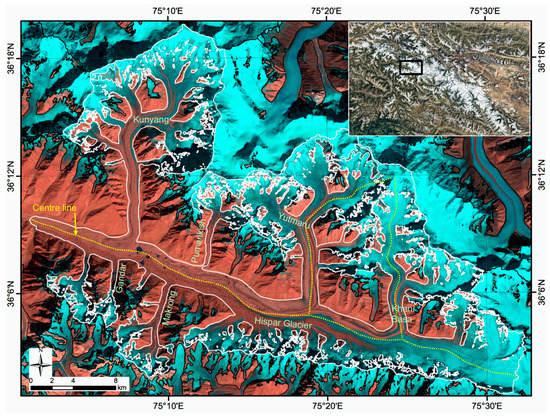 Figure 1. The location of the Hispar Glacier in the Karakoram is indicated on the inset (screen shot from Google Earth) with a black square. The annotated main image depicts the outlines of Hispar Glacier and its tributaries in white and of other glaciers in black. The dotted yellow lines denote centre lines used for extraction of flow velocities (here in 200 m equidistance). Glaciers mentioned in the text are named. The main image is a false colour composite (bands 6, 5, 4 as RGB) from Landsat 8 OLI acquired on 9 October 2013.
Figure 2. Time series of the surface evolution of the lower part of Hispar Glacier as seen with the Landsat sensors (a) MSS (1977), (b) TM (1990), (c) OLI (2013), and (d) ETM+ (2015). Arrows and circles point to specific surface features discussed in the text. Image (a) is a false colour composite with MSS bands 6, 5, 4 as RGB, images (b–d) use the SWIR, NIR and red channel as RGB.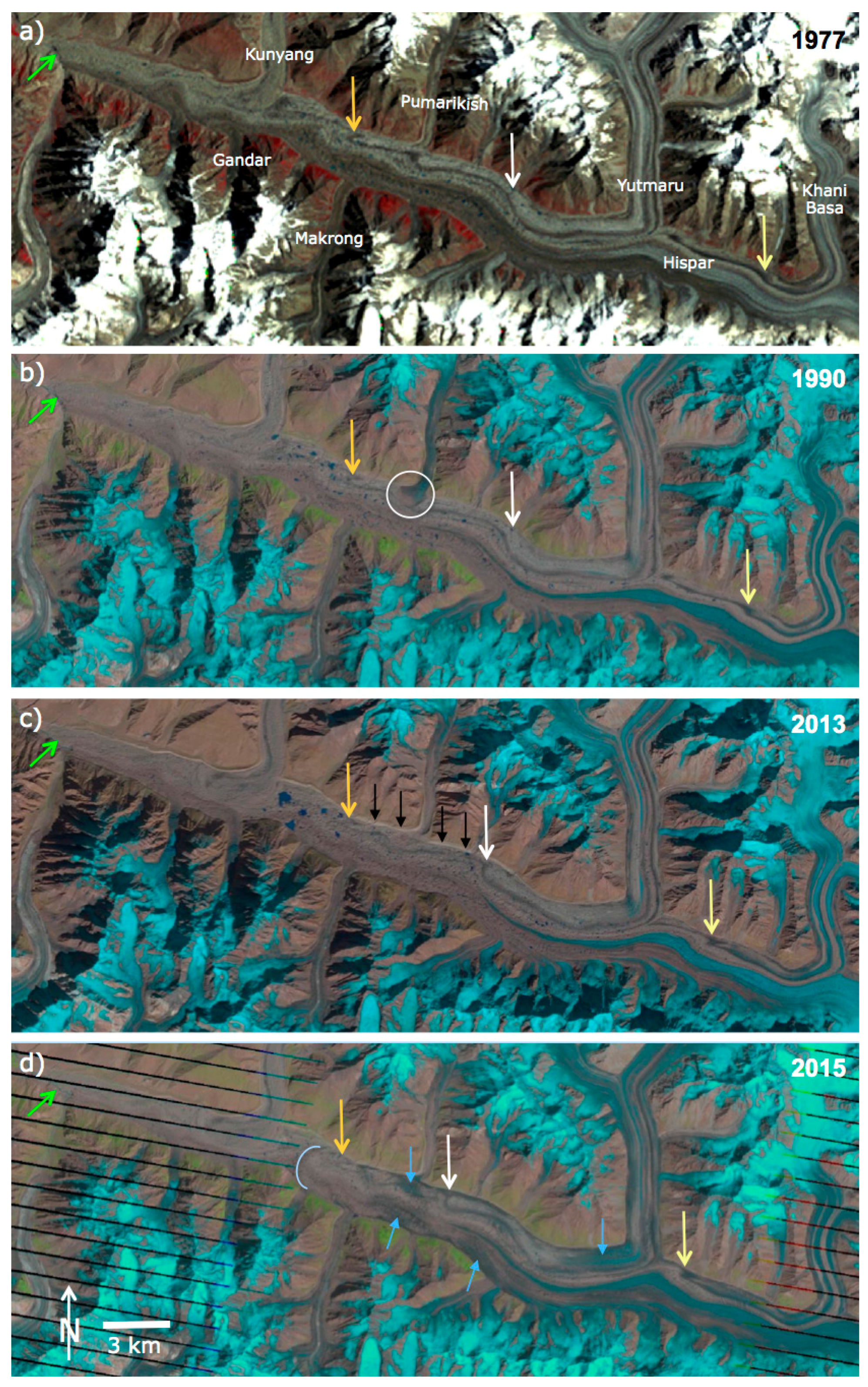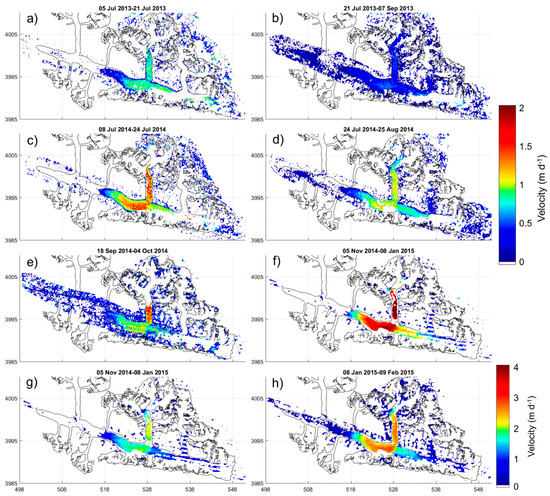 Figure 3. Pre-surge variability of flow velocities in the summer of 2013 (a) and (b) and 2014 (c) and (d) derived from Landsat 8 OLI. (e) Initiation of the surge in late autumn 2014 by the Yutmaru tributary (red) and (f) start of the full surge in winter 2014/15. (g) is the same as (f) but with a different colour table to better reveal the further acceleration of the flow shown in (h). Coordinates are in UTM43N.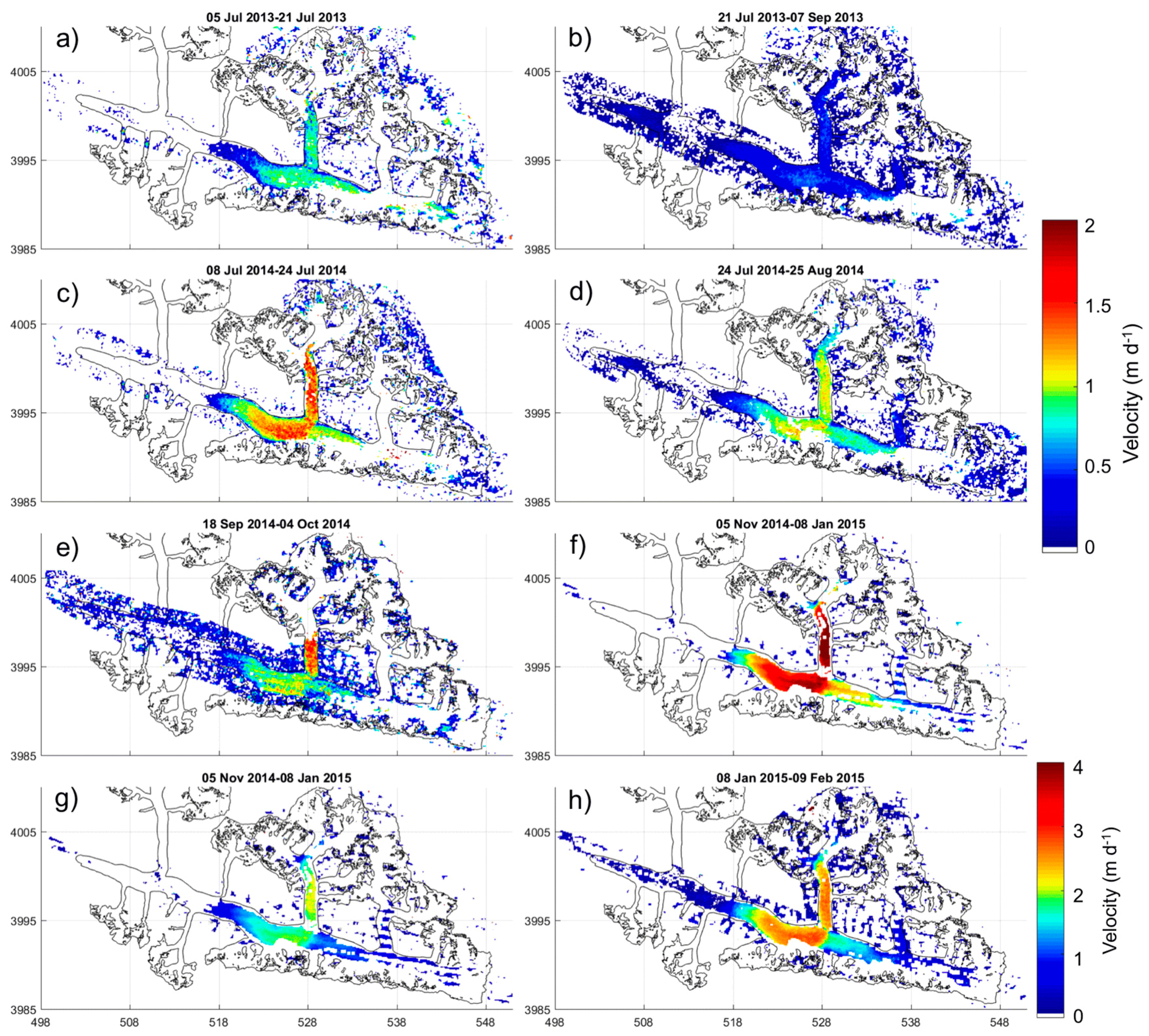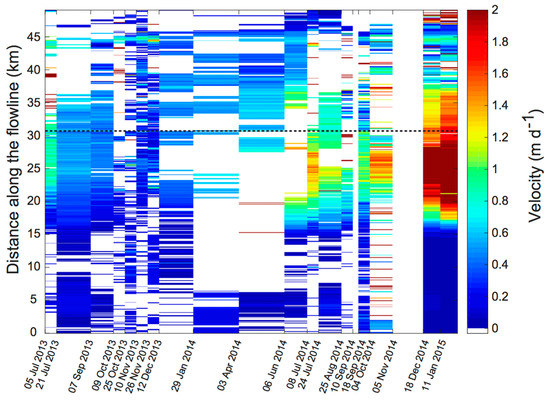 Figure 4. Evolution of flow velocities in a time-distance plot along the flow line of HG. The black dotted line across all dates shows the position of the confluence with the Yutmaru tributary.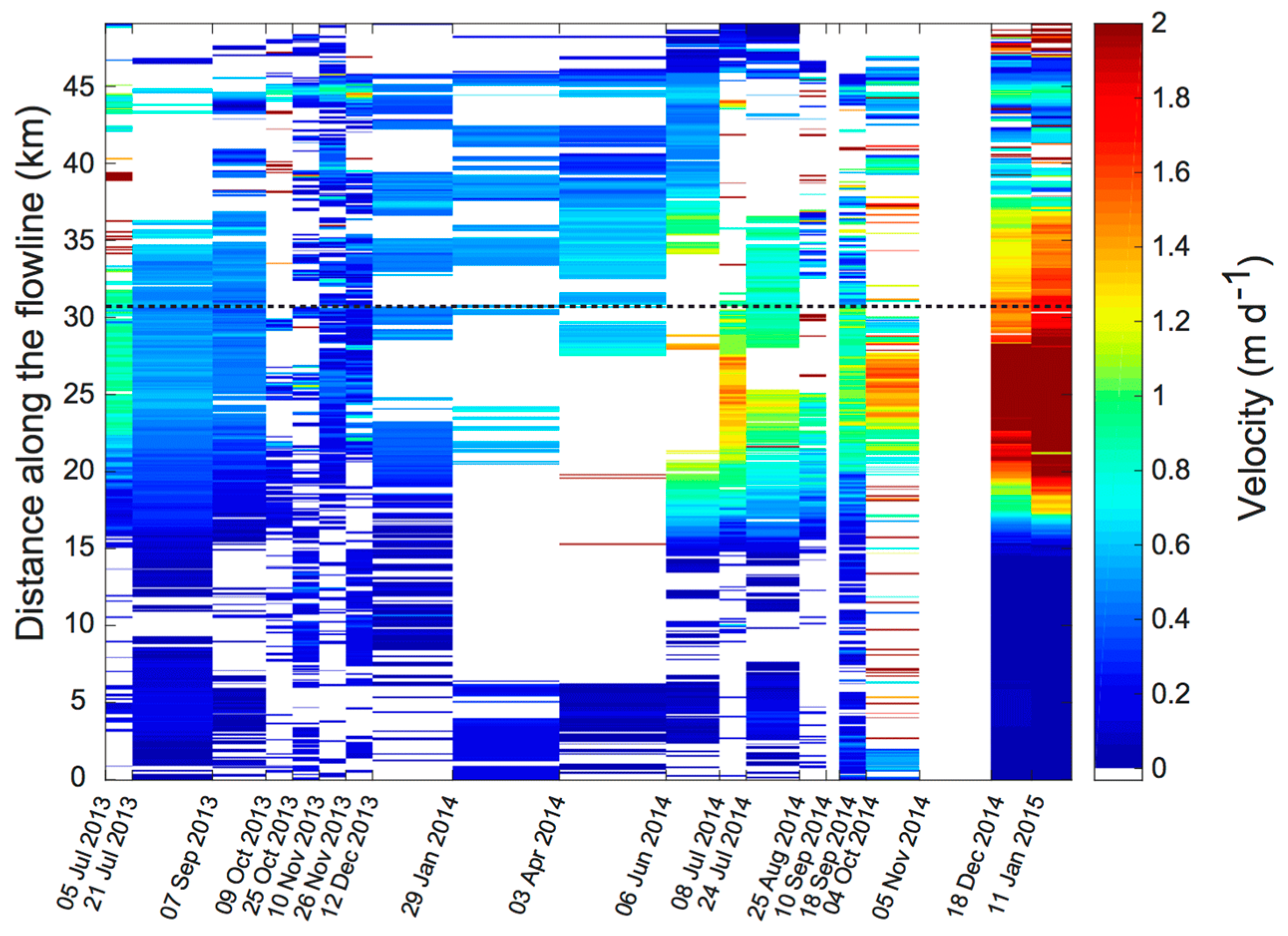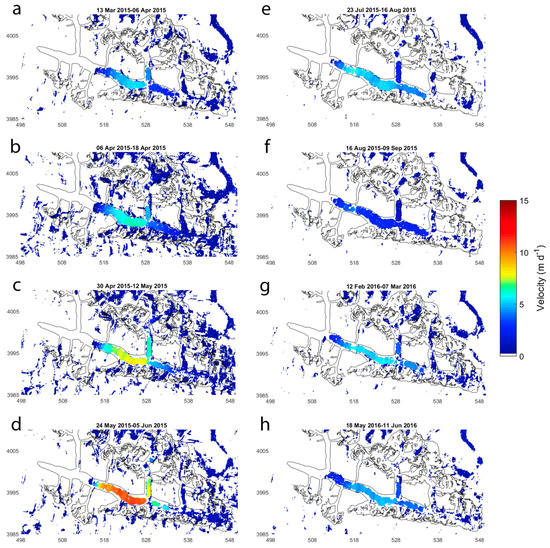 Figure 5.
(
a–h
) Temporal evolution of flow velocities from spring 2015 to summer 2016 derived from Sentinel-1. Highest velocities are reached by the end of May 2015 (
d
). After a substantial velocity decrease in autumn 2015 (
f
), velocities increased again in 2016 (
g
) and (
h
). Please note the different colour scale in
Figure 5
(max. 15 m d
−1
) and
Figure 6
(max. 10 m d
−1
).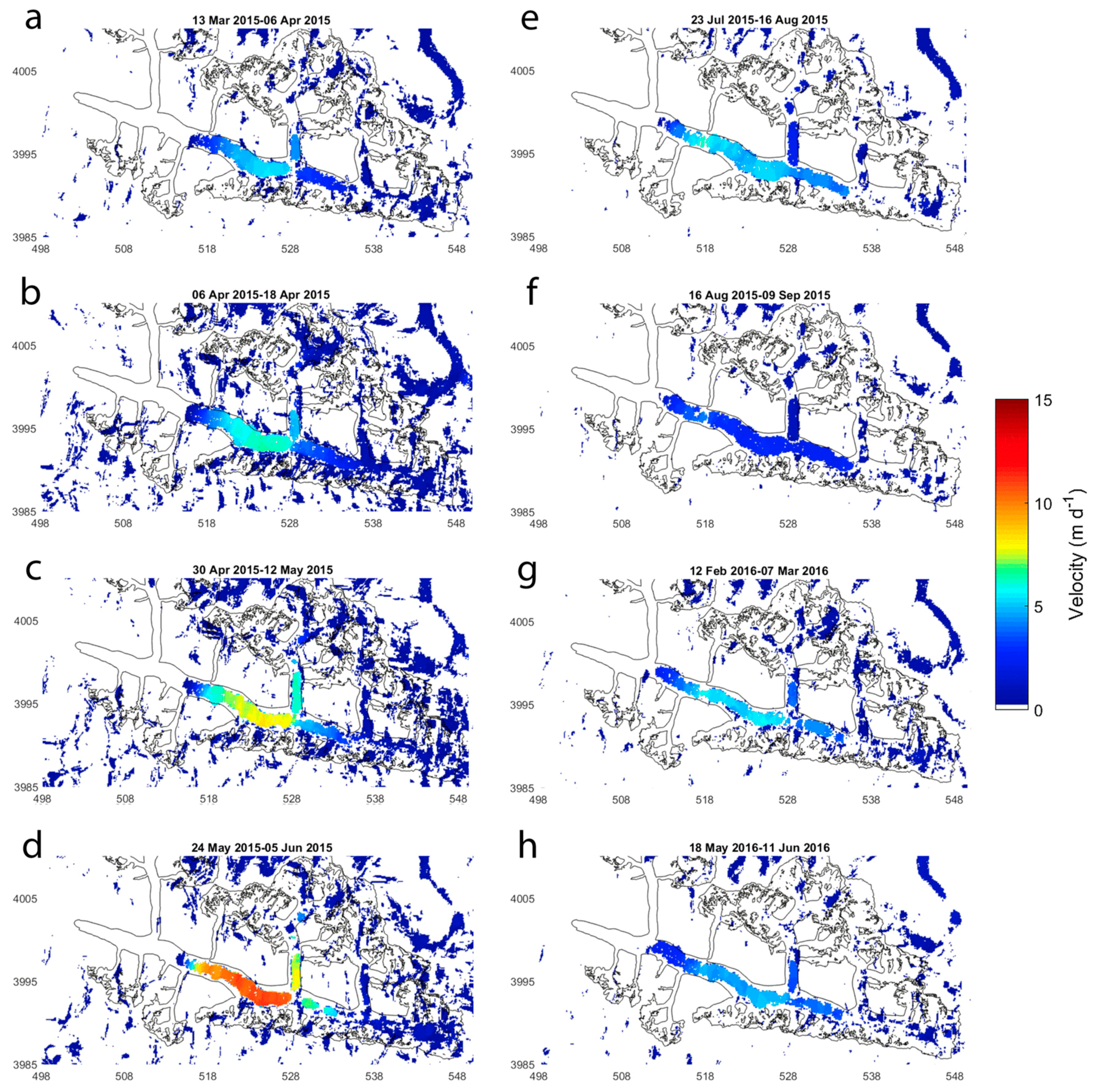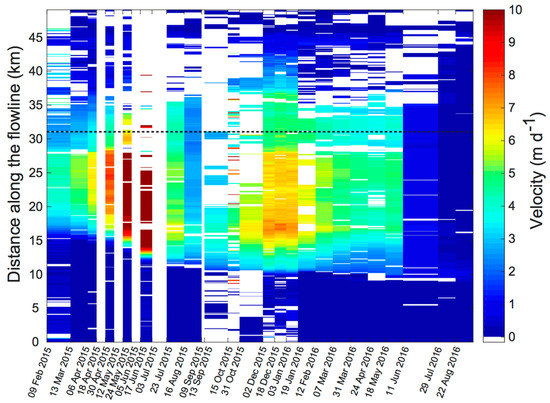 Figure 6.
Evolution of flow velocities during the surge in a time-distance plot along the flow line of HG (cf.
Figure 4
). The thick black-dotted line across all dates shows the position of the confluence with the Yutmaru tributary. The two separated fast flow periods are clearly visible.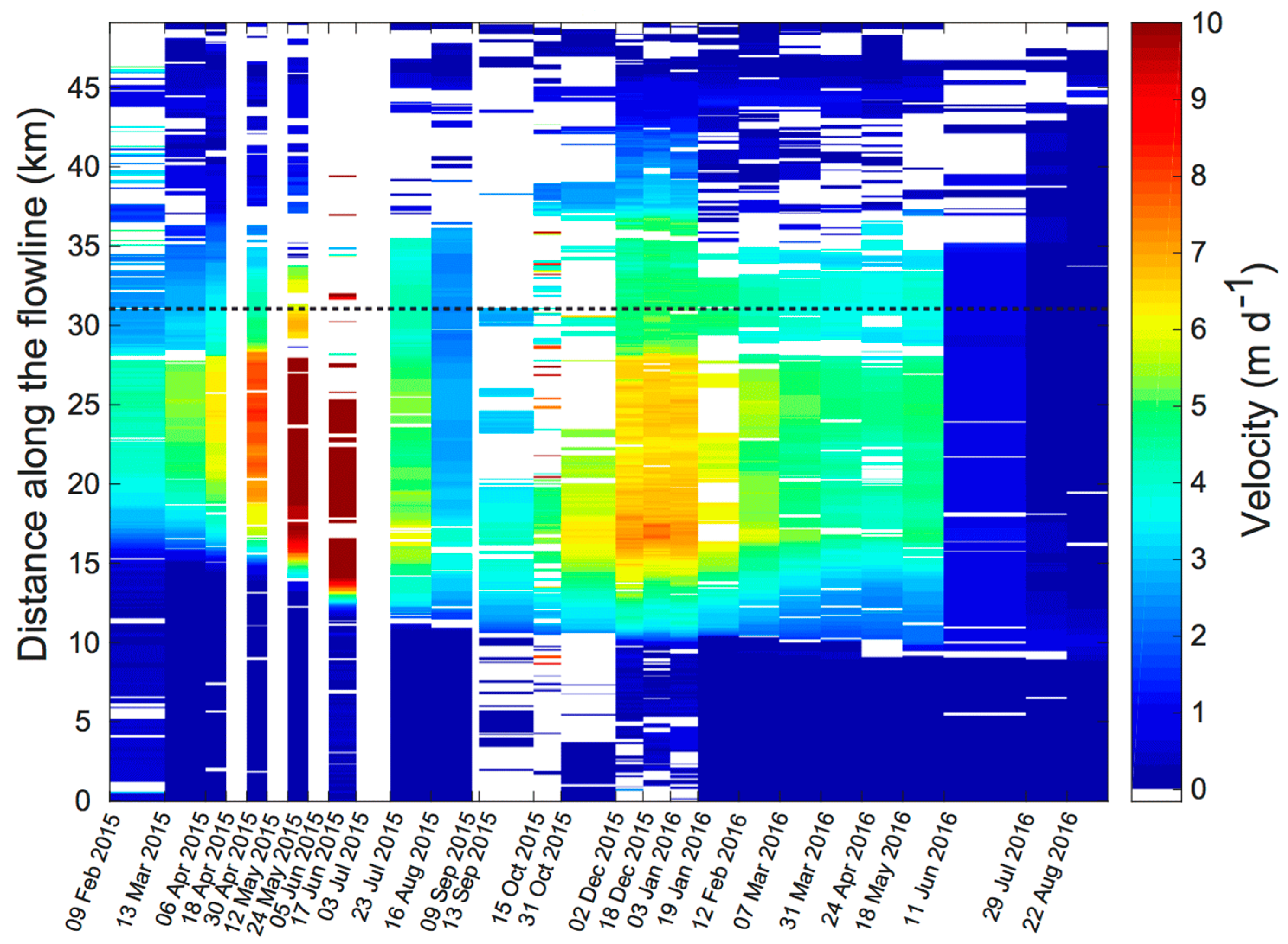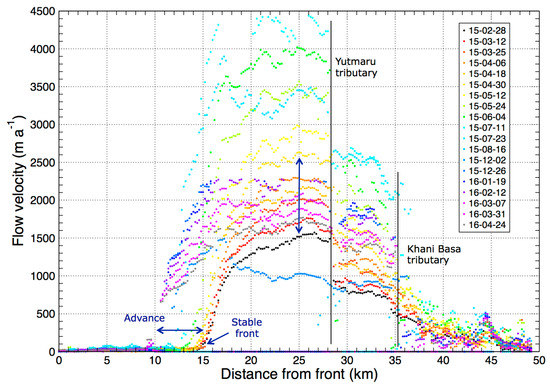 Figure 7. Annotated time-series of flow velocities vs. distance from the terminus along the central flow line of Hispar Glacier, colour coded for date and using a 200 m sampling. The location of the two tributaries is indicated. The vertical double arrow is indicating the increase in velocity while the surge front was stable. Note: 3650 m y−1 equals a flow velocity of 10 m d−1.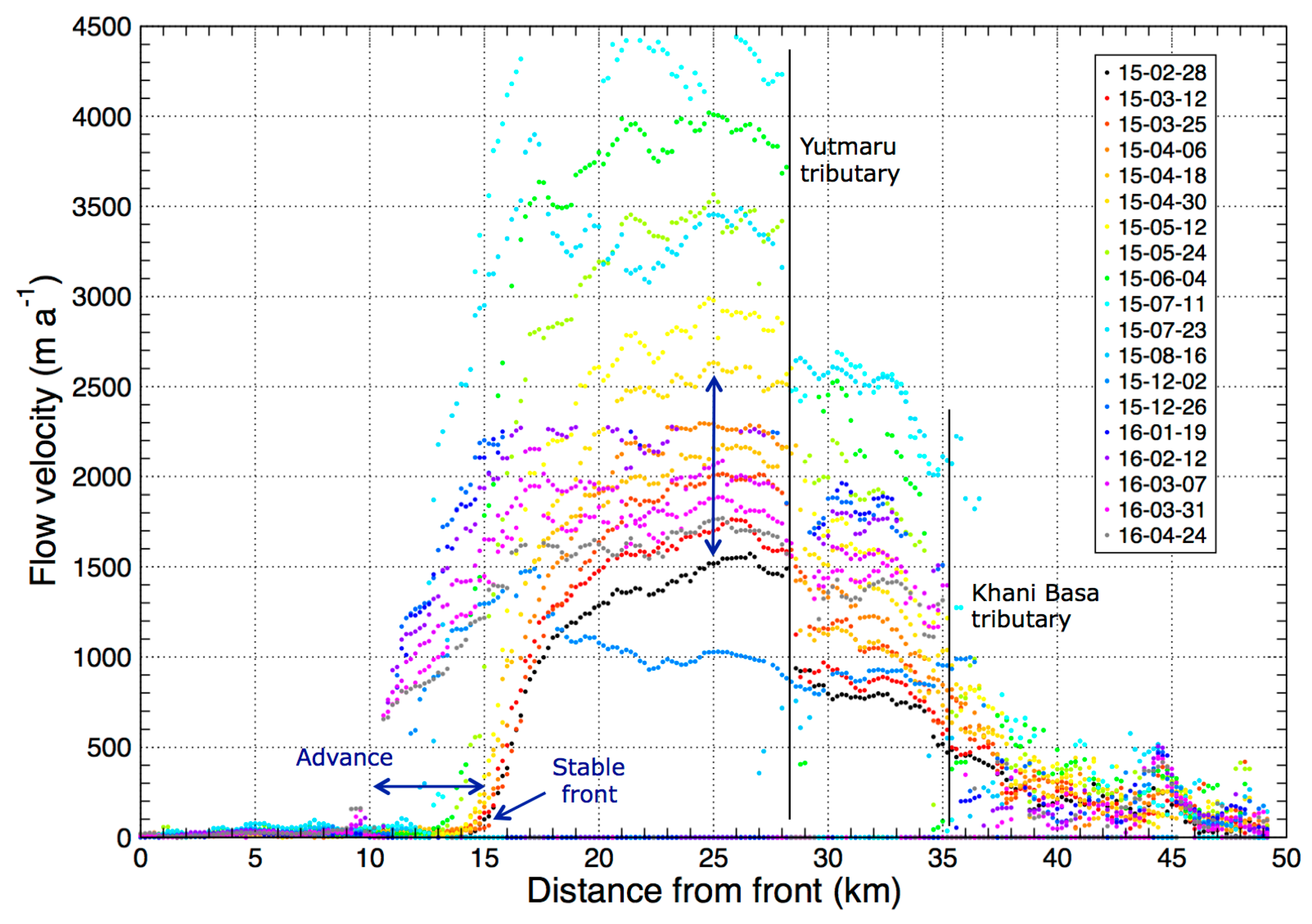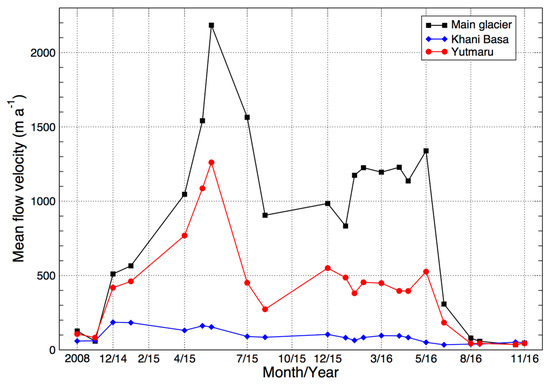 Figure 8.
Averaged flow velocities for the main glacier and its two tributaries (E: Khani Basa, W: Yutmaru) at different points in time. For the main glacier only velocities between km 10 and 28 (see
Figure 7
) were averaged.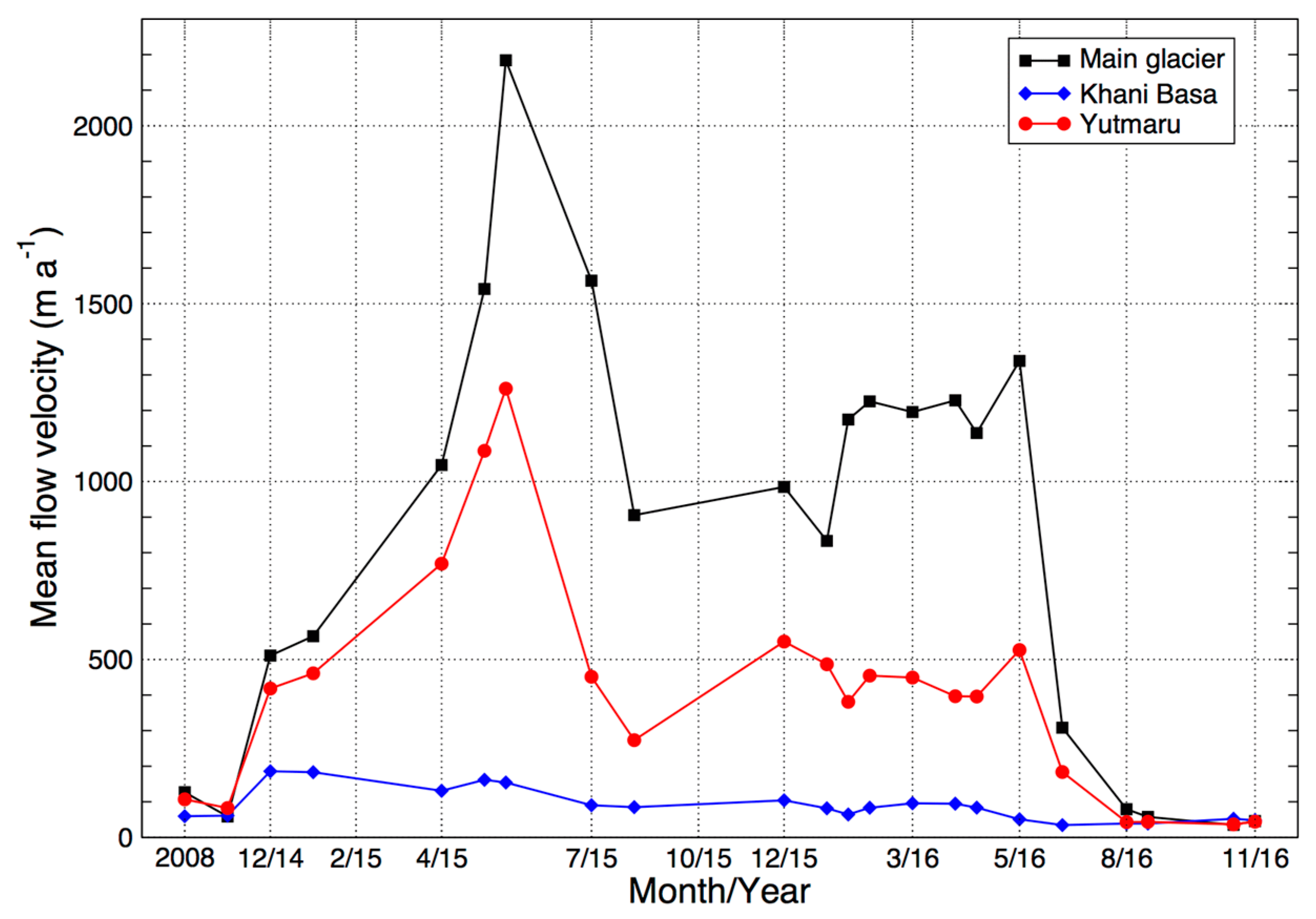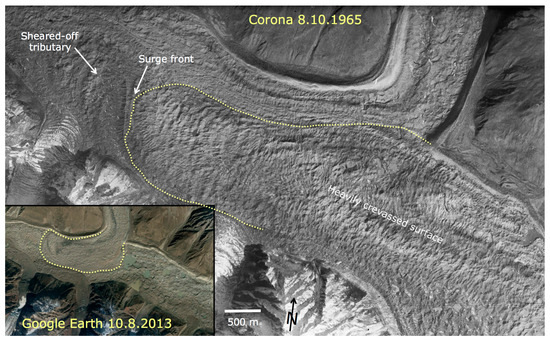 Figure 9. Annotated Corona image from 1965 showing details of the previous surge. For comparison a screenshot of the same region in 2013 from Google Earth is shown in the inset.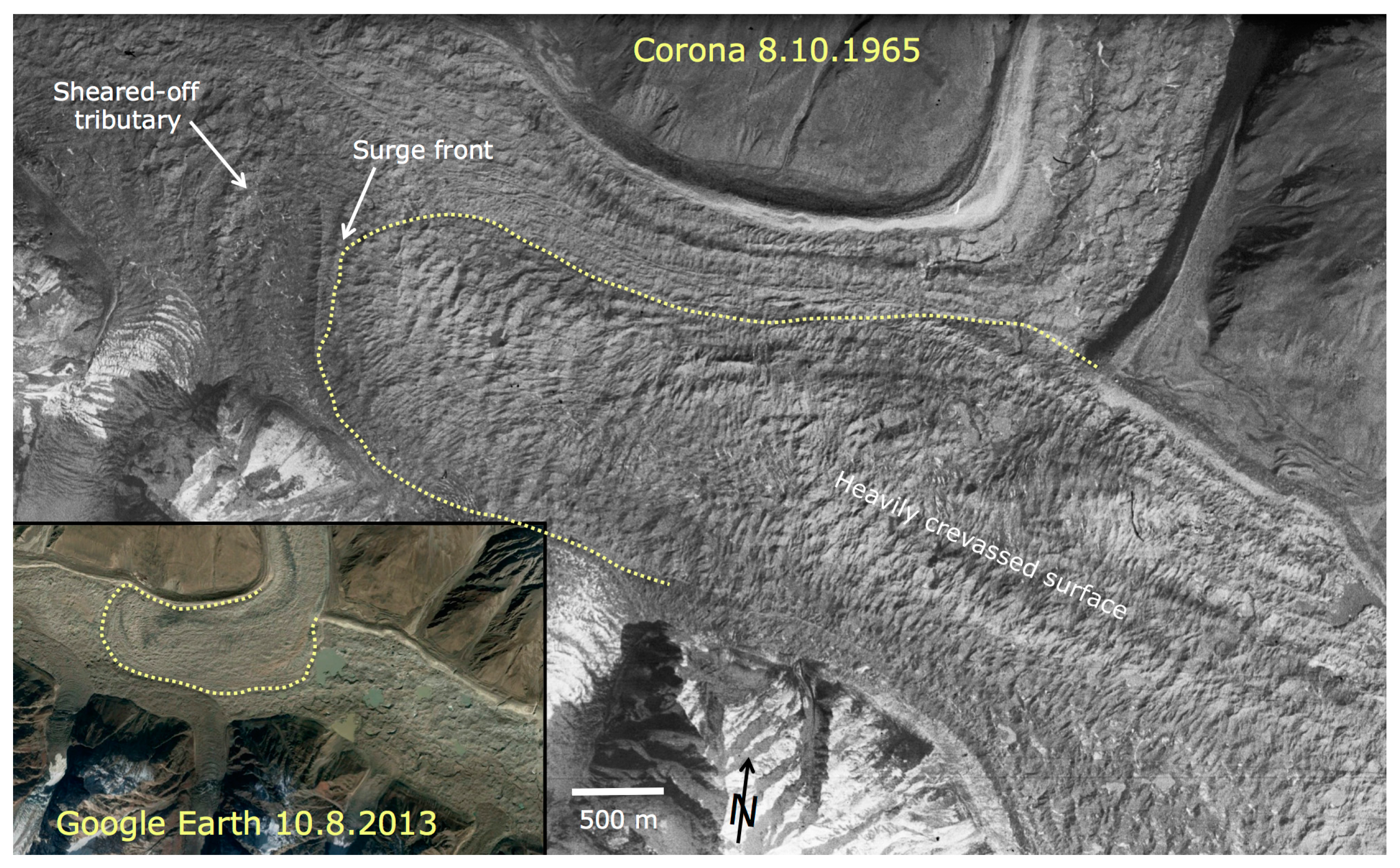 Table 1. Specifications and processing parameters of Landsat 7 ETM+, Landsat 8 OLI, RADARSAT-2 and Sentinel-1 data. The spatial resolution of the velocity map is 100 × 100 m for all sensors.
| | Landsat ETM+ | Landsat OLI | RADARSAT-2 | Sentinel-1 |
| --- | --- | --- | --- | --- |
| Mode | Panchromatic | Panchromatic | Wide Fine | IWS |
| Scene coverage (km) | 170 × 183 | 170 × 183 | 150 × 150 | 250 |
| Pixel resolution (m) | 15 × 15 | 15 × 15 | 10.6 × 5.2 | 3 × 22 m |
| Matching window (pixel) | 15 × 15 | 15 × 15 | 38 × 77 | 256 × 128 |
| Search area (pixel) | 50 × 50 | 50 × 50 | 38 × 77 | 256 × 128 |
| Step size | 100 m | 100 m | 9 × 19 pixel | 40 × 10 |

© 2017 by the authors. Licensee MDPI, Basel, Switzerland. This article is an open access article distributed under the terms and conditions of the Creative Commons Attribution (CC BY) license (http://creativecommons.org/licenses/by/4.0/).