Open Access This article is
freely available
re-usable
Editorial
Observation and Monitoring of Mangrove Forests Using Remote Sensing: Opportunities and Challenges
Sensing and Spatial Analysis Branch, Office of Research and Development, United States Environmental Protection Agency, 109 T.W. Alexander Drive, Research Triangle Park, NC 27709, USA
Academic Editor: Prasad S. Thenkabail
Received: 22 August 2016 / Accepted: 11 September 2016 / Published: 21 September 2016
Abstract
:
Mangrove forests, distributed in the tropical and subtropical regions of the world, are in a constant flux. They provide important ecosystem goods and services to nature and society. In recent years, the carbon sequestration potential and protective role of mangrove forests from natural disasters is being highlighted as an effective option for climate change adaptation and mitigation. The forests are under threat from both natural and anthropogenic forces. However, accurate, reliable, and timely information of the distribution and dynamics of mangrove forests of the world is not readily available. Recent developments in the availability and accessibility of remotely sensed data, advancement in image pre-processing and classification algorithms, significant improvement in computing, availability of expertise in handling remotely sensed data, and an increasing awareness of the applicability of remote sensing products has greatly improved our scientific understanding of changing mangrove forest cover attributes. As reported in this special issue, the use of both optical and radar satellite data at various spatial resolutions (i.e., 1 m to 30 m) to derive meaningful forest cover attributes (e.g., species discrimination, above ground biomass) is on the rise. This multi-sensor trend is likely to continue into the future providing a more complete inventory of global mangrove forest distributions and attribute inventories at enhanced temporal frequency. The papers presented in this "Special Issue" provide important remote sensing monitoring advancements needed to meet future scientific objectives for global mangrove forest monitoring from local to global scales.
Keywords:
mangrove forests; remote sensing; image classification; species discrimination; Landsat; radar
1. Background
Despite the importance of mangrove forests, reliable, accurate, and timely information on mangrove forests of the world is not available. A mangrove database is being created from national to global scales primarily due to scientific curiosity, interest from space agencies, and country need. To increase understanding of the distribution and dynamics of mangrove forests, scientists are employing new and novel image interpretation and classification techniques. Space agencies such as the National Aeronautics and Space Agency (NASA), the European Space Agency (ESA), Indian Remote Sensing (IRS), and the Japan Aerospace Exploration Agency (JAXTA) are interested in how the remote sensing technologies are being utilized and their impact on solving complex environmental problems. Country-specific needs include the availability and accessibility of a timely and accurate database of mangrove changes, needed for resources planning, management, and reporting to international treaty and conventions. In some cases, data generation at sub-regional (e.g., Mekong region), national, or sub-national levels is facilitated by donor agencies such as USAID, and NORAD. However, the available data sets are inconsistent over time and scale.
Mangroves possess a very distinct spectral signature in remotely sensed data, particularly in the spectral range corresponding visible red, near infrared, and mid infrared, thus making it easier to classify compared to other land cover types. The spectral range roughly corresponds to Landsat 7 bands 3 (0.63–0.69 μm), 4 (0.77–0.90 μm), 5 (1.55–1.75 μm), and 7 (2.09–2.35 μm). Advancement in remote sensing with the availability of higher spatial, spectral, and temporal resolution and availability of historical remote sensing data provides an opportunity to better characterize, map, and monitor mangrove forests. These data can be used in combination with other high temporal imagery (1−2 day observations) to provide information documenting mangrove phenology.
Recent advancement in remote sensing data availability, image-processing methodologies, computing and information technology, and human resources development have provided an opportunity to observe and monitor mangroves from local to global scales on a consistent and regular basis. Spectral and spatial resolution of remote sensing data and their availability has improved, making it possible to observe and monitor mangroves with unprecedented spatial and thematic detail. Novel remote sensing platforms, such as unmanned aerial vehicles, and emerging sensors, such as Fourier transform infrared spectroscopy and LiDAR, can now be used for mangrove monitoring. Furthermore, it is now possible to store and analyze large volume of data using cloud computing.
This issue, consisting of nine papers, is dedicated to mangrove mapping and monitoring, broadly covering the application of earth observation satellite data.
2. Mangrove Monitoring Science Questions
Because of the importance of mangrove forests in providing ecosystem goods and services to human well-being, and because of recent advancement in remote sensing data availability, image-processing methodologies, computing and information technology, and human resources development, several scientific questions needs to be addressed:
How can we map and monitor distribution, change, and attributes including species composition, density, height, biomass, and carbon stock?

Will mangroves have the ability to adapt to climate change and sea level rise

Are mangroves expanding towards the North Pole?

Do mangroves provide protection from natural disasters?

Can we use mangrove conservation and restoration to mitigate climate change and enhance community resilience?

What are the impact and consequences of rapid land use/land cover change in coastal regions to ecosystem and society?
3. Mangrove Forest Classification
Major steps in mangrove forest classification and change analysis involves: (1) identification of clear and concise objective; (2) development of classification system and legend; (3) satellite and secondary data acquisition; (4) data pre-processing; (5) training data collection; (6) image classification; (7) results validation; (8) the dissemination of results, user interaction, and communication; and (9) the application of classification results.
Several mangrove ecological parameters and functions can be mapped using remote sensing data. A hierarchical classification system following a globally consistent land cover classification system (LCCS) is recommended [
12
]. The majority of past mapping efforts map true mangroves, although some studies have also mapped mangrove associates. Parameters such as area, extent and spatial distribution, species zonation, canopy closure, density, height, biomass, 3-D structure, mangrove health, disturbance, and recovery are of the greatest interest.
4. Paradigm Shift in Remote Sensing Data Processing
In the last decade or so, significant improvement has been achieved in terms of remote sensing data availability, classification methodologies, computing infrastructure, and availability of expertise. We now have a large amount of data in need of the integration to answer critical science questions. To accomplish this requires the implementation of automated image pre-processing and classification approaches (
Figure 2
). At present, not everything can be automated, but many steps including pre-processing that normally constitute 50%–60% of project time can be automated.
Pre-processing of satellite data should be centralized, whereas classification and image interpretation can be decentralized (
Figure 3
). However, there should be an inflow of information from centralized to local levels and vice versa.
Recent trend has been to perform image processing using cloud computing such as Google Earth Engine (GEE) and Amazon Web Services (AWS). The advantages of cloud computing include the availability of a large volume of satellite data already stored in the cloud. This will avoid the need of an external hard disk and facilitate easy data access. For example, many of the data such as the entire Landsat archive are already available in GEE and AWS. Using parallel computing, users will have unlimited computer processing capabilities. Moreover, code and classification algorithms can be shared and discussed in the shared platform. The few disadvantages include a lack of full control of the cloud-computing platform, cost, and the fact that documents are not available or fully explained in some cases.
5. What Is the Goal of This Special Issue?
This special issue is dedicated to the observation and monitoring of mangroves using remote sensing from local to global scales. The issue broadly covers the application of remote sensing using optical (multi-spectral and hyperspectral), radar, and LiDAR data obtained from multiple platforms including ground, air, and space. Research papers were solicited to use the latest techniques to acquire, manage, process, and analyze a wide variety of remote sensing data for mangrove forest applications. In particular, the following topical areas were emphasized.
The application of aerial ground remote sensing, photography, multi-spectral, multi-temporal and multi-resolution, satellite data, synthetic aperture radar (SAR) data, hyperspectral data, and LiDAR data.

The application of advanced image pre-processing for geometric, radiometric, and atmospheric correction, cloud removal, and image mosaicking.

The application of advanced image classification and validation techniques including supervised and unsupervised classification.

The application of remote sensing to derive spatio-temporal information on mangrove forests distribution, species discrimination, forest density, forest health, mangrove expansion and contraction, and other ongoing changes in mangrove ecosystems.
6. Synopsis of Research Papers
A brief summary of the nine papers published in this special issue are presented below. These papers use optical, radar, and LiDAR remotely sensed data with a special resolution ranging from less than 1 m to 30 m. Various classification approaches such as maximum likelihood classification (MLC), support vector machine (SVM), and an object-based approach were examined. Time series satellite data were used to quantify mangrove cover changes over time.
7. Conclusions
The nine papers published in this special issue use a wide variety of satellite data and classification approaches. The primary objective is to improve our scientific understanding on the distribution and dynamics of mangrove forests in different parts of the world. These studies use various remotely sensed data ranging from Landsat, WorldView, ALOS AVNIR-2, LiDAR, PALSAR, and Radarsat. They use various classification approaches including Maximum Likelihood Classification (MLC), support vector machine (SVM), and an artificial neural network (ANN). Radar data were analyzed using back-propagation ANN and linear regression models and coefficients. Information such as mangrove and non-mangrove areas, mangrove change, species zonation, vegetation indices, tree height, canopy closure, diameter at breast height (DBH), above ground biomass (AGB), and carbon stock were computed. Studies were conducted in various parts of the world such as Australia, China, Madagascar, Malaysia, Mozambique, Mexico, Tanzania, Hong Kong, and Brazil. These studies help advance our scientific understanding of how various types of remotely sensed data can be utilized with different types of classification approaches to derive meaningful mangrove data and information in support of furthering the science needed to support a global monitoring effort.
Conflicts of Interest
The author declares no conflict of interest.
Figure 1.
Distribution of the mangrove forests of the world for the year 2000 at 30 m spatial resolution [
1
].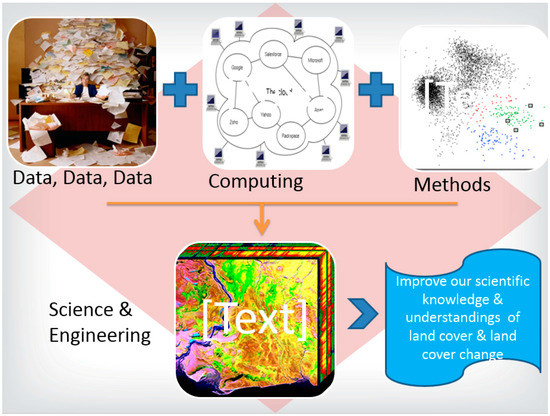 Figure 2. Conceptual diagram of the integration of data, computing, and methods using science and engineering to improve our scientific understanding of mangrove forest cover change.
Figure 3. Conceptual framework of pre-processing and image classification showing centralized versus field/ground/local level processing.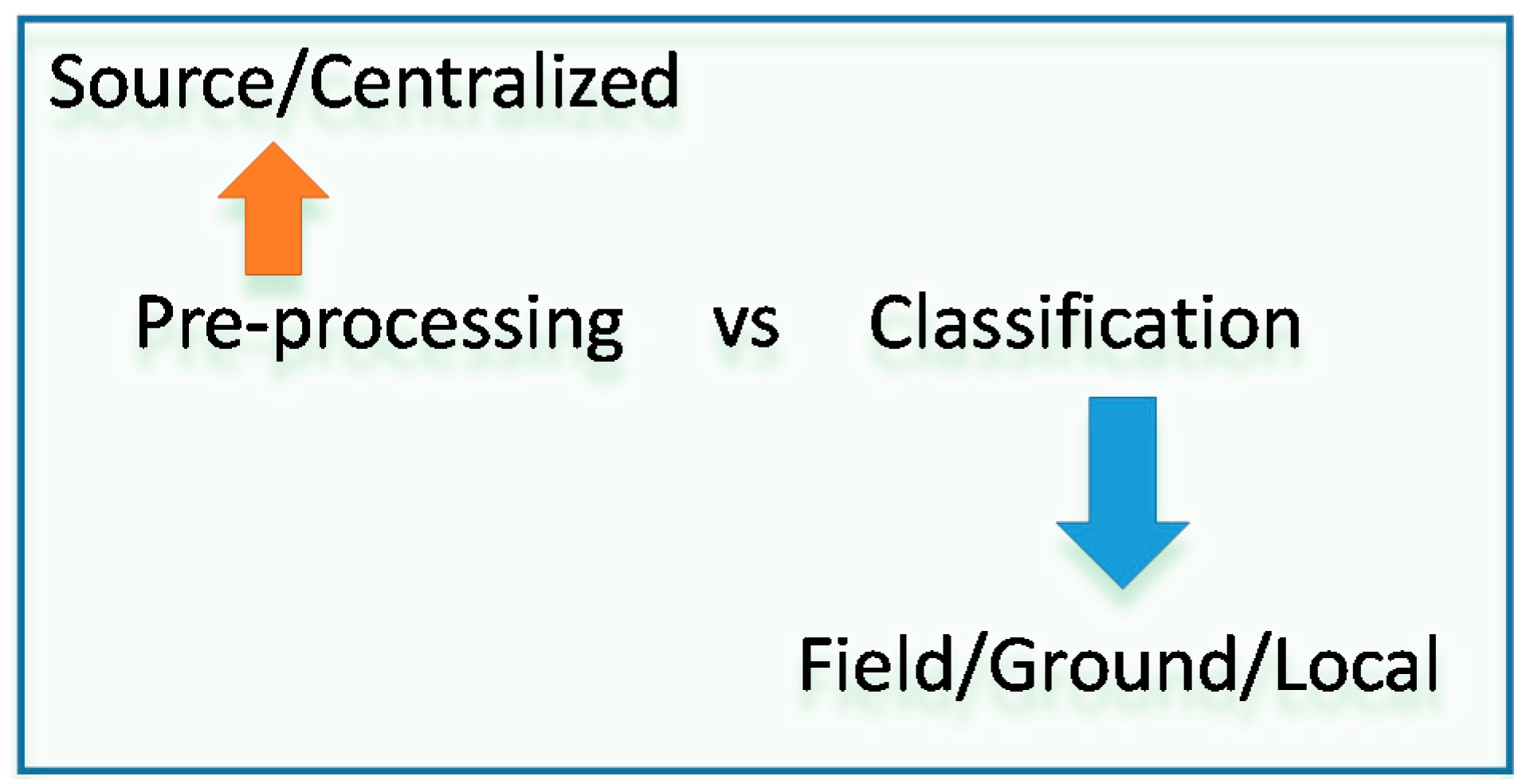 © 2016 by the author; licensee MDPI, Basel, Switzerland. This article is an open access article distributed under the terms and conditions of the Creative Commons Attribution (CC-BY) license (http://creativecommons.org/licenses/by/4.0/).