Open Access This article is
freely available
re-usable
Article
An Innovative Decision Support System to Improve the Energy Efficiency of Buildings in Urban Areas
1
Faculty of Civil and Environmental Engineering and Architecture, UTP University of Science and Technology, ul. prof. S. Kaliskiego 7, 85-796 Bydgoszcz, Poland
2
Faculty of Civil Engineering, Architecture and Environmental Engineering, University of Zielona Góra, ul. prof. Z. Szafrana 1, 65-516 Zielona Góra, Poland
*
Author to whom correspondence should be addressed.
Received: 18 December 2019 / Accepted: 9 January 2020 / Published: 11 January 2020
Abstract
:
Improving in the energy efficiency of urban buildings, and maximizing the savings and the resulting benefits require information support from city decision-makers, planners, and designers. The selection of the appropriate analytical methods will allow them to make optimal design and location decisions. Therefore, the research problem of this article is the development of an innovative decision support system using multi-criteria analysis and Geographic Information Systems (decision support system + Geographic Information Systems = DGIS) for planning urban development. The proposed decision support system provides information to energy consumers about the location of energy efficiency improvement potential. This potential has been identified as the possibility of introducing low-energy buildings and the use of renewable energy sources. DGIS was tested in different construction areas (categories: A, B, C, D), Zielona Góra quarters. The results showed which area among the 53 quarters with a separate dominant building category was the most favorable for increasing energy efficiency, and where energy efficiency could be improved by investing in renewable energy sources, taking into account the decision-maker. The proposed DGIS system can be used by local decision-makers, allowing better action to adapt cities to climate change and to protect the environment. This approach is part of new data processing strategies to build the most favorable energy scenarios in urban areas.
Keywords:
energy efficiency of buildings; energy potential; renewable energy sources; Geographic Information System; multi-criteria analysis; smart city; urban analysis
Author Contributions
Resources, M.S. (Małgorzata Sztubecka), M.S. (Marta Skiba), M.M. and A.B.-K. All authors have read and agreed to the published version of the manuscript.
Funding
This research was not financed from external sources.
Conflicts of Interest
The authors declare no conflict of interest.
References
Krellenberg, K.; Link, F.; Welz, J.; Harris, J.; Barth, K.; Irarrazaval, F. Supporting local adaptation: The contribution of socio-environmental fragmentation to urban vulnerability.

Appl. Geogr.

2014,

55

, 61–70. [Google Scholar] [CrossRef]
Kazak, J.K.; Chruściński, J.; Szewrański, S. The development of a novel decision support system for the location of green infrastructure for stormwater management.

Sustainability

2018,

10

, 4388. [Google Scholar] [CrossRef]
Nowogońska, B. Diagnoses in the Aging Process of Residential Buildings Constructed Using Traditional Technology.

Buildings

2019,

9

, 126. [Google Scholar] [CrossRef]
Buffel, T.; Phillipson, C. Can Global Cities Be 'Age-Friendly Cities'? Urban Development and Ageing Populations.

Cities

2014,

55

, 94–100. [Google Scholar] [CrossRef]
European Environment Agency.

Urban Adaptation to Climate Change in Europe 2016. Transforming Cities in a Changing Climate

; Publications Office of the European Union: Luxembourg, 2016. [Google Scholar]
Szopińska, E.; Kazak, J.; Kempa, O.; Rubaszek, J. Spatial form of greenery in strategic environmental management in the context of urban adaptation to climate change.

Pol. J. Environ. Stud.

2019,

28

, 2845–2856. [Google Scholar] [CrossRef]
Berardi, U. A cross-country comparison of the building energy consumptions and their trends.

Resour. Conserv. Recycl.

2017,

123

, 230–241. [Google Scholar] [CrossRef]
Szyszka, J.; Kogut, J.; Skrzypczak, I.; Kokoszka, W. Selective internal heat distribution in modified trombe wall.

IOP Conf. Ser. Earth Environ. Sci.

2017,

95

, 042018. [Google Scholar] [CrossRef]
Staszczuk, A.; Kuczyński, T. The impact of floor thermal capacity on air temperature and energy consumption in buildings in temperate climate.

Energy

2019,

181

, 908–915. [Google Scholar] [CrossRef]
AlAjmi, A.; Abou-Ziyan, H.; Ghoneim, A. Achieving annual and monthly net-zero energy of existing building in hot climate.

Appl. Energy

2016,

165

, 511–521. [Google Scholar] [CrossRef]
Martinopoulos, G. Life Cycle Assessment of solar energy conversion systems in energetic retrofitted buildings.

J. Build. Eng.

2018,

20

, 256–263. [Google Scholar] [CrossRef]
Baljit, S.S.S.; Chan, H.Y.; Sopian, K. Review of building integrated applications of photovoltaic and solar thermal systems.

J. Clean. Prod.

2016,

137

, 677–689. [Google Scholar] [CrossRef]
Allouhi, A.; Zamzoum, O.; Islam, M.R.; Saidur, R.; Kousksou, T.; Jamil, A.; Derouich, A. Evaluation of wind energy potential in Morocco's coastal regions.

Renew. Sustain. Energy Rev.

2017,

72

, 311–324. [Google Scholar] [CrossRef]
Rezaeiha, A.; Kalkman, I.; Blocken, B. Effect of pitch angle on power performance and aerodynamics of a vertical axis wind turbine.

Appl. Energy

2017,

197

, 132–150. [Google Scholar] [CrossRef]
Scarpa, F.; Tagliafico, L.A. Exploitation of humid air latent heat by means of solar assisted heat pumps operating below the dew point.

Appl. Therm. Eng.

2016,

100

, 820–828. [Google Scholar] [CrossRef]
Bagheri, M.; Delbari, S.H.; Pakzadmanesh, M.; Kennedy, C.A. City-integrated renewable energy design for low-carbon and climate-resilient communities.

Appl. Energy

2019,

239

, 1212–1225. [Google Scholar] [CrossRef]
Piwowar, A.; Dzikuć, M. Development of Renewable Energy Sources in the Context of Threats Resulting from Low-Altitude Emissions in Rural Areas in Poland: A Review.

Energies

2019,

12

, 3558. [Google Scholar] [CrossRef]
Azaza, M.; Eskilsson, A.; Wallin, F. An open-source visualization platform for energy flows mapping and enhanced decision making.

Energy Proced.

2019,

158

, 3208–3214. [Google Scholar] [CrossRef]
Mrówczyńska, M.; Łączak, A.; Bazan-Krzywoszańska, A.; Skiba, M. Improving energy efficiency with the risk of investment of reference to urban development of Zielona Góra.

Teh. Vjesn.

2018,

25

, 916–922. [Google Scholar]
Hu, M. Building impact assessment—A combined life cycle assessment and multi-criteria decision analysis framework.

Resour. Conserv. Recycl.

2019,

150

, 104410. [Google Scholar] [CrossRef]
Launay, S.; Kadoch, B.; Le Métayer, O.; Parrado, C. Analysis strategy for multi-criteria optimization: Application to inter-seasonal solar heat storage for residential building needs.

Energy

2019,

171

, 419–434. [Google Scholar] [CrossRef]
Kozik, R.; Leśniak, A.; Majka, M. Application of multi-criteria analysis method for thermal insulation solutions selection.

AIP Conf. Proc.

2019,

2116

, 180010. [Google Scholar]
Ziembicki, P.; Klimczak, M.; Bernasiński, J. Optimization of municipal energy systems with the use of an intelligent analytical system.

Civ. Environ. Eng. Rep.

2018,

3

, 132–144. [Google Scholar] [CrossRef]
Ouria, M. Solar energy potential according to climatic and geometrical parameters of cities and buildings: A case-study from Tabriz City- Iran.

Urban. Clim.

2019,

28

, 100469. [Google Scholar] [CrossRef]
Feyzi, S.; Khanmohammadi, M.; Abedinzadeh, N.; Aalipour, M. Multi- criteria decision analysis FANP based on GIS for siting municipal solid waste incineration power plant in the north of Iran.

Sustain. Cities Soc.

2019,

47

, 101513. [Google Scholar] [CrossRef]
Arabameri, A.; Pradhan, B.; Rezaei, K.; Conoscenti, C. Gully erosion susceptibility mapping using GIS-based multi-criteria decision analysis techniques.

Catena

2019,

180

, 282–297. [Google Scholar] [CrossRef]
Erbaş, M.; Kabak, M.; Özceylan, E.; Çetinkaya, C. Optimal siting of electric vehicle charging stations: A GIS-based fuzzy Multi-Criteria Decision Analysis.

Energy

2018,

163

, 1017–1031. [Google Scholar] [CrossRef]
Díaz-Cuevas, P. GIS-Based Methodology for Evaluating the Wind-Energy Potential of Territories: A Case Study from Andalusia (Spain).

Energies

2018,

11

, 2789. [Google Scholar] [CrossRef]
Özceylan, E.; Erbaş, M.; Tolon, M.; Kabak, M.; Durğut, T. Evaluation of freight villages: A GIS-based multi-criteria decision analysis.

Comput. Ind.

2016,

76

, 38–52. [Google Scholar] [CrossRef]
Ghajari, Y.E.; Alesheikh, A.A.; Modiri, M.; Hosnavi, R.; Abbasi, M. Spatial Modelling of Urban Physical Vulnerability to Explosion Hazards Using GIS and Fuzzy MCDA.

Sustainability

2017,

9

, 1274. [Google Scholar] [CrossRef]
Statistics Poland.

Demographic Yearbook of Poland

; Statistics Poland: Warsaw, Poland, 2019.
Kaya, I.; Çolak, M.; Terzi, F. A comprehensive review of fuzzy multi criteria decision making methodologies for energy policy making.

Energy Strategy Rev.

2019,

24

, 207–228. [Google Scholar] [CrossRef]
Zhou, Y.; Xu, L.; Shaikh, G.M. Evaluating and Prioritizing the Green Supply Chain Management Practices in Pakistan: Based on Delphi and Fuzzy AHP Approach.

Symmetry

2019,

11

, 1346. [Google Scholar] [CrossRef]
Szafranko, E. Possibilities of application of multi-criteria analysis methods to evaluate material and technological solutions in the design of building structures.

Mater. Today Proc.

2019, in press. [Google Scholar] [CrossRef]
Jęglet, K. Wielokryterialna analiza systemów zaopatrzenia budynku w ciepło—Zagadnienie normalizacji kryteriów.

Mater. Bud.

2018,

1

, 6–9. [Google Scholar] [CrossRef]
Żabicki, P.; Gardziejczyk, W. Issues of criteria normalization in the multicriteria analyzes in the design of roads.

Bud. I Archit.

2014,

13

, 325–333. [Google Scholar]
Horta, A.; Gouveia, J.; Schmidt, L.; Sousa, J.; Palma, P.; Simões, S. Energy poverty in Portugal: Combining vulnerability mapping with household interviews.

Energy Build.

2019,

203

, 109423. [Google Scholar] [CrossRef]
Bujarkiewicz, A.; Sztubecka, M.; Sztubecki, J. The study of using GIS tools in sustainable management of solar energy.

Civ. Environ. Eng. Rep.

2018,

1

, 26–39. [Google Scholar] [CrossRef]
Tomlinson, R.

Thinking about GIS: Geographic Information System Planning for Managers

; ESRI Press: Redlands, CA, USA, 2003. [Google Scholar]
Gotlib, D.; Wyszomirski, M. Cartographical presentation of BIM models. In Proceedings of the Baltic Geodetic Congress, BGC-Geomatics, Olsztyn, Poland, 21–23 June 2018; pp. 121–126. [Google Scholar]
Rubinowicz, P. Visualisation of DSM as 3D-mesh for urban analyses.

Adv. Intell. Syst. Comput.

2019,

809

, 1013–1022. [Google Scholar]
Malczewski, J. GIS-based multicriteria decision analysis: A survey of the literature.

Int. J. Geogr. Inf. Sci.

2006,

20

, 703–726. [Google Scholar] [CrossRef]
Rozporządzenie Rady Ministrów z dnia 5 października 2012 roku w sprawie państwowego systemu odniesień przestrzennych. Available online: http://prawo.sejm.gov.pl/isap.nsf/download.xsp/WDU20120001247/O/D20121247.pdf (accessed on 27 December 2019).
Town Energy Audit (TEA) of Zielona Góra. Research task No. 1: Analysis of possibilities and social and economic effects of improving energy effectiveness in buildings. In

Strategic Programmes: Integrated System for Reducing Energy Consumption in the Maintenance of Buildings

; Financed from the National Centre for Research and Development (NCBR) Contract No. SP/B/1/91454/10, NCBiR 2010; TEA: Zielona Góra, Poland, 2011; unpublished. [Google Scholar]
SOZG.

Statistical Yearbook—Lubuskie Voivodship 2017

; Statistical Office in Zielona Gora: Zielona Gora, Poland, 2017. [Google Scholar]
Neves, A.; Leal, V.; Lourenço, J. A methodology for sustainable and inclusive local energy planning.

Sustain. Cities Soc.

2015,

17

, 110–121. [Google Scholar] [CrossRef]
Stanganelli, M.; Torrieri, F.; Gerundo, C.; Rossitti, M. An integrated strategic-performative planning methodology towards enhancing the sustainable decisional regeneration of fragile territories.

Sustain. Cities Soc.

2020,

53

, 101920. [Google Scholar] [CrossRef]
Whitmarsh, L.; Corner, A. Tools for a new climate conversation: A mixed-methods study of language for public engagement across the political spectrum.

Glob. Environ. Chang.

2017,

42

, 122–135. [Google Scholar] [CrossRef]
Fandi, G.; Krepl, V.; Ahmad, I.; Igbinovia, F.O.; Ivanova, T.; Fandie, S.; Muller, Z.; Tlusty, J. Design of an emergency energy system for a city assisted by renewable energy, case study: Latakia, Syria.

Energies

2018,

11

, 3138. [Google Scholar] [CrossRef]
Abdulkarim, B.; Kamberov, R.; Hay, G.J. Supporting Urban Energy Efficiency with Volunteered Roof Information and the Google Maps API.

Remote Sens.

2014,

6

, 9691–9711. [Google Scholar] [CrossRef]
Kim, A.A.; Sunitiyoso, Y.; Medal, L.A. Understanding facility management decision making for energy efficiency efforts for buildings at a higher education institution.

Energy Build.

2019,

199

, 197–215. [Google Scholar] [CrossRef]
Hay, G.J.; Kyle, C.H.; Hemachandran, B.; Chen, G.; Rahman, M.M.; Fung, T.; Arvai, J.L. Geospatial Technologies to Improve Urban Energy Efficiency.

Remote Sens.

2011,

3

, 1380–1405. [Google Scholar] [CrossRef]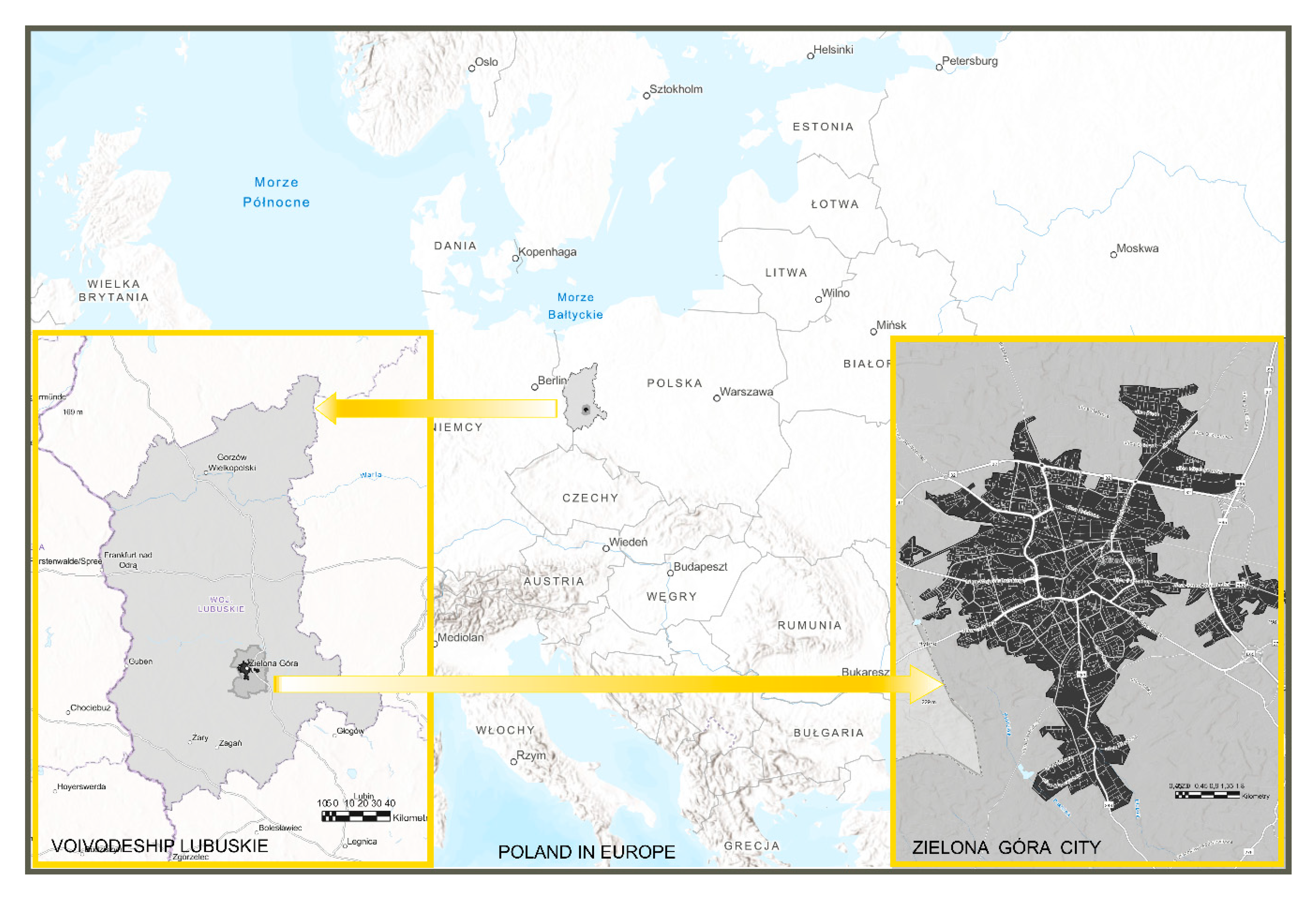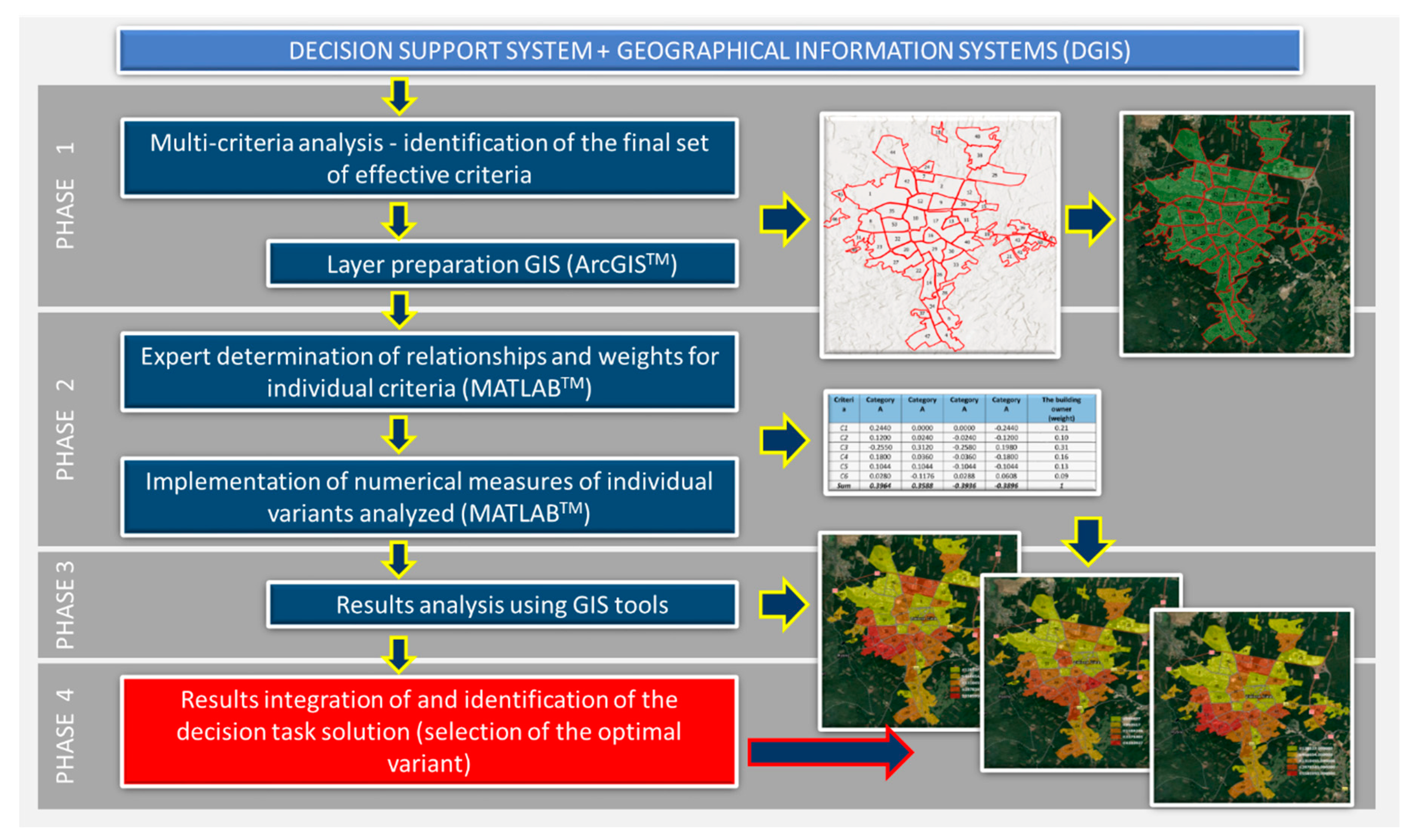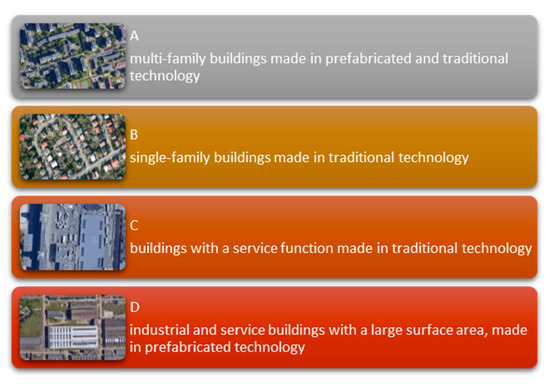 Figure 5.
Building categories (A,B,C,D—see in
Table 1
) adapted for testing.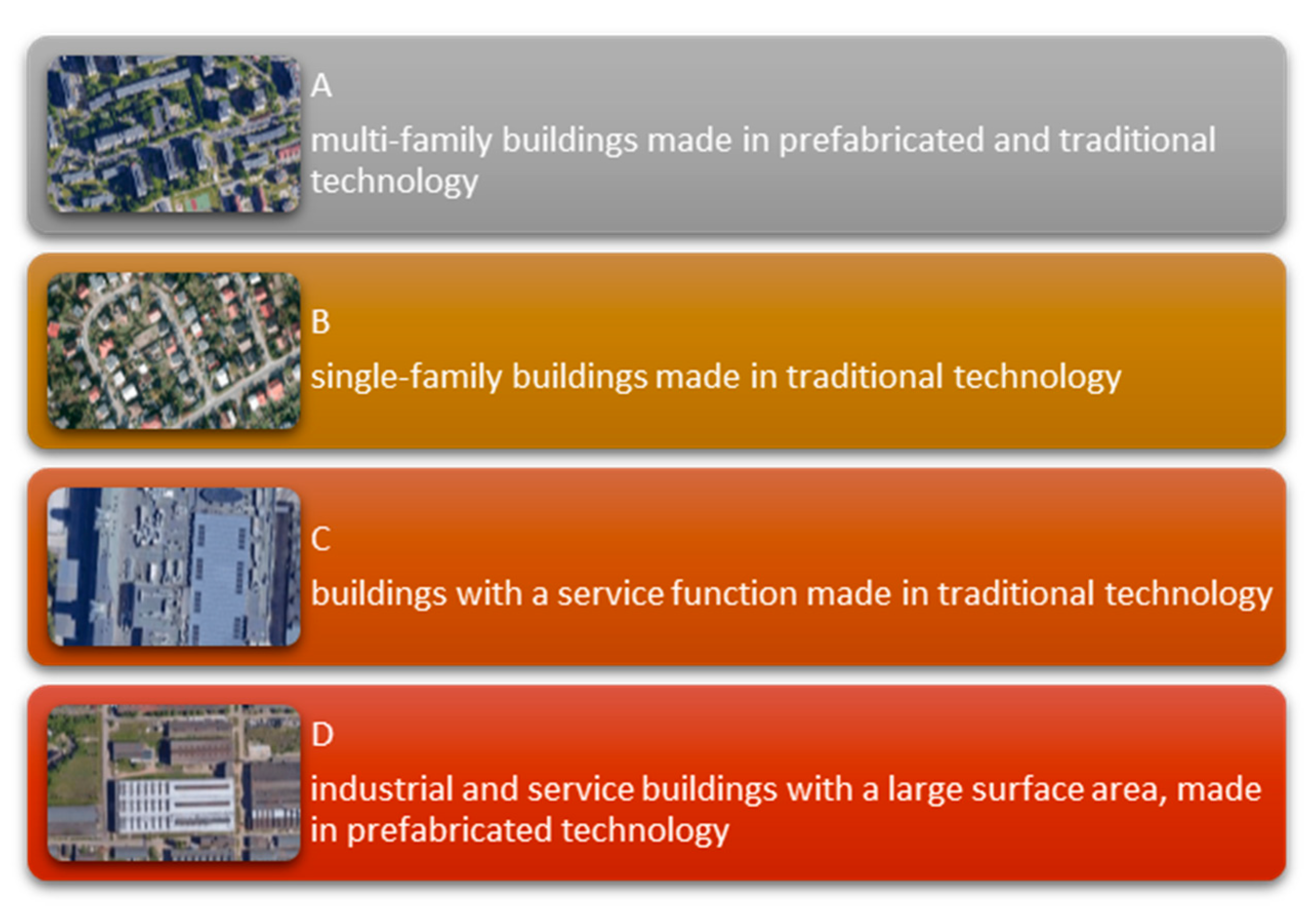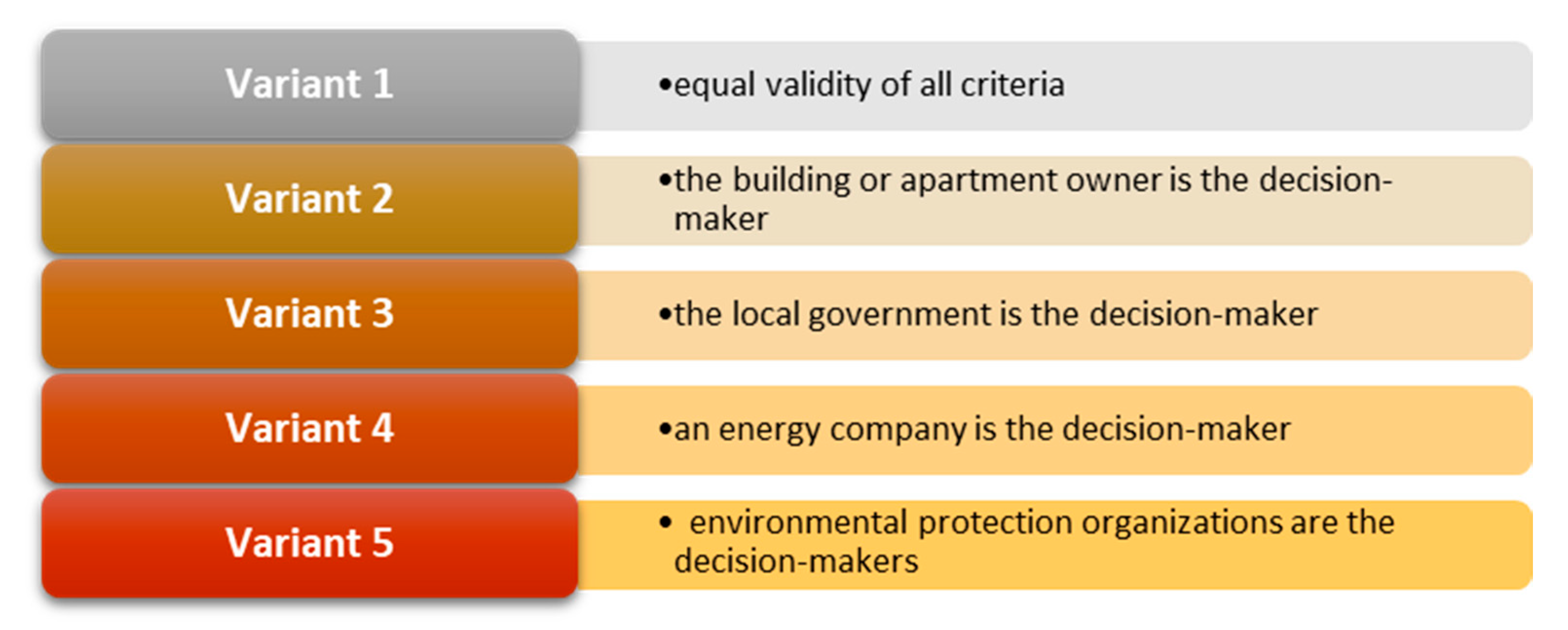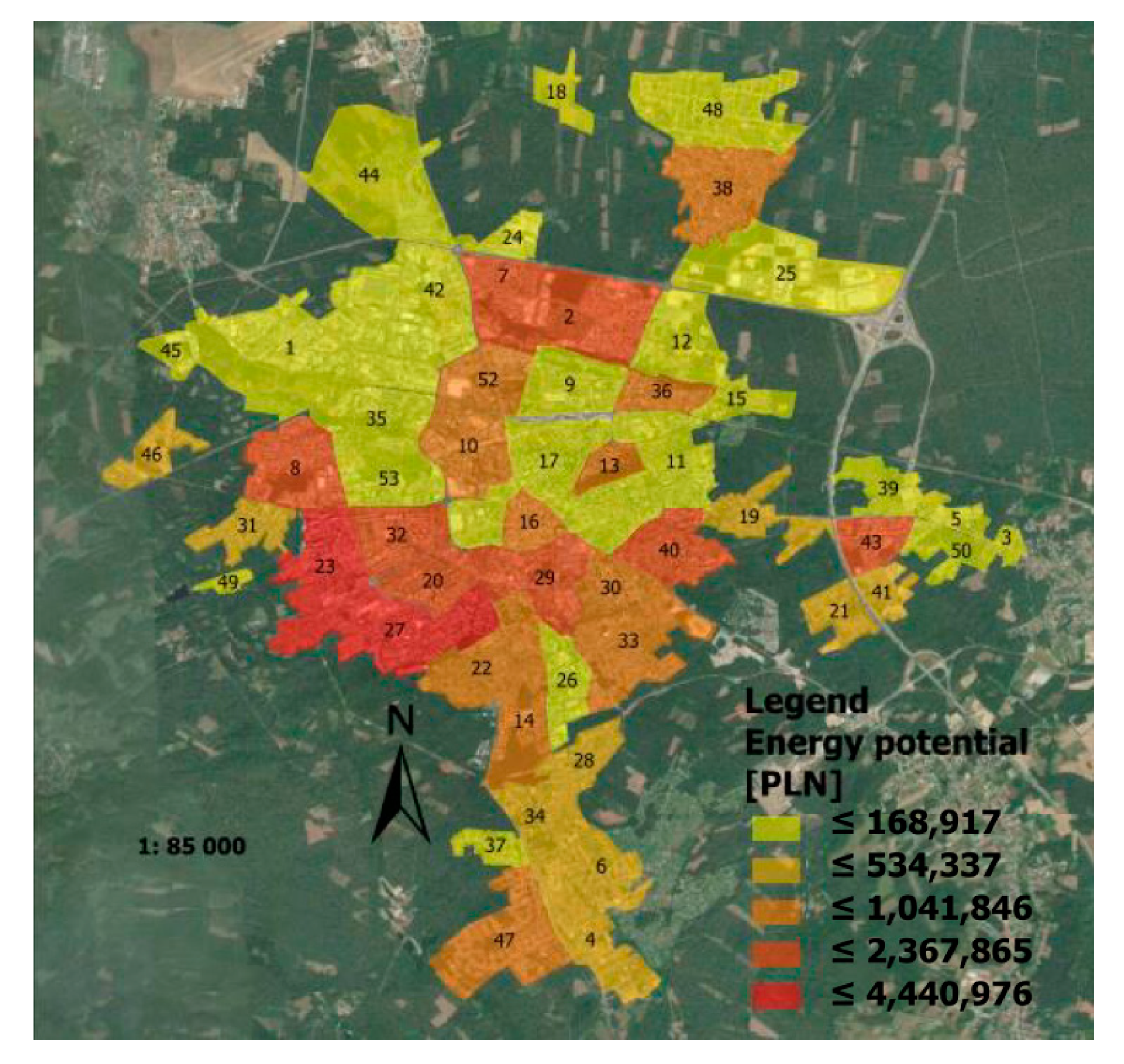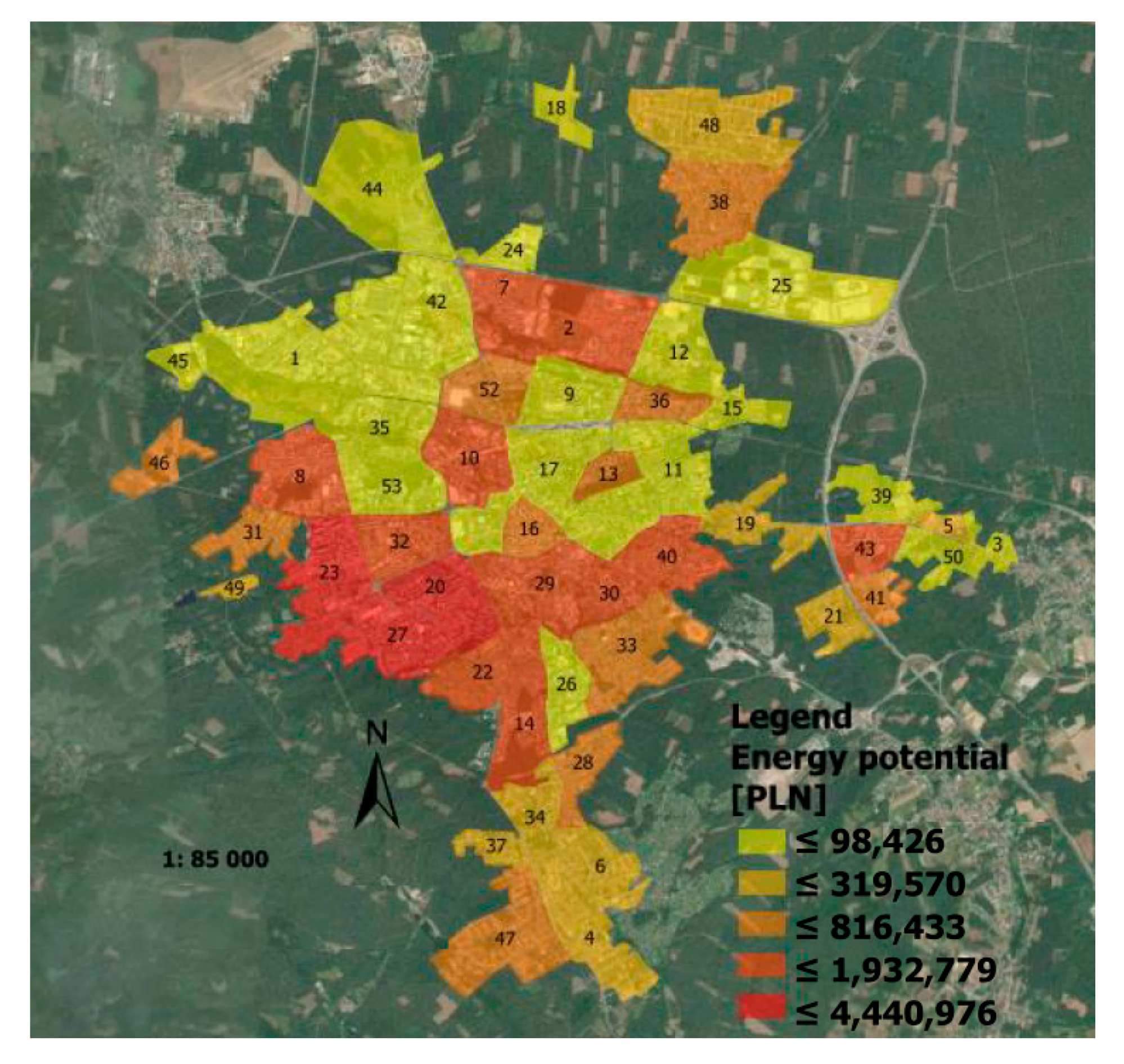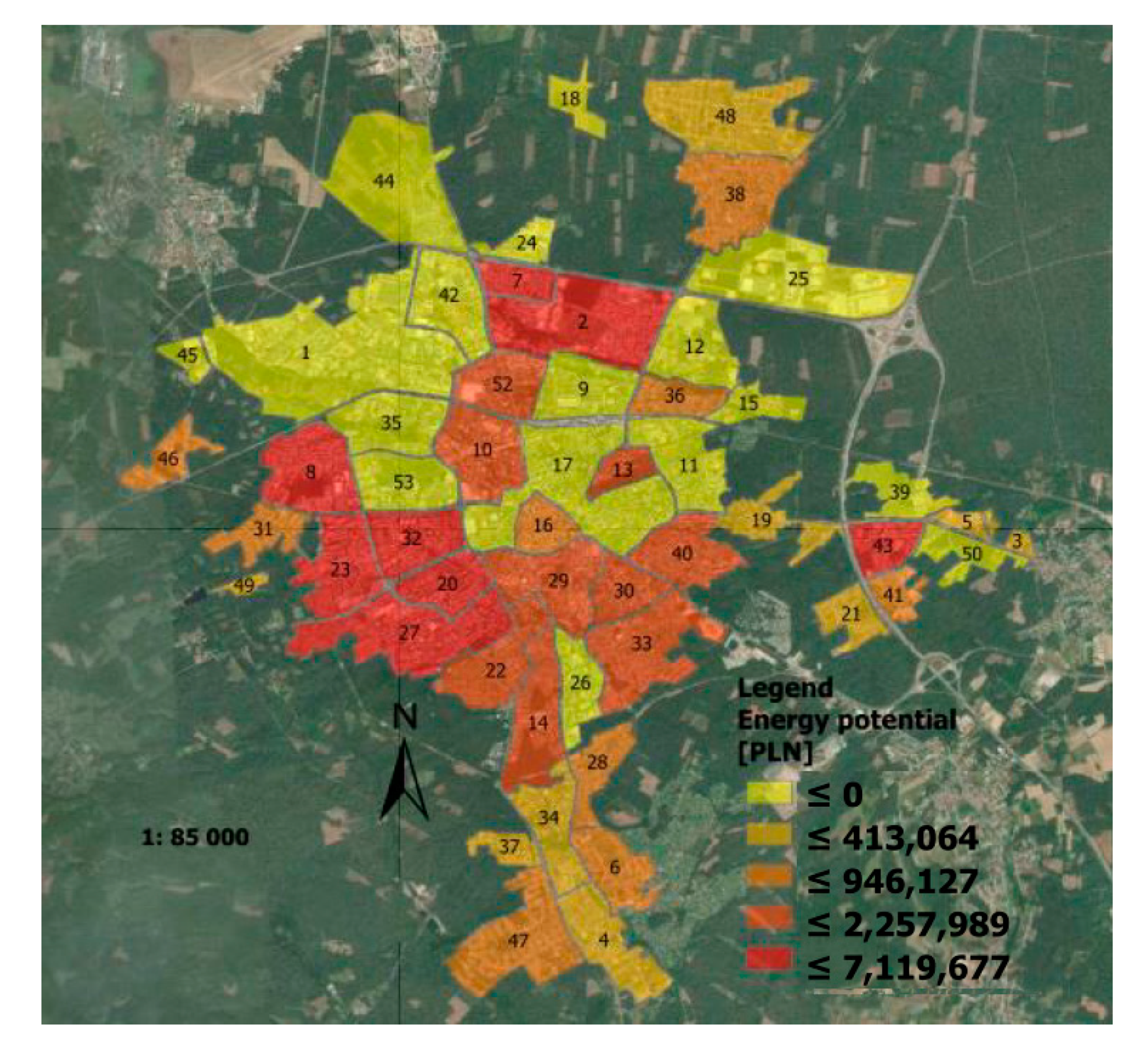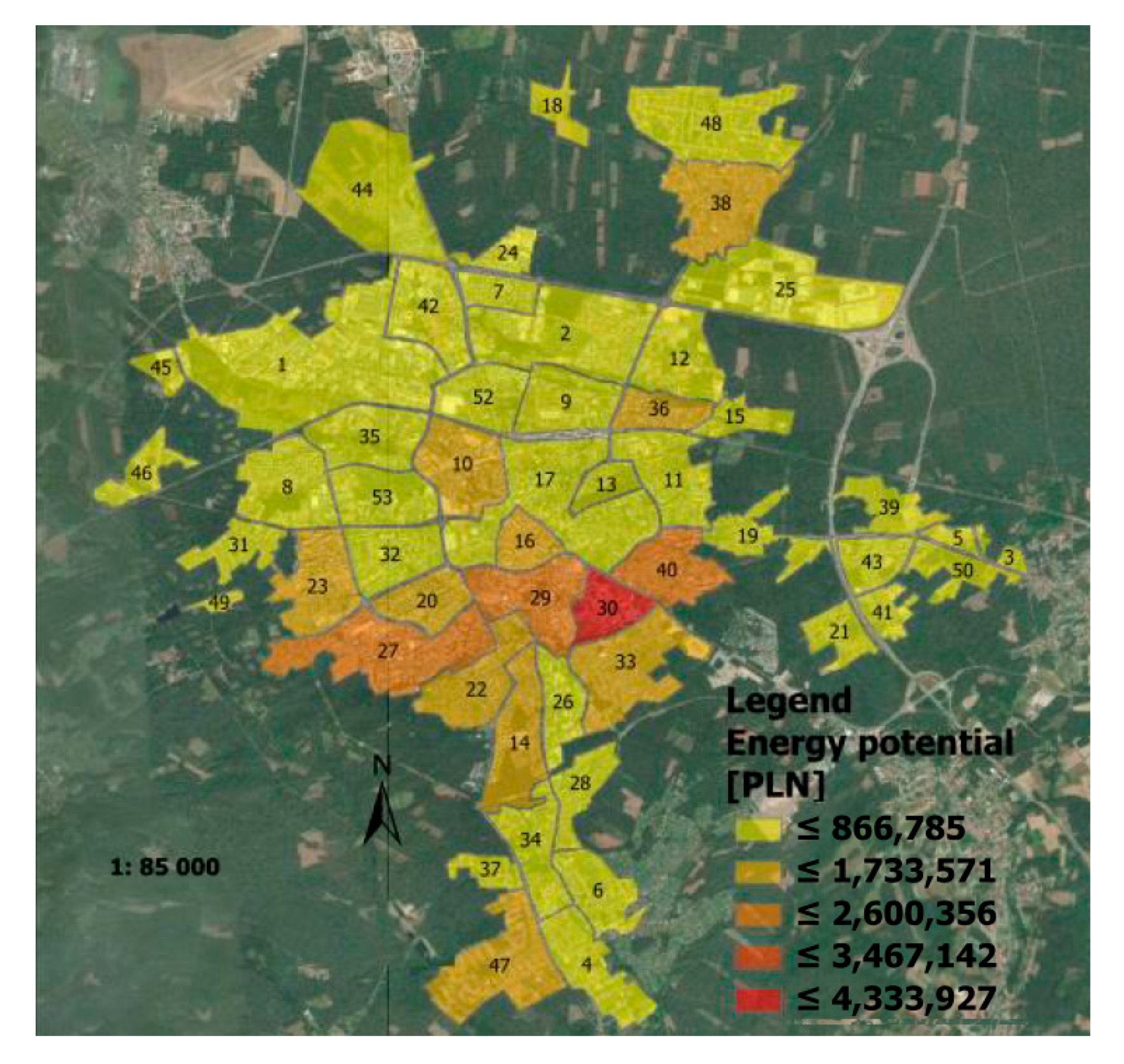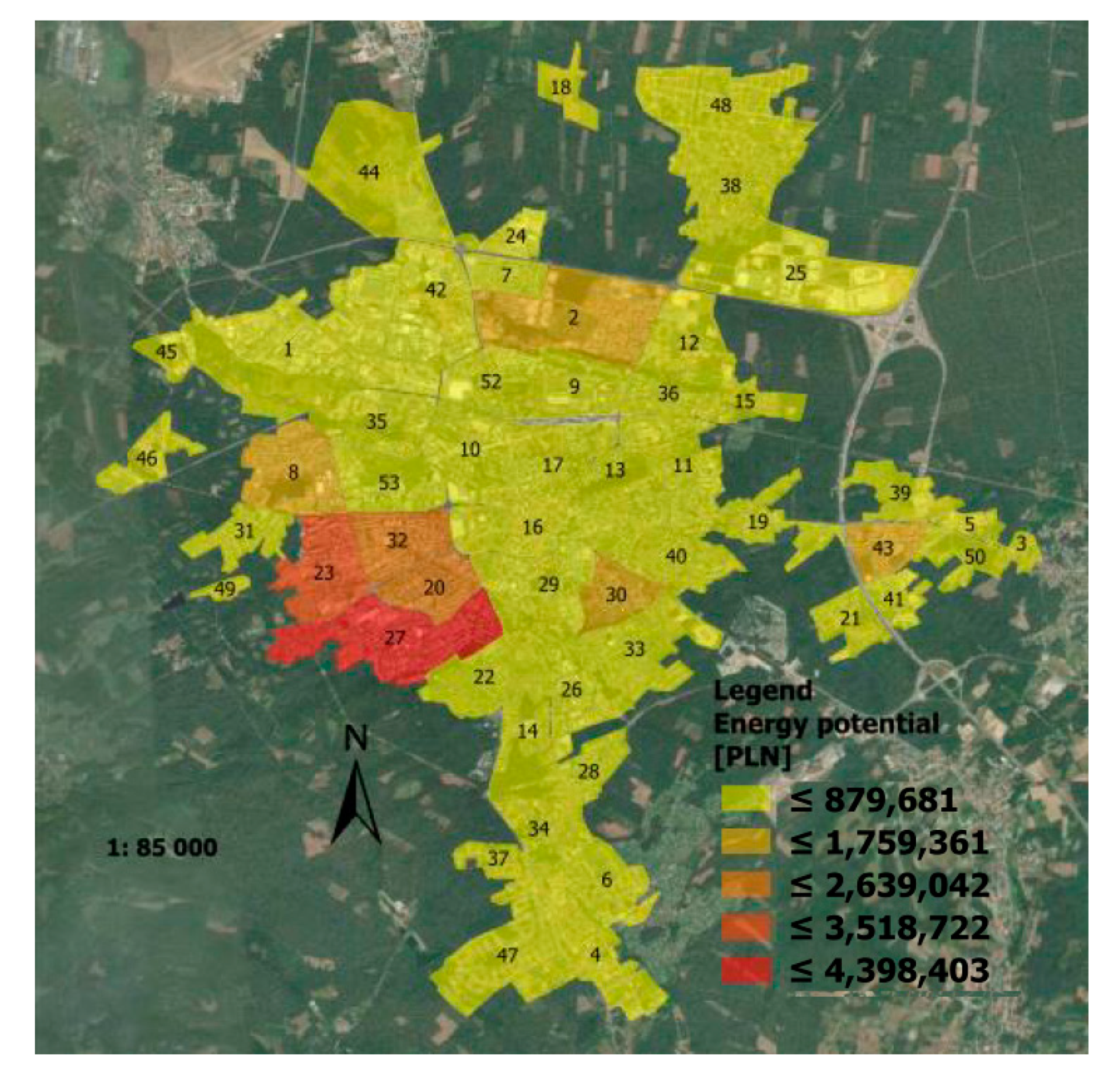 Input Data
Criteria for Buildings Energy Consumption
Building Groups Categories
Decisions Variants
construction years (in quarters)
category A—multi-family buildings made in prefabricated and traditional technology
Option 1—equal validity of all criteria
overwhelming feature
category B—single-family buildings made in traditional technology
Option 2—the decision-maker is the owner of the building or apartment
prevailing state of ownership
category C—buildings with a service function made in traditional technology
Option 3—the local government is the decision-maker
prevailing construction technology
category D—large-area industrial and service buildings constructed in prefabricated technology
Option 4—the energy company is the decision-maker
predominant source of heat
Option 5—decision-makers are representatives of organizations related to environmental protection
possibility of using energy from RES
cost of bringing 1 m2 of the facility to EU requirements for energy efficiency
Criterion
Buildings Category
A
B
C
D
creation time
0.1743
0.000
0.0000
−0.1743
function
0.1714
0.0343
−0.0343
−0.1714
ownership status
−0.1214
0.1486
−0.1229
0.0943
construction technology
0.1714
0.0343
−0.0343
−0.1714
heat source
0.1243
0.1243
−0.1243
−0.1243
use of energy from RES
0.0500
−0.2100
0.0514
0.1086
coast of adapting 1 m2 surface to UE requirements
−0.0714
0.2143
−0.0714
-0.0714
Total Adjusted Indicator
0.4986
0.3457
−0.3357
−0.5100
Total Adjusted Indicator
Buildings Category
A
B
C
D
Variant 1
0.4986
0.3457
−0.3357
−0.5100
Variant 2
0.3964
0.3588
−0.3936
−0.3896
Variant 3
0.6355
0.5015
−0.3890
−0.7490
Variant 4
0.1651
0.5266
−0.3618
−0.3304
Variant 5
0.3926
−0.3021
−0.0875
−0.0033
The Sum of m2 Usable Floor Area
Energy Potential [PLN]/[€]
Variant 1
Variant 2
Variant 3
Variant 4
Variant 5
4,233,104
31,909,323/
26,996,982/
42,587,563/
21,119,910/
9,621,691/
7,252,119
6,135,678
9,678,991
4,799,979
2,186,748

© 2020 by the authors. Licensee MDPI, Basel, Switzerland. This article is an open access article distributed under the terms and conditions of the Creative Commons Attribution (CC BY) license (http://creativecommons.org/licenses/by/4.0/).