Empirical Absolute Calibration Model for Multiple Pseudo-Invariant Calibration Sites
1
Department of Electrical Engineering and Computer Science, South Dakota State University (SDSU), Brookings, SD 57007, USA
2
Image Processing Lab, Engineering Office of Research, South Dakota State University (SDSU), Brookings, SD 57007, USA
3
Science Systems and Applications Inc., 10210 Greenbelt Road, Lanham, MD 20706, USA
4
Sciences and Exploration Directorate, NASA Goddard Space Flight Center, Greenbelt, MD 20771, USA
*
Author to whom correspondence should be addressed.
Received: 3 April 2019 / Revised: 5 May 2019 / Accepted: 7 May 2019 / Published: 9 May 2019
Abstract
This work extends an empirical absolute calibration model initially developed for the Libya 4 Pseudo-Invariant Calibration Site (PICS) to five additional Saharan Desert PICS (Egypt 1, Libya 1, Niger 1, Niger 2, and Sudan 1), and demonstrates the efficacy of the resulting models at predicting sensor top-of-atmosphere (TOA) reflectance. It attempts to generate absolute calibration models for these PICS that have an accuracy and precision comparable to or better than the current Libya 4 model, with the intent of providing additional opportunities for sensor calibration. In addition, this work attempts to validate the general applicability of the model to other sites. The method uses Terra Moderate Resolution Imaging Spectroradiometer (MODIS) as the reference radiometer and Earth Observing-1 (EO-1) Hyperion image data to provide a representative hyperspectral reflectance profile of the PICS. Data from a region of interest (ROI) in an "optimal region" of 3% temporal, spatial, and spectral stability within the PICS are used for developing the model. The developed models were used to simulate observations of the Landsat 7 (L7) Enhanced Thematic Mapper Plus (ETM+), Landsat 8 (L8) Operational Land Imager (OLI), Sentinel 2A (S2A) MultiSpectral Instrument (MSI) and Sentinel 2B (S2B) MultiSpectral Instrument (MSI) from their respective launch date through 2018. The models developed for the Egypt 1, Libya 1 and Sudan 1 PICS have an estimated accuracy of approximately 3% and precision of approximately 2% for the sensors used in the study, comparable to the current Libya 4 model. The models developed for the Niger 1 and Niger 2 sites are significantly less accurate with similar precision.
View Full-Text
►

▼

Figures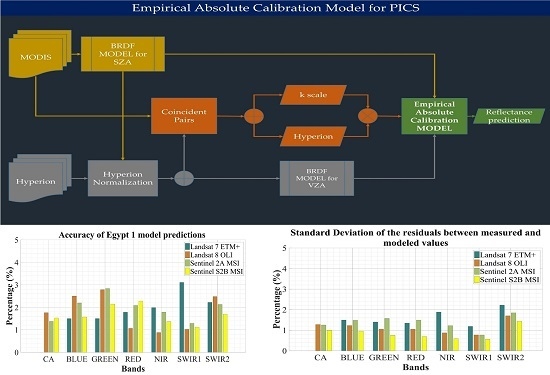 Graphical abstract
This is an open access article distributed under the
Creative Commons Attribution License
which permits unrestricted use, distribution, and reproduction in any medium, provided the original work is properly cited (CC BY 4.0).

Share & Cite This Article
MDPI and ACS Style
Raut, B.; Kaewmanee, M.; Angal, A.; Xiong, X.; Helder, D. Empirical Absolute Calibration Model for Multiple Pseudo-Invariant Calibration Sites. Remote Sens. 2019, 11, 1105.
Note that from the first issue of 2016, MDPI journals use article numbers instead of page numbers. See further details here.
Related Articles
Comments
[Return to top]