Spatial–Temporal Variation of ANPP and Rain-Use Efficiency Along a Precipitation Gradient on Changtang Plateau, Tibet
1
Key Laboratory of Ecosystem Network Observation and Modeling, Institute of Geographic Sciences and Natural Resources Research, Chinese Academy of Sciences, Beijing 100101, China
2
China National Forestry-Grassland Economics and Development Research Center, National Forestry and Grassland Administration, Beijing 100714, China
3
College of Resources and Environment, University of Chinese Academy of Sciences, 100190 Beijing, China
4
Freie Universität Berlin, Institute of Biology, Biodiversity/Theoretical Ecology, 14195 Berlin, Germany
*
Author to whom correspondence should be addressed.
Received: 28 November 2018 / Revised: 1 February 2019 / Accepted: 1 February 2019 / Published: 6 February 2019
Abstract
Aboveground net primary productivity (ANPP) and rain-use efficiency (RUE) are important indicators in assessing the response of ecosystems to climate change. In this paper, the Changtang Plateau in the Tibetan Autonomous Region was selected as the study area to analyze the spatial and temporal changes of ANPP and RUE in grassland communities and their response to climate change. The results showed the following:(1) The spatial pattern of ANPP was closely related to rainfall on the Changtang Plateau. The average ANPP over the past 15 years increased gradually from the arid west to the humid east. A consistent pattern was exhibited in different grassland types and climate zones. (2) The RUE was higher at the east and west edges of the Changtang Plateau, especially in the arid west, but was lower in the center. From the perspective of different climatic zones, the average RUE in the southern Tibetan semiarid climate zone and the Ngari arid climate zone was significantly higher than that in other climate zones. However, the average RUE in different grassland types only varied from 0.07 to 0.09 g·m
−2
·mm
−1
. The spatial variation in RUE was more distinct in different climatic zones than in different grassland types. (3) Climate change influenced the interannual variation of ANPP and RUE, but the response of ANPP to rainfall showed a significant lag. The interannual change in RUE was negatively correlated with changes in precipitation. (4) In general, a greater area showed a significant increase rather than a decrease in ANPP on the Changtang Plateau, which meant that the grassland condition is improving. The temporal variation patterns of ANPP and RUE in different climate zones were consistent with the overall patterns on the Changtang Plateau, while the variation was not significant in different grassland types.
View Full-Text
►

▼

Figures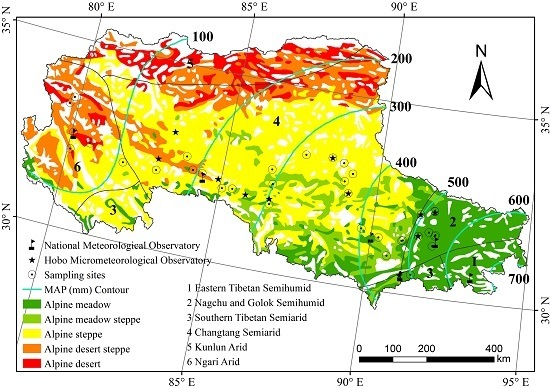 Graphical abstract
This is an open access article distributed under the
Creative Commons Attribution License
which permits unrestricted use, distribution, and reproduction in any medium, provided the original work is properly cited (CC BY 4.0).

Share & Cite This Article
MDPI and ACS Style
Zhao, G.; Liu, M.; Shi, P.; Zong, N.; Wang, J.; Wu, J.; Zhang, X. Spatial–Temporal Variation of ANPP and Rain-Use Efficiency Along a Precipitation Gradient on Changtang Plateau, Tibet. Remote Sens. 2019, 11, 325.
Note that from the first issue of 2016, MDPI journals use article numbers instead of page numbers. See further details here.
Related Articles
Comments
[Return to top]