Open Access This article is
freely available
re-usable
Article
Spaceborne EO and a Combination of Inverse and Forward Modelling for Monitoring Lava Flow Advance
1
School of Environment, Earth and Ecosystem Sciences, The Open University, Milton Keynes MK7 6AA, UK
2
Istituto Nazionale di Geofisica e Vulcanologia, Osservatorio Etneo, 95125 Catania, Italy
3
German Aerospace Center, (DLR), Institute of Planetary Research, 12489 Berlin, Germany
4
Department of Environmental and Chemical Engineering, University of Calabria, 87036 Rende (CS), Italy
*
Author to whom correspondence should be addressed.
Received: 1 November 2019 / Accepted: 13 December 2019 / Published: 16 December 2019
Abstract
:
We aim here to improve the understanding of the relationship between emissivity of the lava and temperature by carrying out a multi-stage experiment for the 2017 Mt Etna (Italy) eruption. We combine laboratory, spaceborne, and numerical modelling data, to quantify the emissivity–temperature relationship. Our laboratory-based Fourier-transform infrared (FTIR) results indicate that emissivity and temperature are inversely correlated, which supports the argument that emissivity of molten material is significantly lower than that of the same material in its solid state. Our forward-modelling tests using MAGFLOW Cellular Automata suggest that a 35% emissivity variation (0.95 to 0.60) can produce up to 46% overestimation (for constant emissivity 0.60) in simulated/forecasted lava flow lengths (compared to actual observed). In comparison, our simulation using a 'two-component' emissivity approach (i.e., different emissivity values for melt and cooled lava) and constant emissivity 0.95 compares well (≤10% overestimation) with the actual 2017 lava flow lengths. We evaluated the influence of variable emissivity on lava surface temperatures using spaceborne data by performing several parametrically controlled assessments, using both constant ('uniform') and a 'two-component' emissivity approach. Computed total radiant fluxes, using the same spaceborne scene (Landsat 8 Operational Land Imager (OLI)), differ ≤15% depending on emissivity endmembers (i.e., 0.95 and 0.60). These results further suggest that computed radiant flux using high-spatial resolution data is bordering at lower boundary (range) values of the moderate-to-high temporal resolution spaceborne data (i.e., Moderate Resolution Imaging Spectroradiometer (MODIS) and Spinning Enhanced Visible and Infrared Imager (SEVIRI)), acquired for the same target area (and the same time interval). These findings may have considerable impact on civil protection decisions made during volcanic crisis involving lava flows as they approach protected or populated areas. Nonetheless, the laboratory work, reported here, should be extended to include higher volcanic eruptive temperatures (up to 1350 K).
Keywords:
remote sensing; volcanic hazard modelling; emissivity uncertainty; FTIR spectroscopy; Mount Etna
1. Introduction
Remote sensing offers the potential of gathering valuable data without the risks and the cost associated with ground-based volcanic fieldwork. None of the spaceborne sensors to date, such as the low-to-moderate spatial resolution Moderate Resolution Imaging Spectroradiometer (MODIS) onboard Terra and Aqua satellites, Spinning Enhanced Visible and Infrared Imager (SEVIRI) onboard the Meteosat Second Generation (MSG) geostationary platform, or the higher spatial resolution Landsat 8 OLI (Operational Land Imager), were designed specifically to observe volcanic thermal emission during effusive eruptions. Nonetheless, some of these sensors have the ability to record high-temperature surface anomalies, such as those that occur during volcanic effusive activity. The thermal emission of an active volcanic surface relates directly to the volcanic activity at a specific time and can be detected and measured from space to identify physical processes occurring on the ground.
3. Results
3.1. Emissivity from Radiance
Spectral signatures for the NRE.1S samples (
Figure 3
) obtained using thermal emission FTIR are consistent and comparable with previous laboratory-based research of basaltic rocks [
61
] and Etnean lavas [
28
]. This clearly demonstrates that emissivity is not only wavelength, but also temperature-dependent, as measured emissivity decreases with every temperature increase step (400–900 K). However, this trend could not be observed clearly between 5.0–6.0 µm. This is because of the instrument sensitivity limitations. Emissivity spectral curves at low-to-moderate temperatures (400–700 K) show a maximum variation of 0.0074. However, a considerably larger decrease in emissivity (0.0346) occurs at moderate-to-high temperature (700–900 K). The emissivity decrease with temperature increase does not appear to be linear. The maximum measured emissivity variation between 400 and 900 K is 0.0377 (at 11.8 μm), which may suggest that emissivity would tend to decrease more substantially with any further temperature increase.
An additional 'cooling test' was performed by measuring emissivity of the same series in the opposite direction (cooling), by decreasing temperature steps (i.e., 900–400 K), while maintaining consistent sample conditions. The deviance in emissivity values during the temperature increase (heating), shown in
Figure 3
and the temperature decrease (cooling) was 0.0050 with no hysteresis deviation trend in either direction.
For a direct comparison with spaceborne data and to obtain a clearer emissivity trend with temperature, laboratory-measured FTIR emissivity results are shown at Landsat 8 TIR wavelengths (
Figure 4
). Emissivity values at 10.80 µm are lower (0.02) than those at 12.00 µm, displaying steady negative trend(s) at both wavelengths with temperature increase at 400–700 K and more significant decrease at 700–900 K.
3.2. From Spaceborne Data
Varying the emissivity and wavelength will have an impact on the computation of integrated temperatures and the consequent total radiant heat flux of any high-temperature thermal anomaly investigated.
To perform a quantitative evaluation on the impact of emissivity on computation of lava surface temperatures, we selected two high-spatial (low temporal) resolution images, acquired by Landsat 8 (OLI), during the 2017 eruption on 18 and 27 March.
4. Discussion
The best simulated scenarios using MAGFLOW are those run with the constant emissivity of 0.95 and using the 'two-component' emissivity approach. The lava flows modelled, using a constant emissivity of 0.60 overestimates significantly, in terms of maximum length, especially for the south-west branch. The terrain can attenuate the observed spectral radiance, and hence the LST, because it can act as an obstacle to function of the mutual angle between the sensor plane of the satellite instrument and the normal direction to each cell of the DEM. LSE is an indicator of material composition and can vary with viewing angle and surface roughness. In our case study (i.e., the 2017 Etna eruption), the median slope is about 6° and there are no shadows due to the topography, so the terrain contribution can be neglected.
Nonetheless, our results highlight the uncertainty in accuracy, as data comparison in this study shows that high-spatial resolution radiant flux results (e.g., from OLI) fall at the lower boundary of values retrieved from MODIS and SEVIRI.
5. Conclusions
Laboratory-based FTIR results presented in this study provide a clear indication that the measured emissivity of volcanic samples, investigated here, decreases non-linearly with temperature increase between 400 and 900 K. The current work should now be extended to include higher eruptive temperatures (~1350 K for Etna's lavas), using an alternative laboratory-based approach, which would allow heating of samples to this temperature. This is essential to increase our understanding of the behaviour of emissivity at molten rock temperatures. The synergy of high-spatial and high-temporal resolution two-component, radiant flux data has the potential to support more accurate effusion rate estimates, that are critical in supporting operational 'distance-to-run' forecasts. We propose then that the emissivity–temperature relationship be quantified and linked to the range of temperatures found in an active lava flow, by creating a 'Dynamic Emissivity–Temperature Rule'. This would significantly improve the accuracy of lava surface temperatures derivation (from spaceborne data) and operational lava flow forecasting (through modelling applications), which will contribute to hazard assessment and mitigation.
Author Contributions
F.F. and N.R. led the conception and design of the work. N.R., A.C., G.G., and A.M. acquired the data. N.R., A.C., G.G., A.M., and F.F. were responsible for analysis, modelling, and interpretation of data. All authors (N.R., A.C., G.G., A.M., H.R., S.B., and F.F.) participated in drafting and revising the article and have given final approval of the submitted and revised versions.
Funding
The Open University, Milton Keynes, U.K. provided studentship funding for N.R.
Acknowledgments
MAGFLOW simulations were performed within the framework of Tecnolab, the Laboratory for Technological Advance in Volcano Geophysics of the INGV in Catania, Italy. The anonymous reviewers are acknowledged for their constructive and supportive comments, which helped improve this manuscript.
Conflicts of Interest
The authors declare no conflicst of interest. The funders had no role in the design of the study; in the collection, analyses, or interpretation of data; in the writing of the manuscript, or in the decision to publish the results.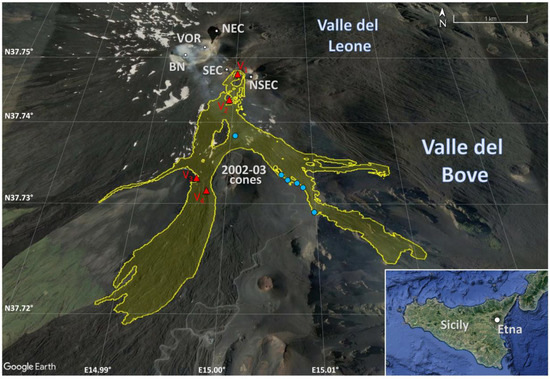 Figure 1. Main Figure: Google Earth three-dimensional (3D) view (from south) of Etna's summit area. The active craters are indicated, North-East Crater (NEC), Voragine (VOR), Bocca Nuova (BN), South-East Crater (SEC), and New South-East Crater (NSEC), together with the 2002–2003 cones that diverted the lava flow emitted by the March–April 2017 eruption. "Valle del Leone" is the NE part of Valle del Bove, a large horseshoe-shaped depression located on the eastern side of the volcano. The location and opening times (see text) of the 2017 eruptive vents are indicated by filled red triangles, and the location of collected samples (NRE.1S) by filled blue circles. The actual lava flow field (in yellow) was retrieved from the Sentinel-2A image acquired on 8 April 2017. Inset: Location of Mt Etna volcano on the island of Sicily, Italy.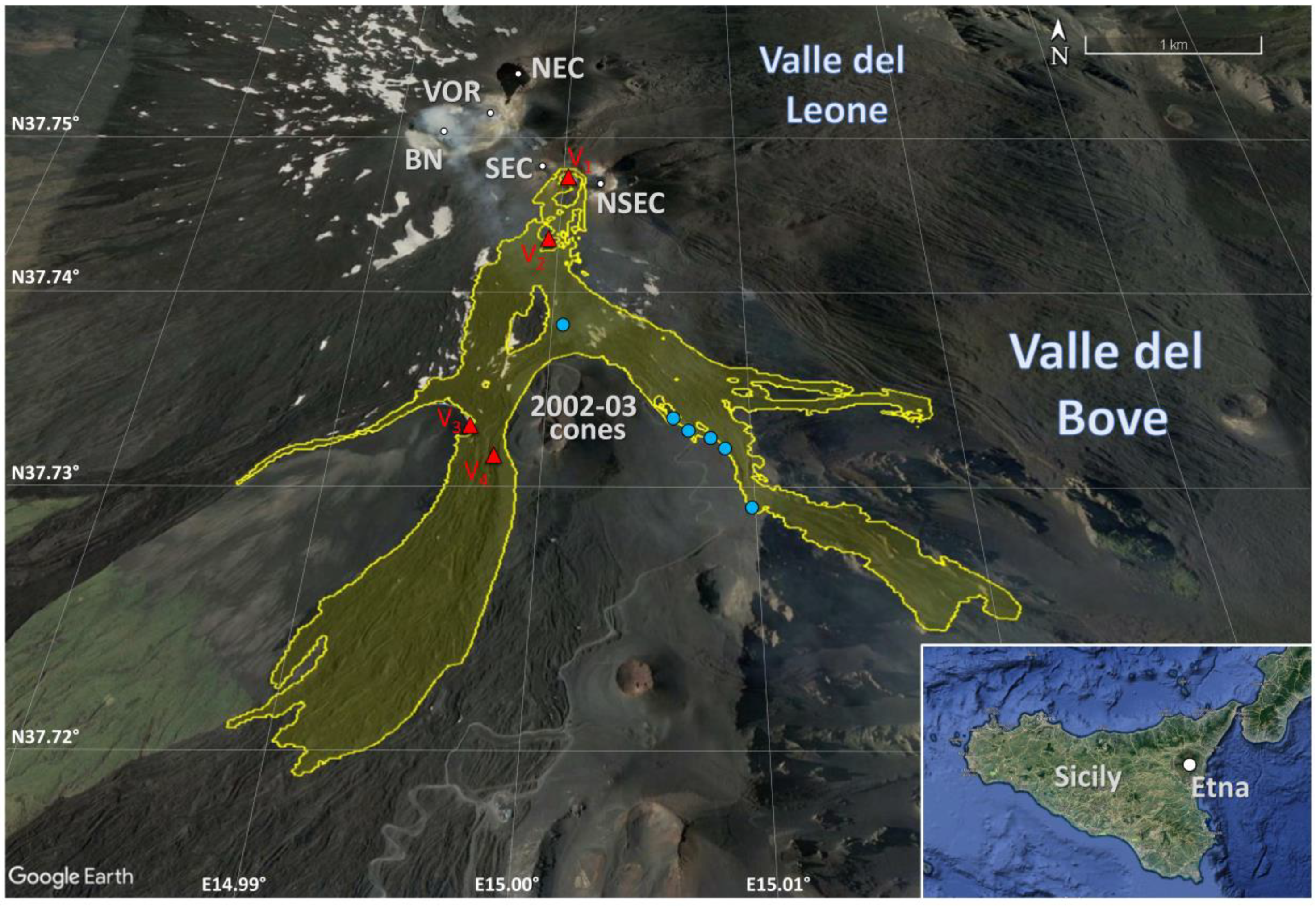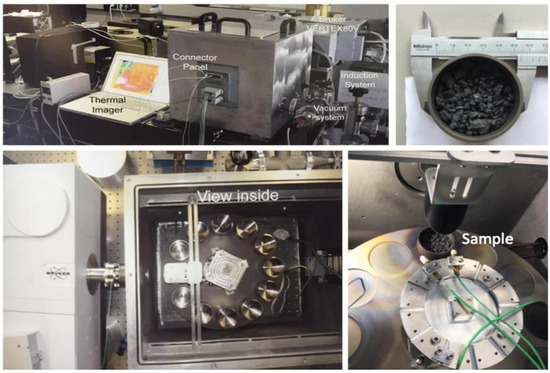 Figure 2.
Experimental set up ([
34
] and this study) to measure emissivity of the NRE.1S, using Bruker VERTEX 80 V instrument.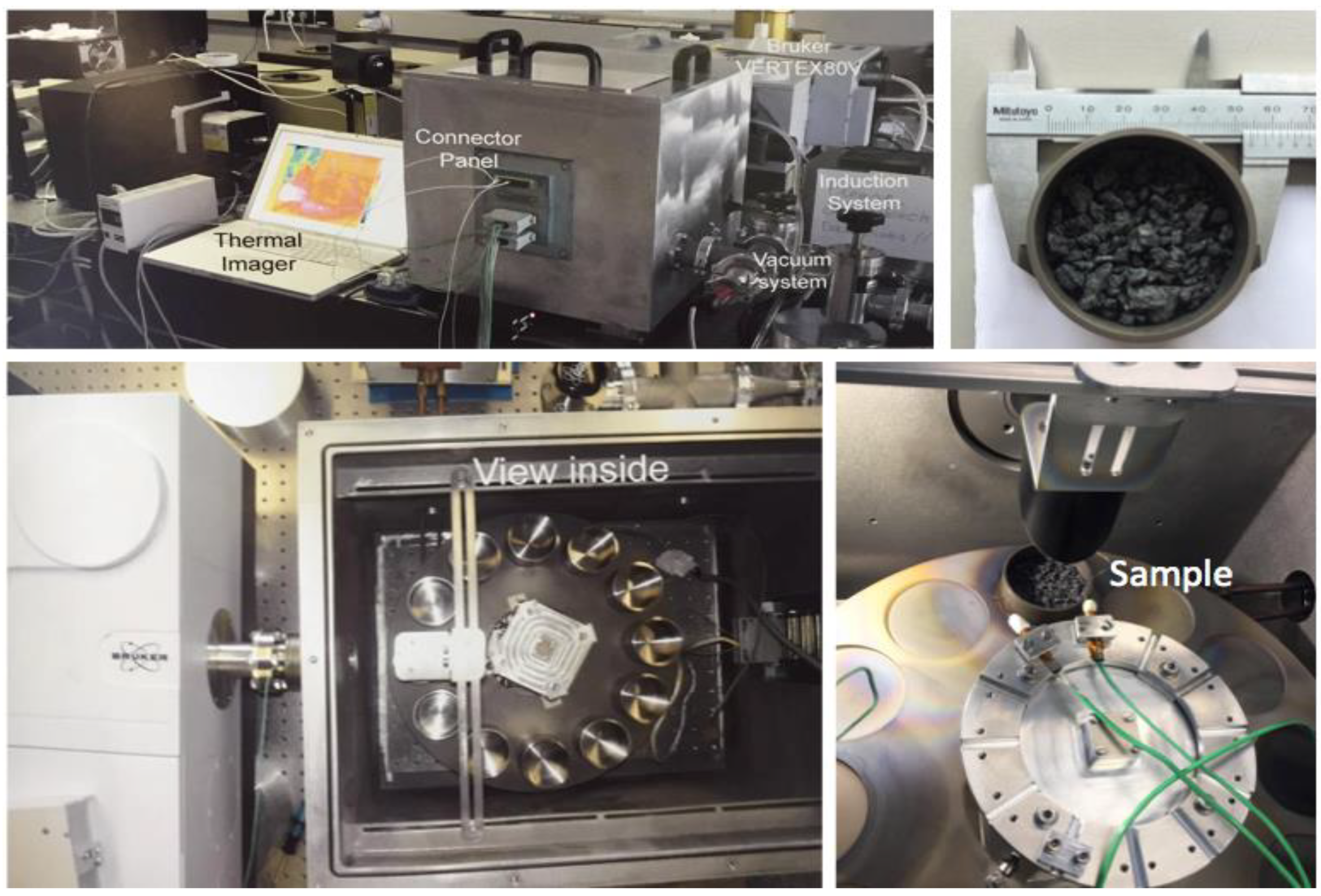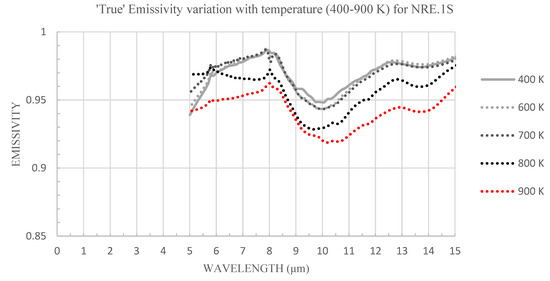 Figure 3. Emissivity spectral signatures for NRE.1S at 400–900 K and 5.0–15.0 using thermal emission Fourier-transform infrared spectroscopy (FTIR).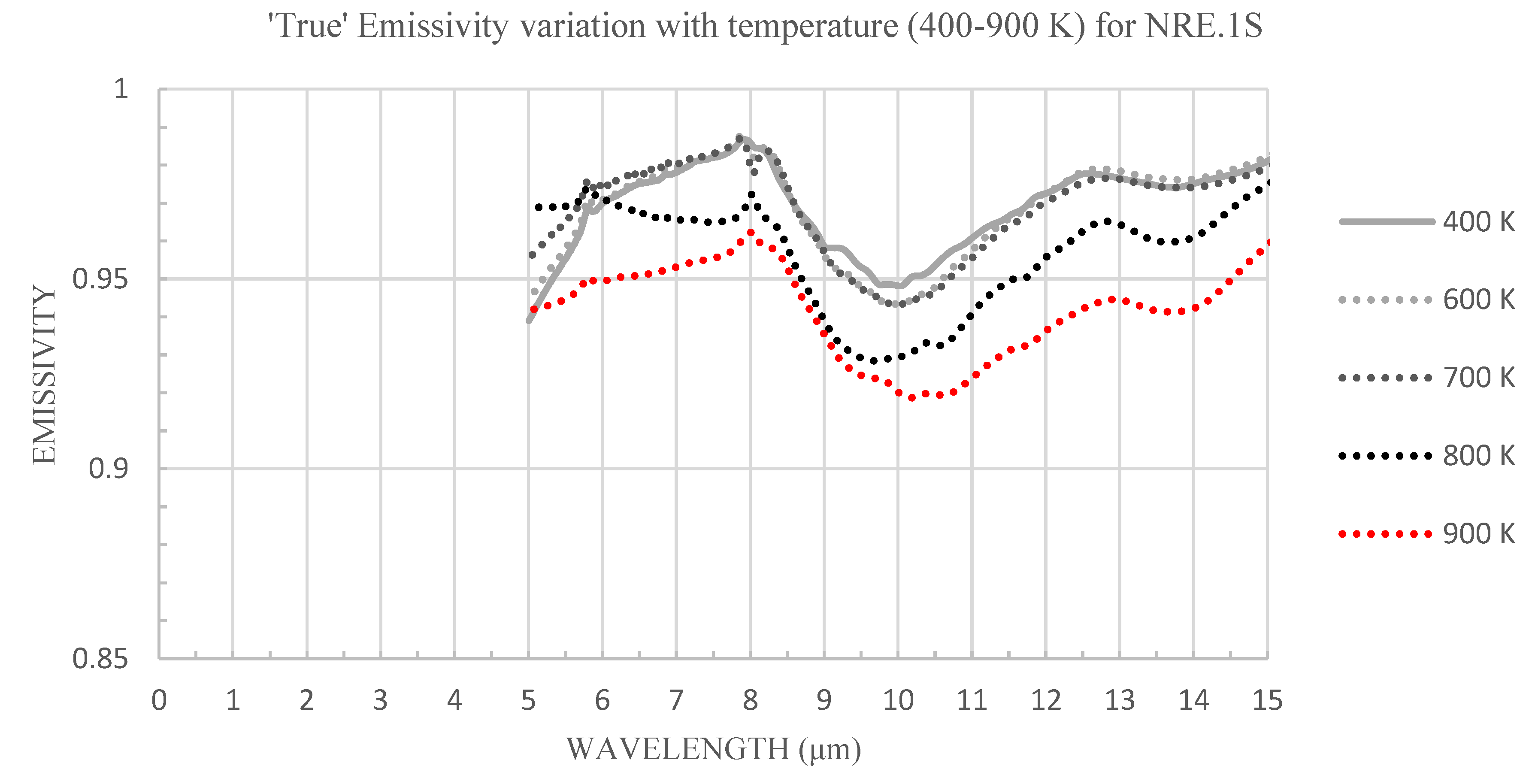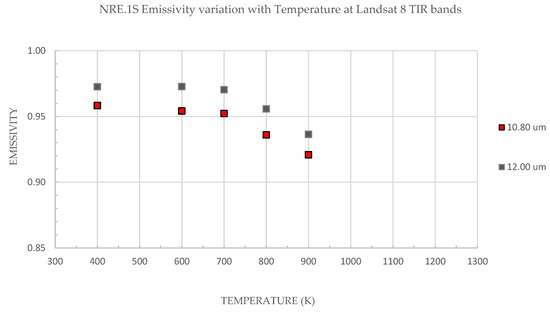 Figure 4. Emissivity variation with temperature increase of 400–900 K shown at Landsat 8 (TIRS) thermal infrared (TIR) bands.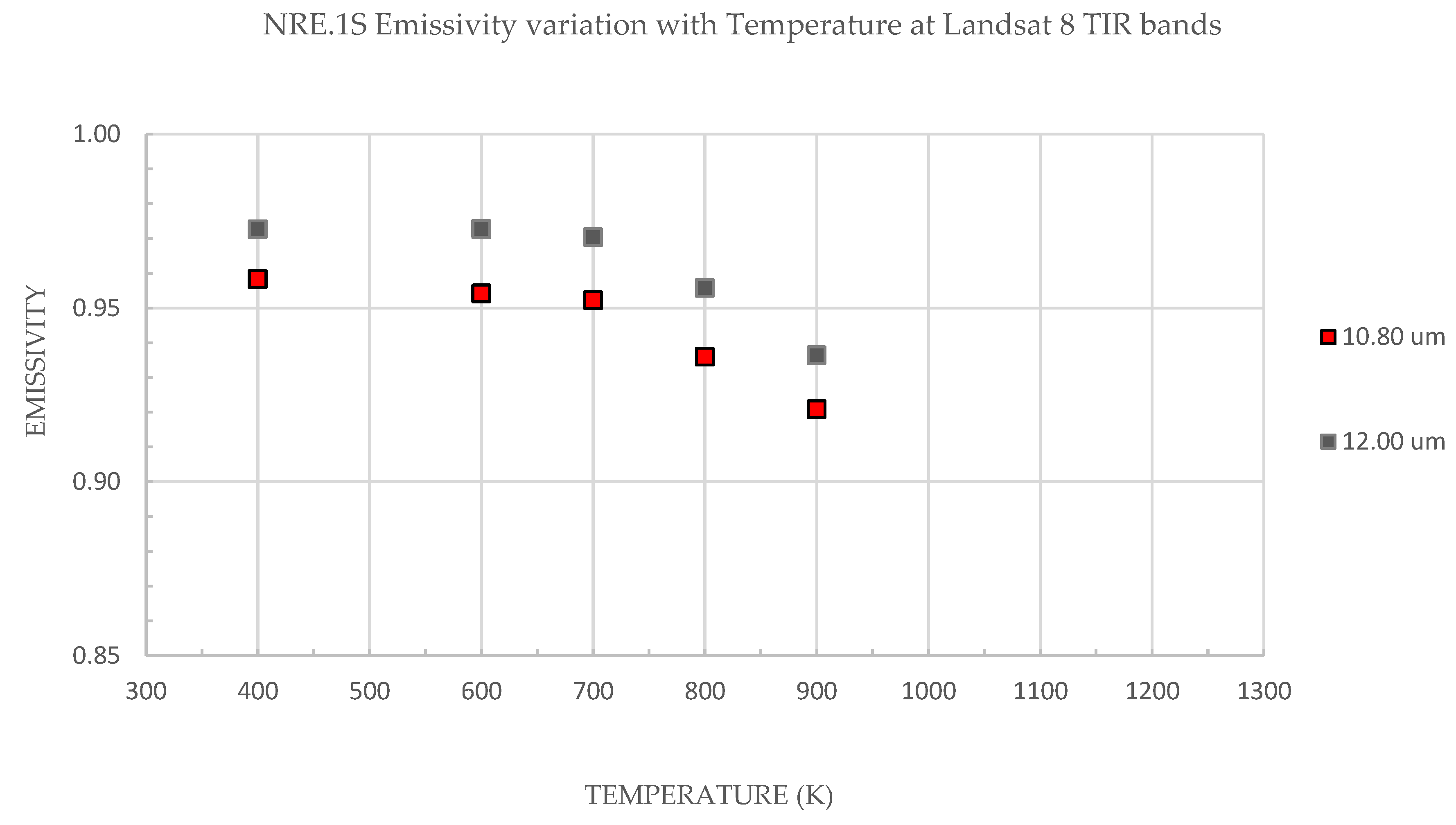 Figure 5.
(
a
) Effusive activity recorded by Landsat 8 (Operational Land Imager (OLI)) on 18 March 2017 and; (
b
) 27 March 2017. Following the 'two-component' approach, cut outs in (a,b
)
contain 'threshold' values used in this study (
Section 2.3.1
) , based on radiance values, where radiant pixels in red are used for computation of crust temperatures (i.e., emissivity 0.95) and radiant pixels in yellow, relating to the melt temperatures (i.e., emissivity 0.60). Background (BKGR) value (averaged radiance value of the pixels surrounding thermally anomalous pixels) was subtracted from radiance data (all thermally anomalous pixels), so that thermal component alone (excluding reflected radiances of daytime images in short-wave infrared (SWIR)) can be analysed.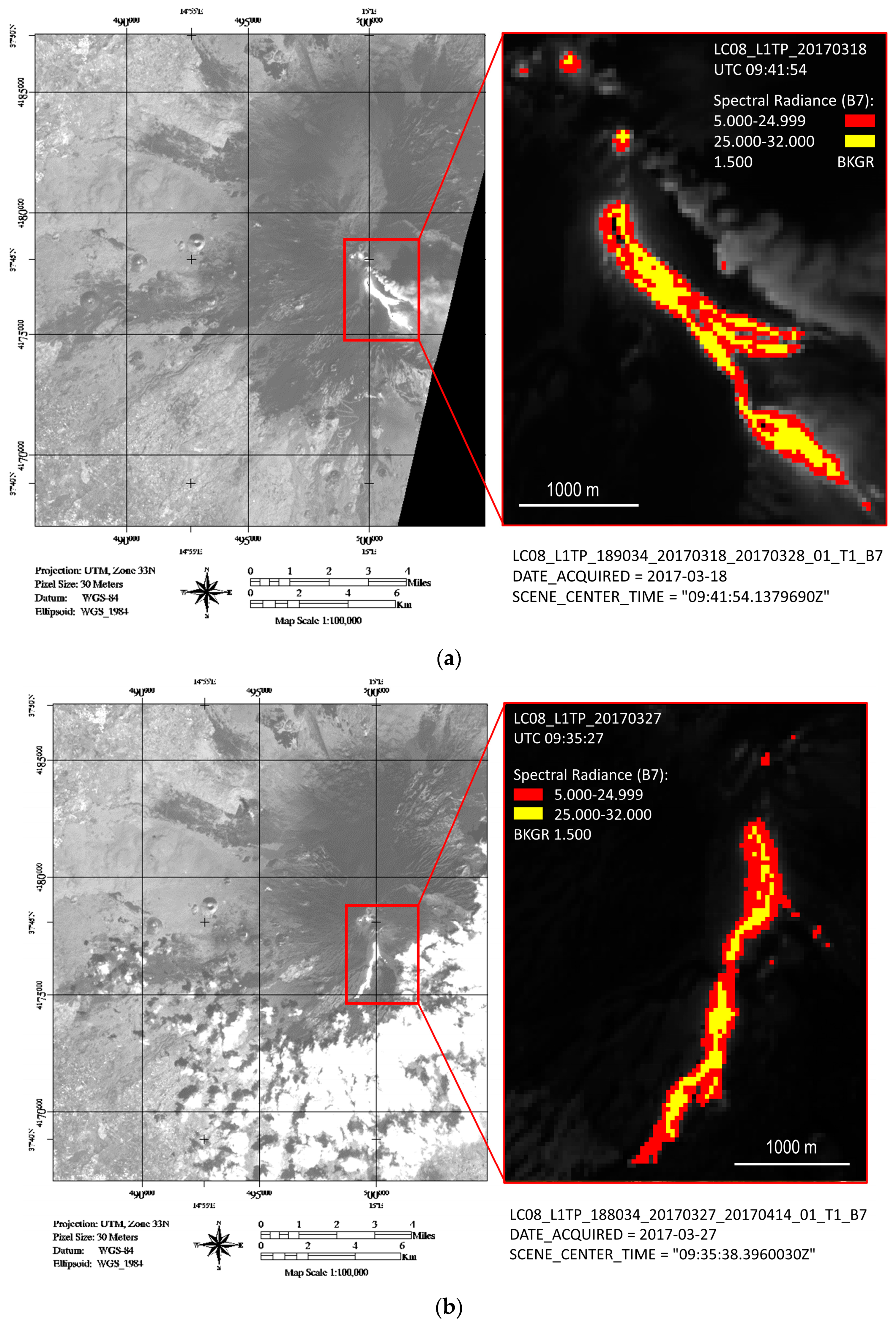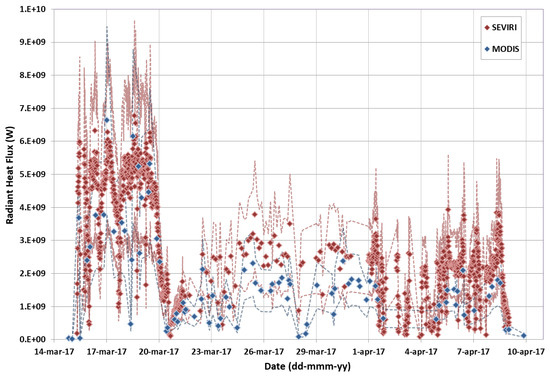 Figure 6. Radiant heat flux computed from Spinning Enhanced Visible and Infrared Imager (SEVIRI) (red diamonds) and Moderate Resolution Imaging Spectroradiometer (MODIS) (blue diamonds) data at Mt Etna from 15 March to 9 April 2017. Dashed lines, in the respective colours, include the range of variation of each time series.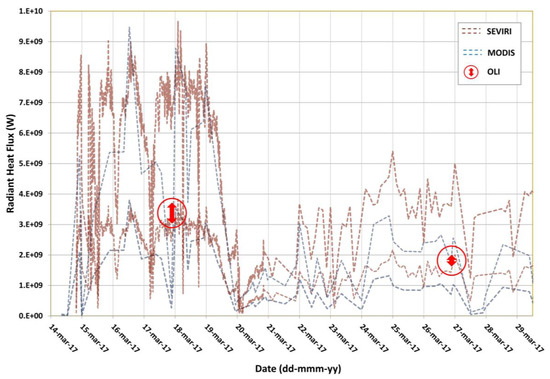 Figure 7. Range of radiant flux variation recorded between 14–29 March 2017 and retrieved by MODIS (blue dashed lines), SEVIRI (purple dashed lines), and Landsat-8 OLI (red circled bars).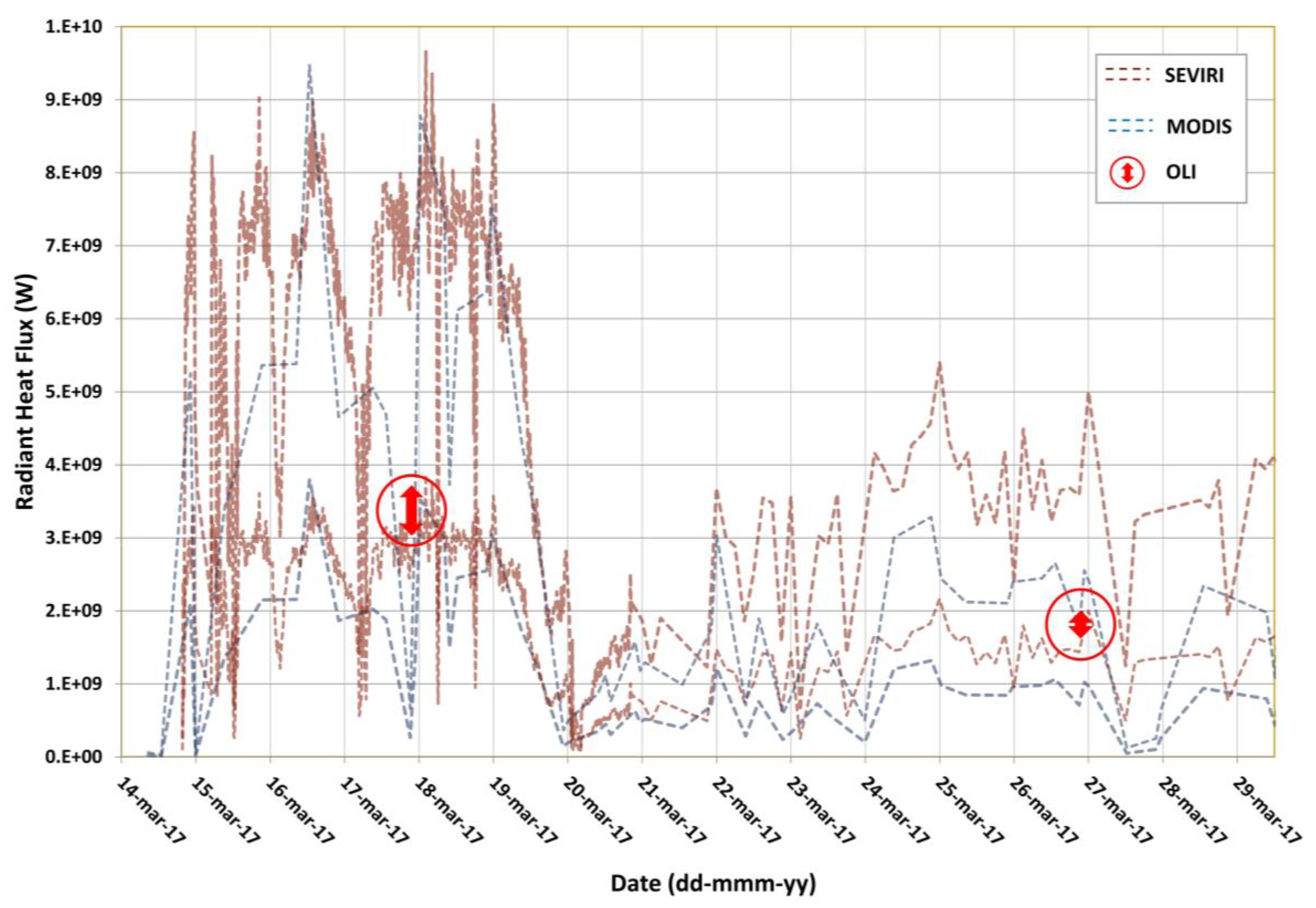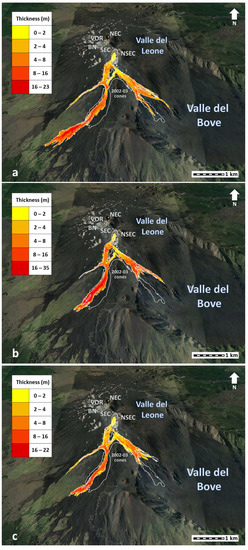 Figure 8. Eruptive scenarios obtained by using a constant emissivity of (a) 0.60 and (b) 0.95, as well as (c) the 'two-component' emissivity approach. The colours indicate deposit thickness in meters. The white contour highlights the actual lava flow field retrieved from the Sentinel-2A image acquired on 8 April 2017.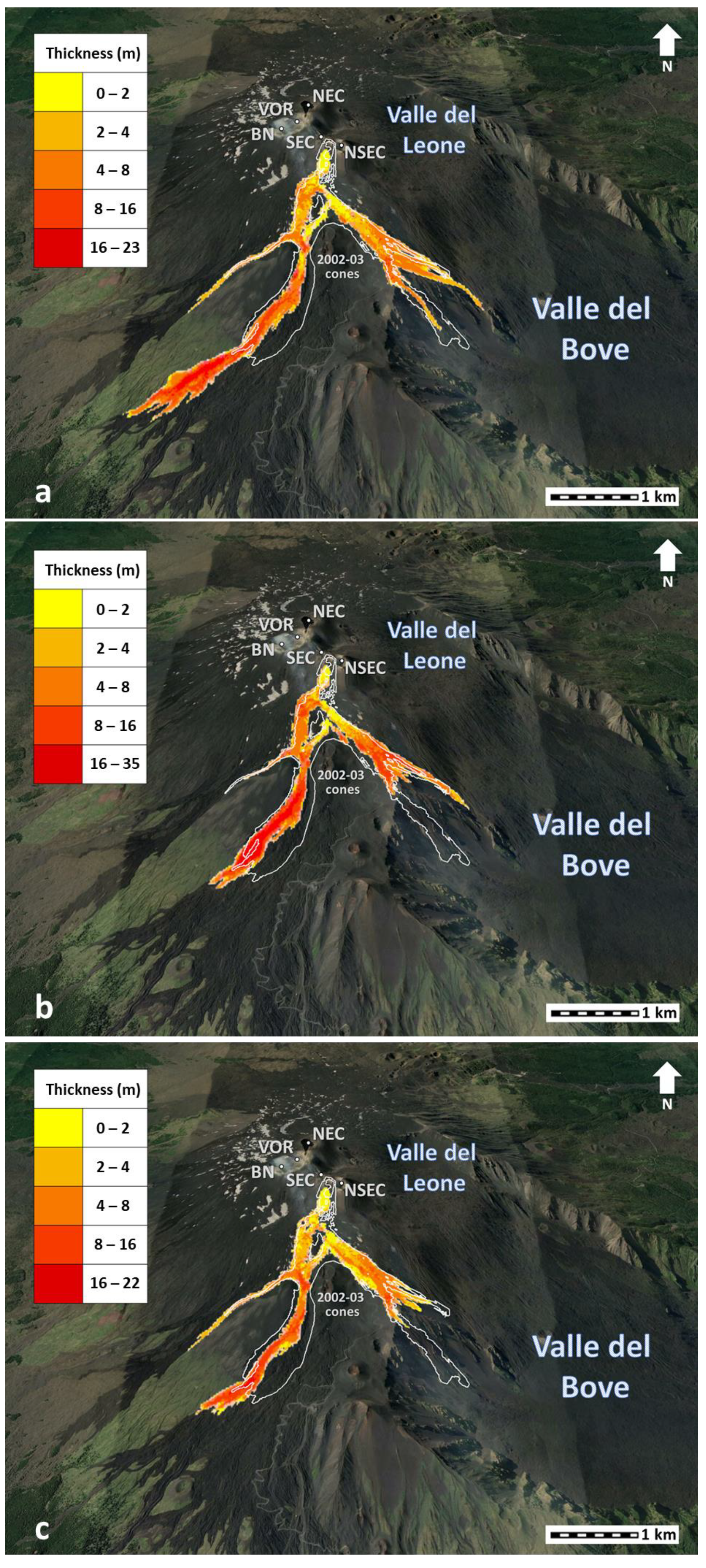 Table 1. X-ray fluorescence (XRF) major elements content, as a component oxide weight percent (wt%) for the NRE.1 Series (NRE.1S).
| | | | | MnO | MgO | CaO | | | | LOl | Total |
| --- | --- | --- | --- | --- | --- | --- | --- | --- | --- | --- | --- |
| 47.49 | 1.63 | 17.71 | 11.26 | 0.17 | 4.81 | 10.362 | 3.65 | 1.72 | 0.55 | −0.35 | 99.02 |

Table 2. Estimation of total radiant flux (QR) from Landsat 8 (OLI) data during the 2017 Mt Etna effusive event.
| Date/Time | Emissivity | | # Radiant Pixels | |
| --- | --- | --- | --- | --- |
| | Constant | 0.95 | 672 | 3.12 |
| 18/03/2017 | Constant | 0.60 | 672 | 3.68 |
| 09:41:54 | Two | 0.95 * | 379 | |
| | Components | 0.60 ** | 293 | 3.41 |
| | Constant | 0.95 | 421 | 1.68 |
| 27/03/2017 | Constant | 0.60 | 421 | 1.97 |
| 09:35:38 | Two | 0.95 * | 263 | |
| | Components | 0.60 ** | 158 | 1.82 |
*Component 1 (assumed crust); **Component 2 (assumed melt).

© 2019 by the authors. Licensee MDPI, Basel, Switzerland. This article is an open access article distributed under the terms and conditions of the Creative Commons Attribution (CC BY) license (http://creativecommons.org/licenses/by/4.0/).