Open Access This article is
freely available
re-usable
Article
Context-Aware Human Activity and Smartphone Position-Mining with Motion Sensors
1
Department of Computer Science and Software Engineering, Xi'an Jiaotong-liverpool University, Suzhou 215000, China
2
Department of Electrical Engineering and Electronics, University of Liverpool, Liverpool L69 7ZX, UK
3
Department of Electrical and Electronic Engineering, Xi'an Jiaotong-liverpool University, Suzhou 215000, China
*
Author to whom correspondence should be addressed.
Received: 23 September 2019 / Accepted: 24 October 2019 / Published: 29 October 2019
Abstract
:
Today's smartphones are equipped with embedded sensors, such as accelerometers and gyroscopes, which have enabled a variety of measurements and recognition tasks. In this paper, we jointly investigate two types of recognition problems in a joint manner, e.g., human activity recognition and smartphone on-body position recognition, in order to enable more robust context-aware applications. So far, these two problems have been studied separately without considering the interactions between each other. In this study, by first applying a novel data preprocessing technique, we propose a joint recognition framework based on the multi-task learning strategy, which can reduce computational demand, better exploit complementary information between the two recognition tasks, and lead to higher recognition performance. We also extend the joint recognition framework so that additional information, such as user identification with biometric motion analysis, can be offered. We evaluate our work systematically and comprehensively on two datasets with real-world settings. Our joint recognition model achieves the promising performance of in terms of -score for user identification on the benchmark RealWorld Human Activity Recognition (HAR) dataset. On the other hand, in comparison with the conventional approach, the proposed joint model is shown to be able to improve human activity recognition and position recognition by and respectively.
Keywords:
mobile sensing; human activity recognition; smartphone position detection; multi-task learning; machine learning
Author Contributions
Conceptualization, Z.G., D.L. and K.H.; methodology, Z.G., D.L. and K.H.; software, Z.G.; validation, Z.G.; formal analysis, Z.G. and K.H.; investigation, Z.G.; resources, D.L. and K.H.; data curation, Z.G., D.L. and K.H.; Writing, original draft preparation, Z.G.; Writing, review and editing, Z.G., D.L., K.H. and Y.H.; visualization, Z.G.; supervision, D.L. and K.H.; project administration, D.L. and K.H.; funding acquisition, D.L. and K.H.
Funding
This research was funded by the Natural Science Foundation of China under grant number 61701417 and 61876155,the Natural Science Foundation of Jiangsu Province under grant number BK20181189,XJTLU Research Development Fund under grant number RDF-14-02-45,the CERNET under grant number NGII20161010,XJTLU Key Program Special Fund under grant number KSF-E-05, KSF-A-01 and KSF-P-02.
Acknowledgments
The authors would like to thank the anonymous reviewers for their hard work.
Conflicts of Interest
The funders had no role in the design of the study; in the collection, analyses, or interpretation of data; in the writing of the manuscript, or in the decision to publish the results.


Figure 2.
Two coordinate systems defined in Android smartphones: (
a
) Built-in standard 3-axis coordinate system:
x
axis is horizontal and pointing to the right of device;
y
axis is vertical and pointing to the up of device;
z
axis is vertical to
x
and
y
and pointing out of screen; (
b
) Earth coordinate system:
x
axis is tangential to the ground at the device's current location and points approximately East;
y
is tangential to the ground at the device's current location and points toward the geomagnetic North Pole; and
z
points toward the sky and is perpendicular to the ground plane.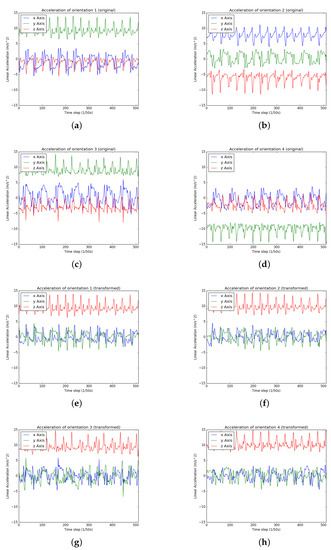 Figure 3. While a user is walking with a smartphone placed in the pocket, the acceleration data of 4 orientations are shown. The (a–d) are visualizations of original acceleration data measured in the built-in standard 3-axis coordinate system. With the same movement, the data from different orientations perform differently. In the (e–h), the transformed original acceleration data under the earth coordinate system shows the consistent pattern.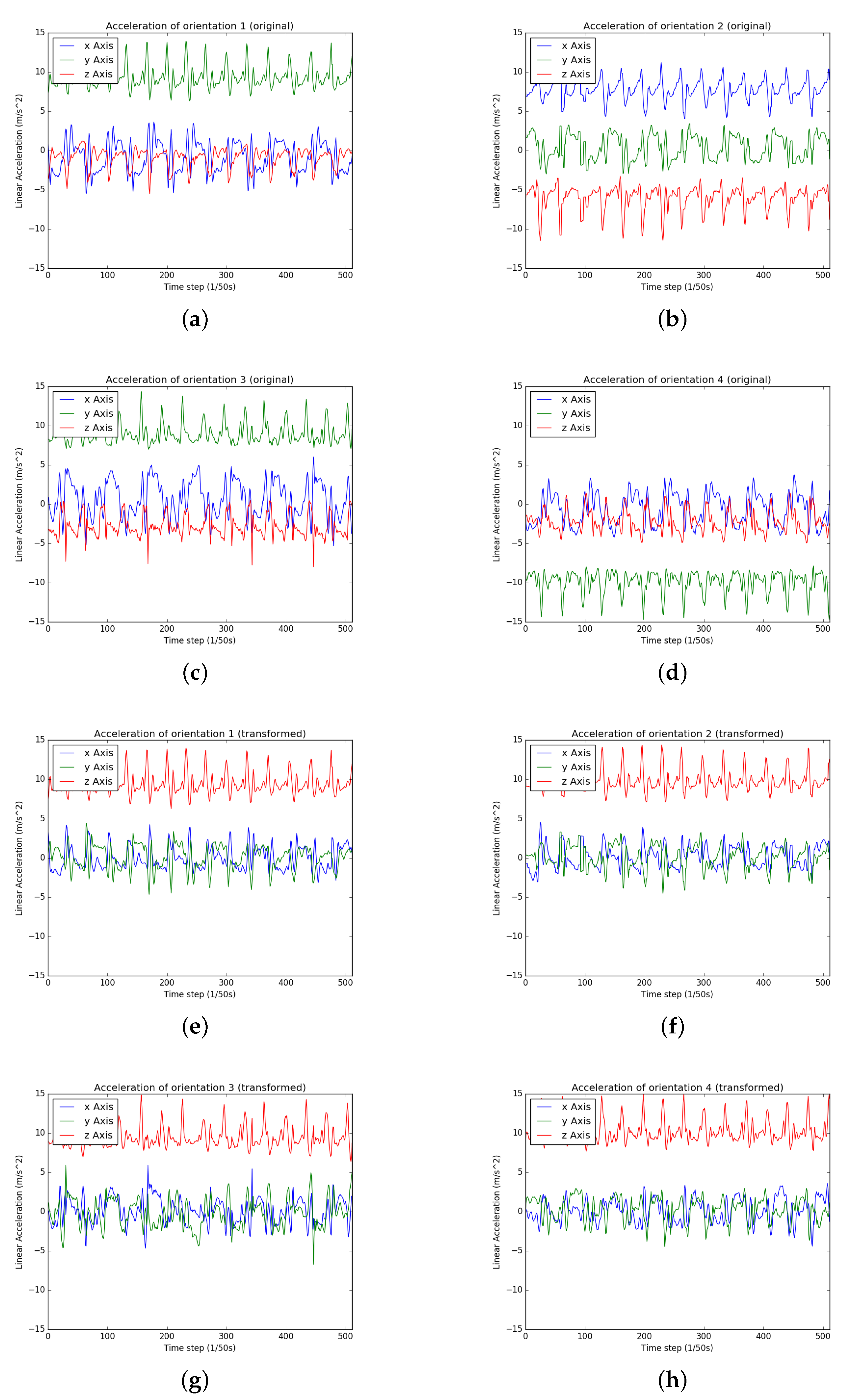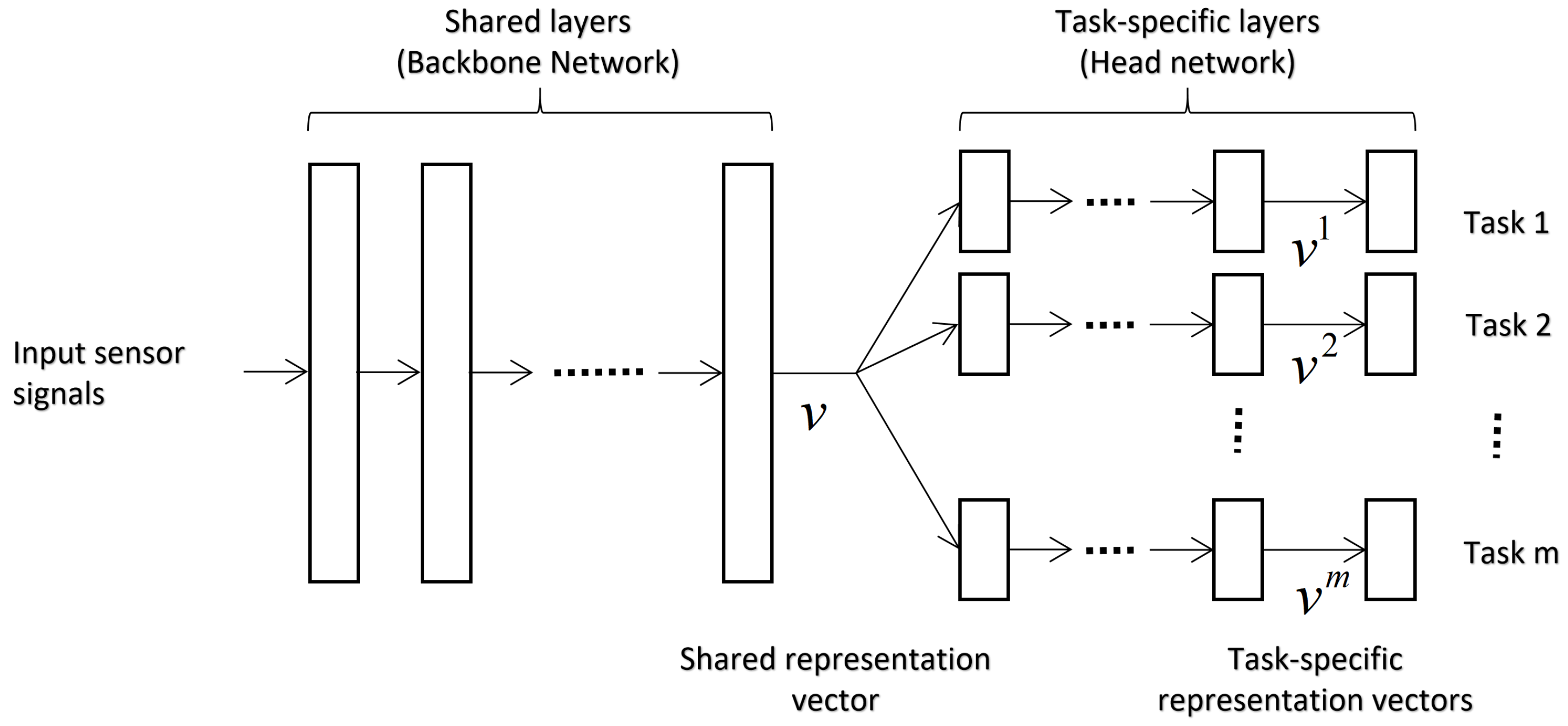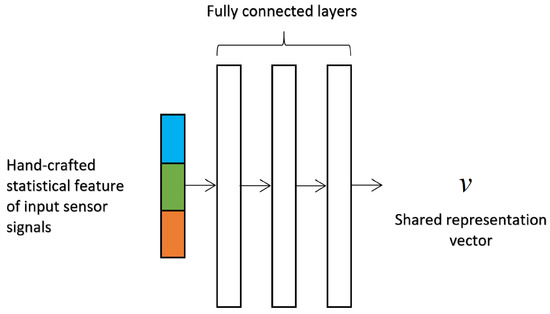 Figure 5. Architecture of simple Multilayer Perceptron with hand-crafted statistical feature as input.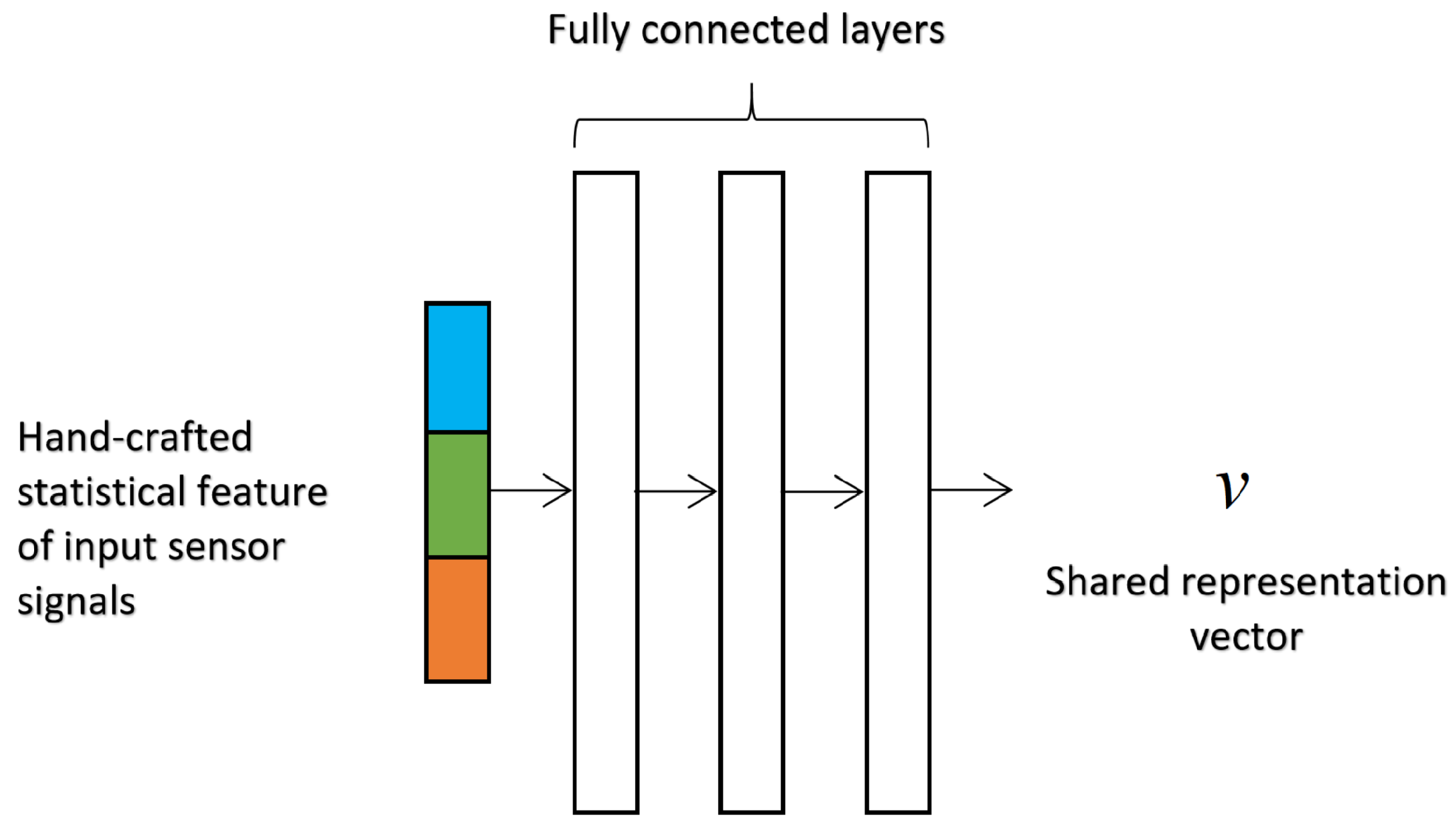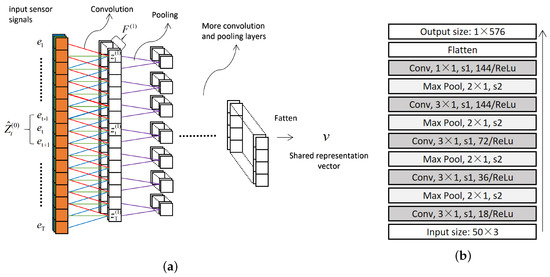 Figure 6. Architecture of designed Convolutional Neural Network: (a) One-dimensional convolution and max pooling; (b) Hyper-parameter of designed architecture that is an example employing sensor signals within window size 50 as input. The "Conv, , s1, 18/ReLU" denotes a 1D convolutional layer with filter size 3, stride 1, filter number 18, ReLU activation function. The "Max Pooling, , s2" represents a 1D max pooling layer with size 2, stride 2.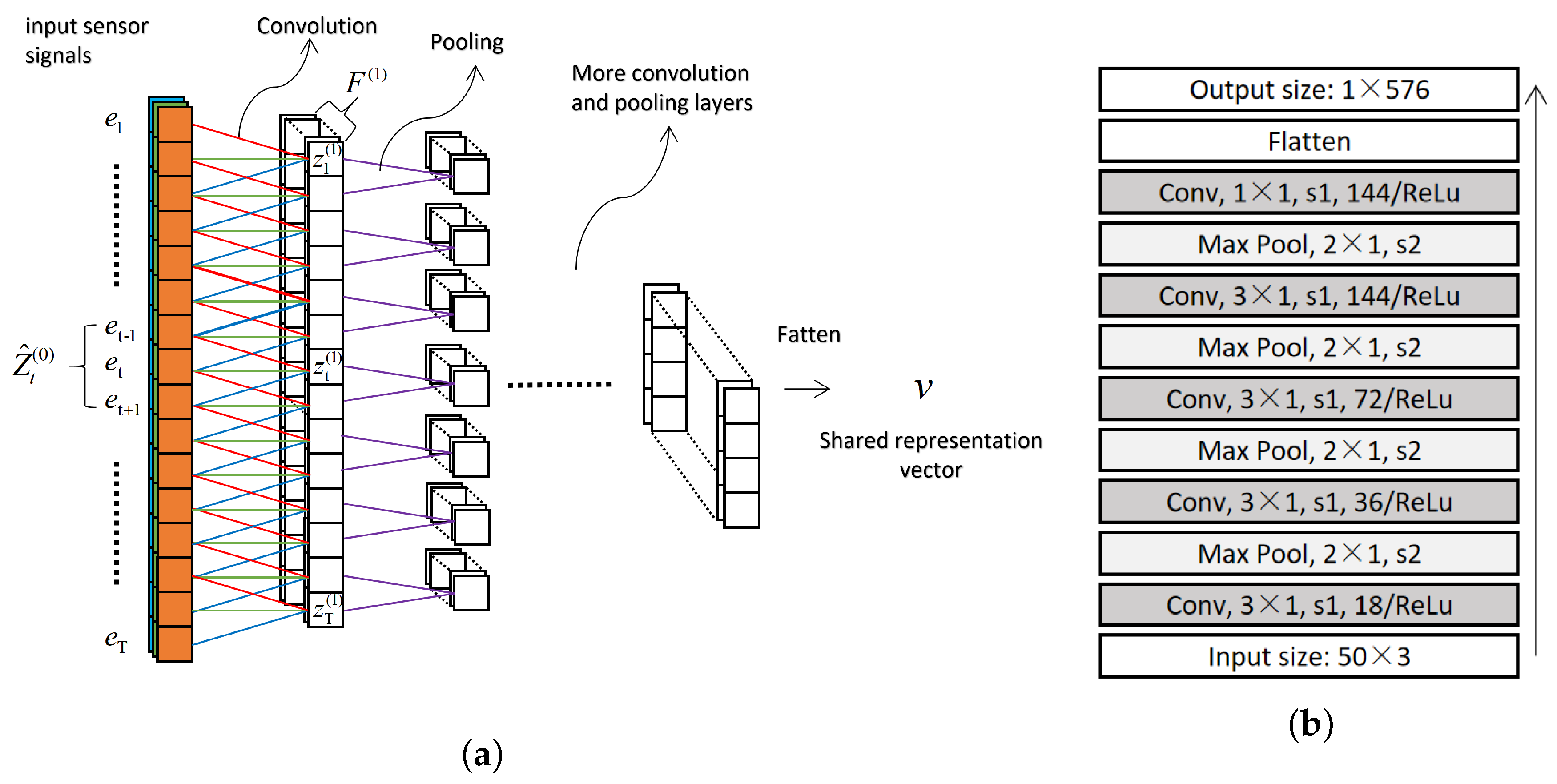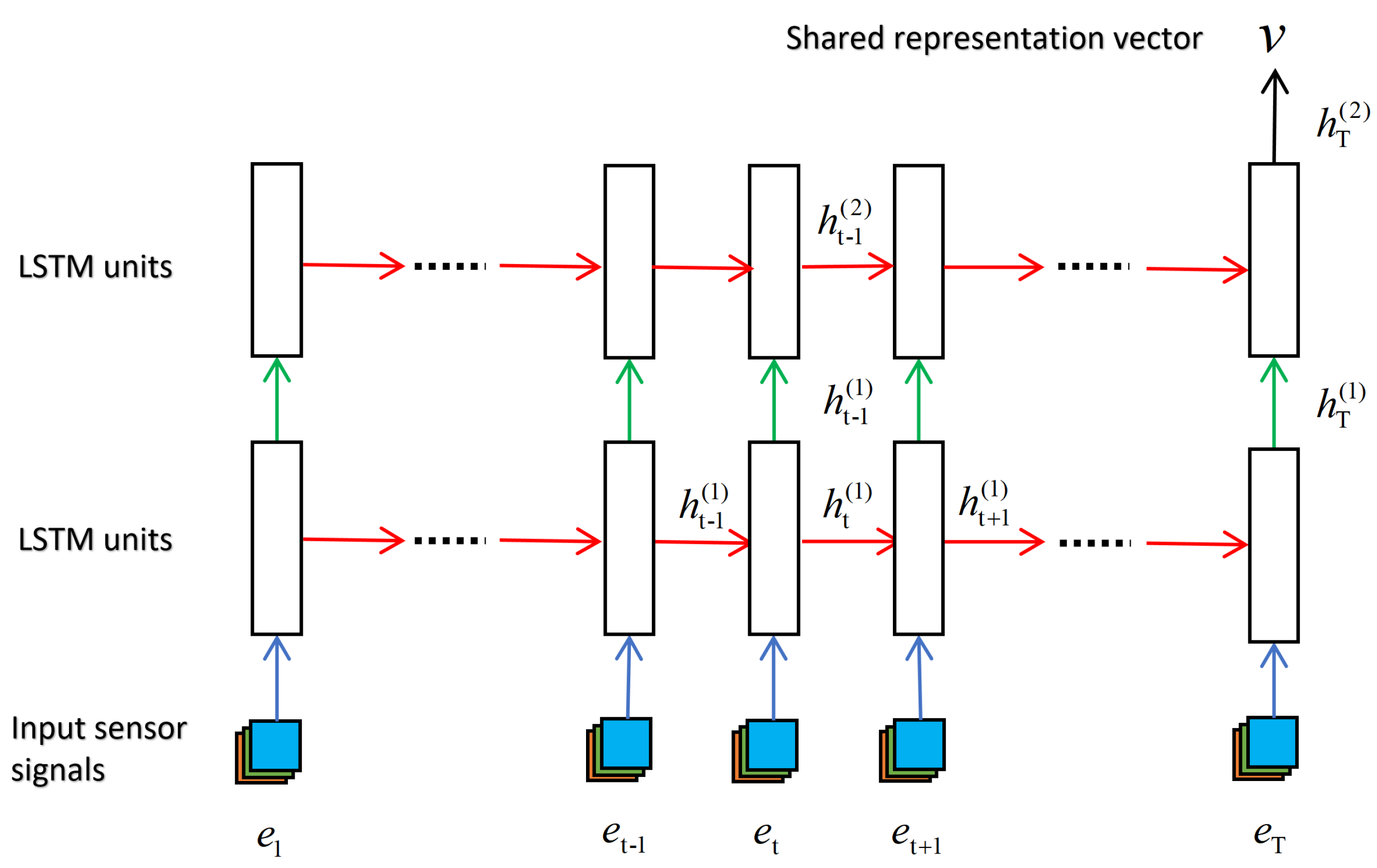 Figure 8. Performance of recognition models using original or transformed acceleration data in two different evaluation modes.


Figure 9. A quantitative analysis for coordinate transformation by using acceleration data within different window sizes.


Table 1. Recognition rates (-score) of human activity, smartphone position and smartphone user when using sensor data of all activities.
Model Type
Learning Type
Activity
Position
User
Average
MLP
ST-3L
0.8837
0.9852
0.8364
0.9018
MT-3L
0.8910
0.9866
0.8484
0.9087
CNN
ST-3L
0.8714
0.9862
0.8181
0.8919
MT-3L
0.8855
0.9848
0.8300
0.9001
LSTM
ST-3L
0.8932
0.9810
0.8511
0.9084
MT-3L
0.8919
0.9802
0.8515
0.9079
Random Forest
S-A/P
0.84
0.89
–
0.865

Table 2. Recognition rates (-score) of human activity, smartphone position and smartphone user when using sensor data of dynamic activities.
Model Type
Learning Type
Activity
Position
User
Average
MLP
ST-3L
0.8968
0.9859
0.8625
0.9151
MT-0L
0.8536
0.9742
0.8129
0.8802
MT-3L
0.9002
0.9857
0.8680
0.9179
CNN
ST-3L
0.9019
0.9893
0.8693
0.9202
MT-0L
0.8880
0.9831
0.8836
0.9183
MT-3L
0.9067
0.9854
0.8774
0.9232
LSTM
ST-3L
0.9265
0.9917
0.9115
0.9432
MT-0L
0.9080
0.9878
0.9043
0.9334
MT-3L
0.9240
0.9906
0.9174
0.9440

Table 3. The number (million) of parameters employed by single-task models and multi-task model of each type.
| Model Type | ST-3L | MT-3L |
| --- | --- | --- |
| MLP | 0.62 m × 3 | 0.76 m |
| CNN | 0.14 m × 3 | 0.29 m |
| LSTM | 0.19 m × 3 | 0.26 m |

© 2019 by the authors. Licensee MDPI, Basel, Switzerland. This article is an open access article distributed under the terms and conditions of the Creative Commons Attribution (CC BY) license (http://creativecommons.org/licenses/by/4.0/).