Mapping Crop Residue by Combining Landsat and WorldView-3 Satellite Imagery
1
U.S. Geological Survey, Lower Mississippi-Gulf Water Science Center, Beltsville, MD 20705 USA
2
In-Q-Tel, CosmiQ Works, Arlington, VA 22003, USA
3
The City College of New York, Department of Earth and Atmospheric Sciences, City University of New York, New York, NY 10031, USA
4
USDA Agricultural Research Service, Hydrology and Remote Sensing Laboratory, Beltsville, MD 20705, USA
5
Universidad Poltécnica de Madrid, School of Agricultural Engineering and CEIGRAM, 28040 Madrid, Spain
6
Maryland Department of Agriculture, Office of Resource Conservation, Annapolis, MD 21401, USA
*
Author to whom correspondence should be addressed.
†
Formerly with U.S. Geological Survey, Eastern Geographic Science Center, Reston, VA 20191, USA.
Received: 1 June 2019 / Revised: 22 July 2019 / Accepted: 26 July 2019 / Published: 9 August 2019
Abstract
A unique, multi-tiered approach was applied to map crop residue cover on the Eastern Shore of the Chesapeake Bay, United States. Field measurements of crop residue cover were used to calibrate residue mapping using shortwave infrared (SWIR) indices derived from WorldView-3 imagery for a 12-km × 12-km footprint. The resulting map was then used to calibrate and subsequently classify crop residue mapping using Landsat imagery at a larger spatial resolution and extent. This manuscript describes how the method was applied and presents results in the form of crop residue cover maps, validation statistics, and quantification of conservation tillage implementation in the agricultural landscape. Overall accuracy for maps derived from Landsat 7 and Landsat 8 were comparable at roughly 92% (+/− 10%). Tillage class-specific accuracy was also strong and ranged from 75% to 99%. The approach, which employed a 12-band image stack of six tillage spectral indices and six individual Landsat bands, was shown to be adaptable to variable soil moisture conditions—under dry conditions (Landsat 7, 14 May 2015) the majority of predictive power was attributed to SWIR indices, and under wet conditions (Landsat 8, 22 May 2015) single band reflectance values were more effective at explaining variability in residue cover. Summary statistics of resulting tillage class occurrence matched closely with conservation tillage implementation totals reported by Maryland and Delaware to the Chesapeake Bay Program. This hybrid method combining WorldView-3 and Landsat imagery sources shows promise for monitoring progress in the adoption of conservation tillage practices and for describing crop residue outcomes associated with a variety of agricultural management practices.
View Full-Text
►

▼

Figures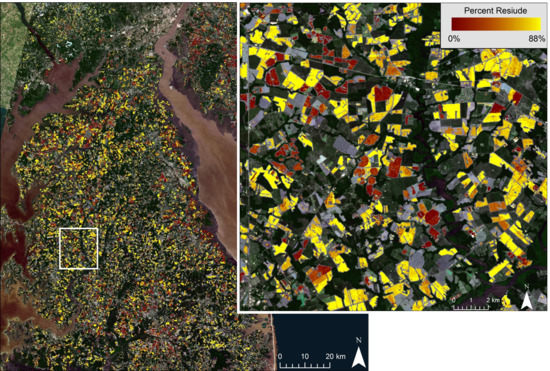 Graphical abstract
This is an open access article distributed under the
Creative Commons Attribution License
which permits unrestricted use, distribution, and reproduction in any medium, provided the original work is properly cited (CC BY 4.0).
Supplementary material
Externally hosted supplementary file 1
Doi: doi:10.5066/F7930SDB
Link: https://doi.org/10.5066/F7930SDB
Description: Data supporting this manuscript have been published as a U.S. Geological Survey data release: Hively, W. D.; Lamb, B. T.; Daughtry, C. S. T.; Shermeyer, J.; McCarty, G. M.; M, Q. Worldview-3 Satellite imagery and crop residue field data collection, Talbot County, MD, May 2015; U.S. Geological Survey data release. 2015. doi:10.5066/F7930SDB

Share & Cite This Article
MDPI and ACS Style
Hively, W.D.; Shermeyer, J.; Lamb, B.T.; Daughtry, C.T.; Quemada, M.; Keppler, J. Mapping Crop Residue by Combining Landsat and WorldView-3 Satellite Imagery. Remote Sens. 2019, 11, 1857.
Note that from the first issue of 2016, MDPI journals use article numbers instead of page numbers. See further details here.
Related Articles
Comments
[Return to top]