Semi-Automatic Identification and Pre-Screening of Geological–Geotechnical Deformational Processes Using Persistent Scatterer Interferometry Datasets
1
Departamento de Ingeniería Civil, Universidad de Alicante, P.O. Box 99, 03080 Alicante, Spain
2
Centre Tecnològic de Telecomunicacions de Catalunya (CTTC/CERCA), Geomatics Division, Av. Gauss, 7 08860 Castelldefels, Spain
3
Instituto Universitario de Investigación Informática, Universidad de Alicante, P.O. Box 99, 03080 Alicante, Spain
4
Sistema de Información Geográfica de la Universidad de Alicante (SIGUA), Universidad de Alicante, P.O. Box 99, 03080 Alicante, Spain
5
Earth Sciences Department, University of Florence, Via La Pira, 4, 50121 Firenze, Italy
6
TRE-Altamira, Via di Ripa Ticinese, 79, 20143 Milan, Italy
7
e-GEOS—An Italian Space Agency/Telespazio Company, Via Tiburtina, 965, 00156 Rome, Italy
8
Geohazards InSAR Laboratory and Modeling Group, Instituto Geológico y Minero de España (IGME), C/ Alenza 1, 28003 Madrid, Spain
9
Earth Observation and Geohazards Expert Group (EOEG), EuroGeoSurveys, the Geological Surveys of Europe, Rue Joseph II, 36–38, 1000 Brussels, Belgium
*
Author to whom correspondence should be addressed.
Received: 24 May 2019 / Revised: 4 July 2019 / Accepted: 12 July 2019 / Published: 14 July 2019
Abstract
This work describes a new procedure aimed to semi-automatically identify clusters of active persistent scatterers and preliminarily associate them with different potential types of deformational processes over wide areas. This procedure consists of three main modules: (i) ADAfinder, aimed at the detection of Active Deformation Areas (ADA) using Persistent Scatterer Interferometry (PSI) data; (ii) LOS2HV, focused on the decomposition of Line Of Sight (LOS) displacements from ascending and descending PSI datasets into vertical and east-west components; iii) ADAclassifier, that semi-automatically categorizes each ADA into potential deformational processes using the outputs derived from (i) and (ii), as well as ancillary external information. The proposed procedure enables infrastructures management authorities to identify, classify, monitor and categorize the most critical deformations measured by PSI techniques in order to provide the capacity for implementing prevention and mitigation actions over wide areas against geological threats. Zeri, Campiglia Marittima–Suvereto and Abbadia San Salvatore (Tuscany, central Italy) are used as case studies for illustrating the developed methodology. Three PSI datasets derived from the Sentinel-1 constellation have been used, jointly with the geological map of Italy (scale 1:50,000), the updated Italian landslide and land subsidence maps (scale 1:25,000), a 25 m grid Digital Elevation Model, and a cadastral vector map (scale 1:5000). The application to these cases of the proposed workflow demonstrates its capability to quickly process wide areas in very short times and a high compatibility with Geographical Information System (GIS) environments for data visualization and representation. The derived products are of key interest for infrastructures and land management as well as decision-making at a regional scale.
View Full-Text
►

▼

Figures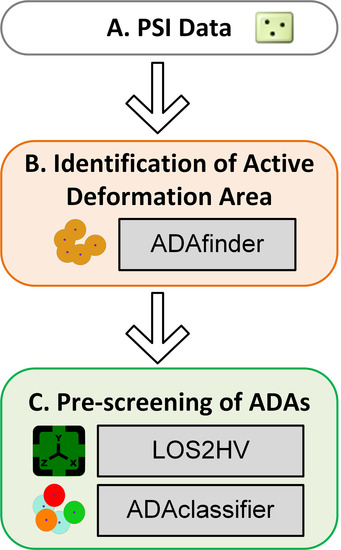 Graphical abstract
This is an open access article distributed under the
Creative Commons Attribution License
which permits unrestricted use, distribution, and reproduction in any medium, provided the original work is properly cited (CC BY 4.0).

Share & Cite This Article
MDPI and ACS Style
Tomás, R.; Pagán, J.I.; Navarro, J.A.; Cano, M.; Pastor, J.L.; Riquelme, A.; Cuevas-González, M.; Crosetto, M.; Barra, A.; Monserrat, O.; Lopez-Sanchez, J.M.; Ramón, A.; Ivorra, S.; Del Soldato, M.; Solari, L.; Bianchini, S.; Raspini, F.; Novali, F.; Ferretti, A.; Costantini, M.; Trillo, F.; Herrera, G.; Casagli, N. Semi-Automatic Identification and Pre-Screening of Geological–Geotechnical Deformational Processes Using Persistent Scatterer Interferometry Datasets. Remote Sens. 2019, 11, 1675.
Note that from the first issue of 2016, MDPI journals use article numbers instead of page numbers. See further details here.
Related Articles
Comments
[Return to top]