Open Access This article is
freely available
re-usable
Article
Monitoring of Land Use/Land Cover and Socioeconomic Changes in South China over the Last Three Decades Using Landsat and Nighttime Light Data
Department of Land Surveying and Geo-informatics, The Hong Kong Polytechnic University, Hong Kong 999077, China
*
Author to whom correspondence should be addressed.
Received: 28 May 2019 / Accepted: 5 July 2019 / Published: 11 July 2019
Abstract
:
Land use and land cover changes (LULCC) are prime variables that reflect changes in ecological systems. The Guangdong, Hong Kong, and Macau (GHKM) region located in South China has undergone rapid economic development and urbanization over the past three decades (1986–2017). Therefore, this study investigates the changes in LULC of GHKM based on multi-year Landsat and nighttime light (NTL) data. First, a supervised classification technique, i.e., support vector machine (SVM), is used to classify the Landsat images into seven thematic classes: forest, grassland, water, fishponds, built-up, bareland, and farmland. Second, the demographic activities are studied by calculating the light index, using nighttime light data. Third, several socioeconomic factors, derived from statistical yearbooks, are used to determine the impact on the LULCC in the study area. The post-classification change detection shows that the increase in the urban area, from 0.76% (1488.35 km2) in 1986 to 10.31% (20,643.28 km2) in 2017, caused GHKM to become the largest economic segment in South China. This unprecedented urbanization and industrialization resulted in a substantial reduction in both farmland (from 53.54% (105,123.93 km2) to 33.07% (64,932.19 km2)) and fishponds (from 1.25% (2463.35 km2) to 0.85% (1674.61 km2)) during 1986–2017. The most dominant conversion, however, was of farmland to built-up area. The subsequent urban growth is also reflected in the increasing light index trends revealed by NTL data. Of further interest is that the overall forest cover increased from 33.24% (65,257.55 km2) to 45.02% (88,384.19 km2) during the study period, with a significant proportion of farmland transformed into forest as a result of different afforestation programs. An analysis of the socioeconomic indicators shows that the increase in gross domestic product, total investment in real estate, and total sales of consumer goods, combined with the overall industrialization, have led to (1) urbanization on a large scale, (2) an increased light index, and (3) the reduction of farmland. The speed of development suggests that opportunistic development has taken place, which requires a pressing need to improve land policies and regulations for more sustainable urban development and protection of farmland.
Keywords:
land use land cover; light index; Landsat; nighttime light data
1. Introduction
Aggravating the above complex land structure and intensive urbanization, industrialization and economic development have, therefore, highlighted the importance of the LULCC of the GHKM over the past 30 years and the "from-to" change in order to determine the socioeconomic factors that will contribute to the necessary changes to ensure future sustainable development.
3. Results
3.1. LULC Changes from 1986 to 2017
3.2. Socioeconomic Change
4. Discussion
4.1. Driving Forces of LULCC: The Link Between Socioeconomic Factors and LULC
4.2. Consequence of LULCC: Farmland Reduction and Replacement
4.3. Benefits of LULCC: Forest Cover Increases
GMHK has been ahead of the country in terms of socioeconomic development and urbanization, but also in its contribution to the deterioration of the environment. To solve such problems, the government established the program "Greener Guangdong in 10 years" in 1985. By the end of 1993, 3.33 million hectares of degraded forest lands had been re-planted. To maintain this momentum, urban forestry considerations were given priority by the government. The objective was to introduce tree and shrub planting in cities to enhance the quality of life [
80
,
81
]. A focus was placed on obtaining a Greener Guangdong [
14
,
82
]. Thus, during the period of this current study (1986–2017), forest cover increased from 33.24% to 45.02%. The government's encouragement of urban forestry was designed to play a critical role in lessening the urban–rural gap, providing more job opportunities, improving the environment, maintaining the ecological balance, beautifying urban regions [
79
], and controlling the expansion of cities. The increase in the pattern of urban forestry reveals an increase in the demand for forest resources in the urbanized areas and a willingness to control and preserve natural ecosystems [
17
].
From 1990 to the present, a wide range of forest programs were launched and implemented in GHKM, thus supporting afforestation achievements and the modernization of forestry practices. The focus was on both forest industry development (ecological forest) and plantations by adjusting tree species and forest structure to support different economic and recreational purposes. These programs also increased people's incentives and interests regarding forestry development and encouraged the recognition of public ownership. Industrialization and urbanization, therefore, have promoted forestry development and the rehabilitation of degraded forest land in GHKM [
81
,
83
]. However, the development of urban forestry is only one strategy for solving the many problems facing cities new to the urbanization process.
4.4. Recommendation for Sustainable Development and Open Space Protection
Hong Kong can be considered reasonably successful in controlling unplanned urbanization and protecting open spaces, despite the population growth, economic development and the resulting urban sprawl to cater for them. The government should impose heavy taxes on the urban development of farmland to prevent further loss of farmland. The government needs to set up a new administrative body for the effective planning of land use. In this process, public contributions and making and executing plans for land use and sustainable development will play a dominant role. Transferring industrial activities from the PRD to lagging regions will help to reduce urban–rural inequality and increase rural household income. This would result in lessoning rural poverty. Furthermore, a detailed study at the city level is required to adapt policies more effectively and to control the negative impacts of land cover changes.
5. Conclusions
The results show that over the past three decades, GHKM, a large tropical and sub-tropical region in China, has undergone dramatic LULCC, mainly dominated by built-up land, farmland, and forest. During the study period, the built-up area has increased from 0.76% to 10.31% and farmland and fishponds decreased from 53.54% to 33.07% and from 1.25% to 0.85%, respectively. On the other hand, at the expense of the reduction of farmland and different afforestation programs, forest cover increased from 33.24% in 1986 to 45.02% in 2017. The primary reasons for such changes in land use and land cover were the development of the socioeconomic corridor, industrialization, job opportunities, urban sprawl, and different land policies. The transition of farmland to built-up area and the increase in light index reveal that urbanization provides more benefits to the government in terms of economic development. To some extent, the decrease in farmland mirrors the irreversible trends of industrialization, urbanization, and marketization. Moreover, a spatial analysis and statistical data revealed that the marked increase in GDP, total investment in fixed assets, and total retail sales of consumer goods have to a large extent led to the expansion of cities. On the other hand, there has been a loss of farmland and an increase in forest cover. Such changes have caused notable land cover changes in GHKM. These trends may also be projected into the future, such that socioeconomic developments and policies may pose a serious threat to food security. These findings revealed in this paper are designed to help policy and decision makers to analyze the relationship between socioeconomic drivers and LULCC. Also, this paper provides a scientific basis for land resource optimization, not only in GHKM but also in other parts of China.
Supplementary Materials
The following are available online at
https://www.mdpi.com/2072-4292/11/14/1658/s1
, Figure S1: Light index of Guangdong, Hong Kong, and Macao from 1994 to 2010. Table S1: Description of Landsat datasets scene used for land use land cover change detection. Table S2: Accuracy assessment of classified images for the years 1986, 1989, 1994, 2000, 2005, 2010, and 2017 (where, F = Forest, G = Grassland, W = Water, FP = Fishpond, BU = Built-up, BL = Bareland, and FL = Farmland). Table S3: Change detection matrix of land use land cover during different time period (percentage).
Author Contributions
Formal analysis, S.H. and S.A.; Investigation, S.H.; Methodology, S.H.; Resources, S.H.; Supervision, W.S.; Writing—original draft, S.H.; Writing—review & editing, S.H., W.S., X.Z., and S.A.
Funding
This research was supported by Ministry of Science and Technology of the People's Republic of China, grant number 2017YFB0503604; The Hong Kong Polytechnic University, grant number 4-9A6X, 1-ZVN6 and 1-ZE6Q; and Research Grant Council, HKSAR, grant number B-Q61E.
Acknowledgments
The authors would like to thank USGS Earth Explorer for Landsat data, the National Oceanic and Atmospheric Administration (NOAA), and the Defense Meteorological Satellite Program/Operational Linescan System (DMSP/OLS) for NTL annual composite images. The authors would also like to thank Mr. Pandey Bhartendu and Mr. Usman Ahmed Khan for their valuable help in correcting nighttime light data. The authors would also like to thanks the anonymous reviewers for their insightful comments and substantial help on improving this article.
Conflicts of Interest
The authors declare no conflicts of interest.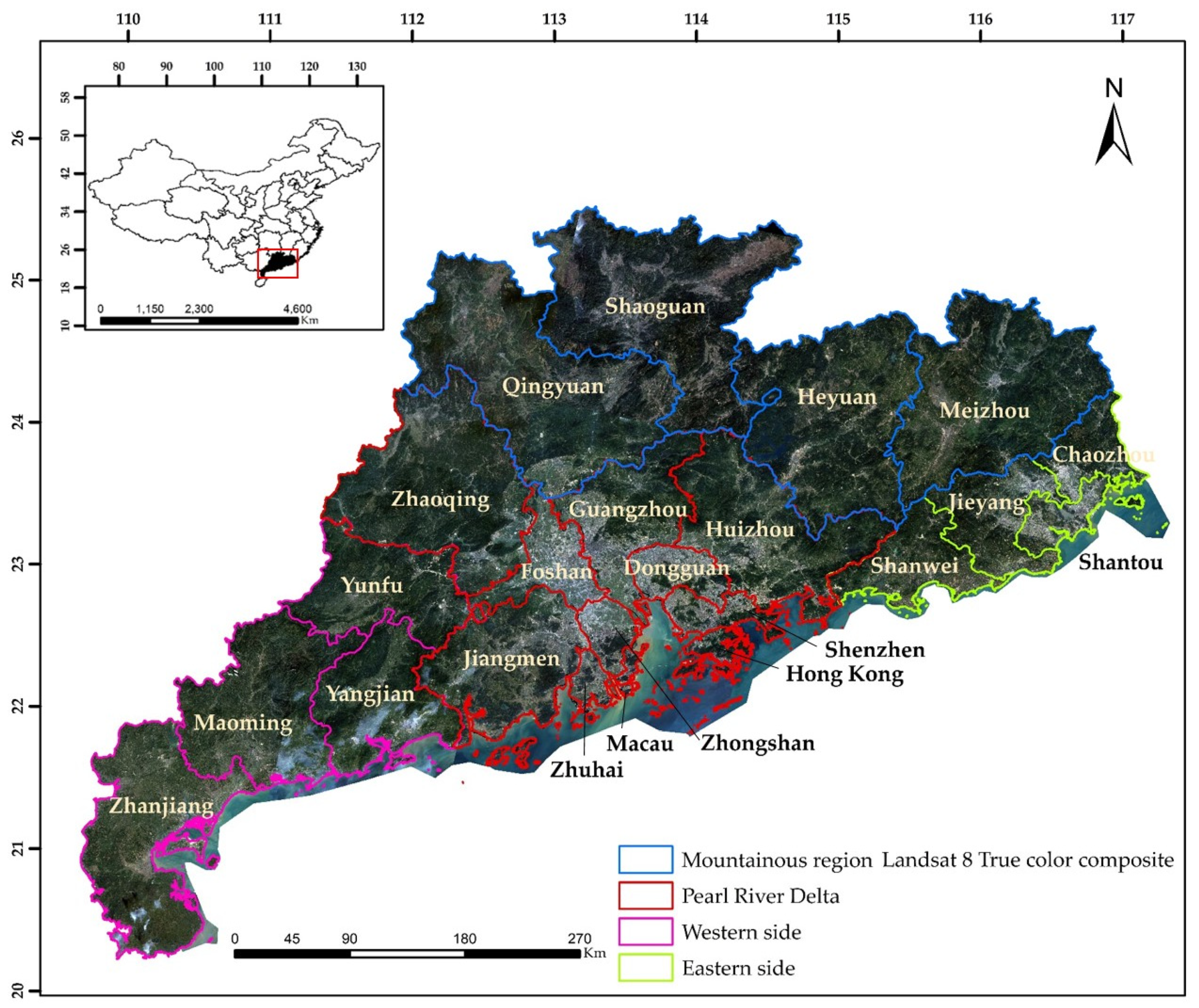 Figure 2. Land use land cover classification map of Guangdong, Hong Kong, and Macao from 1986 to 2017.
Figure 3. Area distribution of different land use land cover classes and change trends in Guangdong, Hong Kong, and Macao from 1986 to 2017: (a) land use land cover area of forest, water, built-up land, and farmland; (b) land use land cover change trends in forest, water, built-up land, and farmland; (c) land use land cover area of grassland, fishponds, and bareland; and (d) land use land cover change trends in grassland, fishponds, and bareland.
Figure 4. Relative land use change at prefecture (city) level in (A) built-up, (B) farmland, and (C) forest.
Figure 5. Summary of land policies, gross domestic product, urban area (urbanization), and farmland trend in different economic development periods from 1986 to 2017 (where, LAL = Land administration Law).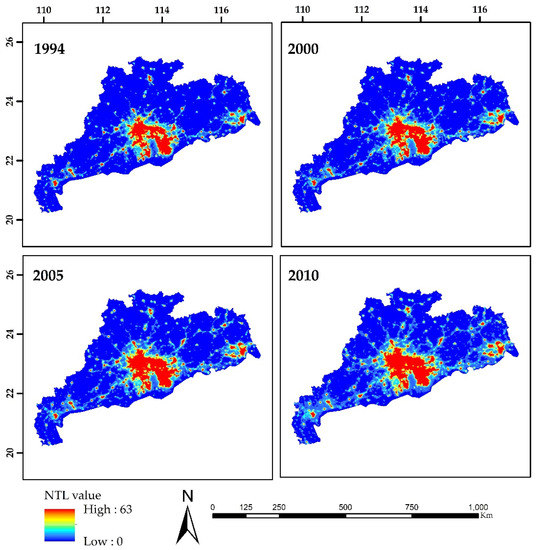 Figure 7. Night light urban expansion images of the study area for the years 1994, 2000, 2005, and 2010.
Figure 8. The correlation between (a) fixed assets and built-up area (1986−2017), (b) GDP and population (1986−2017), (c) farmland and population (1986−2017), (d) light index and urban area (1994−2010), (e) light index and population (1994−2010), and (f) light index and socioeconomic indicators (1994−2010).
| Class | Description | Abbreviation |
| --- | --- | --- |
| Forest | Forest, tree cover | F |
| Grassland | Natural shrubs and grassland | G |
| Water | Natural water bodies, oceans, lakes, rivers, and reservoir. Water bodies that are not used for intensive aquaculture | W |
| Fishponds | Water bodies that are used for intensive aquaculture. Dike pond, including mulberry | FP |
| Built-up | Land covered by buildings and other man-made structures | BU |
| Bareland | Exposed soil, sand, rocks, landfill sites, areas of active excavation | BL |
| Farmland | Land used for farming, cropland, orchards | FL |
1986–1989
1989–1994
1994–2000
2000–2005
2005–2010
2010–2017
1986–2017
(% Change Per Year)
Forest
2.95
1.23
0.58
0.42
0.75
0.86
0.98
Grassland
−19.02
6.51
−8.21
11.96
−21.00
5.10
−2.69
Water
0.19
−0.02
−0.19
−0.50
0.06
0.30
−0.02
Fishponds
6.08
4.94
−1.36
−2.02
−4.94
−5.51
−1.24
Built-up
19.15
14.37
7.21
6.26
6.93
3.17
8.41
Bareland
−21.40
13.36
−17.08
24.64
−29.47
3.45
−3.22
Farmland
−2.38
−1.83
−0.86
−1.16
−1.60
−1.85
−1.55
1986
1989
1994
2000
2005
2010
2017
Gross Domestic Product (100 million Yuan)
667.53
1381.39
4619.02
10,741.25
22,557.37
46,036.25
79,512.05
Primary Industry
188.37
351.73
692.25
986.32
1428.27
2286.98
3694.37
Secondary Industry
255.88
554.13
2253.25
4999.51
11,356.60
22,821.77
34,001.31
Tertiary Industry
223.28
475.53
1673.52
4755.42
9772.50
20,927.50
41,816.37
Total Population
(10,000 persons)
5740.70
6024.98
6691.46
7498.54
7899.64
8521.55
9164.90
Total Investment in
Fixed Assets
(100 million yuan)
216.50
347.34
2141.15
3233.70
7164.11
16,113.19
33,008.86
Government Revenue (100 million yuan)
82.41
136.87
298.70
910.56
1807.20
4517.04
10,390.35
Gross Agricultural output value (100 million yuan)
279.15
548.60
1151.38
1701.18
2447.57
3754.86
6078.43
Gross Industrial output value (100 million yuan)
632.89
1647.24
7273.95
16,904.47
41,661.74
93,462.97
144,926.10
Total Retail Sales of Consumer Good (100 million yuan)
327.02
636.15
1991.33
4379.81
7915.51
17,458.44
34,739.00
| | 1986−1989 | 1989−1994 | 1994−2000 | 2000−2005 | 2005−2010 | 2010−2017 |
| --- | --- | --- | --- | --- | --- | --- |
| Population growth rate (%) | 4.95 | 11.06 | 12.06 | 5.35 | 7.87 | 7.55 |
| Year | Light Index | NTL* Built-Up Area (km2) | Average | SDV ** |
| --- | --- | --- | --- | --- |
| 1994 | 3.42 | 7860 | 53.00 | 4.77 |
| 2000 | 4.40 | 1024 | 52.84 | 4.90 |
| 2005 | 6.21 | 15,104 | 54.27 | 4.53 |
| 2010 | 8.38 | 17,431 | 55.34 | 4.07 |
* NTL = nighttime light, ** SDV = Standard deviation.
Years
Periods
Land Use Policies
Issues
1978−1991
Opening up and economic reform
Local entrepreneurship
Initial productivity but effect development of town and village enterprises
1992−2002
Initial period of the socialist market-oriented economy
Farmland protection and land-use planning
Conflict over farmland protection and land development
2003−2008
Mid-term of the socialist market-oriented economy
Urbanization and regional development
Regulating land markets, use rights and property law
Uneven urban-rural and regional social and economic development
2009−now
Socialist market-oriented economy
Intensive land use under construction of civilization
Regulating land markets, use rights and property
Conflict over farmland conversion, protection and land development
Uneven urban–rural and regional social and economic development

© 2019 by the authors. Licensee MDPI, Basel, Switzerland. This article is an open access article distributed under the terms and conditions of the Creative Commons Attribution (CC BY) license (http://creativecommons.org/licenses/by/4.0/).