Open Access This article is
freely available
re-usable
Article
Maximizing the Information Content of Ill-Posed Space-Based Measurements Using Deterministic Inverse Method
1
Earth System Science Interdisciplinary Center, University of Maryland, 5825 University Research Ct., College Park, MD 20740, USA
2
NOAA/NESDIS Center for Satellite Applications and Research, E/RA3, 5830 University Research Ct., College Park, MD 20740, USA
3
Global Science and Technology, Inc., and affiliate CIRA, Colorado State University, Fort Collins, CO 80523, USA
*
Author to whom correspondence should be addressed.
Received: 11 May 2018 / Accepted: 19 June 2018 / Published: 22 June 2018
Abstract
:
For several decades, operational retrievals from spaceborne hyperspectral infrared sounders have been dominated by stochastic approaches where many ambiguities are pervasive. One major drawback of such methods is their reliance on treating error as definitive information to the retrieval scheme. To overcome this drawback and obtain consistently unambiguous retrievals, we applied another approach from the class of deterministic inverse methods, namely regularized total least squares (RTLS). As a case study, simultaneous simulated retrieval of ozone (O3) profile and surface temperature (ST) for two different instruments, Cross-track Infrared Sounder (CrIS) and Tropospheric Emission Spectrometer (TES), are considered. To gain further confidence in our approach for real-world situations, a set of ozonesonde profile data are also used in this study. The role of simulation-based comparative assessment of algorithms before application on remotely sensed measurements is pivotal. Under identical simulation settings, RTLS results are compared to those of stochastic optimal estimation method (OEM), a very popular method for hyperspectral retrievals despite its aforementioned fundamental drawback. Different tweaking of error covariances for improving the OEM results, used commonly in operations, are also investigated under a simulated environment. Although this work is an extension of our previous work for H2O profile retrievals, several new concepts are introduced in this study: (a) the information content analysis using sub-space analysis to understand ill-posed inversion in depth; (b) comparison of different sensors for same gas profile retrieval under identical conditions; (c) extended capability for simultaneous retrievals using two classes of variables; (d) additional stabilizer of Laplacian second derivative operator; and (e) the representation of results using a new metric called "information gain". Our findings highlight issues with OEM, such as loss of information as compared to a priori knowledge after using measurements. On the other hand, RTLS can produce "information gain" of ~40–50% deterministically from the same set of measurements.
Keywords:
ozone profile retrieval; deterministic inverse; regularized total least square; Tropospheric Emission Spectrometer (TES); Cross-track Infrared Sounder (CrIS); surface temperature; optimal estimation method (OEM)
3. Simulated Theoretical Smooth Profile Retrieval
Readers may be wonder, why simulated data are used rather than real data. This is because radiative transfer equations are complex functions that cannot be easily approximated by an explicit class of function (e.g., quadratic, convex, logarithmic). Thus, it is difficult to prove theoretically only by mathematical derivation that one algorithm is a better choice over the other for profile retrievals from RT-based real remote sensing measurements where associated errors cannot be exactly characterized. The sources of such errors are enormous, such as instrument error, forward model error, spectral error, line shape error (line overlapping, far wing effect of major molecules, line mixing etc.), errors from minor interfering gases or unmodeled parameters, background RT error and nonlinearity error cf., [
16
]. To avoid these hurdles, comparative numerical experiments constraining the problem close to realistic situations considering original inverse methods are the best choice. We urge that simulation-based assessment is one of the most critical steps but is often under-appreciated. This provides us with exact "ground truth" to analyze performances. Also, with simulations, inputs can be controlled to exactly what is needed for a particular purpose and allow us to either exclude or include regulated operational problems (calibration, fast forward model error, cloud detection). This allows us to concentrate on the performances of the inversion methods only. Moreover, it will be better to evaluate the performances of stochastic methods under the correct error covariances for the simulated set, which is not possible in the retrievals from real measurement because error is not quantifiable in global measurement instances.
3.1. Profile Retrievals from Simulated CrIS Measuremts
The sensor specifications of the CrIS hyper-spectral sounder onboard Suomi National Polar-orbiting Partnership (NPP) is considered in this study since this instrument will continue to be flown in a series of Joint Polar Satellite System (JPSS) missions until at least 2038. For real data from CrIS, channel radiance is given by a convolution of the instrument line shape (ILS) function with the monochromatic radiance from the simulation at the entrance to the interferometer [
38
]. For the simulated retrieval study, a simplified "sinc" function is considered to produce equivalent CrIS measurements by convolving with the simulated spectrum. For example, the simulated measurement is calculated by the spectra for O
3
at a resolution of 0.06 cm
−1
using the GENSPECT LBL model, for the US 1976 standard atmospheric temperature and O
3
profiles, and ST of 300 K and surface emissivity of one and convolved with the "sinc" function. To achieve a more realistic condition, we applied our "select channel" algorithm [
16
] to discard the channels, which are contaminated by the radiance from other interfering trace gases (e.g., CO
2
, N
2
O, CH
4
, SO
2
, NO
2
, NH
3
, HNO
3
, OCS, HOCl, H
2
O
2
, H
2
O and H
2
S). For example, "select channel" algorithm congregate 169 channels out of 302 channels for a selected window (900–1090 cm
−1
). Monte Carlo noise realizations were added to calculated spectrum of 1% (signal to noise ratio, SNR = 100), which is conservative because reported CrIS SNR is more than 150 for longwave IR (LWIR) channels e.g., [
39
,
40
], to produce equivalent realistic measurement. During retrieval, we also consider the surface temperature (ST) as an additional retrieved parameter and the first guess is arbitrarily set to 275 K.
Retrievals adding Monte Carlo noise in the simulated spectrum have been made using RTLS for three different true profiles (TP), which are TP1 (realistic), and TP2 and TP3 (extreme case full-sinusoidal profiles). TP1 is a 1976 US standard O
3
profile for the earth's atmosphere. To improve confidence on the outcome, two initial guess (IG) profiles, one is a constant (IG1, green) and the other is a realistic (0.8 times of TP1, IG2, blue), are considered as shown in
Figure 1
. Only TP1 is solved from IG2 (
Figure 1
a). We have purposefully done this simulated experiment using two unrealistic sinusoidal profiles to understand the inverse properties of RT function and it does not violate any limits from the point of RT physics. It is obvious that parameters can go beyond the boundary for a specific iteration when Newtonian iterative optimization is used in a nonlinear problem. Also, the solution of sinusoidal profiles will give us an additional advantage to understand and analyze altitudinal information content for such measurements.
The simulated retrieval result confirms as shown in
Figure 1
a that CrIS measurement can retrieve good O
3
realistic profiles up to ~30 km using RTLS method without any a priori information from two different IGs (IG1 and IG2) for TP1. However, a higher deviation in solution is observed for TP2 at ~10 km and at same time the oscillation for TP3 at ~10 km is lower as compared to that of TP2. This implies that there is a weak space for such measurement at 10~15 km and the severity of weak space depends on the shape of the profile (see
Figure 1
b). The profile retrievals of TP1 above 30 km are noisy even when solved from IG2, which confirms that the information available from CrIS measurement is low. On the contrary, the profile retrieval of TP2 is improved above 30 km and some oscillation is observed for TP3 at that level. This implies that the information of retrieval is not only dependent on CrIS measurements but also significantly dependent on the shape of the profiles resulting in different information contents. The retrieval of surface temperature is extremely good, where the root mean square errors of 6 retrievals of both sets are 0.04 and 0.07 K for realistic and sinusoidal profiles respectively.
3.2. Profile Retrievals from Simulated TES Measuremts
Profile retrievals using also simulated Tropospheric Emission Spectrometer measurements onboard the Aura spacecraft following the same approach as for CrIS are conducted in this study. The "select channel" algorithm leaves us 956 out of 3167 channels for the same selected window (900–1090 cm−1), which can be used for an O3 retrieval without using any interfering gases in the forward model. The number of selected channels is ~5.6 times higher than that of CrIS measurement because the TES instrument is designed with ~10 times higher spectral resolution (0.06 cm−1) than CrIS (0.625 cm−1). Effective TES measurements are generated by adding random noise at the rate of SNR = 300 on top of the simulated spectrum as specified by the noise level of TES.
As observed in
Figure 1
and
Figure 2
, the retrievals of O
3
profiles and surface temperature from simulated TES spectrum are improved compared to those of CrIS. This is expected because of both higher SNR and higher spectral resolution of TES as compared to CrIS. The retrieval up to 25 km for TP1 can be reliable for any shape of the IG. The retrievals of TP2 and TP3 (
Figure 2
b) from IG1 are remarkably good. The above mentioned weak space at ~10 km is also observed for TES solution and we need further studies of window/channel selection to improve the information at ~10 km by additional measurements. The RMSE value of surface temperature reduces further. The most interesting observation from this study is that the solutions of three Monte-Carlo simulations are almost identical as opposed to the same for CrIS. Three different noises in measurements produced three different retrieved profile shapes for CrIS. Although the solutions are convincing (especially for TES) as compared other published results, the exact solution is not achievable using these experimental setup (selection of channels). Thus, the focus of this study will be how much information can be extracted from the measurements by reduction of the IG error.
3.3. Information Content Analysis Using Subspace
4. Simulated Profile Retrievals Using Radiosonde Data
The OEM is one of the stochastic inverse methods gaining popularity in many remote sensing applications, since more than three decades ago [
41
] and maintaining it until recently [
45
]. However, some studies focused on the "deficiency" of OEM and employ additional constraints to the OEM method, e.g., by using Tikhonov regularization e.g., [
46
,
47
] or others. These enhancements are technically not parts of the original OEM approach but have been implemented to improve the OEM results. As such, there is nothing wrong in including additional constraints, but the issue is the lack of clarity in the retrieval, whether it is coming from adopted deterministic regularizations or from stochastic approximation processes inherent in OEM. Further to this, any occasional good result in operations may or may not be related to the core inverse method itself but is often attributed to OEM's success. In contrast, a dynamic data-driven regularization is intrinsic to the RTLS method that also can be applied to a single measurement instance, unlike any stochastic approach, which by definition rely on assuming distributions of a prior, a priori error and measurement error. The iterative form of OEM [
41
] is:
where, is the a priori profile, and are the a priori and measurement error covariance matrices. These are additional parameters required only for OEM and a set of occurrences is required to develop a priori and measurement error covariance matrices. Thus, we conducted retrievals using a set of ozonesonde data collected from the Global Monitoring Division, Earth System Research Laboratory (ESRL) (
ftp://aftp.cmdl.noaa.gov/data/ozwv/Ozonesonde/
), representative of the earth's atmosphere in conjunction with other collocated in situ parameters. We have collected 277 different in situ O
3
profiles from this database (locations: Boulder, Colorado; Hilo, Hawaii; Huntsville, Alabama; Narragansett, Rhode Island; Pago Pago, American Samoa; South Pole, Antarctica and Suva, Fiji) to perform this simulation. The surface temperature (ST) was not available in this data base, thus adding 2 K to the near surface temperature data is set as true ST values. For simplicity, emissivity of the surface is assumed to be 1 for this simulation study, which is close to that of the ocean surface. The simulation has been made on the grid of the individual radiosonde profiles, thus, the different atmospheric grids are considered for different profile retrievals. The dataset has a mixture of different altitudinal coverage, e.g., some are up to 5 km while others are up to 30 km and the rest are in between. We have considered all the profiles to study extreme cases and construct a sound stochastic distribution. Although the major signal of measurement on O
3
band is coming from the stratospheric level, the experiment has been done using only tropospheric O
3
profiles up to 30 km because no in situ profiles data up to 50 km are readily available. This experiment can be viewed as a comparative lower-troposphere and upper-troposphere lower-stratosphere (UTLS) O
3
retrieval using different inverse methods assuming that stratospheric O
3
signal from satellite measurement can be successfully deducted. The plot of all profiles is shown in
Figure 4
and an approximated middle profile (red) is considered to be a priori and IG for OEM and only IG for RTLS. Although IG is close to 1976 US standard O
3
profile for the earth's atmosphere, the variation of realistic O
3
is huge (
Figure 4
), e.g., a range of ~3-order of magnitude is observed at the tropopause (~15 km). This is a challenging problem to be solved using only 3–4 pieces of information from the measurements using any method. Some published papers reported that the success of OEM retrievals using a priori profiles is in getting results 1~2% close to true profiles e.g., [
43
,
48
]. However, the question remains whether it is feasible to obtain such level of accurate a priori profile for satellite retrievals where the atmospheric variation is so large (
Figure 4
). In this experiment, the IG is set at 275 K for all surface temperature retrievals.
The information content associated with OEM retrievals in terms of the degree of freedom in signal (DFS) is given as:
We calculated the stochastically exact a priori error covariance in terms of percentage of each individual point from the a priori (red line in
Figure 4
a) as is shown in
Figure 4
b, which certainly is advantageous for OEM as compared to in an operational setting with unknown a priori error covariance. The calculated a-priori error variance in terms of full width half maximum is ~6% for this dataset. Please note that the measurements are made by adding the random noise according to the SNR of the instruments on top of the calculated radiances using same ozonesonde profile data and as described earlier in
Section 3
.
4.1. Profile Retrievals Using RTLS
First, two distinctly different profiles are considered from this database to understand the different aspects of retrieval from realistic atmospheric measurements (ozonesonde). One of them is an extreme profile and the other one is comparatively simpler or close to straight-line profile. Although RTLS, usually uses a first derivative LFDO, it is intrinsically capable of also using a Laplacian second derivative operator (LSDO). In
Figure 1
and
Figure 2
, TP1 has a sharp peak and LSDO is not applicable (by definition it must fit a line through three consecutive updates and the presence of a sharp peak violates this requirement). However, in our experiment involving realistic radiosonde data (
Figure 4
a), there are no extreme peak as was shown in simulated profile in
Figure 1
. Therefore, we consider it worthwhile to test both LFDO and LSDO for improved understanding of the regularization process. The retrievals from two different IGs, two different derivative operators and two different instruments using RTLS are shown in
Figure 5
a–d (
Figure 5
a,b are for CrIS and
Figure 5
c,d are for TES). The two different IGs are chosen to represent a worst-case (vertical straight line in solid green) and a reasonable IG (dash blue line) as we defined earlier that is shown in
Figure 4
a. The retrievals employing LFDO (RTLS1) and LSDO (RTLS2) are shown in red and cyan colors, respectively. A retrieval shown in solid line corresponds to the use of the worst-case IG and a retrieval in dashed line is from the reasonable IG.
From
Figure 5
a,b, one can notice that the solution from extreme IG1 (solid green) improves using LSDO (solid cyan), as compared to LFDO (solid red). However, for a reasonable IG2 (dashed blue), the improvement is not noticeable. The failure of the LFDO solution from IG1 is following reason. LFDO solution unable to reconstruct the shape of the true profile when IG is far from truth (~2400%) because RTLS using LFDO is comparatively high regularize solution. Now coming to the true profile shapes, to resolve the extreme profile (
Figure 5
a) more than at least eight pieces of information are required, whereas regularized retrieval can provide maximum 2 to 3 pieces of information. Therefore, efficient regularization scheme smooths the solution adjusting the information content of the retrieval. Put another way, the measurement has all the information without regularization, but there is no solution without regularization due to the constraints of ill-conditioned inversions as discussed in our earlier publications [
13
,
14
,
15
]. The advantage of using RTLS is that it inherently determines the regularization strength compromising the information content of the retrieval and no noticeable oscillations observed in the solution around the inflection points. On the other hand, reasonable solutions are obtained from two different IGs using both LFDO and LSDO for a true profile devoid of major inflections (
Figure 5
b). Analogous analyses for TES are shown in
Figure 5
c,d and the results are very similar to those of CrIS, with an expected higher accuracy. The improvement of TES results for extreme true profile from both IGs is significant as shown in
Figure 5
c.
4.2. Profile Retrievals Using OEM
4.3. Comparative Retrievals for CrIS
The current mainstream approach for parameter estimation from space-based measurement is based on constraining by climatological data as a priori and some additional ad hoc procedures on top of OEM. The main concern is how reliable climatological daily/monthly/yearly averaged state space parameter for the actual state when satellite measurements are conducted in under a minute for a highly dynamic atmosphere. Moreover, several ad hoc methods including different operational constraints are available in literature and it is not always comprehensible or straightforward to account for such constraints in simulated retrieval. Thus, a comparative study between the original inverse methods of deterministic and stochastic (with some tweaking of errors covariance) is discussed here.
RTLS solutions in
Figure 5
a,b can retrieve state parameters from CrIS simulated measurement unambiguously (with associated error and dependent on available information in measurement). These are significantly less error than those from OEM solutions in
Figure 6
a, under so-called exact error covariances. Recall that (
Figure 5
a,b, two profiles) LSDO performs slightly better than LFDO for most altitudes. For all 277 profiles (not two), we show results along the same line in
Figure 7
a,b but are presented in a different way that is convenient than line-plots to show multiple profiles. As is seen (
Figure 7
b), LSDO concentration follows a more systematic distribution, with high density at the core and less scatter confirming the observation seen from only two profiles (
Figure 5
) but for all profiles now. Please note that, since no error covariance is involved in RTLS, a single profile retrieval or collective retrieval of any number of profiles has no effect on the results. It can be concluded that the method is reliable and appropriate to be applied globally.
Figure 7
c–f show OEM retrievals. Although error is known in this simulated study, to understand the effect of tweaking of a priori covariances on solutions, three additional irrationals a priori covariances of 20%, 50% and 100% are considered, which are shown in
Figure 7
d–f, respectively. The high systematic error observed in
Figure 7
c gradually decreases with increasing values of a priori covariances because of reducing regularization strength (in terms of deterministic interpretation). Please note that
Figure 7
c,f are the two extreme cases of S
a
, and
Figure 7
d,e are in between. While
Figure 7
c shows less scattered as well as less saturated (restrained boundary) points,
Figure 7
f shows significantly higher scatter and saturated points. However, the 1-to-1 ratio is stronger in
Figure 7
f as compared to
Figure 7
c. The peak-density reduces progressively between
Figure 7
c,f as those points contribute to the scatter, likely because of posterior error is higher than a priori error for high S
a
values. Another interesting observation in
Figure 7
c is the presence of horizontal stripes. These stripes originate when posterior resembles the a priori, meaning that the algorithm did not yield any solution without further decreasing the regularization strength as shown in
Figure 7
d–f. It can be concluded from this study that optimum regularization for all iterations, by tweaking a priori error covariance, is almost impossible. The tweaking of error covariance or additional method on top of the OEM may improve the solution to some degree, but it poses more ambiguities and leaves us with several unanswered questions.
Figure 8
a shows the retrieval errors of ST using various schemes. The RMSE of retrieval using RTLS for all profile is 0.06 K, whereas the same for OEM with stochastically correct a priori error is 0.6 K. The ST error in OEM is one order magnitude higher than that of RTLS retrieval. The dispersion using OEM is more than ±3 K, whereas the same using RTLS is only ±0.2 K. Interesting results are found when inaccurate a priori errors are used: RMSE values are 1, 0.7 and 0.95 kelvins for a priori errors of 20%, 50% and 100%, respectively. This is counter-intuitive and cannot be explained only by simple regularization strength.
Figure 8
b shows the results for information content in terms of DFR and DFS at the last iteration of retrievals. The DFS (blue plus in
Figure 8
b) for the OEM solution when stochastically exact a priori error is used for all profiles are ~50% lower than the DFR using RTLS. It is also found that the DFS are highly dependent on the shape of the profiles as seen from scatter in Figure 10b, which is not the case for RTLS solution where DFR are consistent and close to 3. Out of three, one piece of information is observed for surface temperature and the other two are used for O
3
profile retrieval. It is worth mentioning that an exact solution is impossible using only these two pieces of information for a profile with more than 10–15 unknowns. Therefore, inevitably there will be some error in retrievals regardless of any method employed and it is required to find a balance between reduction of error in state space and maximizing the information extraction from the measurements. On the contrary, for OEM, the values of DFS are increasing with decreasing regularization strength (i.e., increasing a priori error covariances) and can reach values greater than 5 when large a priori error of 100% is used. The high DFS solution can extract information from weak space of solution, but solutions are degraded by large random errors due to low regularization as shown in
Figure 7
f. For comparison, getting back to
Figure 7
a,b, RTLS regularizes the problem optimally and weak space information is smoothed using LFDO and LSDO.
4.4. Comparative Retrievals Results for TES
The plots in
Figure 9
a–f are similar to as in
Figure 7
a–f but different settings were applied for OEM retrievals as OEM performed inconsistently between different sensors (CrIS and TES, here) as we have discussed earlier. Although the solutions of RTLS for TES in
Figure 9
a,b are approximately similar to the previous example of CrIS simulated retrievals in
Figure 7
a,b, the OEM solutions are far off from the previous case study.
Figure 9
c for OEM with "S
a =
exact, S
e =
exact" indicates that the solutions essentially fallback to the a priori values. Performances in
Figure 9
d,e with arbitrarily tweaking both the error covariances while holding one at its original value shows that the results are comparable (and both are unsatisfactory) with slightly more bias in
Figure 9
e. Interestingly, however, by extreme tweaking of both S
a
and S
e
as shown in
Figure 9
f, the solutions are reasonably good.
Recall that this last setting of CrIS (
Figure 7
f) which yields reasonable results, the settings for
Figure 7
f and
Figure 9
f to achieve reasonable result using OEM are different. This confirms the performance of OEM are inconsistent for different characteristics of sensors. It is often reported in satellite retrieval literature e.g., [
5
,
6
,
7
] that there are inconsistencies in retrieved datasets from different sensors for a given trace gas. It is often argued that the measurement characteristics of different instruments are the primary cause for that. However, this study confirms that different tweakings of OEM are the root cause for final results. Moreover, using another experiment for the very selective dataset by fine tweaking of error covariances (chance success), one may attempt to show that OEM is a better inverse method compared to RTLS for a particular case study. However, fundamental assumptions to derive any stochastic inverse method are based on a random process, which prevents in investigating and understanding the cause and effect. This hinders further science development. For example, the residual analysis of a deterministic inverse provides an excellent opportunity to further improve the forward model whereas a stochastic inverse conceals these residuals inside the error covariances and bias correction.
Figure 10
is similar as
Figure 8
but for the TES instrument. The RMSE of retrieval using RTLS (
Figure 10
a) for all profiles is 0.007 K, which is one order magnitude lesser than that for CrIS. The information content for RTLS is slightly improved for TES (
Figure 10
b) as compared to CrIS (
Figure 8
b), which is expected because SNR and spectral resolution of TES are higher than those of CrIS. For different OEM settings, the one corresponding to
Figure 9
d (i.e., S
a =
100%, S
e =
exact) has slightly more information than
Figure 9
e (i.e., S
a =
exact, S
e =
1000%). Repeatedly, this tweaking-related improvement does not warrant any scientific discussions as the reason is unclear. Tweaking both covariance errors surprisingly yields better solutions, but again the reason for it has no scientific basis.
4.5. Comparative Error Analysis between Both Sensors and Methods
5. Conclusions
The paper compares performances of commonly used stochastic inverse and deterministic regularized total least squares (RTLS) methods for simultaneous retrievals of O3 profile and surface temperature using simulated data. To gain confidence in our approach, ozonesonde data were used to represent highly dynamic and realistic atmospheric states. We reaffirm that RTLS is one of the most effective inverse methods applicable for highly non-linear satellite inverse problems in conjunction with our earlier publications. Interestingly, OEM solution is highly regularized for O3 retrievals when exact error covariances are used, which is contradictory to our previous study on H2O profile retrievals where the problem was very lightly regularized for the same setup. The paper also clearly demonstrates that OEM produces contradictory results across different sensors and various tweaking conditions. This study, based on consistent RTLS solutions and inconsistent OEM solutions between two sensors, confirms that the prevalent inverse method in operation is the primary cause for inconsistent retrievals for same gas profile from different sensors.
RTLS performances are compared using two different stabilizers, namely LFDO and LSDO and LSDO is outperform than that of LFDO. RTLS retrievals are characterized using subspace analysis. It is found that inherent regularization scheme of RTLS can prevent noise propagation from measurement space to state space holding the information content more than 0.8 along the altitudinal grids. One of the major findings is that RTLS can extract information from the measurement optimally and ~50% "information gain" is possible from tropospheric O3 retrieval from CrIS or TES measurement. On the contrary, OEM often yields more errors than are present in the a priori, which leads to loss of information. In this era of advanced hyperspectral measurements from satellites, we emphasize that RTLS-based methods are capable of unambiguously converting "data to information" and should be further explored to improve present day retrievals.
Author Contributions
The lead author, P.K.K., undertook all work, conceived and designed the experiments, derived the method, collected and generated data, developed the software, produced results, analyzed and interpreted the data and results, wrote the manuscript, and P.D. contributed to the discussions and the writing to improve the quality of the manuscript.
Funding
This work was funded under NASA Grant number 80NSSC18K0705.
Acknowledgments
The authors thank Laurie Rokke, NOAA and Andy Harris, UMD for helpful discussions. Koner would like to thank J. Drummond, Dalhousie University, Canada, for the insightful discussions and inspiration to build up a paradigm shift idea in the satellite inverse problem when he was working with him.
Conflicts of Interest
There is no conflict of interest. The views, opinions, and findings contained in this report are those of the authors and should not be construed as an official NOAA or US Government position, policy, or decision.
Appendix A
Additional acronyms
| | |
| --- | --- |
| ACE-FTS | Atmospheric Chemistry Experiment-Fourier Transform Spectrometer. |
| AIRS | Atmospheric InfraRed Sounder. |
| GOME | Global Ozone Monitoring Experiment. |
| IASI | Infrared Atmospheric Sounding Interferometer. |
| MIPAS | Michelson Interferometer for Passive Atmospheric Sounding. |
| MLS | Microwave Limb Sounder. |
| OMI | Ozone Monitoring Instrument. |
| OMPS | Ozone Mapping Profiler Suite. |
| TOMS | Total Ozone Mapping Spectrometer. |
| SBUV | Solar Backscatter Ultraviolet Radiometer. |
| SCIAMACHY | SCanning Imaging Absorption SpectroMeter for Atmospheric CHartographY. |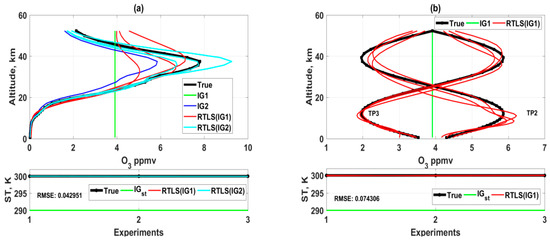 Figure 1. Simultaneous retrievals of O3 and surface temperature using RTLS from simulated CrIS measurements; Upper-panel: O3 profiles; Lower-panel: surface temperature: (a) retrieved O3 profiles (solid red from IG1 and cyan from IG2) from two different IGs (IG1 is green and IG2 is blue) for realistic true profile (solid black) and (b) retrieved O3 profiles (solid red) from IG1 (solid green) only for two different sinusoidal true profiles (solid black).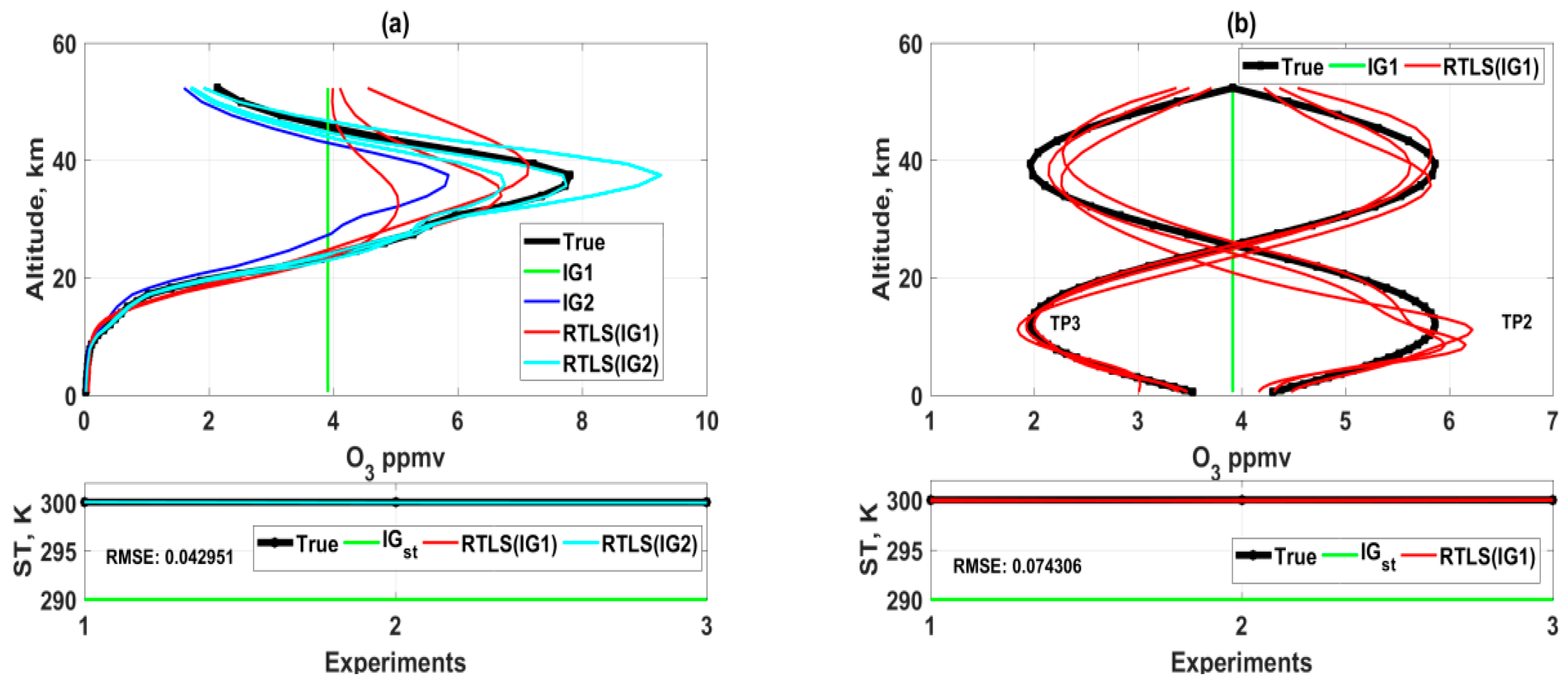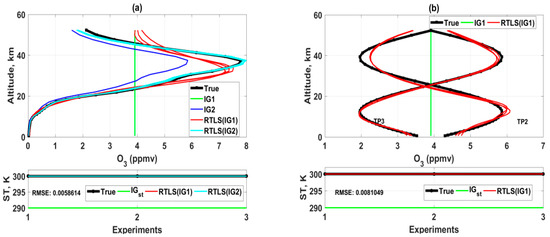 Figure 2.
Similar to
Figure 1
but for TES retrievals.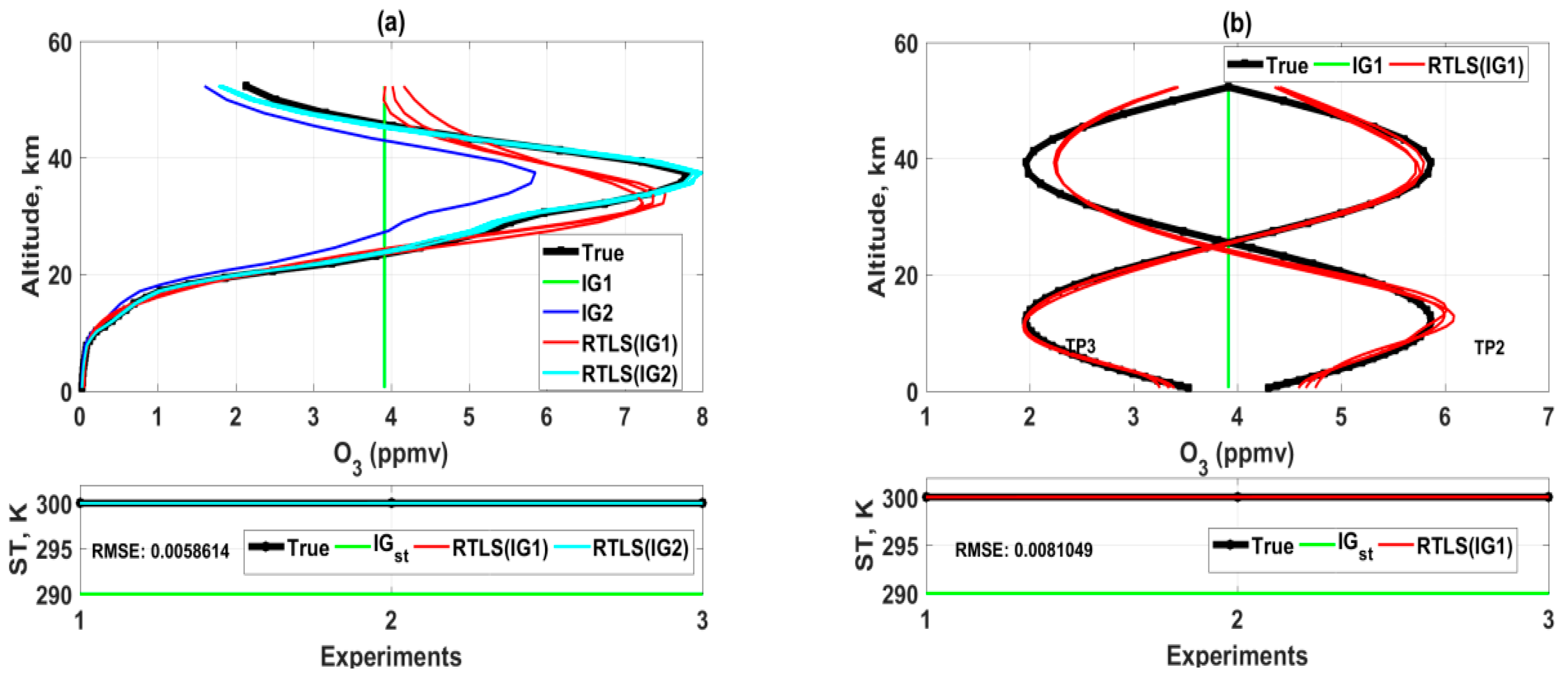 Figure 3. 2D distribution of information content for simulated retrievals for three different profile shapes: TP1 (blue), TP2 (red) and TP3 (green) for (a) CrIS and (b) TES. Dashed lines: Hsb original Hsb(org); Dashed-dotted lines: Hsb regularized Hsb(reg).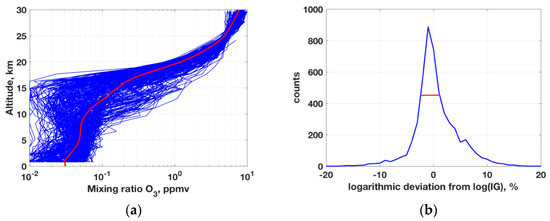 Figure 4. (a) A set of representative O3 profiles obtained from ozonesonde measurements. (b) Distribution of deviation from IG in percentage and logarithmic scale.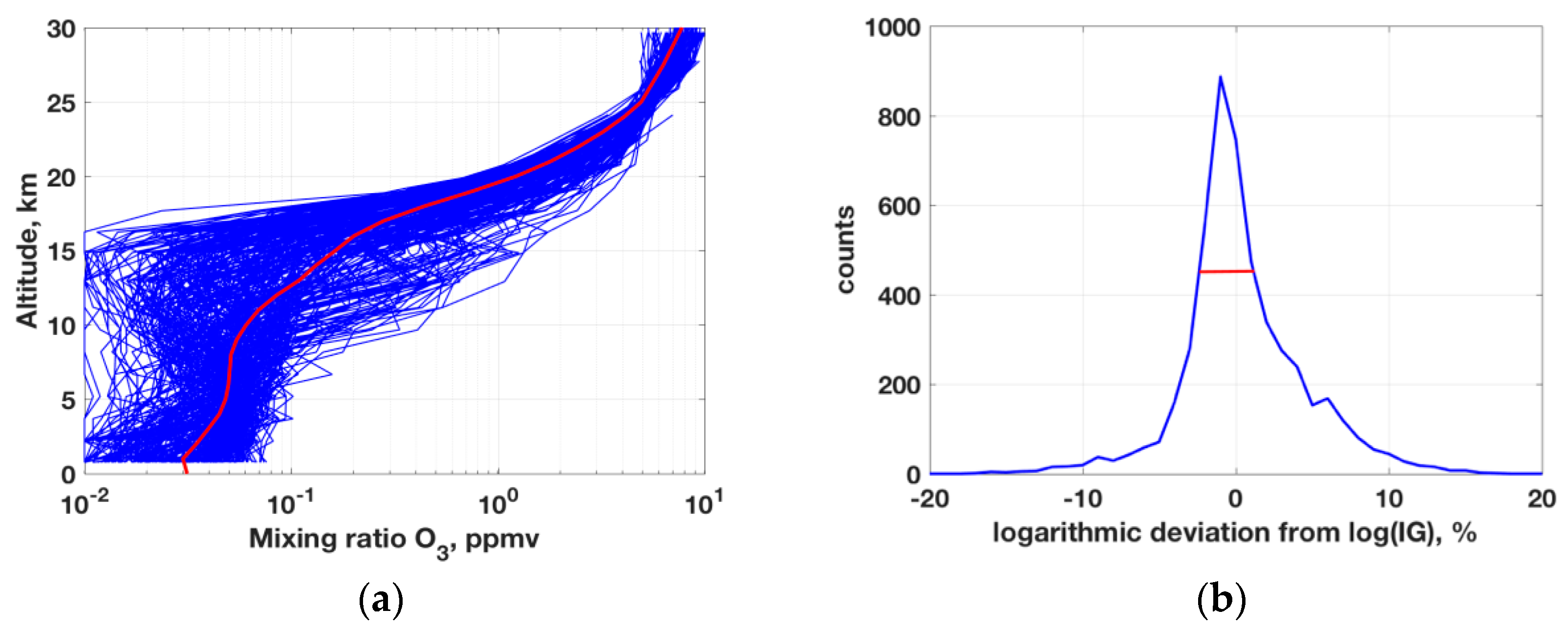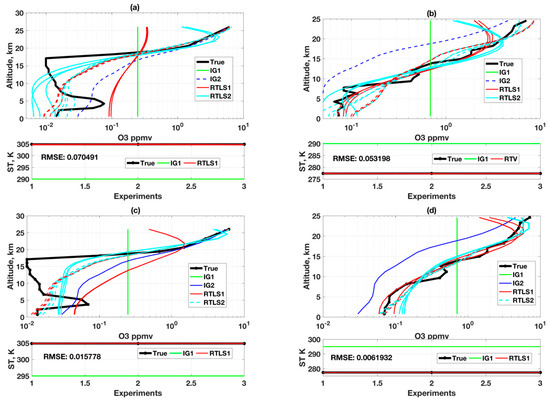 Figure 5. Retrievals employing both LFDO and LSDO in RTLS for two different true profiles and from two different IGs. Upper-panels (a,b): CrIS; Lower-panels (c,d): TES. Colors: true profiles in black; two IGs in solid green and dashed blue; retrievals using LFDO in red and LSDO in cyan.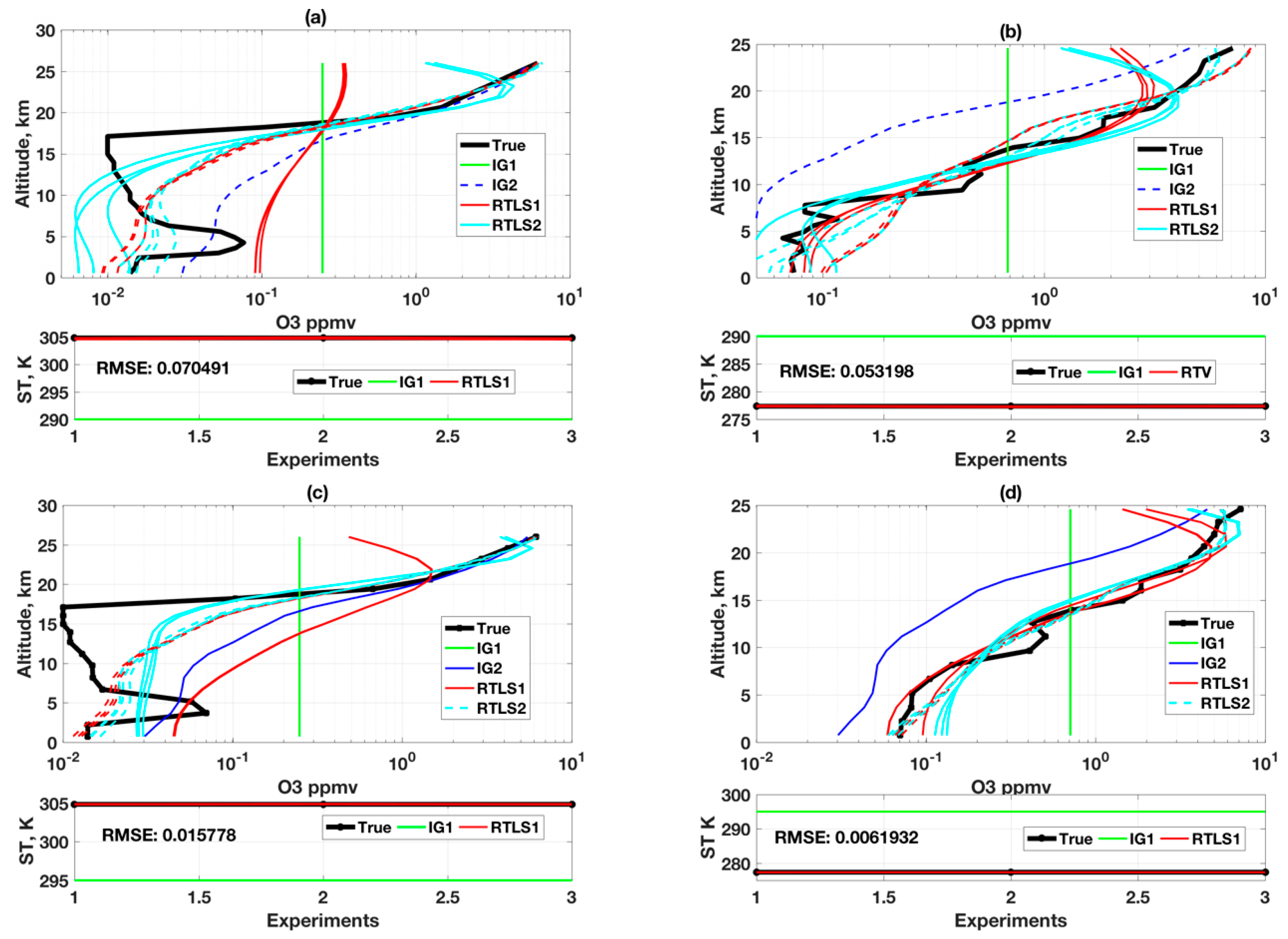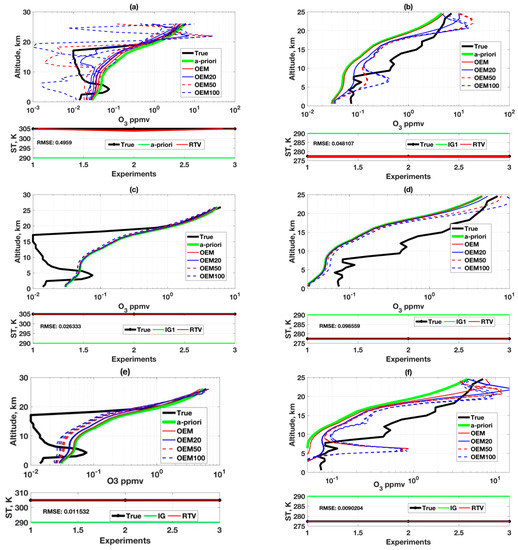 Figure 6. Retrievals in OEM for two different true profiles from a reasonable a priori. Upper-panels (a,b): CrIS; Middle-panels (c,d): TES with exact measurement error covariance (Se) at the rate of SNR = 300. Bottom-panels (e,f): same as in (c,d) but OEM input with a higher noise level of SNR = 30. Color code: true profiles in black; a priori in solid green; OEM (exact Sa and Se) in solid red; OEM20, OEM50 and OEM100 with tweaked Sa by increase of 20%, 50% and 100% in solid blue, dashed red and dashed blue, respectively. Left-panels: slightly complex true profile; Right-panels: comparatively simpler true profile shape.
Figure 7. Bivariate density scatter plots between the individual points of simulated CrIS retrievals and 277 true ozonesonde profiles. (a) RTLS1 employing LFDO; (b) RTLS2 employing LSDO; (c–f) OEM with four different a priori covariances (6, 20, 50, 100 percent, respectively).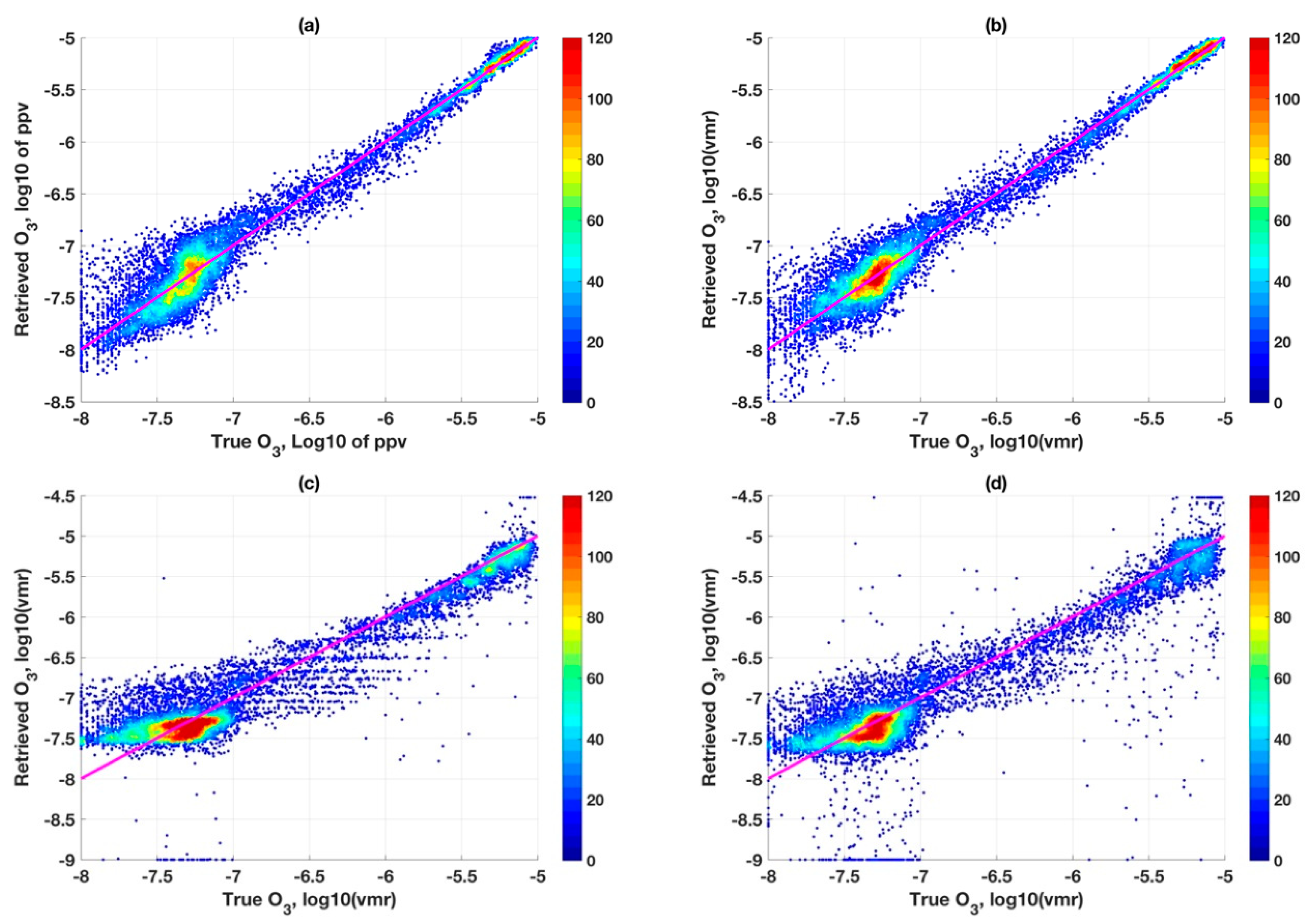 Figure 8. (a) Retrieval errors in surface temperature vs. true values, using RTLS and OEM; (b) Information content of the retrievals using various RTLS and OEM scheme.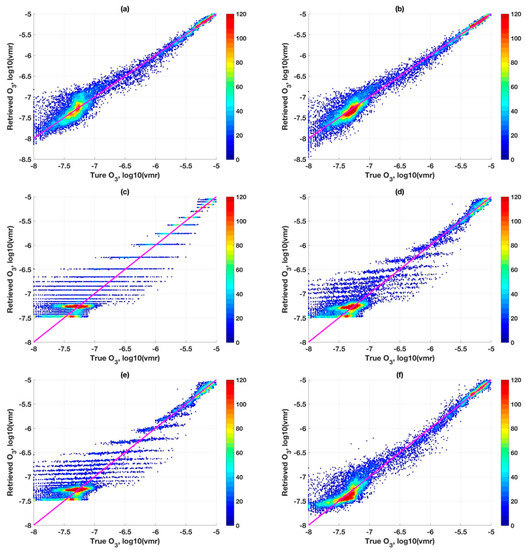 Figure 9.
Bivariate density scatter plots between the individual points of simulated TES retrievals and 277 true ozonesonde profiles. (
a
,
b
) similar to
Figure 7
a,b; (
c
–
f
) OEM with two different a priori (S
a
) and two different measurement error covariances (S
e
). (
c
) S
a =
exact, S
e =
exact; (
d
) S
a =
100%, S
e =
exact; (
e
) S
a =
exact, S
e =
1000% of original value; (
c
) S
a =
100%, S
e =
1000% of original value.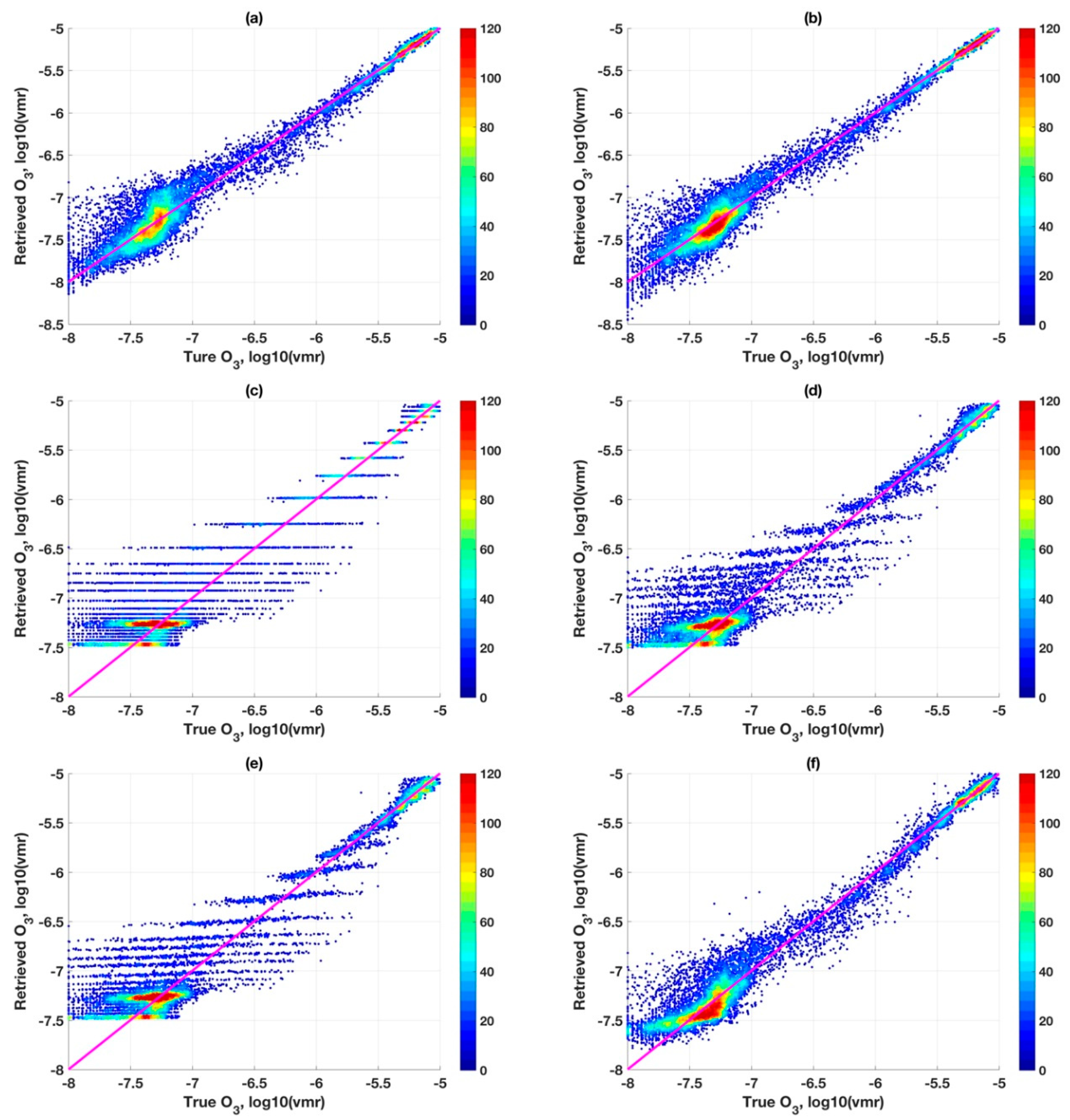 Figure 10. (a) Shows the retrieval errors of ST using various retrieval schemes. The RMSE of retrieval using RTLS for all profiles is 0.007 K, whereas the same using OEM with stochastically correct a priori error is 0.05 K. The OEM error is one order magnitude higher than that using RTLS. The dispersion of ST retrieval using OEM is more than ±2 K, and for RTLS it is only ±0.2 K. (b) shows that the information content for LFDO (RTLS1) and LSDO (RTLS2).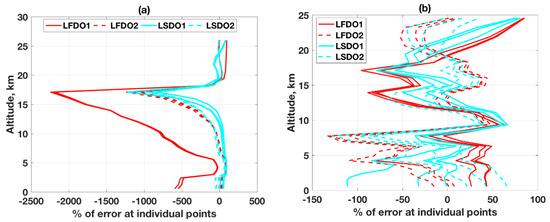 Figure 11.
CrIS retrieval error on individual points of two different profiles (
a
,
b
) employing two different IGs as shown in
Figure 7
a,b (ignored here for brevity) and two different regularizations (LFDO, red; LSDO, cyan). The solution from two IGs are separated by solid and dashed data.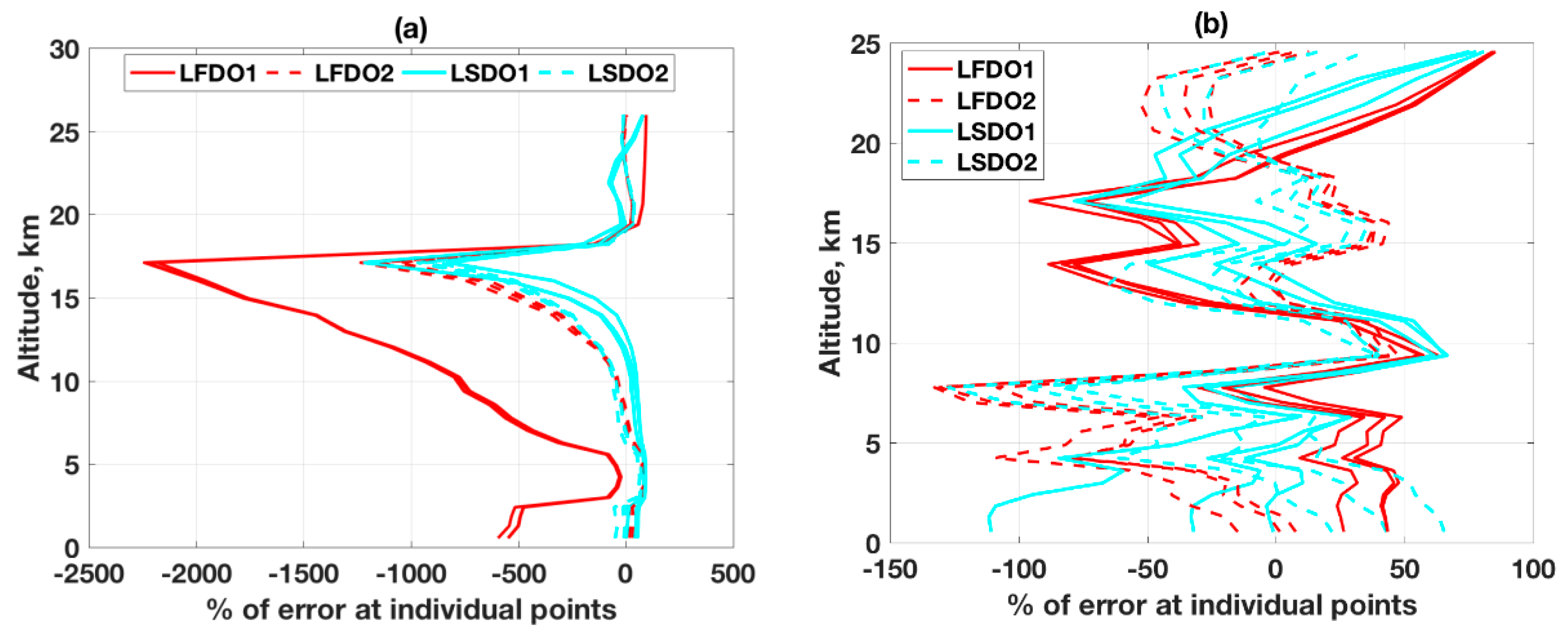 Figure 12. Information gain at different altitudes in comparison to percentage of IG error for different retrievals. (a) CrIS; (b) TES.


© 2018 by the authors. Licensee MDPI, Basel, Switzerland. This article is an open access article distributed under the terms and conditions of the Creative Commons Attribution (CC BY) license (http://creativecommons.org/licenses/by/4.0/).