SfM-Based Method to Assess Gorgonian Forests (
Paramuricea clavata

(Cnidaria, Octocorallia))

1

Dipartimento di Scienze della Vita e dell'Ambiente (DISVA), Via Brecce Bianche, Monte Dago, 60130 Ancona, Italy

2

School of Water, Energy and Environment, Cranfield University, Cranfield MK430AL, UK

3

UBICA srl (Underwater BIo-CArtography), Via San Siro 6 int.1, 16124 Genova, Italy

4

Istituto Superiore Tecnologia Italiana (ISTI), Consiglio Nazionale delle Ricerche (CNR), Via Giuseppe Moruzzi 1, 56124 Pisa, Italy

*

Author to whom correspondence should be addressed.

Received: 21 June 2018 / Revised: 11 July 2018 / Accepted: 17 July 2018 / Published: 21 July 2018
Abstract
Animal forests promote marine habitats morphological complexity and functioning. The red gorgonian,
Paramuricea clavata
, is a key structuring species of the Mediterranean coralligenous habitat and an indicator species of climate effects on habitat functioning.
P. clavata
metrics such as population structure, morphology and biomass inform on the overall health of coralligenous habitats, but the estimation of these metrics is time and cost consuming, and often requires destructive sampling. As a consequence, the implementation of long-term and wide-area monitoring programmes is limited. This study proposes a novel and transferable Structure from Motion (SfM) based method for the estimation of gorgonian population structure (i.e., maximal height, density, abundance), morphometries (i.e., maximal width, fan surface) and biomass (i.e., coenenchymal Dry Weight, Ash Free Dried Weight). The method includes the estimation of a novel metric (3D canopy surface) describing the gorgonian forest as a mosaic of planes generated by fitting multiple 5 cm × 5 cm facets to a SfM generated point cloud. The performance of the method is assessed for two different cameras (GoPro Hero4 and Sony NEX7). Results showed that for highly dense populations (17 colonies/m
2
), the SfM-method had lower accuracies in estimating the gorgonians density for both cameras (60% to 89%) than for medium to low density populations (14 and 7 colonies/m
2
) (71% to 100%). Results for the validation of the method showed that the correlation between ground truth and SfM estimates for maximal height, maximal width and fan surface were between R
2
= 0.63 and R
2
= 0.9, and R
2
= 0.99 for coenenchymal surface estimation. The methodological approach was used to estimate the biomass of the gorgonian population within the study area and across the coralligenous habitat between −25 to −40 m depth in the Portofino Marine Protected Area. For that purpose, the coenenchymal surface of sampled colonies was obtained and used for the calculations. Results showed biomass values of dry weight and ash free dry weight of 220 g and 32 g for the studied area and to 365 kg and 55 Kg for the coralligenous habitat in the Marine Protected Area. This study highlighted the feasibility of the methodology for the quantification of
P. clavata
metrics as well as the potential of the SfM-method to improve current predictions of the status of the coralligenous habitat in the Mediterranean sea and overall management of threatened ecosystems.
View Full-Text
►

▼

Figures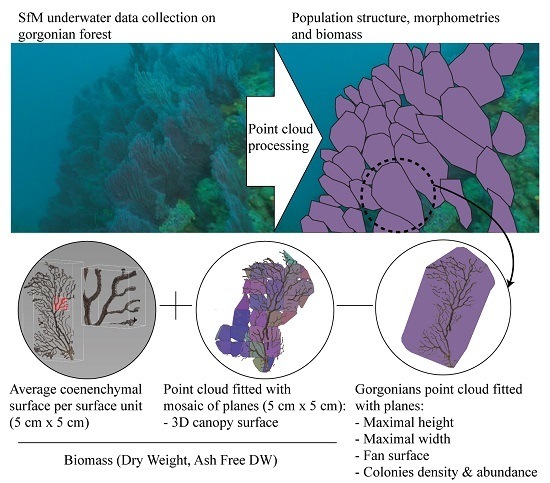 Graphical abstract
This is an open access article distributed under the
Creative Commons Attribution License
which permits unrestricted use, distribution, and reproduction in any medium, provided the original work is properly cited (CC BY 4.0).

Share & Cite This Article
MDPI and ACS Style
Palma, M.; Rivas Casado, M.; Pantaleo, U.; Pavoni, G.; Pica, D.; Cerrano, C. SfM-Based Method to Assess Gorgonian Forests (Paramuricea clavata (Cnidaria, Octocorallia)). Remote Sens. 2018, 10, 1154.
Note that from the first issue of 2016, MDPI journals use article numbers instead of page numbers. See further details here.
Related Articles
Comments
[Return to top]