Open Access This article is
freely available
re-usable
Article
Tree Species Classification of the UNESCO Man and the Biosphere Karkonoski National Park (Poland) Using Artificial Neural Networks and APEX Hyperspectral Images
Department of Geoinformatics, Cartography and Remote Sensing, University of Warsaw (UW), ul. Krakowskie Przedmieście 30, 00-927 Warsaw, Poland
*
Author to whom correspondence should be addressed.
Received: 29 May 2018 / Accepted: 10 July 2018 / Published: 12 July 2018
Abstract
:
Knowledge of tree species composition is obligatory in forest management. Accurate tree species maps allow for detailed analysis of a forest ecosystem and its interactions with the environment. The research presented here focused on developing methods of tree species identification using aerial hyperspectral data. The research area is located in Southwestern Poland and covers the Karkonoski National Park (KNP), which was significantly damaged by acid rain and pest infestation in the 1980s. High-resolution (3.35 m) Airborne Prism Experiment (APEX) hyperspectral images (288 spectral bands in the range of 413 to 2440 nm) were used as a basis for tree species classification. Beech (
Fagus sylvatica
), birch (
Betula pendula
), alder (
Alnus incana
), larch (
Larix decidua
), pine (
Pinus sylvestris
), and spruce (
Picea abies
) were classified. The classification algorithm used was feed-forward multilayered perceptron (MLP) with a single hidden layer. To simulate such a network, we used the R programming environment and the nnet package. To provide more accurate measurement of accuracy, iterative accuracy assessment was performed. The final tree species maps cover the whole area of KNP; a median overall accuracy (OA) of 87% was achieved, with median producer accuracy (PA) for all classes exceeding 68%. The best-classified classes were spruce, beech, and birch, with median producer accuracy of 93%, 88% and 83%, respectively. The pine class achieved the lowest median producer and user accuracies (68% and 75%, respectively). The results show great potential for the use of hyperspectral data as a tool for identifying tree species locations in diverse mountainous forest.
Keywords:
classification; hyperspectral data; protected areas; neural networks
1. Introduction
Managing forest resources requires a detailed inventory of forest species and information about changes occurring in the forest ecosystem, in both biotic and abiotic components. The main focus of forest management and nature protection endeavors should be on the monitoring of species composition changes over time, spatial distribution of species, and vegetation conditions [
1
]. Forested areas cover large expanses, making them difficult to analyze using traditional methods of creating forest inventory, which also require substantial financial investment [
2
]. In addition to purely pragmatic reasons for protecting forests, increased knowledge of forest ecosystem dynamics and relatively high willingness of developed nations to spend resources on nature conservation create a friendly environment for actions aimed at recreating natural forest ecosystems in place of existing forests. Such actions allow for effective protection of forest ecosystem biodiversity and the creation of new habitats that further increase species composition richness [
3
]. Existing methods of creating forest inventories use recurring field surveys, which are often supported by analyses of remotely sensed data (in the form of orthophoto maps or other remote sensing products) [
4
,
5
]. Remote sensing has proven to provide reliable information about spatial distribution of vegetation conditions [
6
], biophysical properties of plants [
7
,
8
], and monitoring of the human impact on valuable habitats [
9
,
10
], land cover [
11
], vegetation communities [
12
,
13
], and many other topics.
Classification of plant species using remote sensing is a challenging research area, mainly because of the high correlation of spectral reflectance between species [
14
] and the small number of variables that control the overall shape of the spectral reflectance curve (chlorophyll a and b content, carotenoids, leaf cellular structure) [
15
]. Moreover, leaf spectral properties are also dependent on plant age, phenology of a given species, and climate adaptations [
16
]. Masaitis and Mozgeris [
15
] have shown that the greatest spectral differences between several deciduous tree species (
Populus tremula
,
Alnus glutinosa
,
Picea abies
,
Pinus sylvestris
,
Betula pendula
) at the beginning of the growing period exist mainly in the blue and near-infrared (NIR) regions of the spectrum, while in summer shortwave infrared (SWIR) and red regions provide better differentiation [
15
]. Most of the spectral features typical of vegetation (such as chlorophyll a and b absorption features, red edge, pigment absorption features) are concentrated in the visible and near infrared (VNIR) part of the spectrum, making VNIR an attractive spectral range for tree species classification [
17
]. On the other hand, some works prove the usefulness of the 1000–2500 nm spectral range in tree species classification [
2
,
18
,
19
]. The above reasons necessitate careful selection of spectral bands used in the analysis of plant species.
Recent studies have demonstrated the use of hyperspectral remote sensing methods to gather information about the spatial distribution of forest tree species. Ghosh et al. [
20
] presented results of the classification of pine (
Pinus sylvestris
), beech (
Fagus sylvatica
), two species of oak (
Quercus robur
and
Quercus petraea
), and Douglas fir (
Pseudotsuuga menziesii
) using minimum noise fraction (MNF) transformed bands from a HySpex hyperspectral sensor [
20
]. Results have shown similar performance of random forest (RF) and support vector machine (SVM) classifiers after the MNF transformation of data (achieving 94% overall accuracy (OA) in the best case). Graves et al. [
21
] reported 62% OA for classification of 20 tropical tree species in Southern Panama. Classes with large numbers of samples have shown the smallest variation in results and the highest accuracy. The authors suggested detailed analysis of classification errors and their sources, with the help of cross-validation methods [
21
]. Despite the good results obtained using hyperspectral data, some researchers enrich spectral data with LiDAR (Light Detection and Ranging) data. Among other things, LiDAR data allow identification of individual crowns of trees, which reduces the problem of "mixels" in classification and enables use of an object-oriented approach [
22
,
23
,
24
]. One good example of the synergistic use of LiDAR and hyperspectral data is work by Ballanti et al. [
23
]. A comprehensive review of remote sensing use in tree species classification can be found in Fassnacht et al. 2016 [
19
].
Artificial neural networks (ANNs) were used relatively infrequently in remote sensing until recently [
25
,
26
,
27
]. According to [
19
], only three studies among 129 analyzed studies using remote sensing for tree species classification used ANNs as classification algorithms. The main problem with using ANNs is that they have large computational requirements, but they still have similar performance compared to faster, better known algorithms such as RF and SVM [
19
]. While this is true in general, some studies have reported higher accuracy for results from ANNs [
28
]. One of the simpler types of ANN is the multilayered feed-forward perceptron, built from at least three layers of interconnected layers of neurons [
29
]. Such a network of connected neurons arranged into layers can be seen as a highly concurrent computational system, capable of finding solutions to a given problem [
30
]. Typically, training of a neural network is aimed at minimizing the error of a given objective function, and its degree of success in doing so characterizes how capable the network is at providing a correct solution to the problem [
31
].
This paper aims to answer the following questions:
Are hyperspectral data and artificial neural networks useful for mapping tree species?

What are the differences between forest inventory and Airborne Prism Experiment (APEX) derived tree species compositions of forest growing in Karkonoski National Park (KNP)?
2. Research Area
Karkonoski National Park (KNP) is located in Southwestern Poland, bordering the Czech Republic (
Figure 1
). Park was founded in 1959 with the goal of protecting and restoring mountain vegetation and preserving endemic alpine and subalpine habitats. Its plant and forest communities were severely damaged during the 1980s, when environmental pollution caused by local heavy industry caused acid rain that weakened local vegetation. This caused a large outbreak of bark beetles that were able to easily infest the damaged forest ecosystem. As a result, large swaths of forested areas were cut down to control the pest outbreak, while remaining communities suffered from soil acidification and air pollution. Another important source of forest disturbance was strong winds [
32
]. As of 2012, 71% of KNP was occupied by forests [
33
]. Current forest management practices are aimed at restoring and enriching forest habitats. According to the most recent forest inventory, the forests of KNP are dominated by spruce (85.0% of all trees), while the remaining tree species are birch
Betula pendula
Roth (4.8%), larch
Larix decidua
Mill (4.6%), beech
Fagus sylvatica
L. (4.2%), pine
Pinus sylvestris
L. (0.6%), sycamore
Acer pseudoplatanus
L. (0.3%), alder
Alnus incana
L. Moench (0.3%), and fir
Abies alba
Mill (0.2%) [
33
].
3. Materials and Methods
The proposed research method is aimed at creating accurate forest species classification using airborne hyperspectral data and artificial neural networks. The whole work was divided into three parts: input, data processing, and classification and results (
Figure 2
). The most important parts of the research are as follows:
Acquisition of APEX hyperspectral data and LiDAR data.

Creation of normalized digital surface model (nDSM) using LiDAR data.

Acquisition of a large and representative sample of geographic locations of field-identified tree species during field surveys. Collected data were used to extract classified tree species spectral characteristics from images.

Band selection using principal component analysis (PCA).

Creation of forest mask used to limit classification scope only to forested areas.

Optimization of ANN learning parameters.

Assessment of iterative accuracy.

Classification of APEX scenes using trained and validated ANNs.
Data used in this work came from APEX hyperspectral sensors (VITO, Mol, Belgium;
Table 1
). APEX is a result of Swiss–Belgian cooperation (University of Zurich and Flemish Institute for Technological Research—VITO) as part of the ESA-PRODEX project, aimed at developing new sensors [
34
]. Data used in this paper were acquired on 10 September 2012, by the German Aerospace Center (DLR) as part of the HyMountEcos project. Raw data were corrected and processed into a reflectance product by the VITO. Raw data collected during overflights were first geometrically corrected using navigational data collected during data collection (such as platform geographical position and local deviations of the plane trajectory from the planned one) [
35
]. To produce orthorectified APEX scenes, VITO was supplied with 1 m resolution digital elevation model (DEM) and DSM (described in
Section 3.5
). Next, APEX data went through atmospheric correction, where the MODerate resolution atmospheric TRANsmission (MODTRAN® 4, Spectral Sciences Inc., Burlington, MA, USA) program was used to determine sources of radiation and apply atmospheric corrections [
36
]. VITO's in-house central data processing center is responsible for producing reflectance products from at-sensor radiance. Spectrometric ground reference data (providing benchmark spectral characteristics of spectrally stable materials) were collected using a FieldSpec 3 field spectrometer (ASD Inc., Boulder, CO, USA). Processed scenes had 288 spectral bands in the range of 413 to 2440 nm, with spatial resolution varying from 3.12 to 3.4 m. Before any processing steps, all scenes had their spatial resolution standardized to 3.35 m.
5. Discussion
When comparing the present classification results with those obtained by other researchers using remote sensing data, the data and classification algorithm used must be taken into account, as well as the number of classes determined by individual authors. This mainly relates to the spatial and spectral size of pixels, because large pixels register not only trees, but also surrounding shadows or other objects around or even under trees. Such "mixels" make correct interpretation of the results difficult. Too small a pixel is also not optimal because it registers the area between individual branches, thus introducing artifacts.
6. Conclusions
Information on spatial distribution of spruce (
Picea abies
L. Karst), birch (
Betula pendula
Roth), beech (
Fagus sylvatica
L.), larch (
Larix decidua
Mill), pine (
Pinus sylvestris
L.), and alder (
Alnus incana
L. Moench) within Karkonoski National Park was obtained. All classes achieved producer accuracy over 76% and user accuracy over 77%. The best classified classes were spruce (93%), alder (93%), beech (90%), and birch (84%). Based on the classification results, the tree species composition of KNP differs from the official data. The greatest discrepancies concerned beech and spruce classes (6 and 7 percentage points, respectively). There were no significant discrepancies for the other classes.
After initial processing, 40 APEX spectral channels were selected, based upon which further analyses were carried out. Even though it contained only one-seventh of the input channels, the dataset allowed high classification accuracy to be achieved. Working on a smaller dataset made it possible to carry out more experiments and to optimize the network's learning parameters within a reasonable time. The selected channels were located in areas that are important in terms of vegetation identification.
The following conclusions can be drawn:
Despite some difficulty in classifying protected areas (due to the less orderly occurrence of species as compared to commercial forests), the classification achieved an overall accuracy of 87%. This allows the usefulness of hyperspectral data to be confirmed for studies of protected and difficult-to-access areas.

Hyperspectral data are undoubtedly useful in classifying tree species in protected areas. A large number of very narrow spectral channels allows tree species to be successfully distinguished, although the wealth of data requires an answer to the question of which data to use.

The results allowed the dominant tree species in the research area (spruce, beech) to be classified effectively, as well as species that occur there far less frequently (larch, pine, birch, alder).

The algorithm used to select hyperspectral channels allowed us to select the 40 most informative bands. Using the entire dataset and ANNs would have resulted in very long training times, which would have seriously hindered the optimization of learning parameters and the assessment of accuracy. Proper band selection is particularly important when analyzing large areas using advanced data-processing techniques.

Instead of relying on a one-time training and validation process, it was decided to randomly select multiple sets of samples for training and validation of the results. This method allows unintended influence by the researcher on the results to be reduced and frees the researcher from the tedious process of selecting samples for the training and validation set. Moreover, the accuracy assessment results can be better understood. Its use not only provides information on measures of accuracy, but also allows changes in accuracy and their impact on training and validation sets to be observed. One of the method's downsides is the requirement to repeat the training and validation procedure a number of times, which translates to longer processing times. There remain open questions about the spatial autocorrelation of randomly-selected pixels, which can bias results.
Author Contributions
E.R. and B.Z. conceived and designed the experiments, performed the field measurements, and wrote the paper. E.R. performed data processing and classification tasks.
Funding
The authors wish to thank the European Facility for Airborne Research Transnational Access (EUFAR TA), which funded a flight campaign within the framework of the HyMountEcos project. The research was funded by the Polish Ministry of Sciences and Higher Education from science development funds in 2013–2017 as a research project under the framework of the Diamond Grant program for young researchers. The publishing costs were covered by the H2020-MSCA-RISE-2016: innoVation in geOspatiaL and 3D daTA (VOLTA), ref. GA No. 734687.
Acknowledgments
Special thanks go to the German Space Agency, for execution of the flight; VITO, for obtaining and processing APEX data; Adrian Ochtyra (University of Warsaw), who preprocessed ALS data and the administration of Karkonoski National Park, for help during field research. Feature extraction methods were tested in the frame of the WP3 Data and sensor integration of the project H2020-MSCA-RISE-2016: innoVation in geOspatiaL and 3D daTA (VOLTA).
Conflicts of Interest
The authors declare no conflict of interest.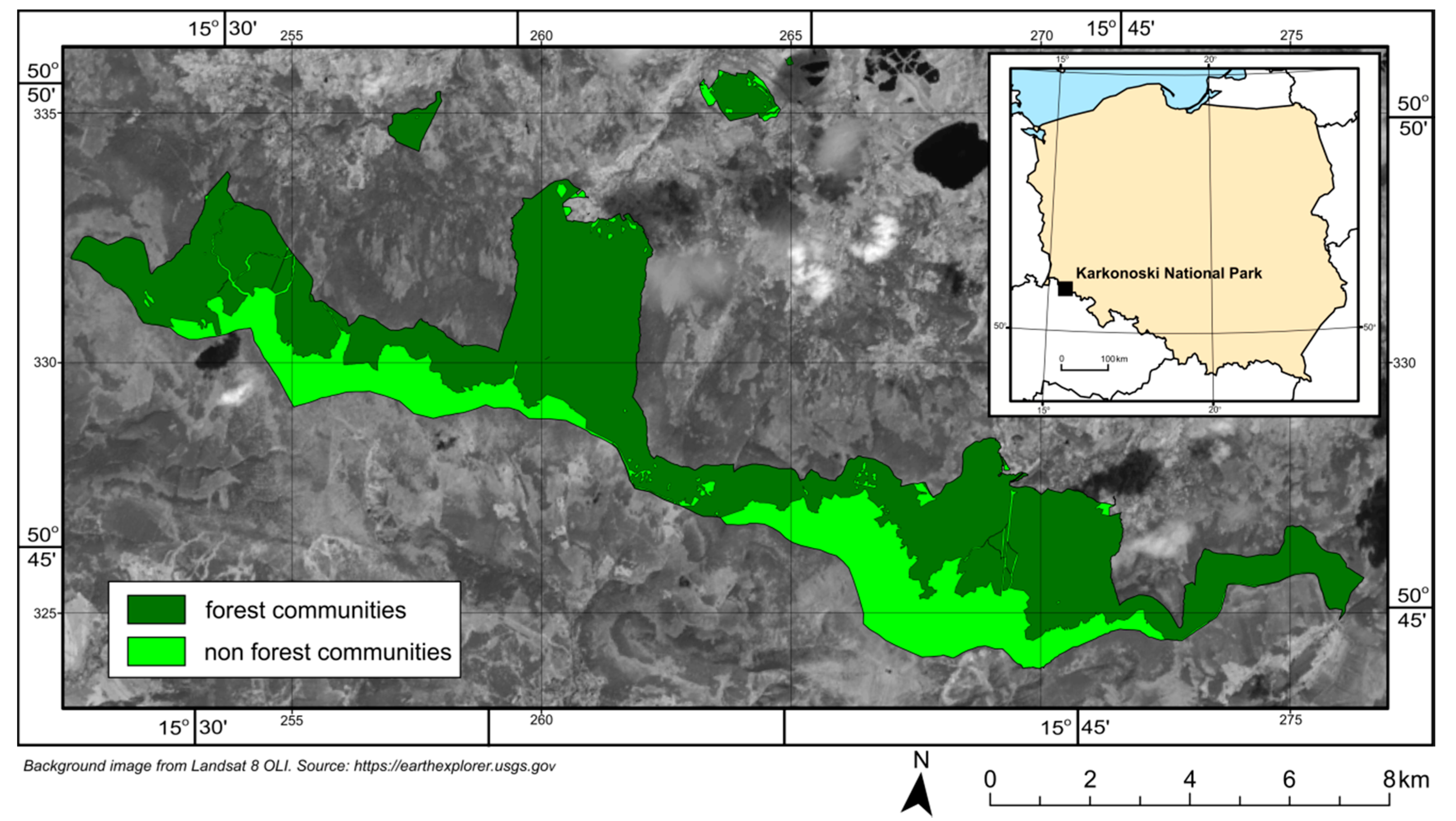 Figure 2. Overview of research method. Explanations: nDSM—normalized Digital Surface Model; mreNDVI—modified red edge Normalized Difference Vegetation Index; PCA—Principal Component Analysis.
Figure 3. Band loadings for the first three PCA bands (bands 1, 2, and 3 explained 88% of total variance of the APEX dataset).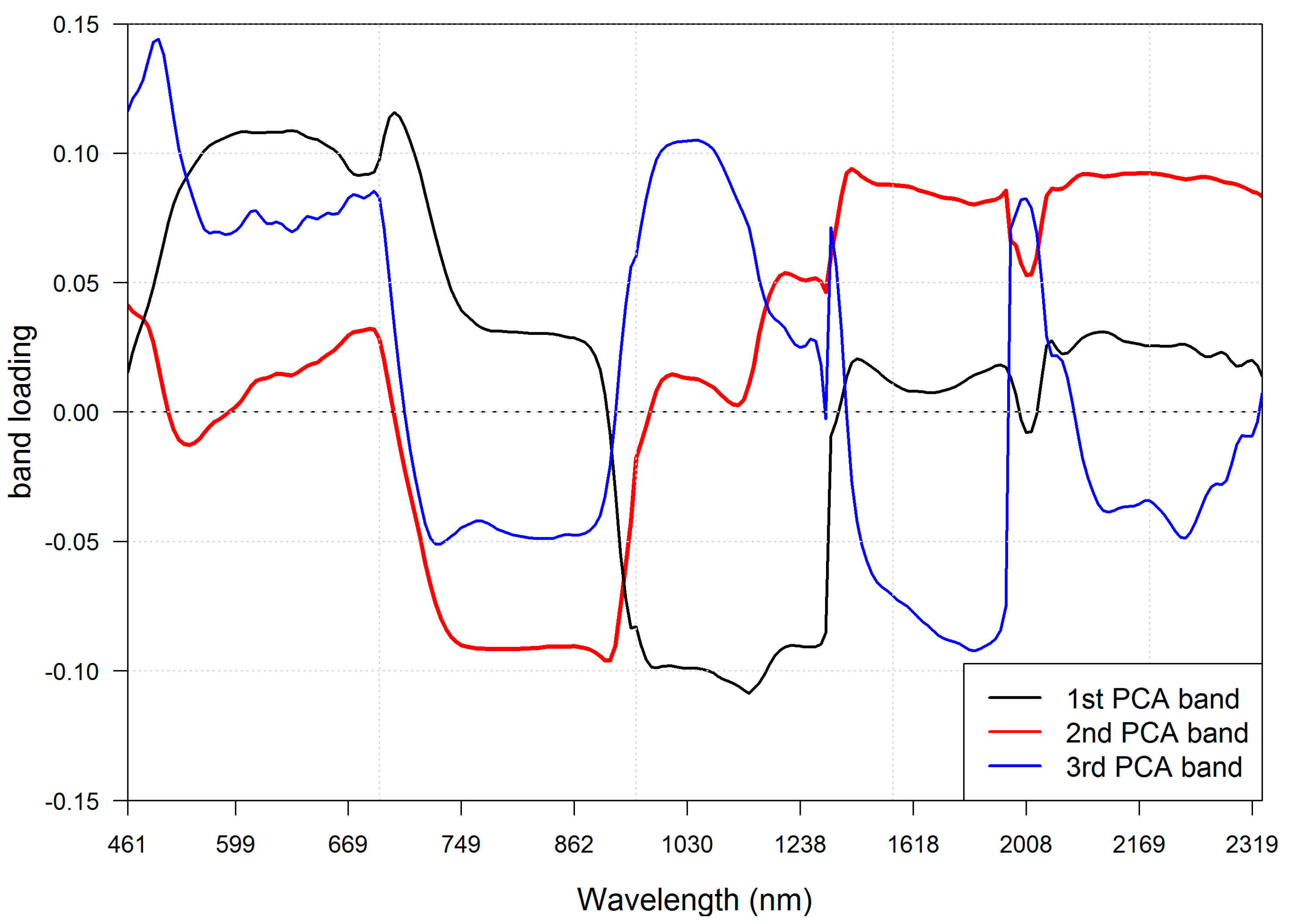 Figure 5. Locations of selected spectral bands (red lines). For comparison, spectral curves for two tree species were added.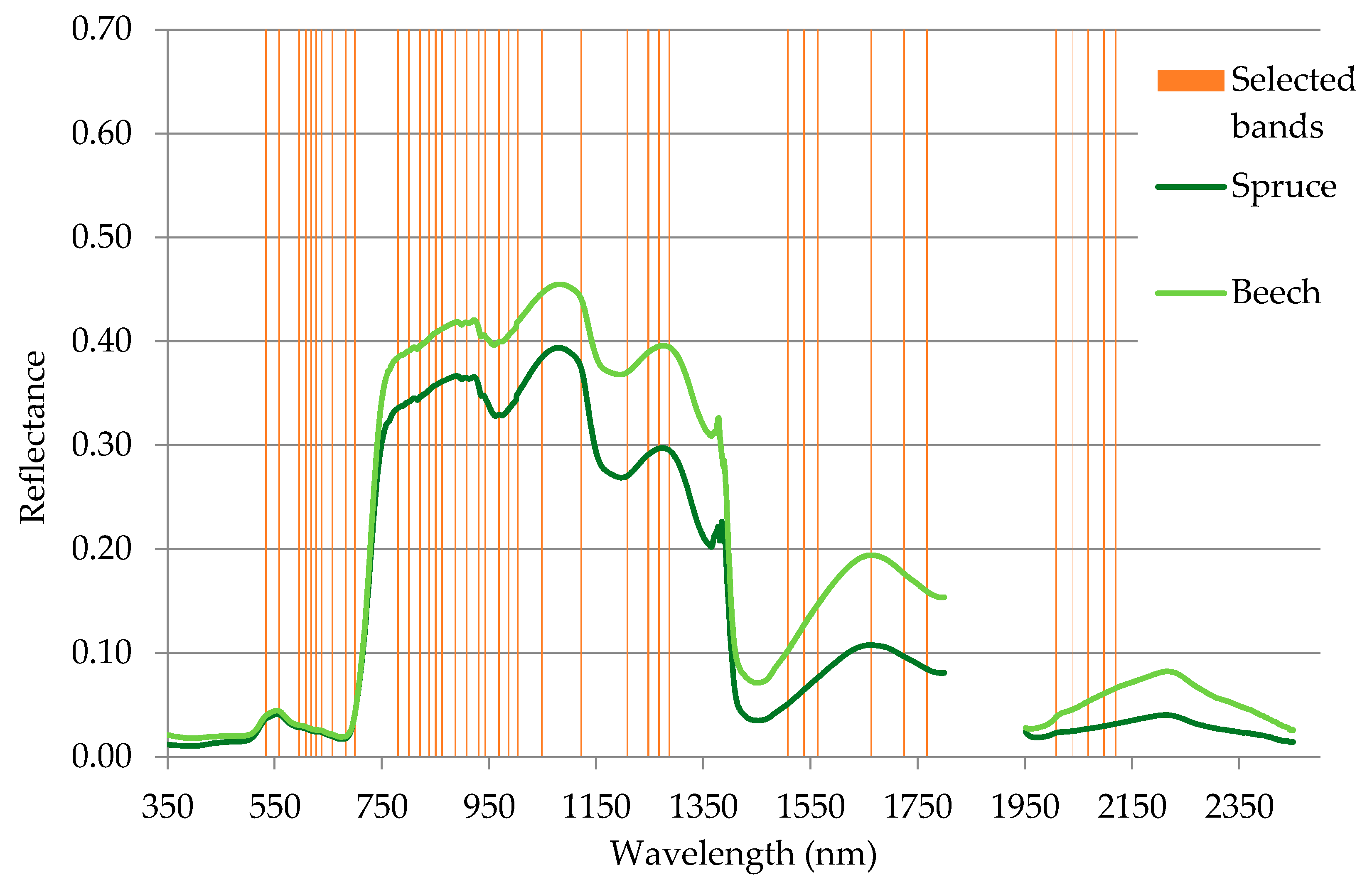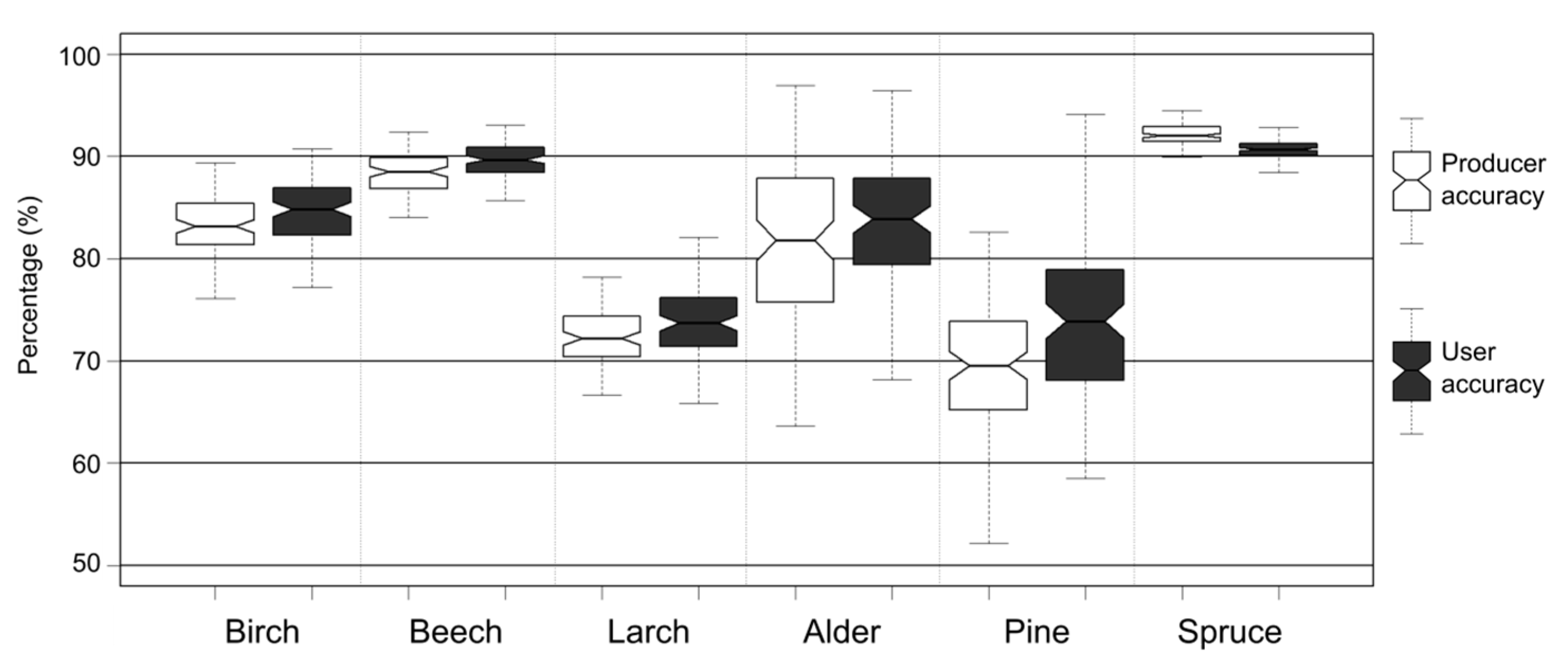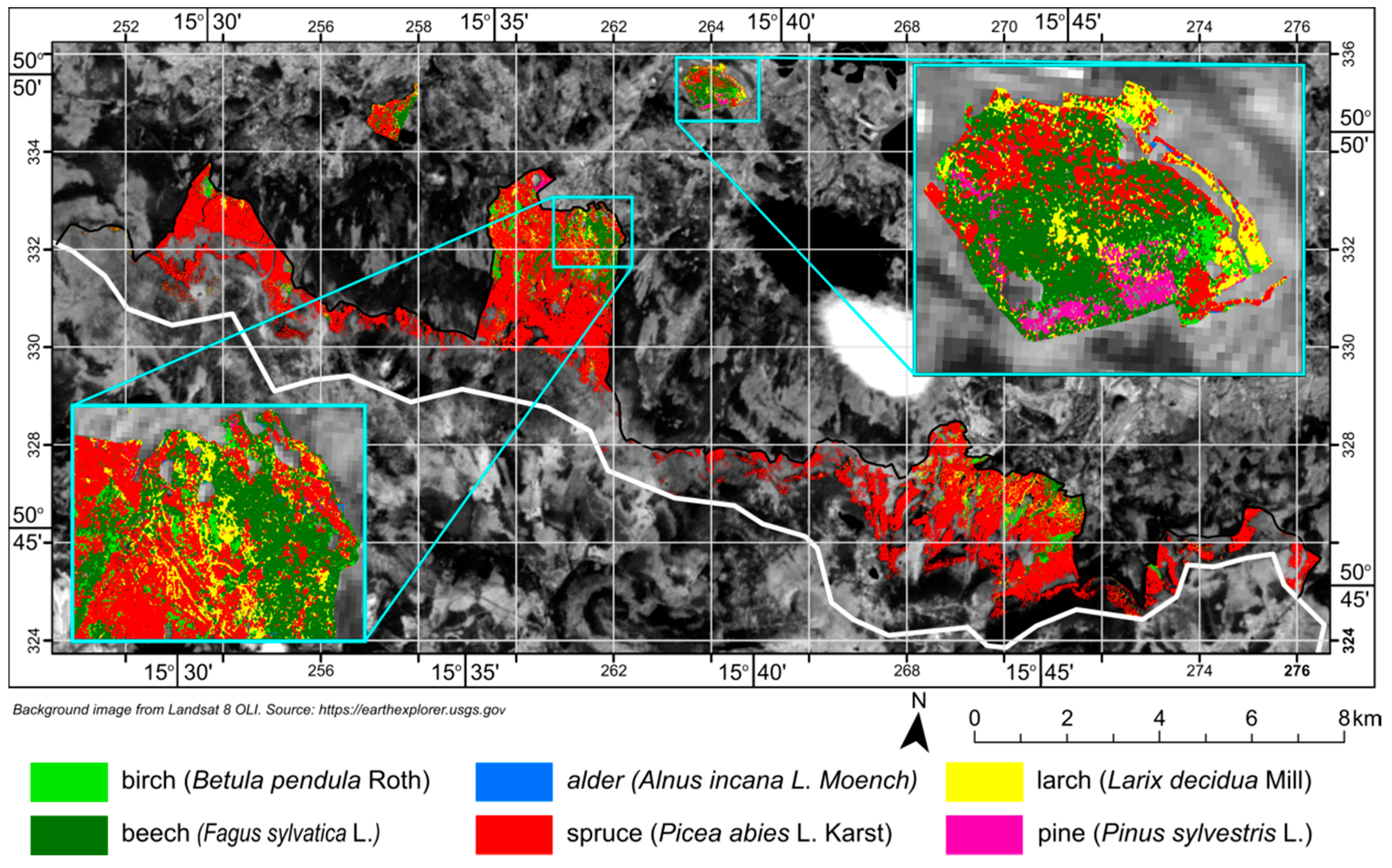 Table 1.
Airborne Prism Experiment (APEX) sensor characteristics [
37
]. VNIR—visible and near-infrared; SWIR—shortwave infrared.
VNIR
SWIR
Spectral range
380.0–971.7 nm
941.2–2501.5 nm
Number of bands
up to 334
198
Spectral sampling interval
0.6–6.3 nm
6.2–11 nm
Field of view (FOV)
28°
Instantaneous field of view (IFOV)
0.028° (≈0.5 mrad)
Spatial resolution
2.5 m at 5000 m above ground level (AGL)

Table 2. Number of collected locations during field surveys (forest inventory data included) and the corresponding number of pixel samples.
| Class | Birch | Beech | Larch | Alder | Pine | Spruce |
| --- | --- | --- | --- | --- | --- | --- |
| Number of measurement polygons | 115 | 124 | 193 | 11 | 27 | 806 |
| Number of pixel samples | 615 | 972 | 685 | 90 | 125 | 2677 |
| Class | Birch | Beech | Larch | Alder | Pine | Spruce |
| --- | --- | --- | --- | --- | --- | --- |
| Training dataset | 389 | 615 | 433 | 57 | 79 | 1692 |
| Validation dataset | 226 | 357 | 252 | 33 | 46 | 985 |
| | |
| --- | --- |
| Selected spectral bands (nm) | 530, 550, 590, 600, 610, 620, 630, 650, 680, 690,780, 800, 820, 830, 850, 860, 880, 900, 930, 940, 960, 980, 1000, 1040, 1120, 1200, 1240, 1260, 1280, 1500, 1530, 1560, 1660, 1720, 1760, 2000, 2030, 2060, 2090, 2110 |

Table 5.
Comparison of KNP forest composition from classification results and forest inventory [
33
]. Values in %. The greatest differences are marked in bold.
| | Birch | Beech | Larch | Alder | Pine | Spruce |
| --- | --- | --- | --- | --- | --- | --- |
| Classification result | 4.81 | 10.25 | 6,30 | 0.11 | 0.72 | 77.81 |
| Forest inventory | 4.79 | 4.14 | 4,58 | 0.12 | 0.53 | 85.55 |
| Difference (percentage points) | 0.02 | 6.11 | 1.72 | 0.01 | 0.19 | 7.74 |
Authors
Data
Classification Algorithm
Number of Classified Tree Species
Overall Accuracy (%)
Kappa Coefficient
Kokaly et al. [46]
Hyperspectral
Expert system
4
74
0.62
Peerbhay et al. [2]
Hyperspectral
Partial least squares discriminant analysis (PLS-DA)
6
88
0.87
Dalponte et al. [22]
Hyperspectral
Support vector machine (SVM), random forest (RF), Gaussian maximum likelihood
4
90
<0.8
Feret et al. [48]
Hyperspectral
Support vector machine (radial-kernel)
17
83
NA
Dalponte et al. [47]
Hyperspectral and LiDAR
Support vector machine
3
93
0.88
Ghosh et al. [20]
Hyperspectral and LiDAR
Support vector machine, random forest
5
94
0.95
Fassnacht et al. [19]
Hyperspectral
Support vector machine, random forest
5
92
0.83
Priedītis et al. [52]
Hyperspectral
Linear Discriminant Analysis (LDA)and artificial neural networks (ANN)
5
86 LDA; 71 ANN
NA
Sommer et al. [17]
Hyperspectral
Random forest
13
94
0.93
Baldeck et al. [53]
Hyperspectral
Support vector machine
3
98
NA
Ballanti et al. [23]
Hyperspectral and LiDAR
Support vector machine
8
95
NA
Graves et al. [21]
Hyperspectral
Support vector machine
20
62
NA
Lee et al. [24]
Hyperspectral and LiDAR
Support vector machine
6
91
0.89
Raczko and Zagajewski

(present study)

Hyperspectral
Artificial neural networks
6
87
0.82

© 2018 by the authors. Licensee MDPI, Basel, Switzerland. This article is an open access article distributed under the terms and conditions of the Creative Commons Attribution (CC BY) license (http://creativecommons.org/licenses/by/4.0/).