Combining a Two Source Energy Balance Model Driven by MODIS and MSG-SEVIRI Products with an Aggregation Approach to Estimate Turbulent Fluxes over Sparse and Heterogeneous Vegetation in Sahel Region (Niger)
1
LMME Département de physique, Faculté des sciences Semlalia, Université Cadi Ayyad, 40000 Marrakech, Morocco
2
Equipe de Mathématiques et Traitement de l'Information (MTI), Ecole Nationale des Sciences Appliquées (ENSA), 46000 Safi, Morocco
3
Centre d'Etudes Spatiales de la Biosphère, Université de Toulouse, CNES, CNRS, IRD, UPS, 31400 Toulouse, France
4
LP2M2E, Faculté des Sciences et Techniques, Université Cadi Ayyad, 40000 Marrakech, Morocco
5
HydroSciences Montpellier, Université de Montpellier, CNRS, IRD, 34000 Montpellier, France
*
Authors to whom correspondence should be addressed.
Received: 16 May 2018 / Revised: 12 June 2018 / Accepted: 12 June 2018 / Published: 19 June 2018
Abstract
Estimates of turbulent fluxes (i.e., sensible and latent heat fluxes H and LE) over heterogeneous surfaces is not an easy task. The heterogeneity caused by the contrast in vegetation, hydric and soil conditions can generate a large spatial variability in terms of surface–atmosphere interactions. This study considered the issue of using a thermal-based two-source energy model (TSEB) driven by MODIS (Moderate resolution Imaging Spectroradiometer) and MSG (Meteosat Second Generation) observations in conjunction with an aggregation scheme to derive area-averaged H and LE over a heterogeneous watershed in Niamey, Niger (Wankama catchment). Data collected in the context of the African Monsoon Multidisciplinary Analysis (AMMA) program, including a scintillometry campaign, were used to test the proposed approach. The model predictions of area-averaged turbulent fluxes were compared to data acquired by a Large Aperture Scintillometer (LAS) set up over a transect about 3.2 km-long and spanning three vegetation types (millet, fallow and degraded shrubs). First, H and LE fluxes were estimated at the MSG-SEVIRI grid scale by neglecting explicitly the subpixel heterogeneity. Moreover, the impact of upscaling the model's inputs was investigated using in-situ input data and three aggregation schemes of increasing complexity based on MODIS products: a simple averaging of inputs at the MODIS resolution scale, another simple averaging scheme that considers scintillometer footprint extent, and the weighted average of inputs based on the footprint weighting function. The H and LE simulated using the footprint weighted method were more accurate than for the two other aggregation rules despite the heterogeneity of the landscape. The statistical values are: correlation coefficient (R) = 0.71, root mean square error (RMSE) = 63 W/m
2
and mean bias error (MBE) = −23 W/m
2
for H and an R = 0.82, RMSE = 88 W/m
2
and MBE = 45 W/m
2
for LE. This study opens perspectives for the monitoring of convective and evaporative fluxes over heterogeneous landscape based on medium resolution satellite products.
View Full-Text
►

▼

Figures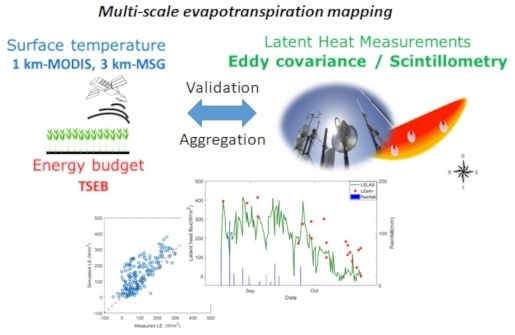 Graphical abstract
This is an open access article distributed under the
Creative Commons Attribution License
which permits unrestricted use, distribution, and reproduction in any medium, provided the original work is properly cited (CC BY 4.0).

Share & Cite This Article
MDPI and ACS Style
Hssaine, B.A.; Ezzahar, J.; Jarlan, L.; Merlin, O.; Khabba, S.; Brut, A.; Er-Raki, S.; Elfarkh, J.; Cappelaere, B.; Chehbouni, G. Combining a Two Source Energy Balance Model Driven by MODIS and MSG-SEVIRI Products with an Aggregation Approach to Estimate Turbulent Fluxes over Sparse and Heterogeneous Vegetation in Sahel Region (Niger). Remote Sens. 2018, 10, 974.
Note that from the first issue of 2016, MDPI journals use article numbers instead of page numbers. See further details here.
Related Articles
Comments
[Return to top]