Winter Wheat Production Estimation Based on Environmental Stress Factors from Satellite Observations
1
Institute of Remote Sensing and Geographic Information System, School of Earth and Space Sciences, Peking University, Beijing 100871, China
2
Beijing Key Lab of Spatial Information Integration and 3S Application, Peking University, Beijing 100871, China
3
Mapping and Geo-information for Geographic Information Basic Softwares and Applications, Engineering Research Center of National Administration of Surveying, Beijing 100871, China
4
State Key Laboratory of Simulation and Regulation of Water Cycle in River Basin, China Institute of Water Resources and Hydropower Research, Beijing 100048, China
5
National Center of Efficient Irrigation Engineering and Technology Research, China Institute of Water Resources and Hydropower Research, Beijing 100048, China
*
Authors to whom correspondence should be addressed.
Received: 27 April 2018 / Revised: 10 May 2018 / Accepted: 13 June 2018 / Published: 15 June 2018
Abstract
The rapid and accurate estimation of wheat production at a regional scale is crucial for national food security and sustainable agricultural development. This study developed a new gross primary productivity (GPP) estimation model (denoted as the [ACPM]), based on the effects of light, heat, soil moisture, and nitrogen content (N) on the light-use efficiency of winter wheat. The ACPM model used the quantic additivity of the environmental factors to improve the minimum form or multiple multiplication form in the previous model and thus characterized the joint effects of heat, soil moisture, and N on crop photosynthesis performance. The key parameters (i.e., light) were determined from the photosynthetically active radiation product of the Himawari-8 sensor and the fraction of photosynthetically active radiation product of Moderate Resolution Imaging Spectroradiometer (MODIS). The heat was determined from the land temperature products of MODIS. The soil moisture was obtained from the inversion using a visible and shortwave infrared drought index (VSDI), whereas the N stress of winter wheat was detected using the newly developed modified ratio vegetation index (MRVI), which could accurately obtain the spatiotemporal distribution of the leaf chlorophyll content of winter wheat. The ACPM and two other previous models (named the GPP1 and GPP2 models) were applied on the Himawari-8 and MODIS images in Hengshui City. The evaluation results, based on the ground measurement, indicated that the ACPM models exhibited the best estimate of dry aboveground biomass (DAM) and the wheat yield in Hengshui City, with errors of <10% and <12% for the DAM and yield, respectively. Considering the easy operation of the ACPM model and the accessibility of the corresponding satellite images, the Agriculture Crop Photosynthesis Model (ACPM) can be expected to provide information on the winter wheat shortfalls and surplus ahead of the availability of official statistical data.
View Full-Text
►

▼

Figures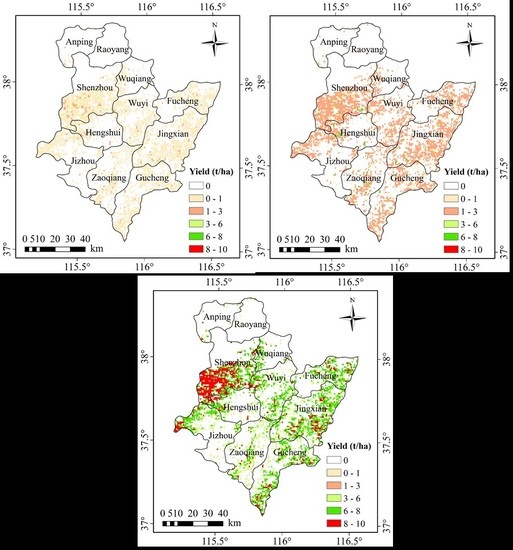 Graphical abstract
This is an open access article distributed under the
Creative Commons Attribution License
which permits unrestricted use, distribution, and reproduction in any medium, provided the original work is properly cited (CC BY 4.0).

Share & Cite This Article
MDPI and ACS Style
Sui, J.; Qin, Q.; Ren, H.; Sun, Y.; Zhang, T.; Wang, J.; Gong, S. Winter Wheat Production Estimation Based on Environmental Stress Factors from Satellite Observations. Remote Sens. 2018, 10, 962.
Note that from the first issue of 2016, MDPI journals use article numbers instead of page numbers. See further details here.
Related Articles
Comments
[Return to top]