Open Access This article is
freely available
re-usable
Article
Using Multi-Spectral UAV Imagery to Extract Tree Crop Structural Properties and Assess Pruning Effects
1
Water Desalination and Reuse Center, King Abdullah University of Science and Technology, Al Jazri Building West, Thuwal 23955-6900, Saudi Arabia
2
Remote Sensing Research Centre, School of Earth and Environmental Sciences, The University of Queensland, St Lucia, QLD 4072, Australia
3
Ministry of Agrarian and Spatial Planning, National Land Agency, Jalan H. Agus Salim 58, Jakarta Pusat 10350, Indonesia
*
Author to whom correspondence should be addressed.
Received: 15 April 2018 / Accepted: 25 May 2018 / Published: 1 June 2018
Abstract
:
Unmanned aerial vehicles (UAV) provide an unprecedented capacity to monitor the development and dynamics of tree growth and structure through time. It is generally thought that the pruning of tree crops encourages new growth, has a positive effect on fruiting, makes fruit-picking easier, and may increase yield, as it increases light interception and tree crown surface area. To establish the response of pruning in an orchard of lychee trees, an assessment of changes in tree structure, i.e., tree crown perimeter, width, height, area and Plant Projective Cover (PPC), was undertaken using multi-spectral UAV imagery collected before and after a pruning event. While tree crown perimeter, width and area could be derived directly from the delineated tree crowns, height was estimated from a produced canopy height model and PPC was most accurately predicted based on the NIR band. Pre- and post-pruning results showed significant differences in all measured tree structural parameters, including an average decrease in tree crown perimeter of 1.94 m, tree crown width of 0.57 m, tree crown height of 0.62 m, tree crown area of 3.5 m2, and PPC of 14.8%. In order to provide guidance on data collection protocols for orchard management, the impact of flying height variations was also examined, offering some insight into the influence of scale and the scalability of this UAV-based approach for larger orchards. The different flying heights (i.e., 30, 50 and 70 m) produced similar measurements of tree crown width and PPC, while tree crown perimeter, area and height measurements decreased with increasing flying height. Overall, these results illustrate that routine collection of multi-spectral UAV imagery can provide a means of assessing pruning effects on changes in tree structure in commercial orchards, and highlight the importance of collecting imagery with consistent flight configurations, as varying flying heights may cause changes to tree structural measurements.
Keywords:
UAV; multi-spectral; lychee; pruning; tree crop structure; change detection
2. Study Area
The study was undertaken across a private lychee orchard located 25 km southeast of Brisbane, Australia (
Figure 1
). The lychee trees belong to the Kwai May Pink cultivar and were between 15 and 17 years of age, excluding 10 newly replanted trees. Trees were planted approximately 4 m apart, in seven rows of 27 trees. The area has an elevation of 150 m above mean sea level and an average monthly mean temperature ranging from 15.1 °C to 26.0 °C, and an average annual rainfall of 1079 mm [
38
]. The orchard, consisting of 189 lychee trees, is surrounded by eucalypt forest.
4. Results and Discussion
The results proved the importance of the tree crown delineation process, as this process enabled the extraction of tree structural parameters used to assess changes before and after pruning at the individual tree crown level. This also enabled an evaluation and comparison of the results derived from the UAV flights undertaken at three different flying heights.
4.1. Tree Crown Delineation
Since the derivation of tree structural parameters such as crown perimeter, area and width rely on the accuracy of the tree crown definition, the automated delineation of these using GEOBIA is a key step. As in other studies [
4
,
18
,
22
,
25
], the CHM was required for identifying individual tree crown centres and determining where the edges of two adjoining tree crowns were. However, in previous studies [
25
] adjoining tree crowns, forming a hedgerow, have proven problematic to delineate. In this study, this problem was solved by using the length-width ratio of the tree crowns and the filtered tree crown extent mask, which were found to be essential for determining which objects, occurring between adjoining trees, belonged to which tree crowns. This was particularly the case for the pre-pruned tree crowns. Post-pruning, most of the tree crowns did not adjoin, and hence fewer assumptions had to be made to determine what objects belonged to each individual tree crown (
Figure 6
).
For tree crown delineations based on the imagery collected for the pre- and post-pruned lychee trees, all 189 lychee trees within the orchard were correctly identified. To achieve this accuracy, it was essential not only to rely on the CHM, but also to adjust tree crown edges based on the optical bands, as the tree crown borders often do not align with the DSM/CHM height information (
Figure 7
). Hence, while other eCognition Developer-based approaches may have been computationally simpler to implement [
4
], such an approach would not have produced accurate results when applied to this research study. The accuracy assessment of the 89 manually delineated tree crowns investigated here showed that, on average, 96.5% of their area corresponded to that of the automatically delineated tree crowns, with an average error of omission of 1.4% and average error of commission of 2.2% (for the data set collected at 30 m flying height). The error of omission was reduced to 1.2% and 0.7%, while the error of commission increased to 2.4% and 3.1% for the data sets collected at 50 m and 70 m flying height, respectively (
Table 1
). These results are well within reported tree crown delineation accuracies achieved using LiDAR data [
49
]. The slightly larger error of commission observed as a function of increased flying height was attributed to the larger GSD and how the corresponding DSMs were calculated, essentially resulting in the inclusion of an additional edge pixel surrounding the tree crowns with a GSD of 8.8 cm (70 m flying height) compared to the manually delineated tree crowns (
Figure 6
). This is a common characteristic when increasing the GSD for tree crown delineation [
28
].
4.2. Mapping of Tree Structure
4.3. Pre- and Post-Pruning Tree Structure Comparison
The mapping of tree structural parameters before and after pruning enabled an assessment of the impact of the pruning effects. A significant decrease in the average value of the tree structural parameters was observed for the 189 trees within the orchard between pre- and post-pruning. Decreases in the tree crown perimeter (1.94 m; 10.9%), area (3.49 m
2
; 25.9%), width (0.567 m; 14.7%), 90th percentile tree crown height (0.616 m; 22.3%) and PPC (14.8%) were established (
Figure 11
and
Figure 12
). According to [
12
], the recommended thinning size of a lychee tree is between 15% and 25% from its initial size. Hence, the pruning results based on all 189 mapped trees showed good agreement with the recommendation. In most cases (179 out of 189 trees), a decrease was observed in the tree structural measurements for the individual tree crowns. However, some of the smaller and newly planted lychee trees (10 out of 189 trees) were not pruned, and hence the structural measurements stayed the same or slightly increased (
Figure 12
).
Although this research only covered a study site of limited extent, it should be acknowledged that this is the very nature of multi-rotor UAV-based mapping studies because of limited battery life and hence flying time. Despite this, UAV-based studies still provide many benefits and invaluable applications, including: (1) very detailed mapping at ultra-high spatial resolution; (2) information that can be used to scale between field and satellite data; (3) demonstration of methodologies that can be utilized elsewhere; (4) cost-effective time-series acquisition of imagery; (5) consistency in data acquisition and assessment; and (6) quick and flexible means of deriving information on crop phenotyping traits for assessment with short turn-around time and for retrospective analysis. These benefits and the potential of UAV-based imagery to be used effectively for crop phenotyping have been highlighted in several studies [
55
,
56
,
57
].
4.4. Effects of Flying Height Differences
The impact of flying height variations offers insight into the influence of scale and the scalability of this UAV-based approach to determine its applicability to larger orchards. Differences in flying height only affected the comparison of pre- and post-pruning tree structure slightly (
Figure 13
a). Tree crown height differences were highest when the images were collected at a 30 m height compared to 50 and 70 m height. A flying height of 30 m produced the most accurate height estimates, given that the produced DSM and DTM were less accurate when collected at increasing flying heights. The measurements of area and perimeter decreased with increasing flying height because of the increasing GSD, which made the automatically derived object perimeter smoother, and hence smaller, despite the added tree crown edge pixels for the imagery collected at 70 m height that was discussed above. This also caused the differences in mapped area and perimeter to decrease as a function of flying height, because of the smaller range in values in these parameters at larger GSDs. The tree crown width measurements derived at different flying heights were similar, showing a slight decrease as the flying height (and hence the GSD) increased, which also caused the differences before and after pruning to slightly decrease with increasing flying height (
Figure 13
a).
PPC was generally most accurately estimated based on the imagery collected at 70 m, although the average PPC difference was similar for all three flying heights (
Figure 13
b). However, at a flying height of 70 m, the average minimum and maximum differences were highest. Normally, at increasing GSDs, you would expect less spectral variability, i.e., a smaller range of pixel values within individual tree crown objects, because of spectral averaging of pixels covering a larger area [
52
]. This was attributed to the larger GSD, which may have caused mixed pixels along the edges of the delineated tree crowns. These mixed pixels may have included parts of the shaded areas caused by tree shadows on the one side of the trees and parts of the sunlit green grass on the other side of some of the trees.
There are clear management advantages to flying a UAV at a height of 70 m compared to 30 m, as it is possible to cover a larger area in a single flight or to reduce the flying time for covering a set area. Completing a flight mission more quickly also means that the risk of cloud shadow contamination is reduced. Although doing this resulted in an increase in GSD from 4.1 cm to 8.8 cm and resulted in a compromise in tree height estimates using the Parrot Sequoia imagery, the mapping results of the vegetation structural parameters were not significantly affected. The acquisition of imagery with a GSD of 8.8 cm compared with 4.1 cm will also reduce the size of the image data set more than fourfold, which will subsequently decrease the image processing time. Torres-Sanchez et al. [
25
] mapped tree structural parameters of olive trees from UAV imagery collected at 50 and 100 m above ground level and only observed small reductions in their predicted mapping accuracies, while significantly reducing the time of flight, the image orthomosaic processing and the GEOBIA, with total required time being reduced from 47 min to 13 min and from 5 h 15 min to 1 h 8 min for their multi-spectral and RGB imagery, respectively. Hence, in terms of verifying the results of a pruning strategy on an orchard, there will likely be more efficiencies in choosing a flying height of 70 m, without loss of fidelity. Developing UAV-based mapping and monitoring approaches for assessment of tree crop structure is also important for other types of tree crops, including mango, avocado and macadamia trees, as these parameters can provide information to help growers in the further production and delivery chain. This can ensure growers have enough personnel and equipment for fruit picking, have the right storage facilities, have a suitable number of cartons for packaging, and can organise the means for transport and delivery [
58
].
5. Conclusions
Characterizing the impacts of pruning on tree structural parameters is required to inform and enhance the management of orchards and improve crop productivity. We present an innovative and novel approach that exploits multi-spectral UAV imagery to measure tree structural differences pre- and post-pruning, and apply this to a small commercial lychee orchard. The developed GEOBIA approach was found to be particularly useful for delineating individual tree crowns and deriving object shape and spectral and textural information for correlation with field-based measurements of tree structure. It was also found that existing GEOBIA approaches designed for tree crown delineation of olive trees were not feasible for delineation of lychee tree crops and required additional spectral and context information. Mapping tree structure and pruning effects may hence require specialized approaches to be applied for different tree crops. The multi-spectral imagery was found to accurately assess pre- and post-pruning tree crown structure, including tree crown perimeter, area, width, height and PPC. Tree crown perimeter was most accurately mapped at a flying height of 70 m, while tree crown width measurements were similar at all three flying heights. Tree height was most accurately mapped at a 30 m flying height, as larger flying heights affected the accuracy of the derived DSM and DTM. Imagery collected at 70 m height produced slightly higher correlation with field measured PPC for most predictor variables.
These results highlight that despite the compromise in accuracy of tree height estimates (0.1936 m RMSE as opposed to 0.3568 m), a flying height of 70 m may be the best choice for assessing pre- and post-pruning tree structural differences to gain efficiency in terms of flight duration, area coverage, and image processing time, without losing a significant amount of information. As an additional benefit, the proposed UAV-based approach is likely to reduce costs (compared with manual assessment) and increase consistency compared to traditional field-based estimates. Future research should focus on collecting and analysing similar data for other orchard sites and for trees grown under different conditions, e.g., different tree ages, tree varieties, climatic conditions, and pruning strategies, to test if the developed approach can be applied more generally and the results remain consistent with broader application.
Author Contributions
K.J. and T.R. conceived and designed and performed the experiments; K.J., T.R. and M.F.M. analyzed the data and wrote the paper.
Funding
This research was partly funded by SPIRIT BAPPENAS-World Bank grant number IBRD No. 8010-IND.
Acknowledgments
This work was supported by the SPIRIT BAPPENAS-World Bank under Loan Agreement (IBRD No. 8010-IND). Thanks to Paul Thorne, the lychee grower and owner of the lychee orchard, for help in the field and for allowing us access to the study site. We would like to acknowledge the Remote Sensing Research Centre in the School of Earth and Environmental Sciences at the University of Queensland, Brisbane, Australia for use of software facilities. Matthew McCabe was supported by the King Abdullah University of Science and Technology.
Conflicts of Interest
The authors declare no conflict of interest.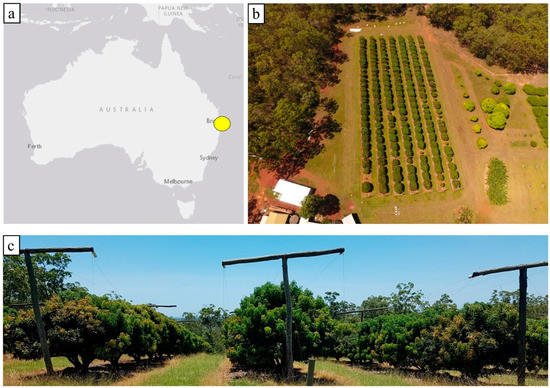 Figure 1. (a) Study area location (yellow dot) approximately 25 km southeast of Brisbane; (b) overview photo of study site; and (c) field photo of the lychee trees and poles used for protective nets to cover the trees. Location: 27°37′49′′S; 153°10′58′′E.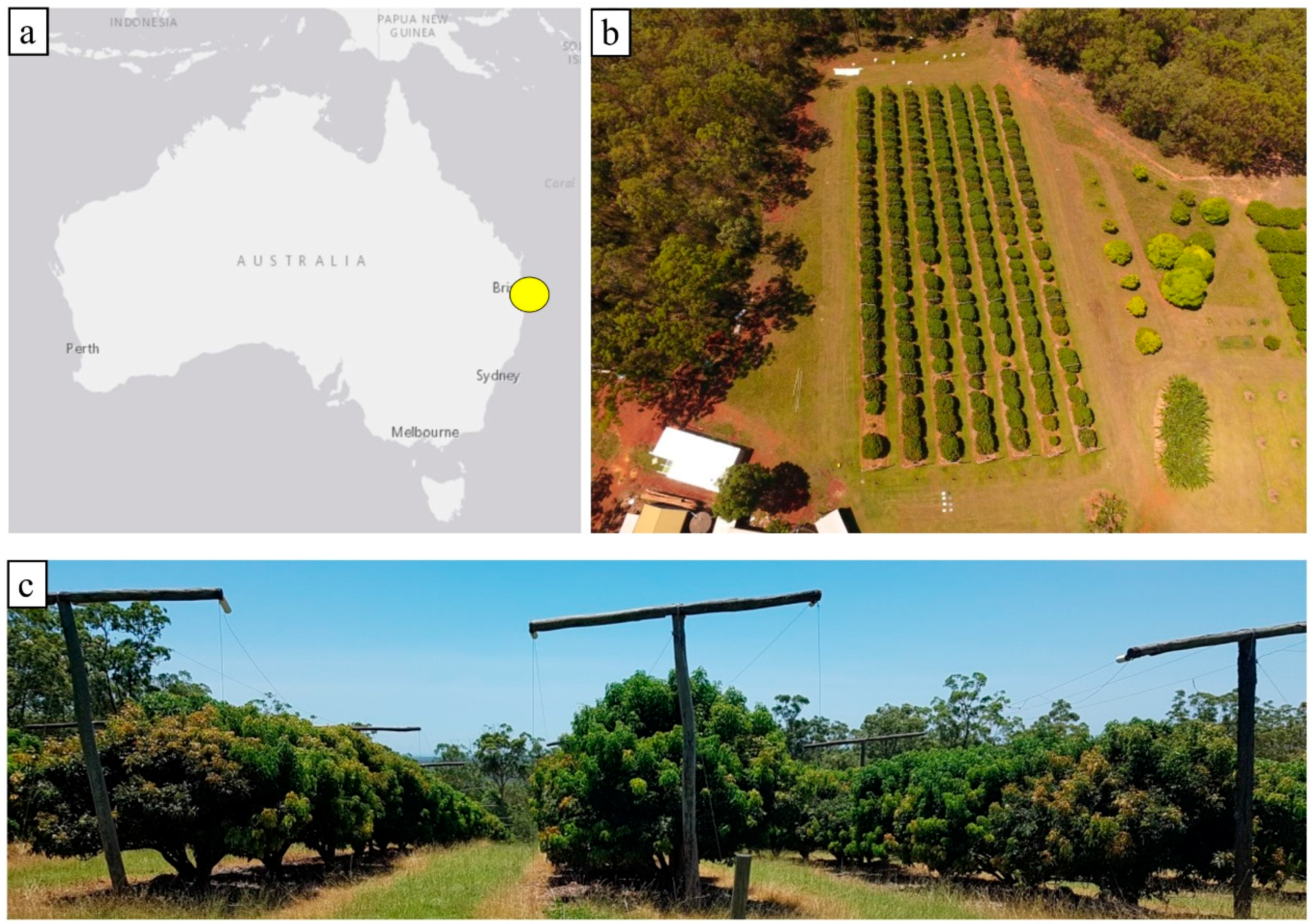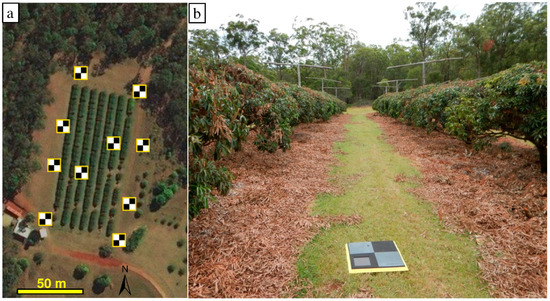 Figure 2. (a) Distribution and (b) in situ field photo of AeroPoints used for geo-referencing of the UAV imagery. Location: 27°37′49′′S; 153°10′58′′E.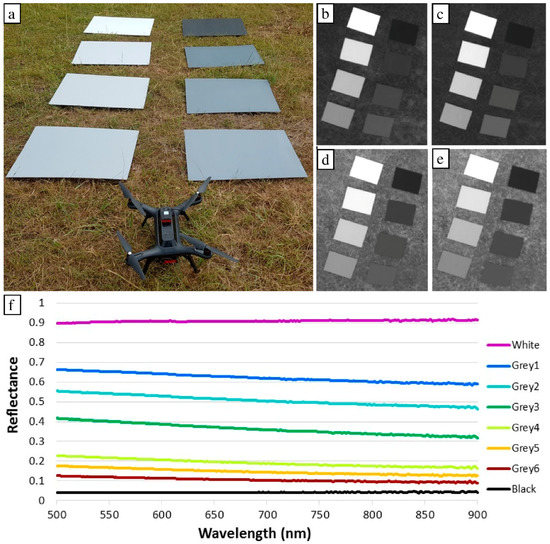 Figure 3. (a) Eight radiometric calibration targets and the 3DR Solo quadcopter; (b) green band; (c) red band; (d) red edge band; (e) NIR band; and (f) corresponding reflectance signatures between 500 and 900 nm of the eight targets, ranging in colour from white to black with six grey scale levels.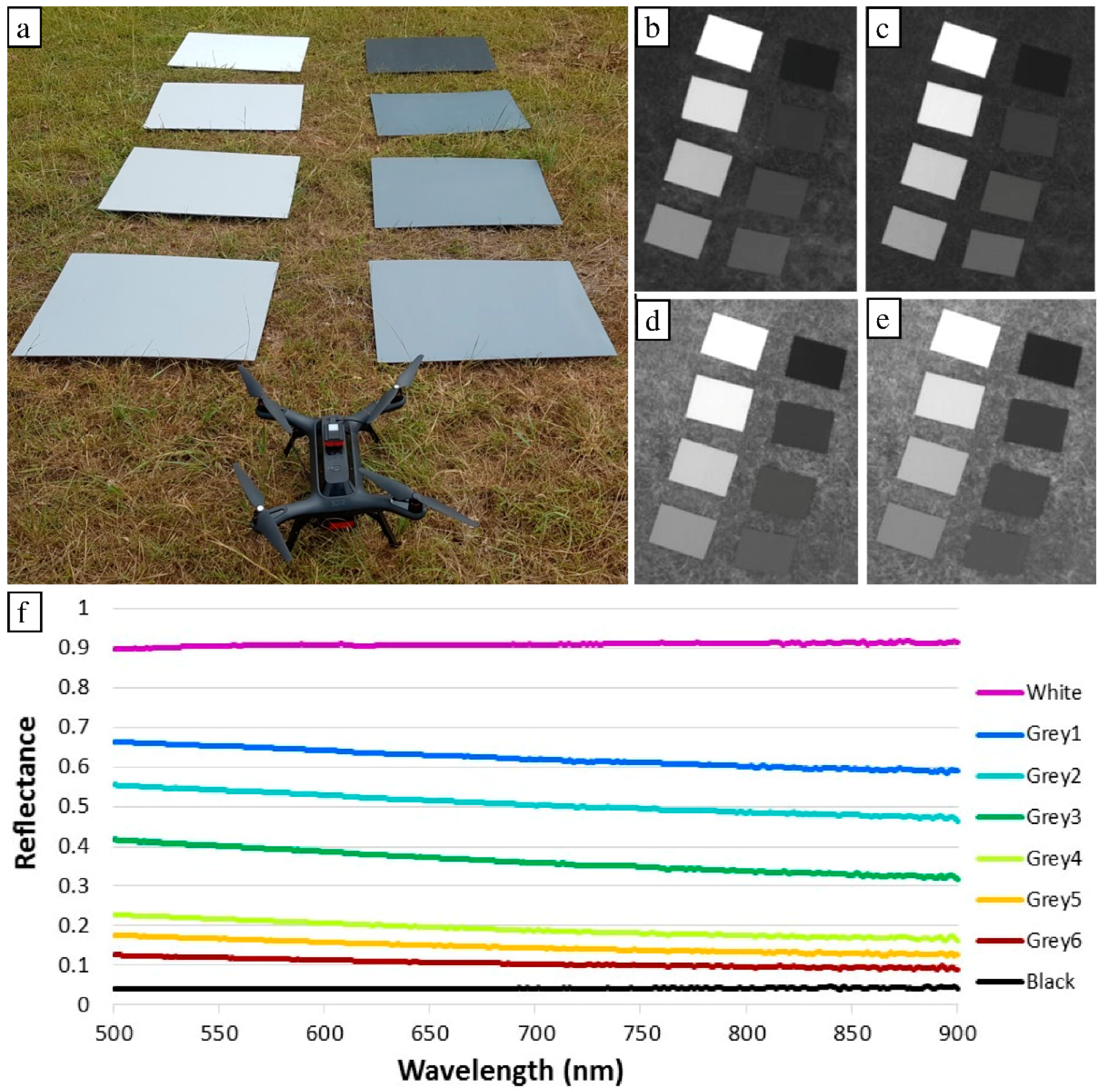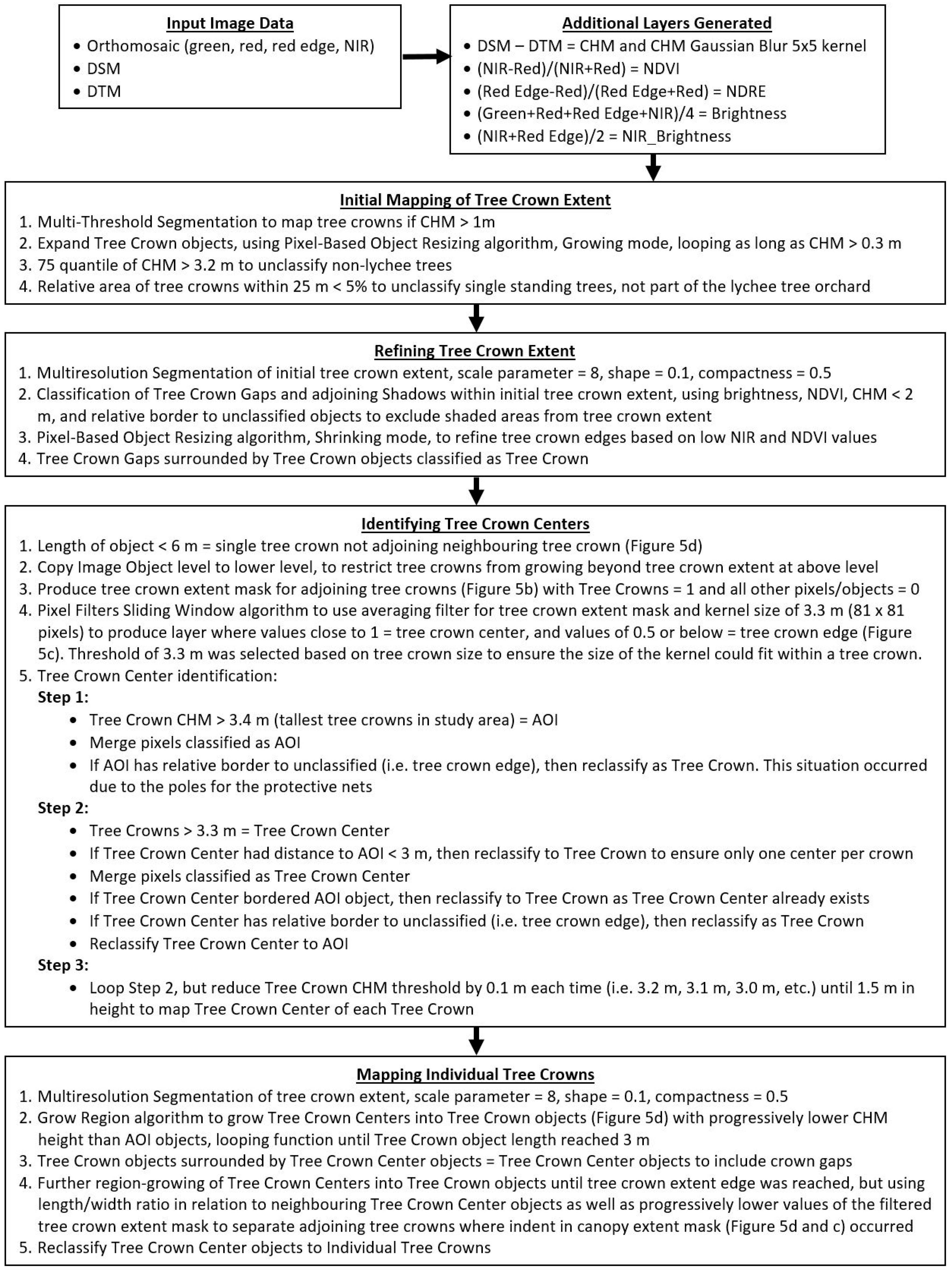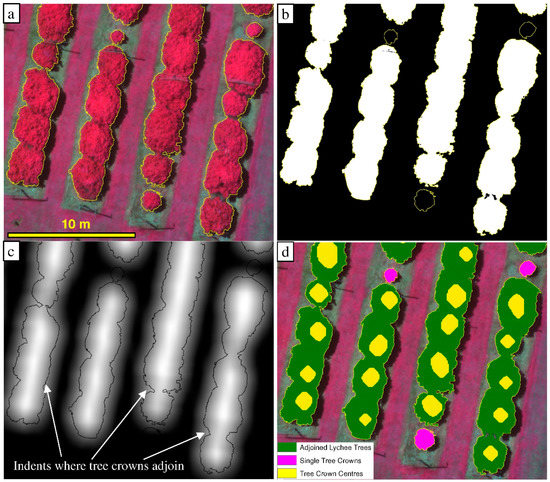 Figure 5. (a) False colour (Green, Red, NIR) image of pre-pruned lychee trees; (b) tree crown extent map; (c) tree crown extent map exposed to averaging filter with kernel size of 81 × 81 pixels; and (d) single tree crowns and tree crown centres being grown into tree crowns.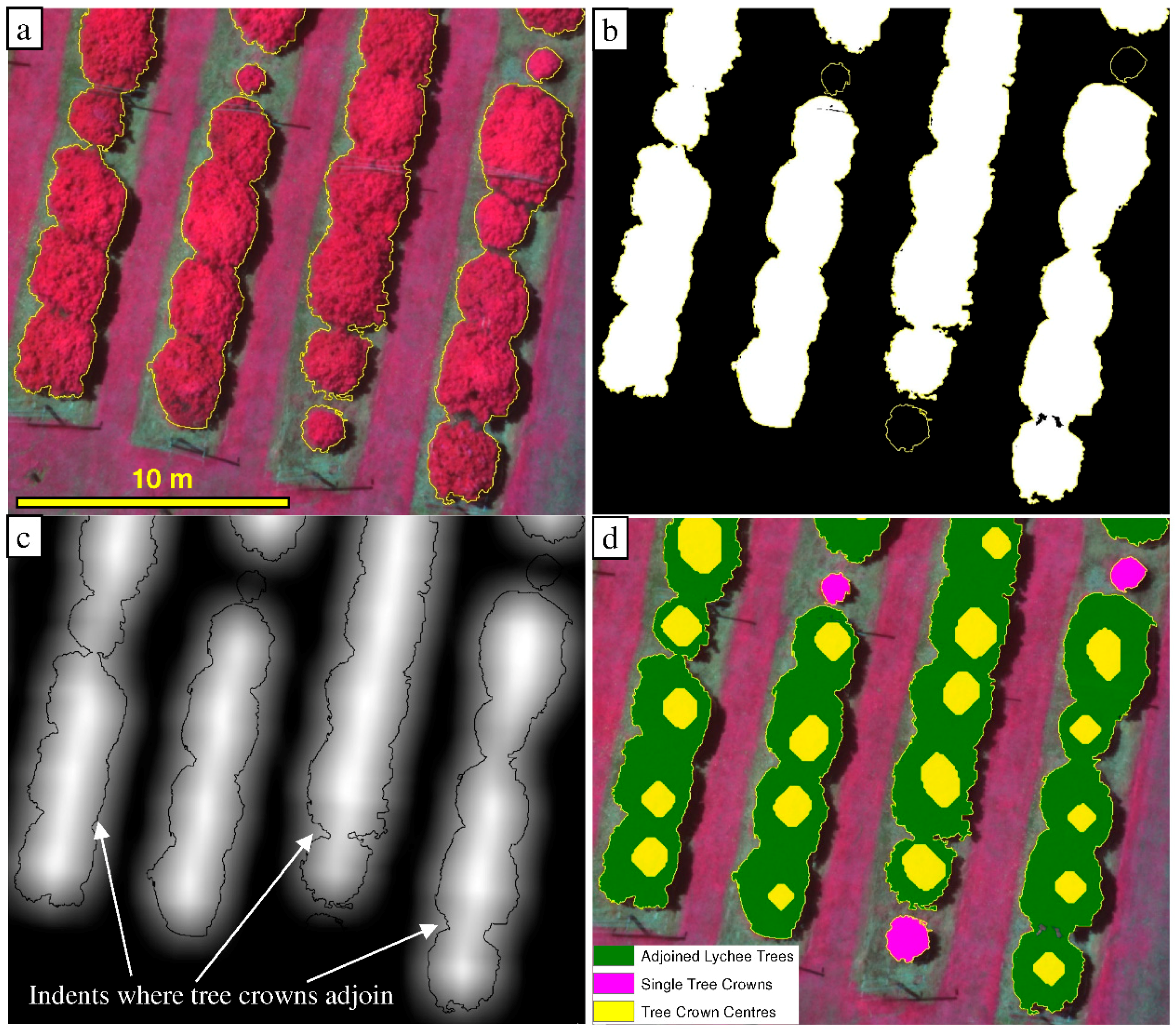 Figure 6. (a) Land-cover map showing the mapped extent of pruned lychee trees and other land-cover classes eliminated from further analysis to focus purely on the mapped lychee trees; (b) identification of tree crown centres and single tree crowns not adjoining neighbouring tree crowns; (c,d) results of the lychee tree crown delineation (yellow outlines) produced using GEOBIA. Location: 27°37′49′′S; 153°10′58′′E.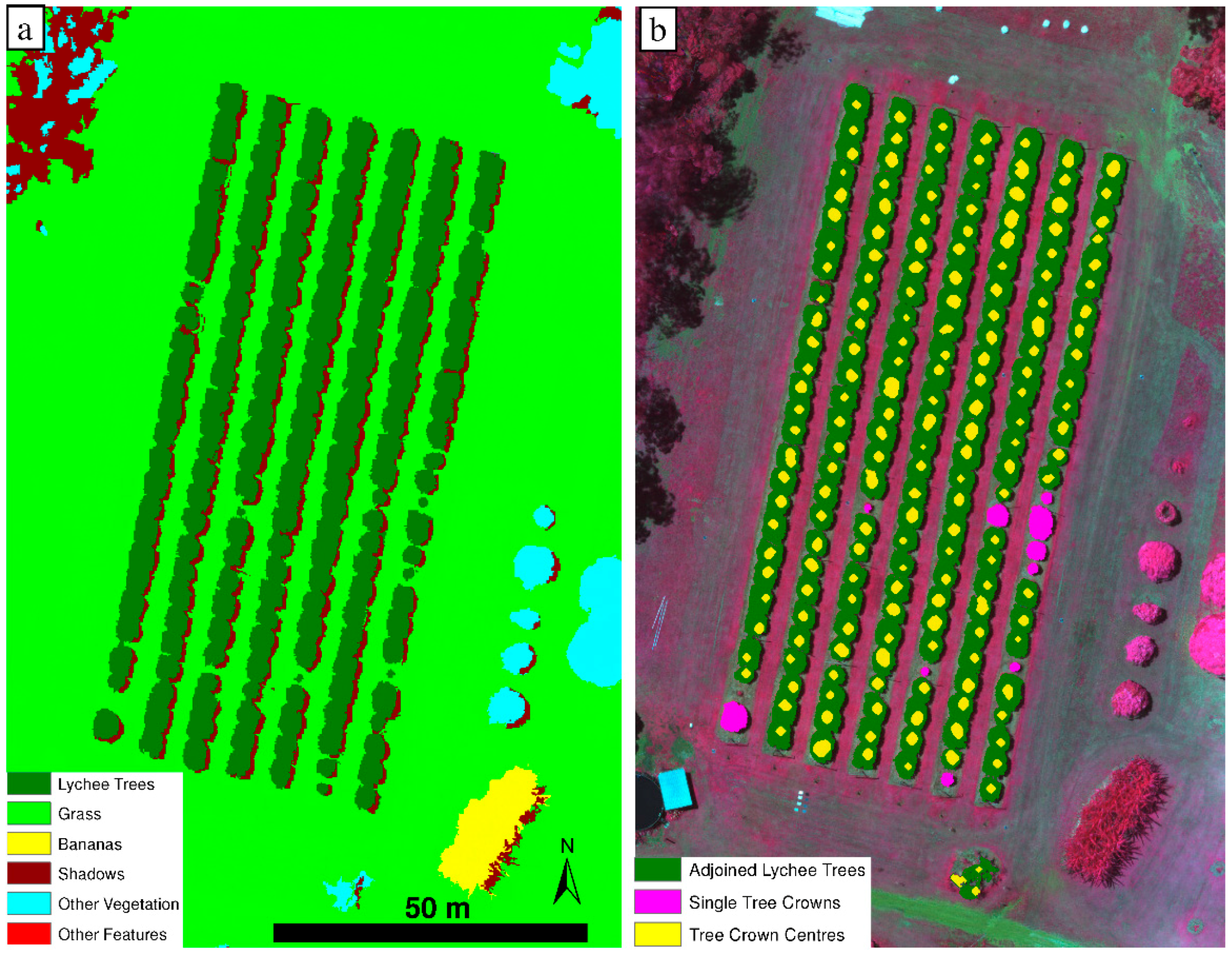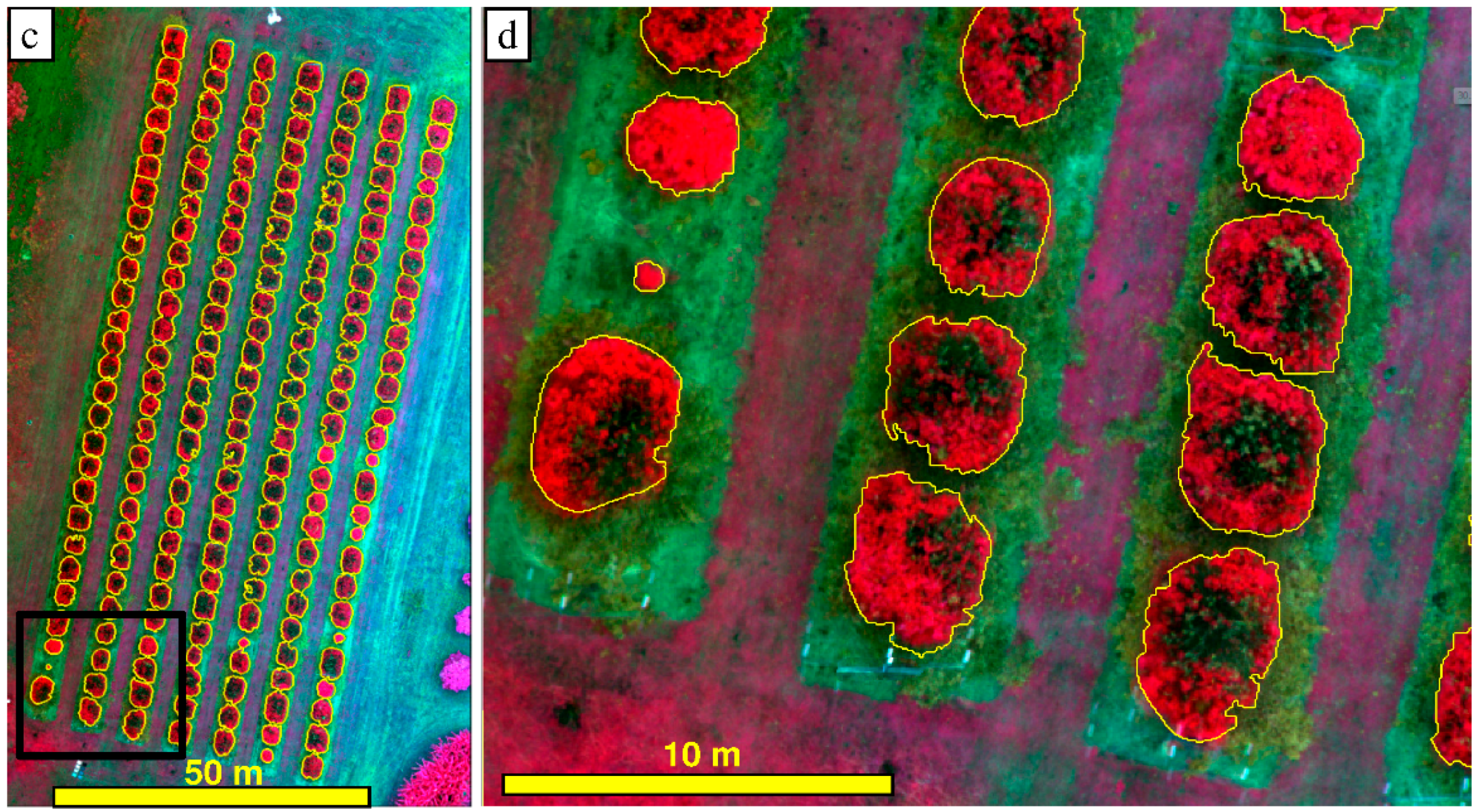 Figure 7. (a) False colour (NIR, Red, Green) orthomosaic; and (b) corresponding CHM of lychee trees pre-pruning, including the GEOBIA delineation result (yellow outlines).

Figure 8. Relationships between field- and image-derived (a) tree crown width; (b) height and (c) perimeter; and (d) depiction of how the increasing GSD affected the delineation of the pruned lychee tree crowns.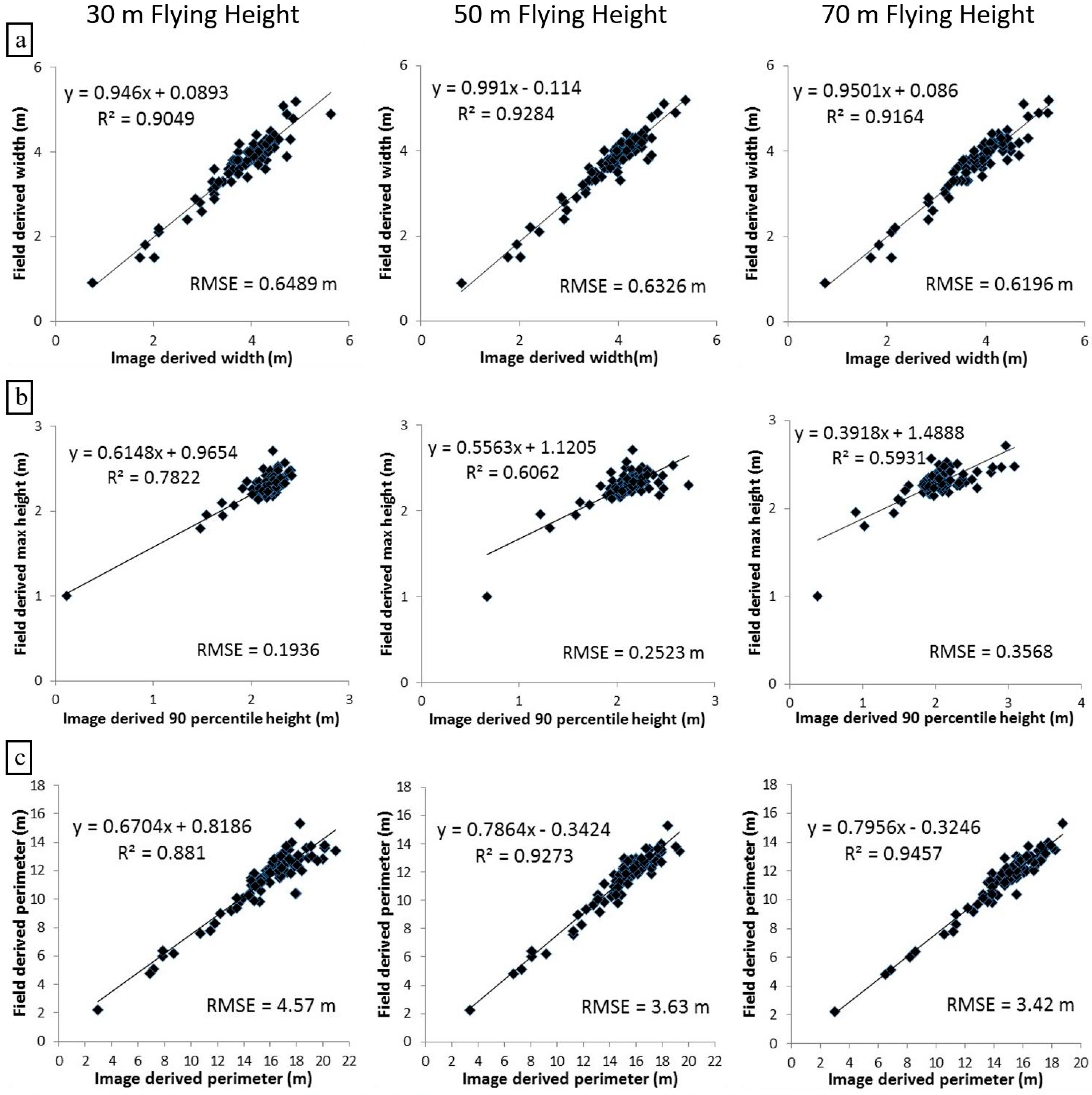 Figure 9. R2 values based on the positive relationships between field measured PPC and image derived spectral bands, indices and texture measures produced from imagery collected at 30, 50 and 70 m flying height.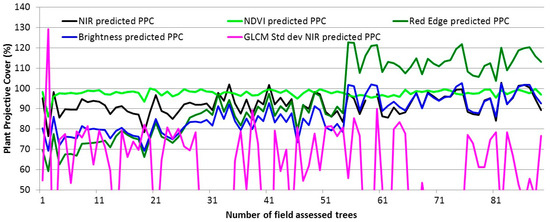 Figure 10. Estimated PPC of the 89 pre-pruned tree crowns for which PPC was measured post-pruning. PPC for the pre-pruned tree crowns was estimated using the best-fit equations based on the post-pruned image and field data.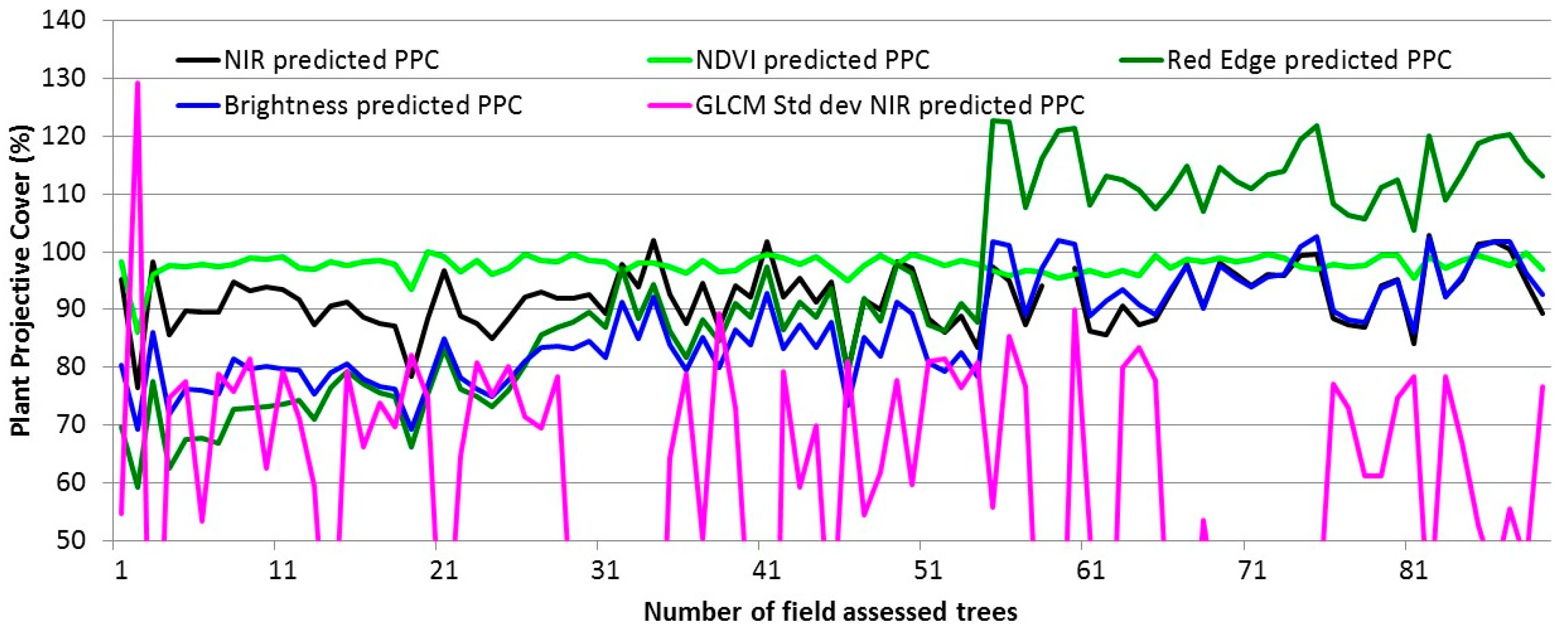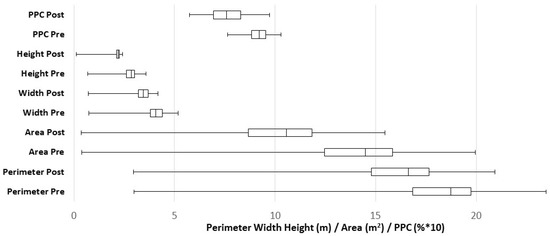 Figure 11. Pre- and post-pruning differences in minimum, Q1, median, Q3 and maximum values for the 189 mapped lychee trees for tree crown perimeter, area, width, 90th percentile height, and PPC measured from the UAV imagery collected at 30 m height.
Figure 12. Pre- and post-pruning differences for the 89 field assessed lychee trees for (a) tree crown perimeter; (b) tree crown area; (c) tree crown width; (d) 90th percentile tree crown height; and (e) PPC measured from the UAV imagery collected at 30 m height.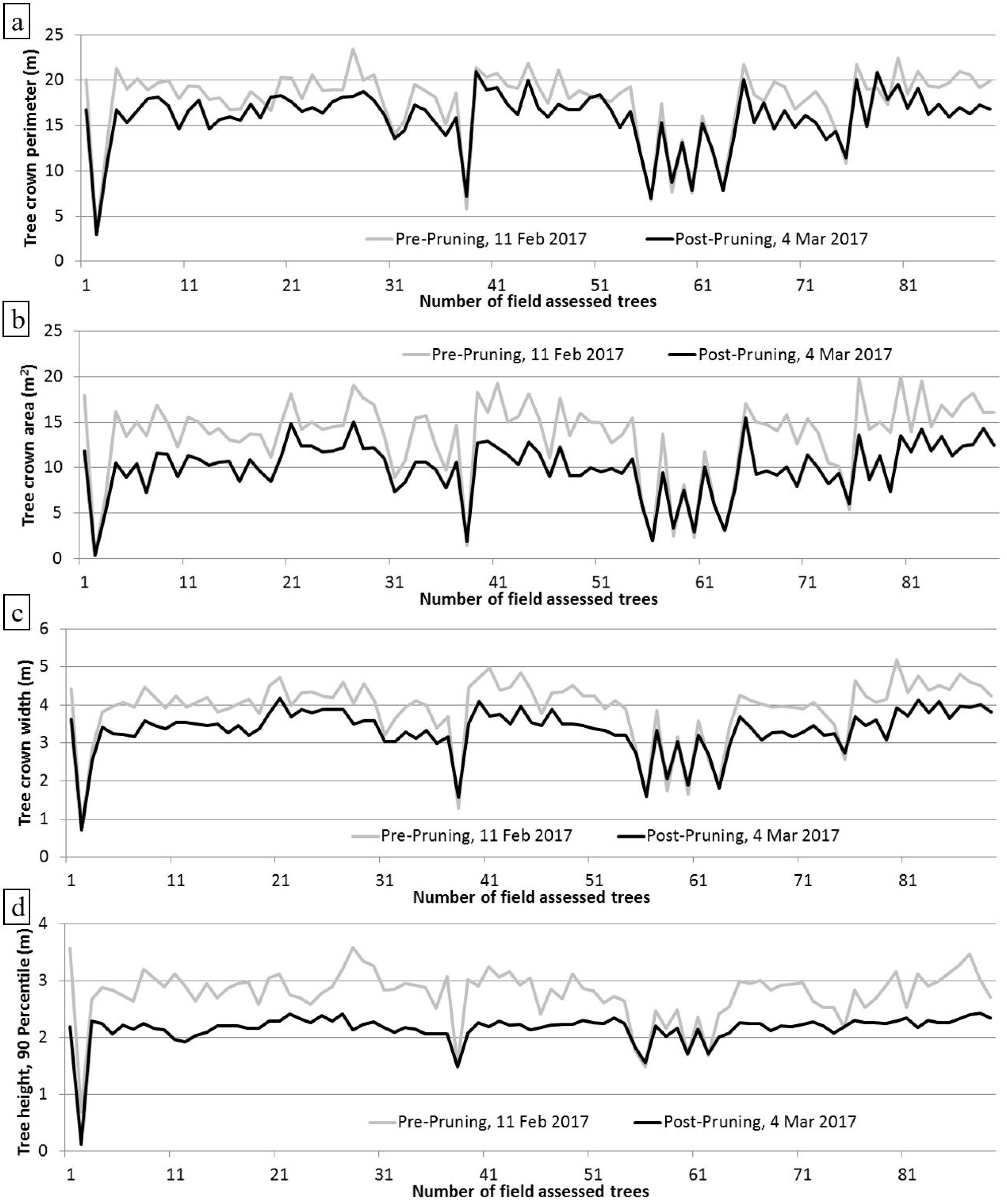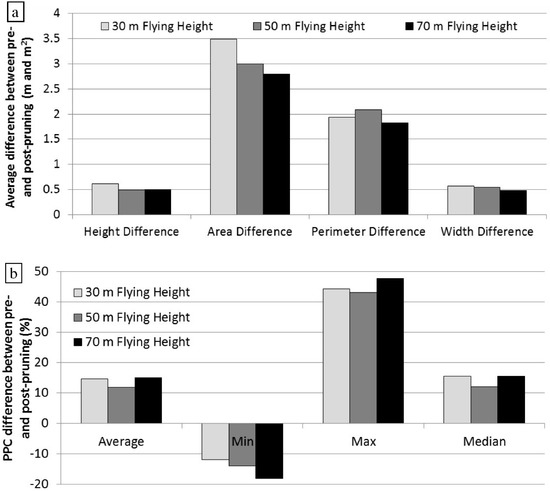 Figure 13. (a) Pre- and post-pruning differences for the 189 field assessed lychee trees for the 90th percentile tree crown height, area, perimeter, width; and (b) PPC, as a function of flying height.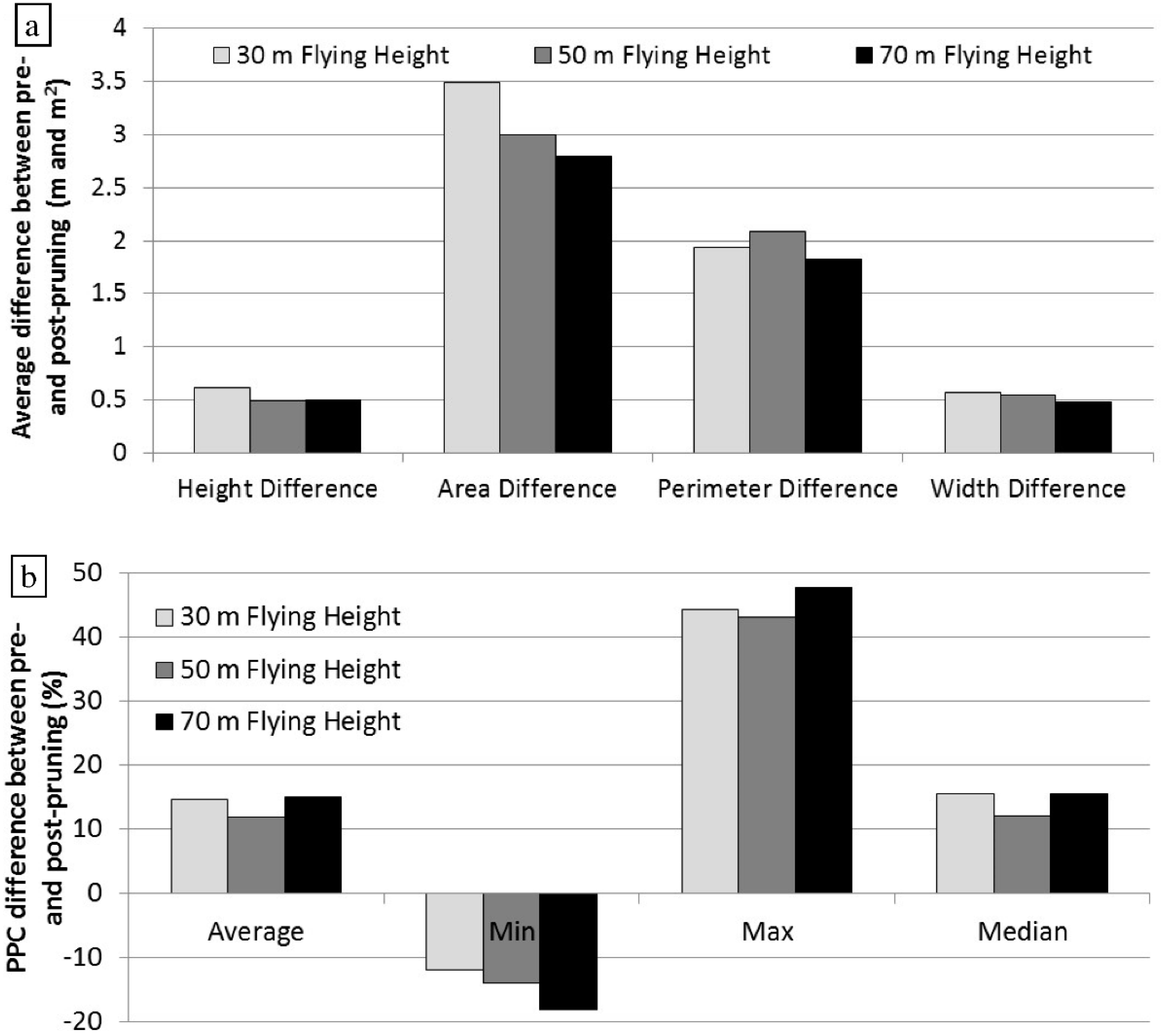 Table 1. Overall, user and producer accuracies of the GEOBIA tree crown delineation assessed against manual delineation of 89 lychee trees.
| Flying Height (m) | Overall (%) | User (%) | Producer (%) |
| --- | --- | --- | --- |
| 30 | 96.5 | 97.8 | 98.6 |
| 50 | 96.4 | 97.6 | 98.8 |
| 70 | 96.2 | 96.9 | 99.3 |

Table 2. Root Mean Square Errors of mapped lychee tree crown height (90 percentile), width and perimeter for the 10 youngest trees assessed against field data, post-pruning.
| Flying Height (m) | Tree Height (m) | Crown Width (m) | Crown Perimeter (m) |
| --- | --- | --- | --- |
| 30 | 0.3860 | 0.2280 | 2.5105 |
| 50 | 0.3934 | 0.2839 | 2.6700 |
| 70 | 0.6374 | 0.2604 | 2.3672 |

© 2018 by the authors. Licensee MDPI, Basel, Switzerland. This article is an open access article distributed under the terms and conditions of the Creative Commons Attribution (CC BY) license (http://creativecommons.org/licenses/by/4.0/).