A WFS-SVM Model for Soil Salinity Mapping in Keriya Oasis, Northwestern China Using Polarimetric Decomposition and Fully PolSAR Data
1
College of Resources and Environmental Science, Ministry of Education Key Laboratory of Oasis Ecology, Xinjiang University, Urumqi 830046, China
2
Department of Earth and Atmospheric Sciences, Saint Louis University, St. Louis, MO 63108, USA
*
Author to whom correspondence should be addressed.
Received: 16 March 2018 / Revised: 6 April 2018 / Accepted: 9 April 2018 / Published: 12 April 2018
Abstract
Timely monitoring and mapping of salt-affected areas are essential for the prevention of land degradation and sustainable soil management in arid and semi-arid regions. The main objective of this study was to develop Synthetic Aperture Radar (SAR) polarimetry techniques for improved soil salinity mapping in the Keriya Oasis in the Xinjiang Uyghur Autonomous Region (Xinjiang), China, where salinized soil appears to be a major threat to local agricultural productivity. Multiple polarimetric target decomposition, optimal feature subset selection (wrapper feature selector, WFS), and support vector machine (SVM) algorithms were used for optimal soil salinization classification using quad-polarized PALSAR-2 data. A threefold exercise was conducted. First, 16 polarimetric decomposition methods were implemented and a wide range of polarimetric parameters and SAR discriminators were derived in order to mine hidden information in PolSAR data. Second, the optimal polarimetric feature subset that constitutes 19 polarimetric elements was selected adopting the WFS approach; optimum classification parameters were identified, and the optimal SVM classification model was obtained by employing a cross-validation method. Third, the WFS-SVM classification model was constructed, optimized, and implemented based on the optimal match of polarimetric features and optimum classification parameters. Soils with different salinization degrees (i.e., highly, moderately and slightly salinized soils) were extracted. Finally, classification results were compared with the Wishart supervised classification and conventional SVM classification to examine the performance of the proposed method for salinity mapping. Detailed field investigations and ground data were used for the validation of the adopted methods. The overall accuracy and kappa coefficient of the proposed WFS-SVM model were 87.57% and 0.85, respectively that were much higher than those obtained by the Wishart supervised classification with values of 73.87% and 0.68, as well as those of the commonly applied SVM classification of 83.61% and 0.80. Accuracy of different salinized soil mapping was also enhanced with the proposed methodology. The results showed that the proposed method outperformed the Wishart and SVM classification, and demonstrated the advantages offered by the WFS-SVM classification and potentials of PolSAR data in the monitoring soil salinization.
View Full-Text
►

▼

Figures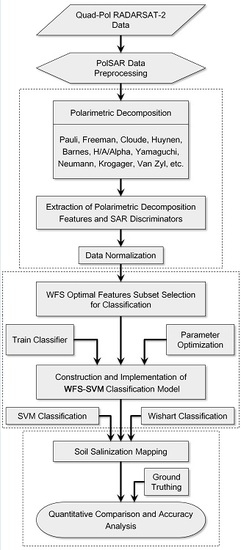 Graphical abstract
This is an open access article distributed under the
Creative Commons Attribution License
which permits unrestricted use, distribution, and reproduction in any medium, provided the original work is properly cited (CC BY 4.0).

Share & Cite This Article
MDPI and ACS Style
Nurmemet, I.; Sagan, V.; Ding, J.-L.; Halik, Ü.; Abliz, A.; Yakup, Z. A WFS-SVM Model for Soil Salinity Mapping in Keriya Oasis, Northwestern China Using Polarimetric Decomposition and Fully PolSAR Data. Remote Sens. 2018, 10, 598.
Note that from the first issue of 2016, MDPI journals use article numbers instead of page numbers. See further details here.
Related Articles
Comments
[Return to top]