Thaw Subsidence of a Yedoma Landscape in Northern Siberia, Measured In Situ and Estimated from TerraSAR-X Interferometry
1
Periglacial Research Section, Alfred Wegener Institute Helmholtz Center for Polar and Marine Research, 14473 Potsdam, Germany
2
GIScience Research Group, Institute of Geography, Heidelberg University, 69117 Heidelberg, Germany
3
Institute of Geosciences, Christian-Albrechts-University, 24118 Kiel, Germany
4
Gamma Remote Sensing, CH-3073 Gümligen, Switzerland
5
Department of Geography, University of Guelph, Guelph, ON N1G 2W1, Canada
6
Department of Geosciences, University of Oslo, 0315 Oslo, Norway
7
Department of Geography, Humboldt University of Berlin, 10099 Berlin, Germany
*
Author to whom correspondence should be addressed.
Received: 2 February 2018 / Revised: 14 March 2018 / Accepted: 19 March 2018 / Published: 21 March 2018
Abstract
In permafrost areas, seasonal freeze-thaw cycles result in upward and downward movements of the ground. For some permafrost areas, long-term downward movements were reported during the last decade. We measured seasonal and multi-year ground movements in a yedoma region of the Lena River Delta, Siberia, in 2013–2017, using reference rods installed deep in the permafrost. The seasonal subsidence was 1.7 ± 1.5 cm in the cold summer of 2013 and 4.8 ± 2 cm in the warm summer of 2014. Furthermore, we measured a pronounced multi-year net subsidence of 9.3 ± 5.7 cm from spring 2013 to the end of summer 2017. Importantly, we observed a high spatial variability of subsidence of up to 6 cm across a sub-meter horizontal scale. In summer 2013, we accompanied our field measurements with Differential Synthetic Aperture Radar Interferometry (DInSAR) on repeat-pass TerraSAR-X (TSX) data from the summer of 2013 to detect summer thaw subsidence over the same study area. Interferometry was strongly affected by a fast phase coherence loss, atmospheric artifacts, and possibly the choice of reference point. A cumulative ground movement map, built from a continuous interferogram stack, did not reveal a subsidence on the upland but showed a distinct subsidence of up to 2 cm in most of the thermokarst basins. There, the spatial pattern of DInSAR-measured subsidence corresponded well with relative surface wetness identified with the near infra-red band of a high-resolution optical image. Our study suggests that (i) although X-band SAR has serious limitations for ground movement monitoring in permafrost landscapes, it can provide valuable information for specific environments like thermokarst basins, and (ii) due to the high sub-pixel spatial variability of ground movements, a validation scheme needs to be developed and implemented for future DInSAR studies in permafrost environments.
View Full-Text
►

▼

Figures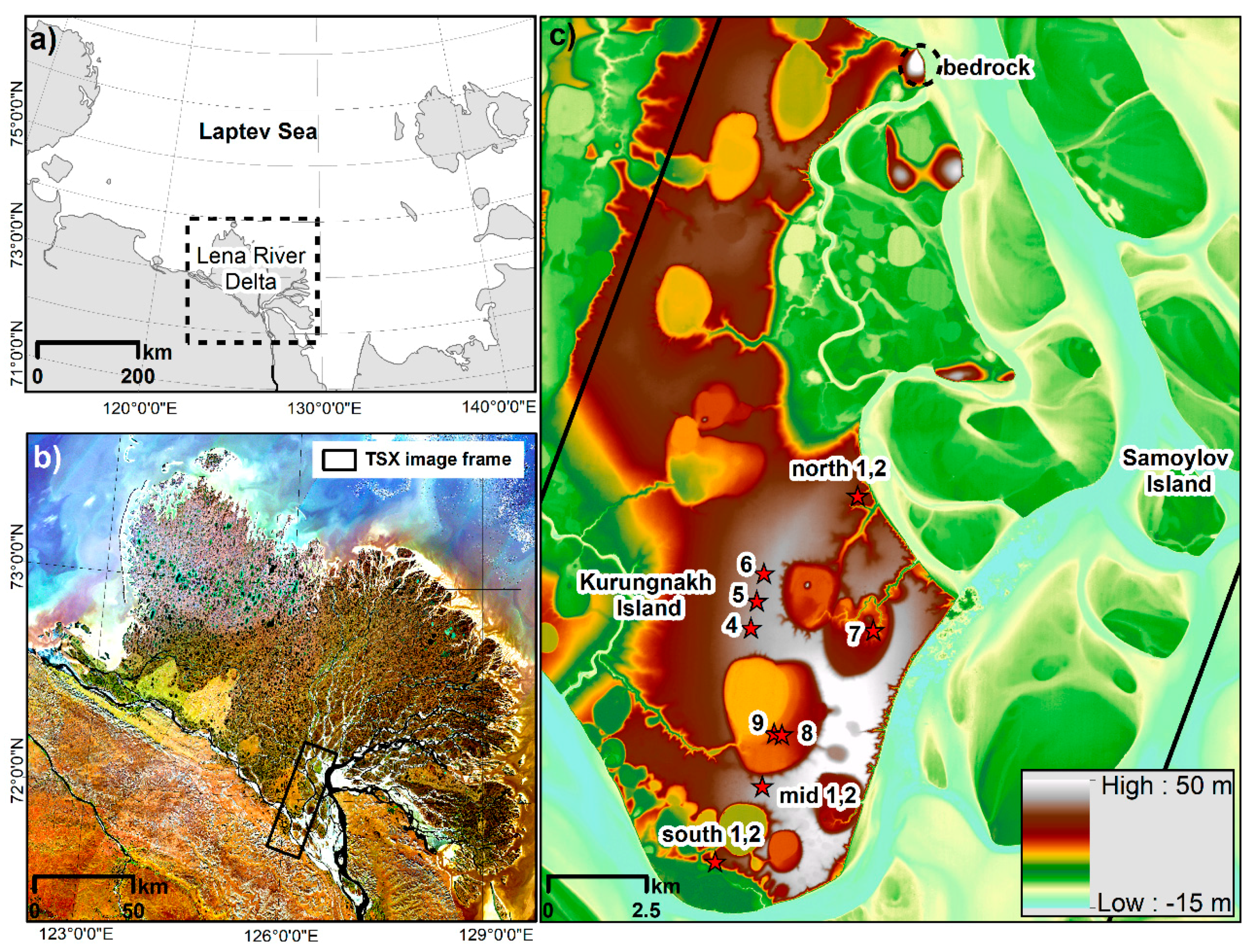 Figure 1
This is an open access article distributed under the
Creative Commons Attribution License
which permits unrestricted use, distribution, and reproduction in any medium, provided the original work is properly cited (CC BY 4.0).

Share & Cite This Article
MDPI and ACS Style
Antonova, S.; Sudhaus, H.; Strozzi, T.; Zwieback, S.; Kääb, A.; Heim, B.; Langer, M.; Bornemann, N.; Boike, J. Thaw Subsidence of a Yedoma Landscape in Northern Siberia, Measured In Situ and Estimated from TerraSAR-X Interferometry. Remote Sens. 2018, 10, 494.
Note that from the first issue of 2016, MDPI journals use article numbers instead of page numbers. See further details here.
Related Articles
Comments
[Return to top]