Open Access This article is
freely available
re-usable
Article
An Automatic Random Forest-OBIA Algorithm for Early Weed Mapping between and within Crop Rows Using UAV Imagery
1
Department of Crop Protection, Institute for Sustainable Agriculture (IAS), Spanish National Research Council (CSIC), 14004 Córdoba, Spain
2
Plant Protection Department, Institute of Agricultural Sciences (ICA), Spanish National Research Council (CSIC), 28006 Madrid, Spain
3
Department of Geoinformatics—Z_GIS, University of Salzburg, 5020 Salzburg, Austria
*
Author to whom correspondence should be addressed.
Received: 26 December 2017 / Accepted: 8 February 2018 / Published: 12 February 2018
Abstract
:
Accurate and timely detection of weeds between and within crop rows in the early growth stage is considered one of the main challenges in site-specific weed management (SSWM). In this context, a robust and innovative automatic object-based image analysis (OBIA) algorithm was developed on Unmanned Aerial Vehicle (UAV) images to design early post-emergence prescription maps. This novel algorithm makes the major contribution. The OBIA algorithm combined Digital Surface Models (DSMs), orthomosaics and machine learning techniques (Random Forest, RF). OBIA-based plant heights were accurately estimated and used as a feature in the automatic sample selection by the RF classifier; this was the second research contribution. RF randomly selected a class balanced training set, obtained the optimum features values and classified the image, requiring no manual training, making this procedure time-efficient and more accurate, since it removes errors due to a subjective manual task. The ability to discriminate weeds was significantly affected by the imagery spatial resolution and weed density, making the use of higher spatial resolution images more suitable. Finally, prescription maps for in-season post-emergence SSWM were created based on the weed maps—the third research contribution—which could help farmers in decision-making to optimize crop management by rationalization of the herbicide application. The short time involved in the process (image capture and analysis) would allow timely weed control during critical periods, crucial for preventing yield loss.
Keywords:
Digital Surface Model; segmentation; precision agriculture; in-season post-emergence site-specific weed control; plant height
Acknowledgments
This research was partly financed by the AGL2017-83325-C4-4-R Project (Spanish Ministry of Economy, Industry and Competitiveness) and EU-FEDER funds. Research of de Castro and Peña was financed by the Juan de la Cierva and Ramon y Cajal Programs, respectively. Research of Ovidiu Csillik was supported by the Austrian Science Fund (FWF) through the Doctoral College GIScience (DK W1237-N23). All the fields belong to private owners, and the flights and field samplings were carried out after a written agreement had been signed. We acknowledge support of the publication fee by the CSIC Open Access Publication Support Initiative through its Unit of Information Resources for Research (URICI).
Author Contributions
A.I.D.C., J.M.P. and F.L.-G. conceived and designed the experiments; A.I.D.C., J.M.P., J.T.-S. and F.M.J.-B. performed the experiments; A.I.D.C., J.T.-S and O.C. analyzed the data; F.L.-G. and J.M.P. contributed with equipment and analysis tools; A.I.D.C. and J.T.-S. wrote the paper. F.L.-G. collaborated in the discussion of the results and revised the manuscript. All authors have read and approved the manuscript.
Conflicts of Interest
The authors declare no conflict of interest. The founding sponsors had no role in the design of the study; in the collection, analyses, or interpretation of data; in the writing of the manuscript, and in the decision to publish the results.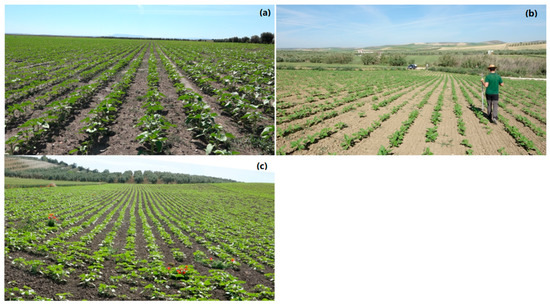 Figure 1. General view of the three studied sunflower crops in early stage: (a) S1–16; (b) S1–17; (c) S1–17.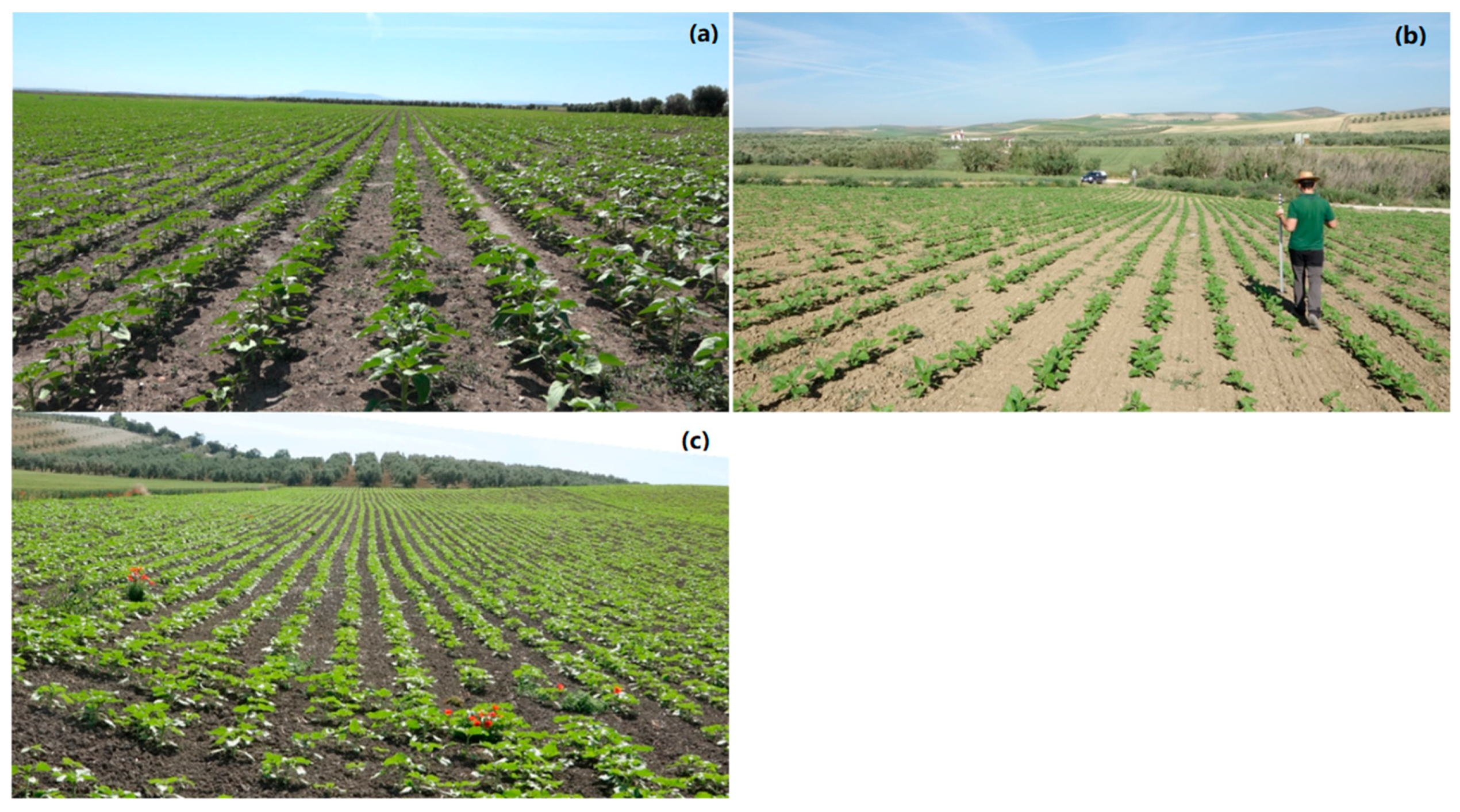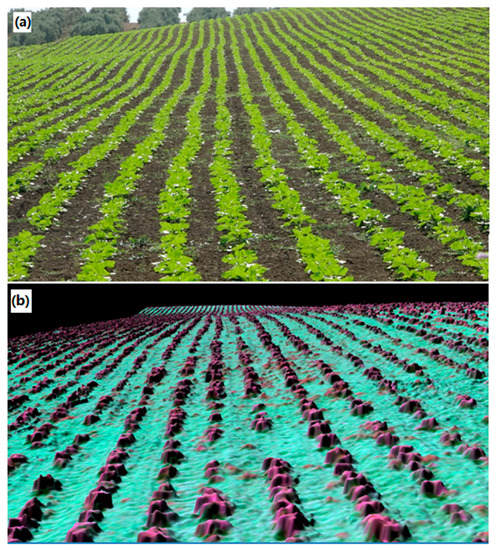 Figure 3. (a) Detail of one of the studied sunflower fields; (b) A partial view of the corresponding DSM produced by the photogrammetric processing of the remote images taken with the UAV.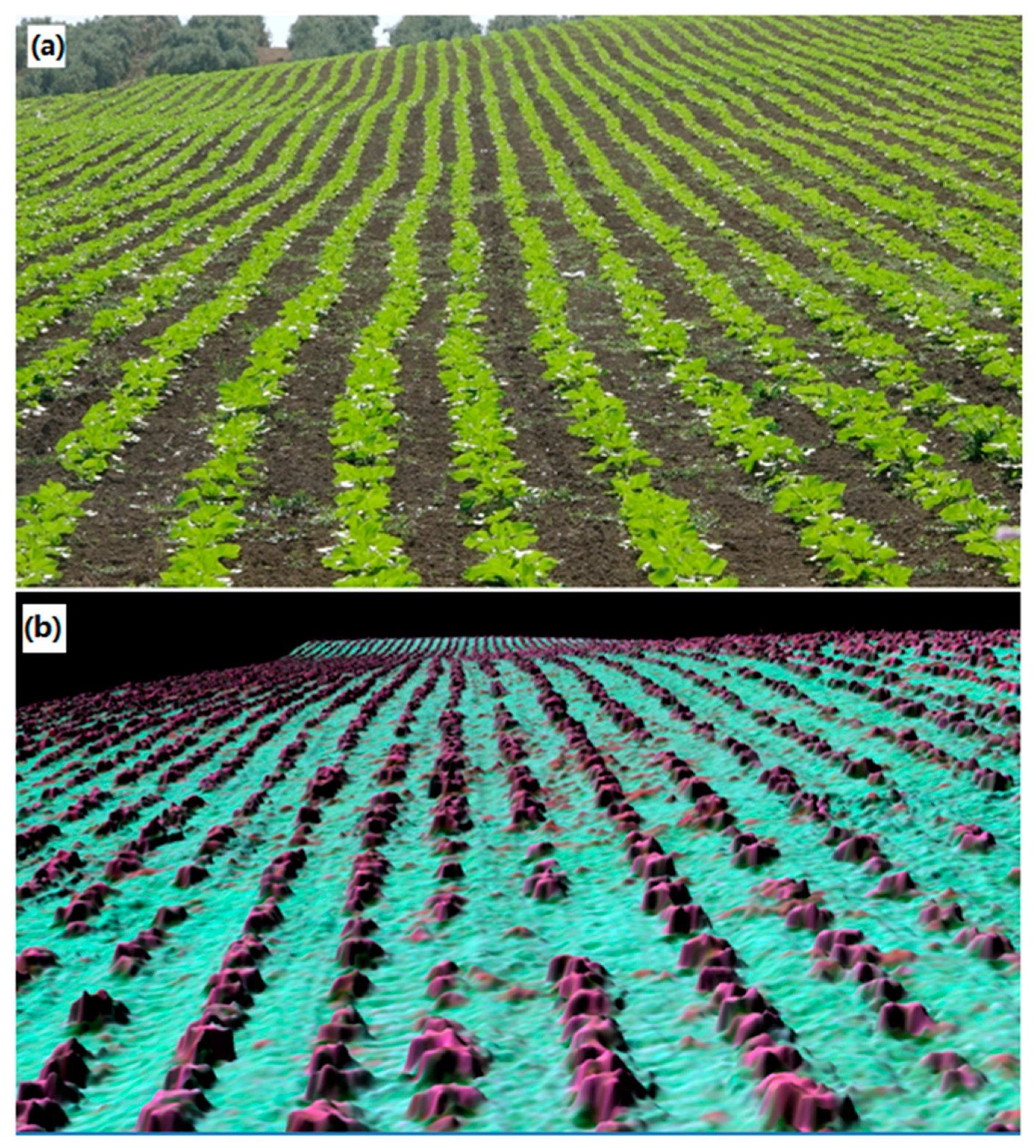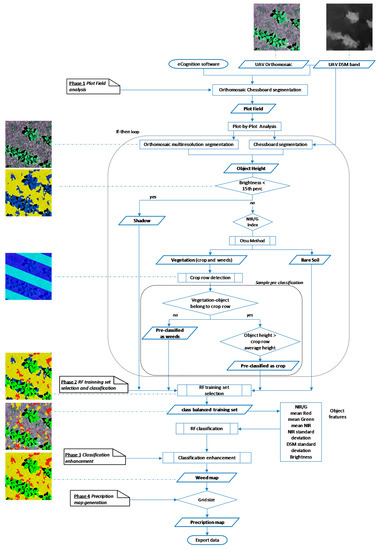 Figure 4. Flowchart and graphical examples of the Object Based Image Analysis (OBIA) procedure outputs for weed detection outside and within crop rows.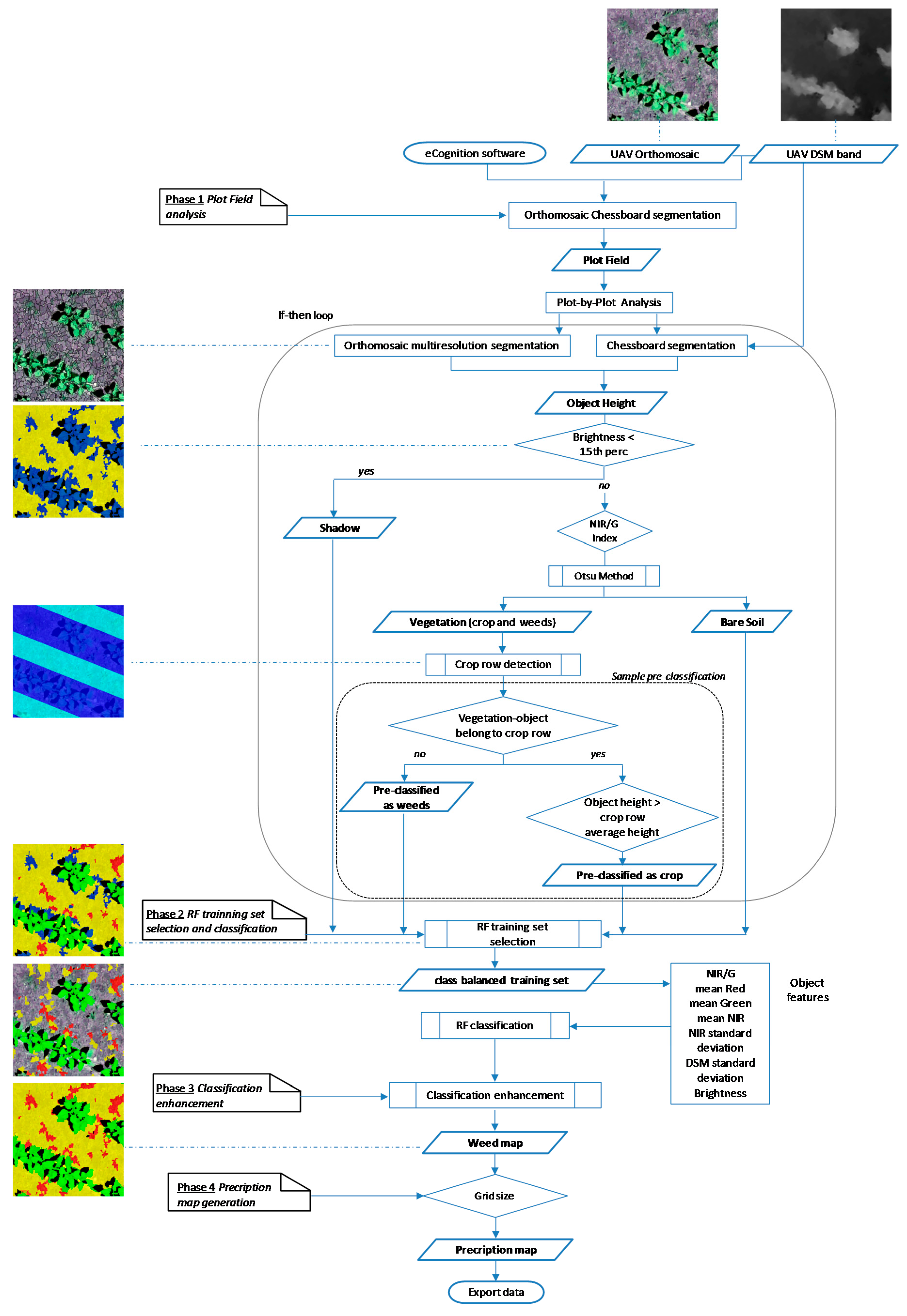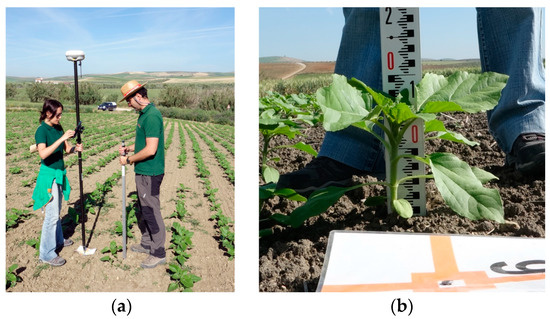 Figure 5. Field work images depicting: (a) acquisition of GPS coordinates of validation points; (b) measurement of the plant height.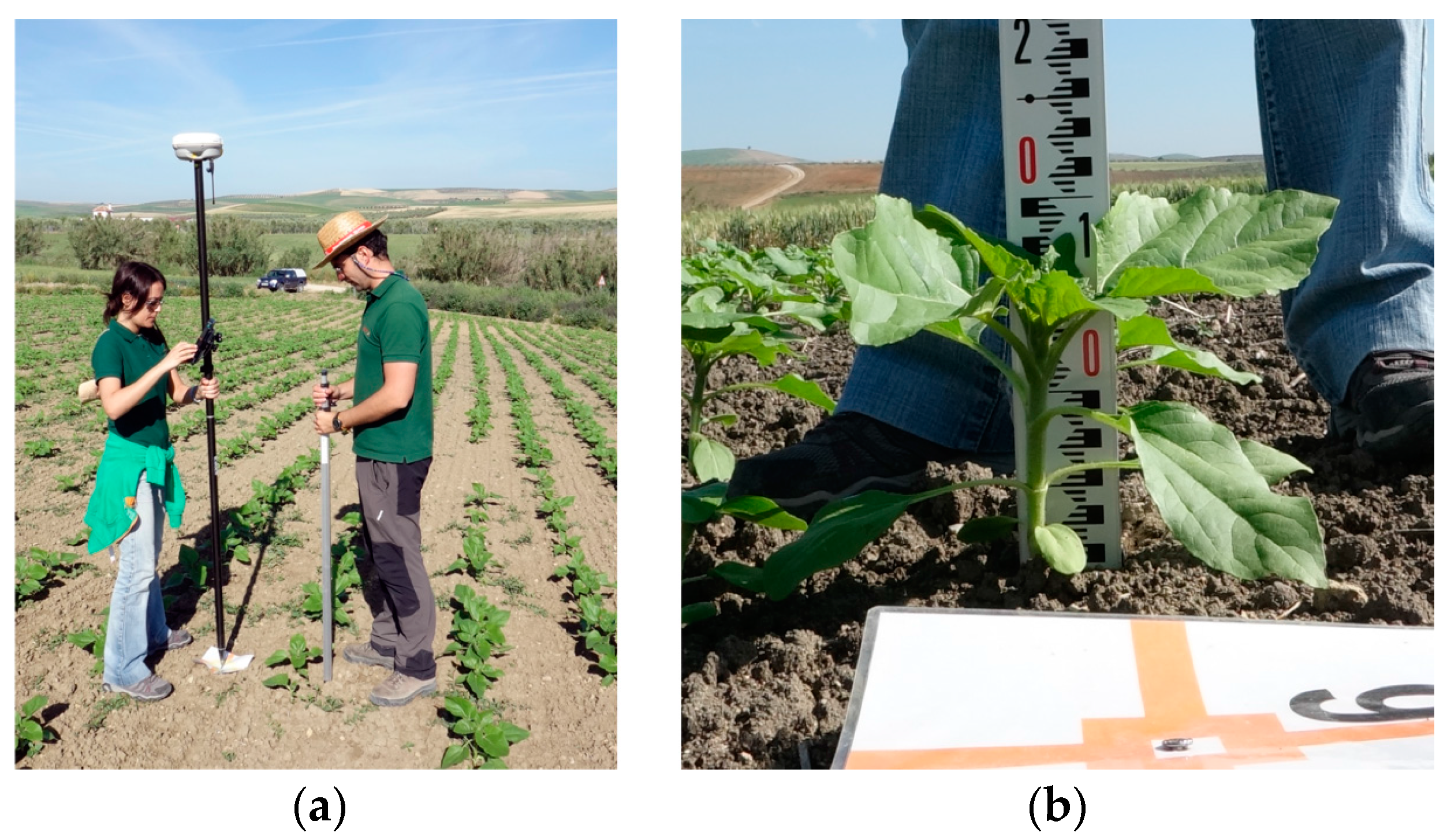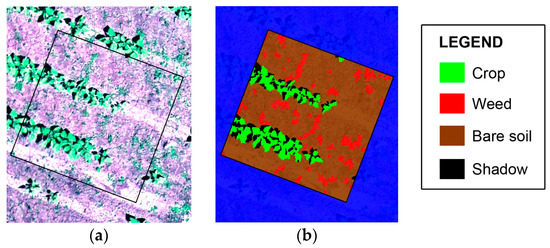 Figure 6. Detail of a validation frames in field S1–16: (a) original image (G-NIR-R composition); (b) manually classified frame.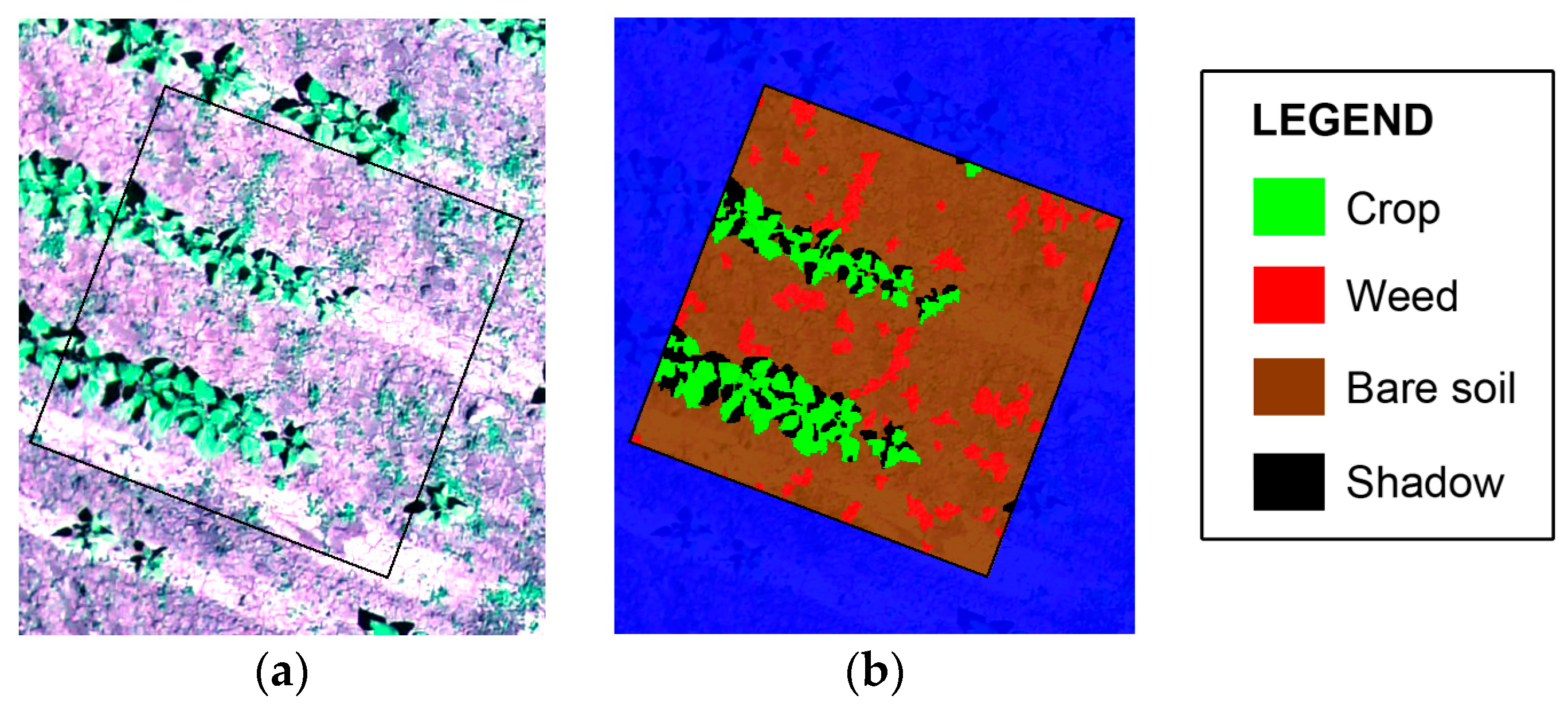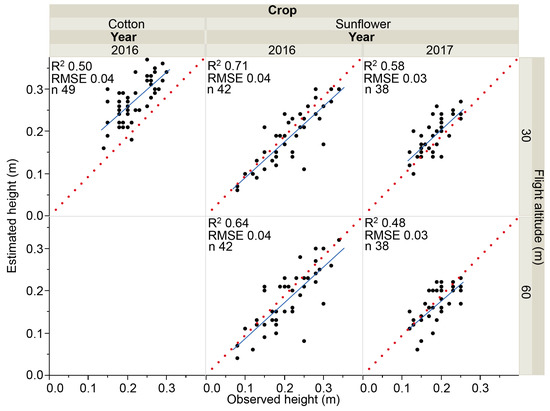 Figure 7.
OBIA-based estimated height vs. observed height as affected by crop, fight altitude and year. The root mean square error (RMSE) and correlation coefficient (
R
2
) derived from the regression fit are included for every scenario (
p
< 0.0001). The solid line is the fitted linear function and the red dotted line is the 1:1 line.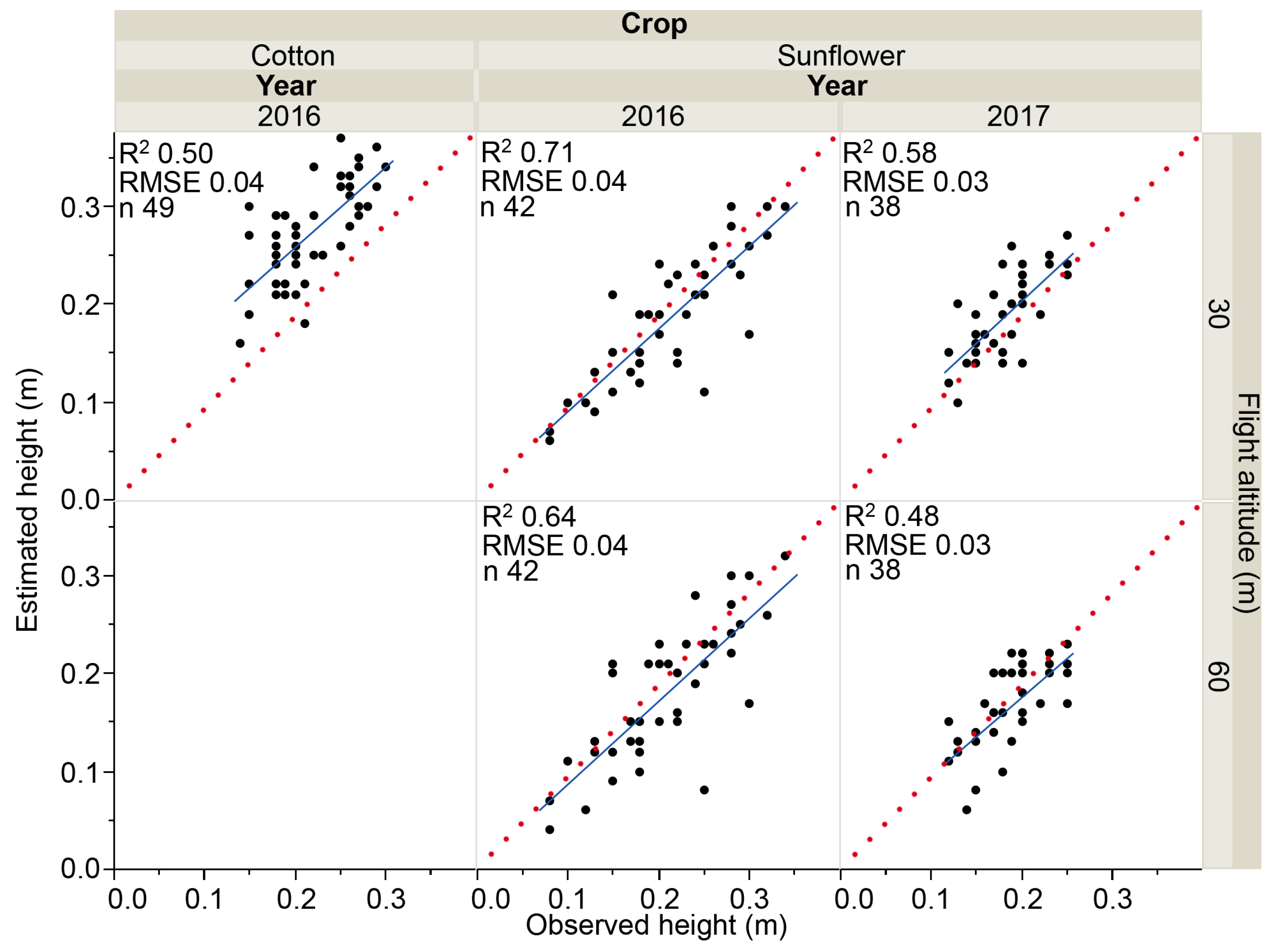 Figure 8. Classified image by applying the auto-trained Random Forest classifier Object Based Image Analysis (RF-OBIA) algorithm to Unmanned Aerial Vehicle (UAV) images at 30 m flight altitude: (a) sunflower field; (b) cotton field.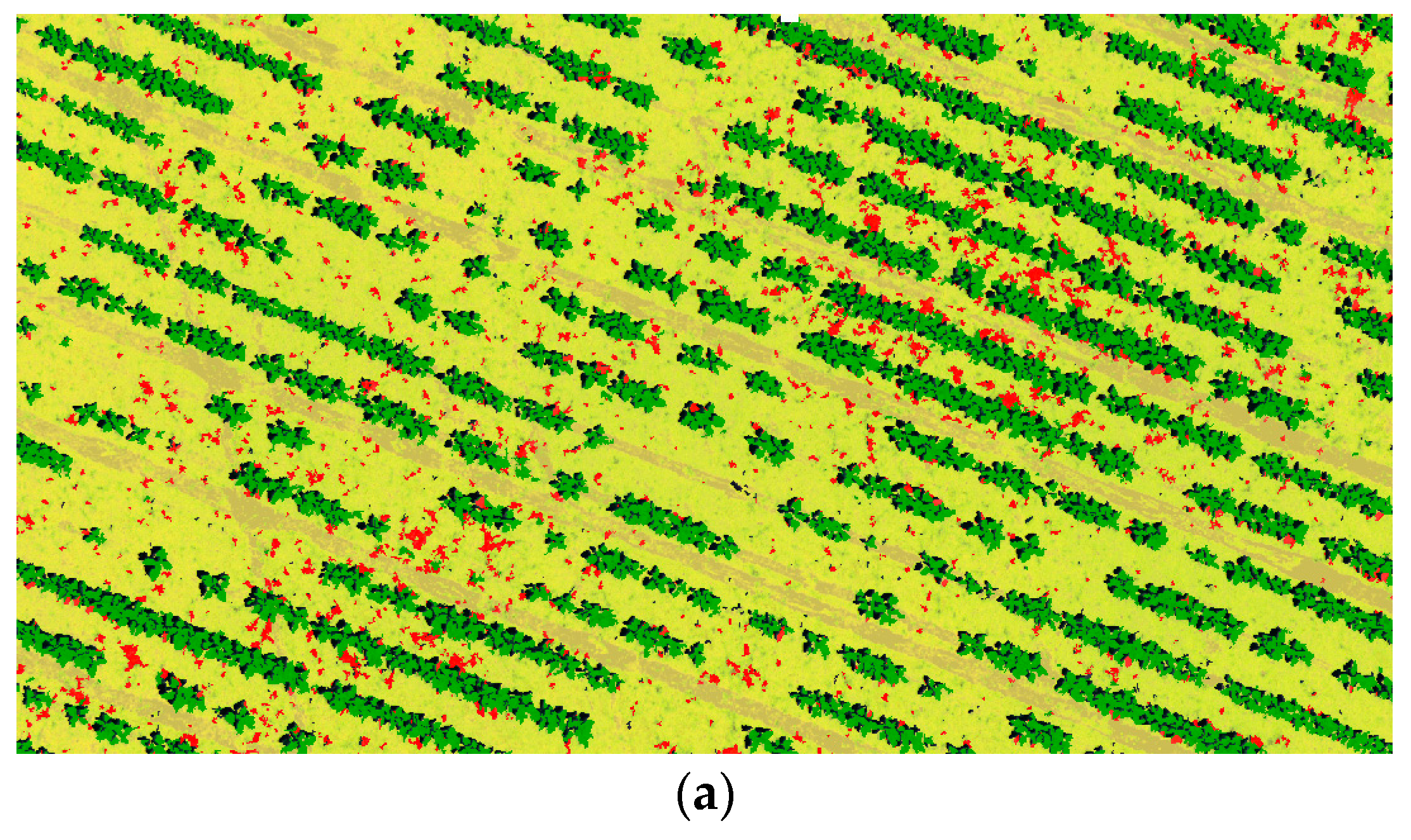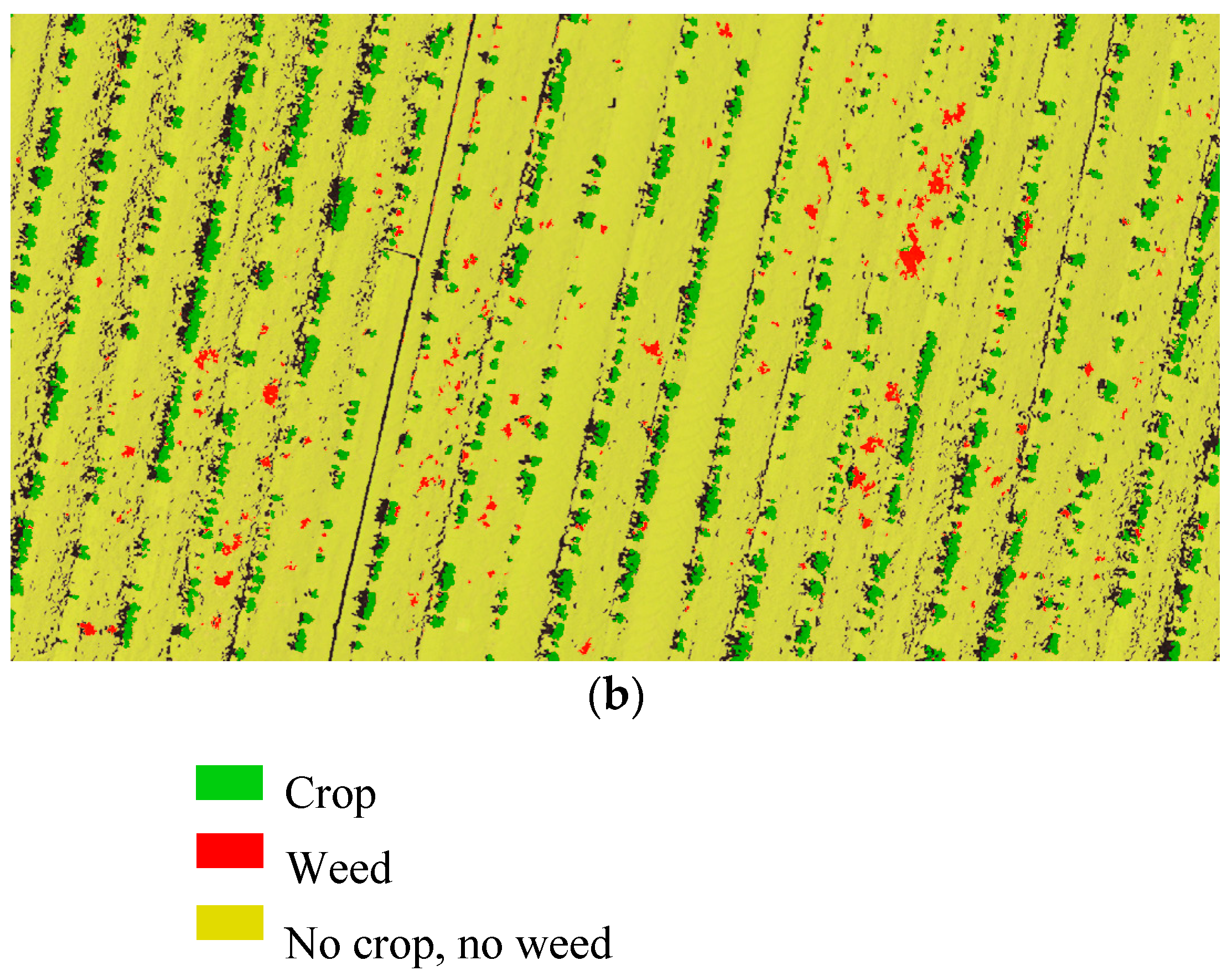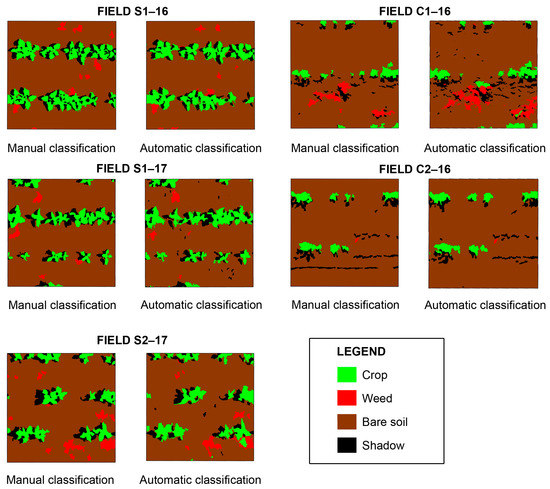 Figure 9. Examples of 2 × 2 frames validation frames, showing manual and automatic OBIA-based classification from each studied field image, taken at 30 m flight altitude.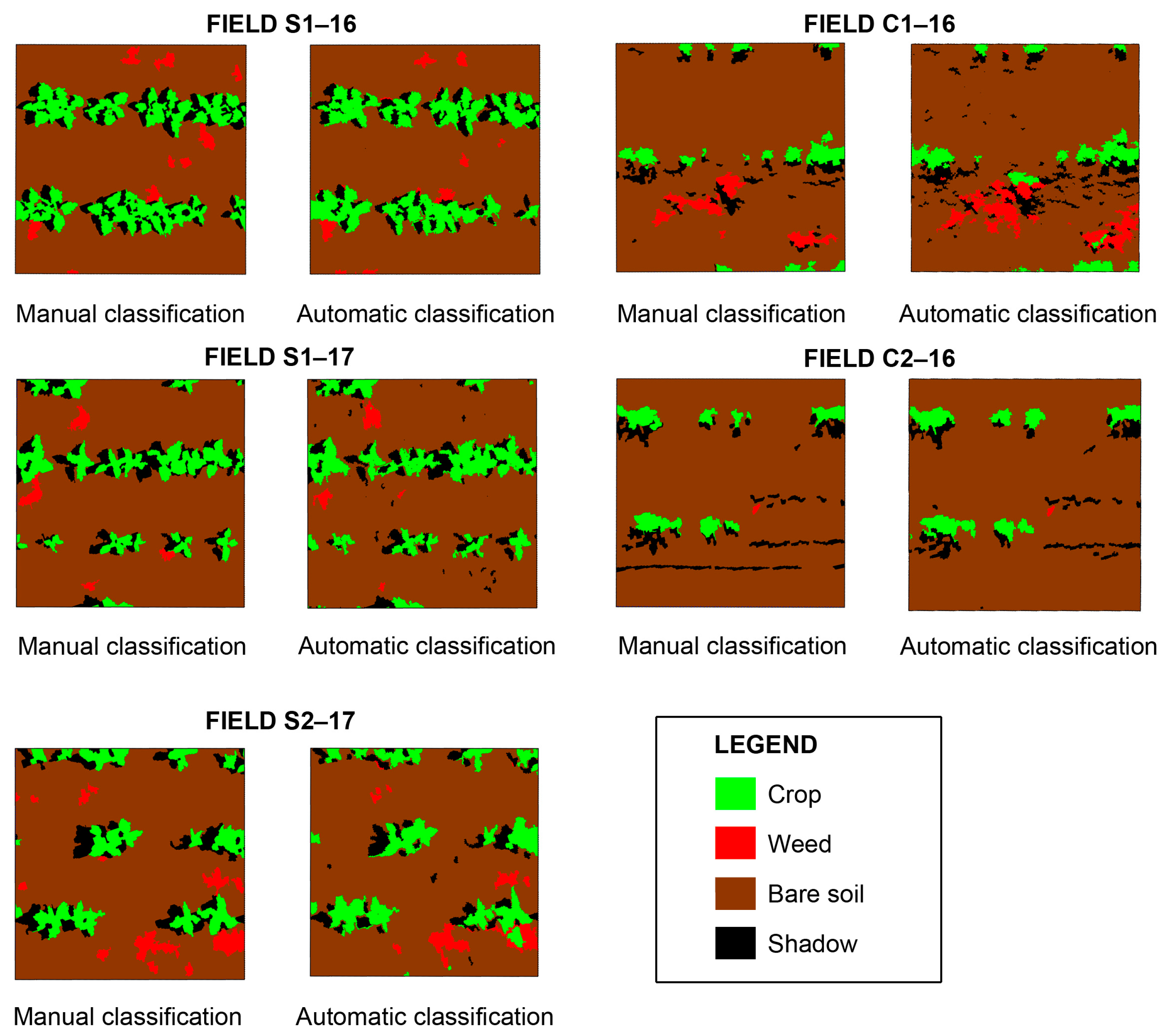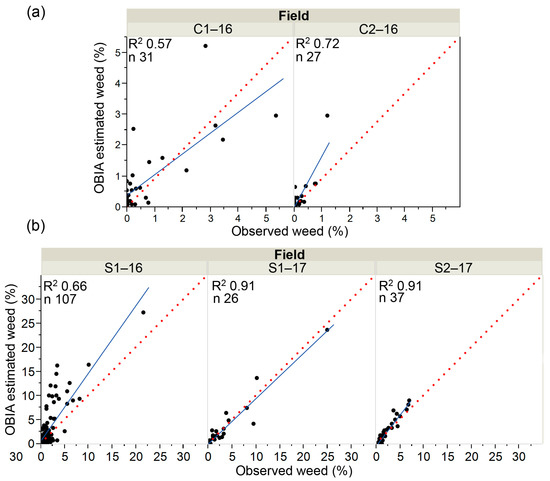 Figure 10.
Graphics comparing observed and OBIA-estimated weed coverage at the 30 m flight altitude: (
a
) cotton fields; (
b
) sunflower fields. Correlation coefficients (
R
2
) derived from the calculated regression fit are included for every scenario (
p
< 0.0001). The solid and dotted lines represent the fitted linear function and the 1:1 line, respectively.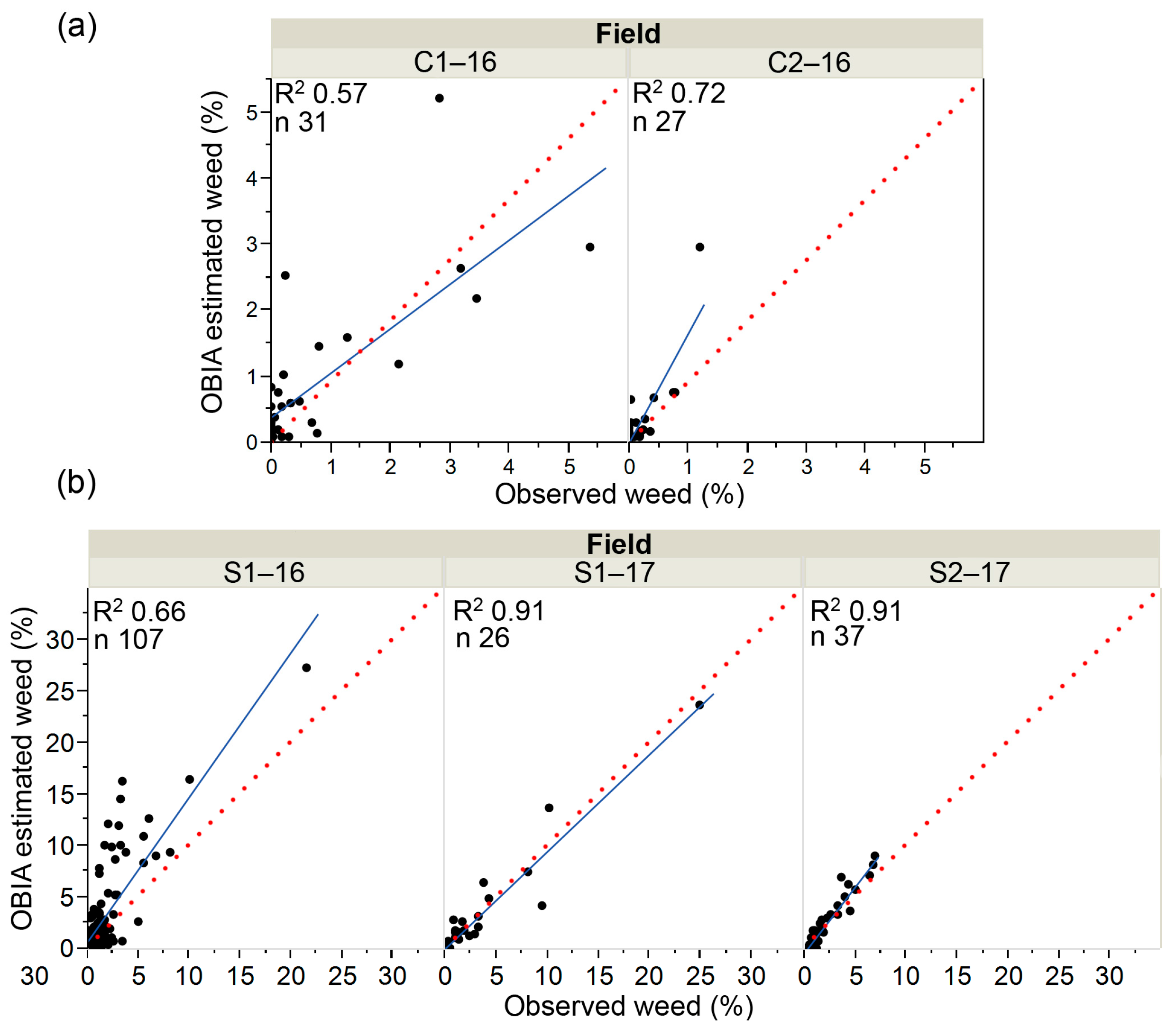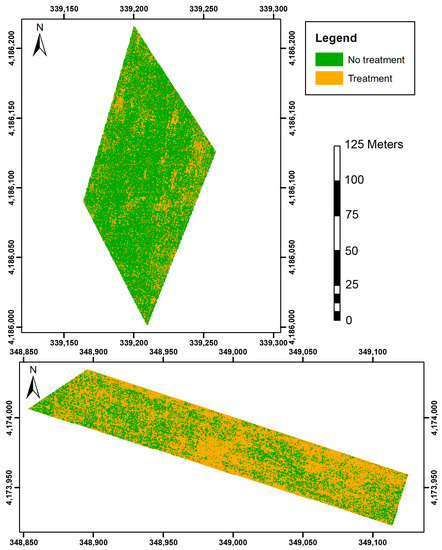 Figure 11. Prescription maps based on a treatment threshold of 0% obtained in: (a) sunflower; (b) cotton. Reference system UTM 30N, datum ETRS-89.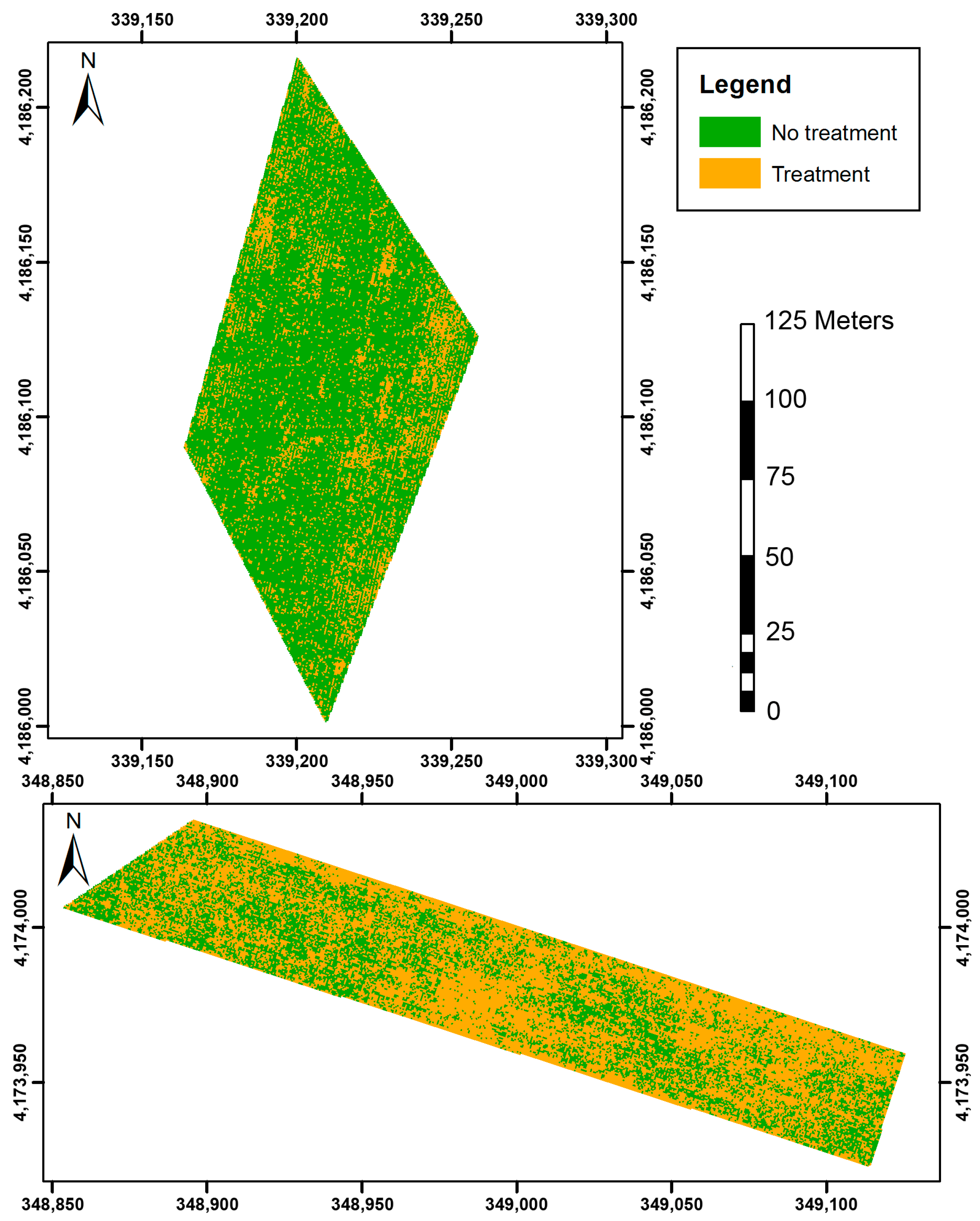 Crop
Name
Flight Date
Crop Row Separation (m)
Area (ha)
Weed Validation Frames
Sunflower
S1–16
June 2016
0.8
4.22
107
S1–17
May 2017
0.7
1.03
26
S2–17
May 2017
0.7
1.56
37
Cotton
C1–16
June 2016
0.95
1.13
31
C2–16
June 2016
0.95
1.05
27

Table 2. Description of the training set automatically selected by the RF classifier implemented in the OBIA algorithm.
Trainning Set Data
Selected Training Objects (%) *
Selected Training Area over Total Field Area Φ
Field
Flight Altitude
Bare Soil
Crop
Shadow
Weed
Bare Soil
Crop
Shadow
Weed
Total
C1–16

30

23
28
27
22
1.0
0.9
0.7
0.5
3.0
C2–16

30

23
28
28
22
0.6
0.5
0.5
0.3
1.8
S1–16

30

19
28
30
23
1.4
1.1
1.1
0.8
4.2

60

17
32
36
16
2.6
2.0
1.4
0.5
6.5
S1–17

30

21
28
29
23
1.5
1.3
1.2
0.9
4.9

60

18
30
33
19
2.9
1.7
1.7
0.8
7.1
S2–17

30

20
28
29
23
1.4
1.4
1.4
1.0
5.2

60

18
30
33
19
2.5
1.8
1.7
0.9
6.8
* selected training objects: percentage of objects selected for every class in the total training set data for the image. Φ selected training area over total field area (%): selected area as training data for every class over total image area.

Table 3. Accuracy assessment on weed discrimination based on the Weed detection Accuracy (WdA) index attained for UAV images taken at 30 m flight altitude.
Crop
Field
WdA (%)
Cotton
C1–16
84.0
C2–16
63.0
Sunflower
S1–16
59.1
S1–17
87.9
S2–17
81.1

Table 4. Herbicide savings obtained from herbicide application maps based on treatment threshold of 0%.
Crop
Field
Herbicide Saving (%)
Cotton
C1–16
60
C2–16
79
Sunflower
S1–16
27
S1–17
37
S2–17
28

© 2018 by the authors. Licensee MDPI, Basel, Switzerland. This article is an open access article distributed under the terms and conditions of the Creative Commons Attribution (CC BY) license (http://creativecommons.org/licenses/by/4.0/).