Improving the Performance of 3-D Radiative Transfer Model FLIGHT to Simulate Optical Properties of a Tree-Grass Ecosystem
1
Laboratorio de Espectro-Radiometría y Teledetección Ambiental (SpecLab), Consejo Superior de Investigaciones Científicas (CSIC), Albasanz 26-28, 28037 Madrid, Spain
2
Max Planck Institute for Biogeochemistry, Hanks Knöll Straße 10, D-07745 Jena, Germany
3
Departamento de Medio Ambiente, Instituto Nacional de Investigación y Tecnología Agraria y Alimentaria (INIA), Ctra. Coruña, Km 7.5, 28040 Madrid, Spain
4
INDEHESA-Forest Research Group, Universidad de Extremadura, 10600 Plasencia, Spain
5
Departamento de Geografía y Ordenación del Territorio, Universidad de Zaragoza, Pedro Cerbuna, 12, 50009 Zaragoza, Spain
6
Departamento de Geología, Geografía y Medio Ambiente, Universidad de Alcalá, Colegios 2, 28801 Alcalá de Henares, Spain
7
Department of Geography, Swansea University, Swansea SA2 8PP, UK
8
Center for Spatial Technologies and Remote Sensing (CSTARS), University of California, Davis, One Shields Avenue, 139 Veihmeyer Hall, Davis, CA 95616, USA
*
Author to whom correspondence should be addressed.
Received: 23 October 2018 / Revised: 5 December 2018 / Accepted: 15 December 2018 / Published: 18 December 2018
Abstract
The 3-D Radiative Transfer Model (RTM) FLIGHT can represent scattering in open forest or savannas featuring underlying bare soils. However, FLIGHT might not be suitable for multilayered tree-grass ecosystems (TGE), where a grass understory can dominate the reflectance factor (
RF
) dynamics due to strong seasonal variability and low tree fractional cover. To address this issue, we coupled FLIGHT with the 1-D RTM PROSAIL. The model is evaluated against spectral observations of proximal and remote sensing sensors: the ASD Fieldspec
®
3 spectroradiometer, the Airborne Spectrographic Imager (CASI) and the MultiSpectral Instrument (MSI) onboard Sentinel-2. We tested the capability of both PROSAIL and PROSAIL+FLIGHT to reproduce the variability of different phenological stages determined by 16-year time series analysis of Moderate Resolution Imaging Spectroradiometer-Normalized Difference Vegetation Index (MODIS-
NDVI
). Then, we combined concomitant observations of biophysical variables and
RF
to test the capability of the models to reproduce observed
RF
. PROSAIL achieved a Relative Root Mean Square Error (
RRMSE
) between 6% to 32% at proximal sensing scale. PROSAIL+FLIGHT
RRMSE
ranged between 7% to 31% at remote sensing scales.
RRMSE
increased in periods when large fractions of standing dead material mixed with emergent green grasses —especially in autumn—; suggesting that the model cannot represent the spectral features of this material. PROSAIL+FLIGHT improves
RF
simulation especially in summer and at mid-high view angles.
View Full-Text
►

▼

Figures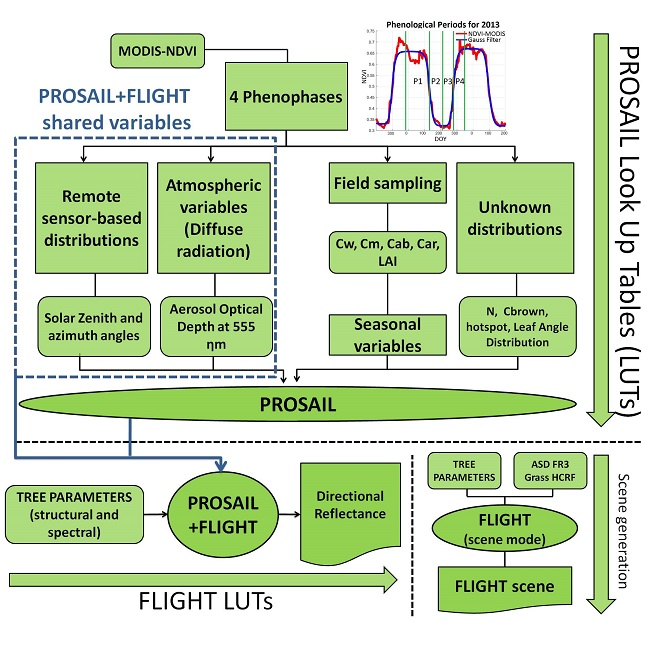 Graphical abstract
This is an open access article distributed under the
Creative Commons Attribution License
which permits unrestricted use, distribution, and reproduction in any medium, provided the original work is properly cited (CC BY 4.0).

Share & Cite This Article
MDPI and ACS Style
Melendo-Vega, J.R.; Martín, M.P.; Pacheco-Labrador, J.; González-Cascón, R.; Moreno, G.; Pérez, F.; Migliavacca, M.; García, M.; North, P.; Riaño, D. Improving the Performance of 3-D Radiative Transfer Model FLIGHT to Simulate Optical Properties of a Tree-Grass Ecosystem. Remote Sens. 2018, 10, 2061.
Note that from the first issue of 2016, MDPI journals use article numbers instead of page numbers. See further details here.
Related Articles
Comments
[Return to top]