Calibrations and Wind Observations of an Airborne Direct-Detection Wind LiDAR Supporting ESA's Aeolus Mission
Deutsches Zentrum für Luft- und Raumfahrt, Institut für Physik der Atmosphäre, Oberpfaffenhofen, Münchener Str. 20, 82234 Weßling, Germany
*
Author to whom correspondence should be addressed.
Received: 13 September 2018 / Revised: 7 December 2018 / Accepted: 13 December 2018 / Published: 18 December 2018
Abstract
The Aeolus satellite mission of the European Space Agency (ESA) has brought the first wind LiDAR to space to satisfy the long-existing need for global wind profile observations. Until the successful launch on 22 August 2018, pre-launch campaign activities supported the validation of the measurement principle, the instrument calibration, and the optimization of retrieval algorithms. Therefore, an airborne prototype instrument has been developed, the ALADIN Airborne Demonstrator (A2D), with ALADIN being the Atmospheric Laser Doppler Instrument of Aeolus. Two airborne campaigns were conducted over Greenland, Iceland and the Atlantic Ocean in September 2009 and May 2015, employing the A2D as the first worldwide airborne direct-detection Doppler Wind LiDAR (DWL) and a well-established coherent 2-µm wind LiDAR. Both wind LiDAR instruments were operated on the same aircraft measuring Mie backscatter from aerosols and clouds as well as Rayleigh backscatter from molecules in parallel. This paper particularly focuses on the instrument response calibration method of the A2D and its importance for accurate wind retrieval results. We provide a detailed description of the analysis of wind measurement data gathered during the two campaigns, introducing a dedicated aerial interpolation algorithm that takes into account the different resolution grids of the two LiDAR systems. A statistical comparison of line-of-sight (LOS) winds for the campaign in 2015 yielded estimations of the systematic and random (mean absolute deviation) errors of A2D observations of about 0.7 m/s and 2.1 m/s, respectively, for the Rayleigh, and 0.05 m/s and 2.3 m/s, respectively, for the Mie channel. In view of the launch of Aeolus, differences between the A2D and the satellite mission are highlighted along the way, identifying the particular assets and drawbacks.
View Full-Text
►

▼

Figures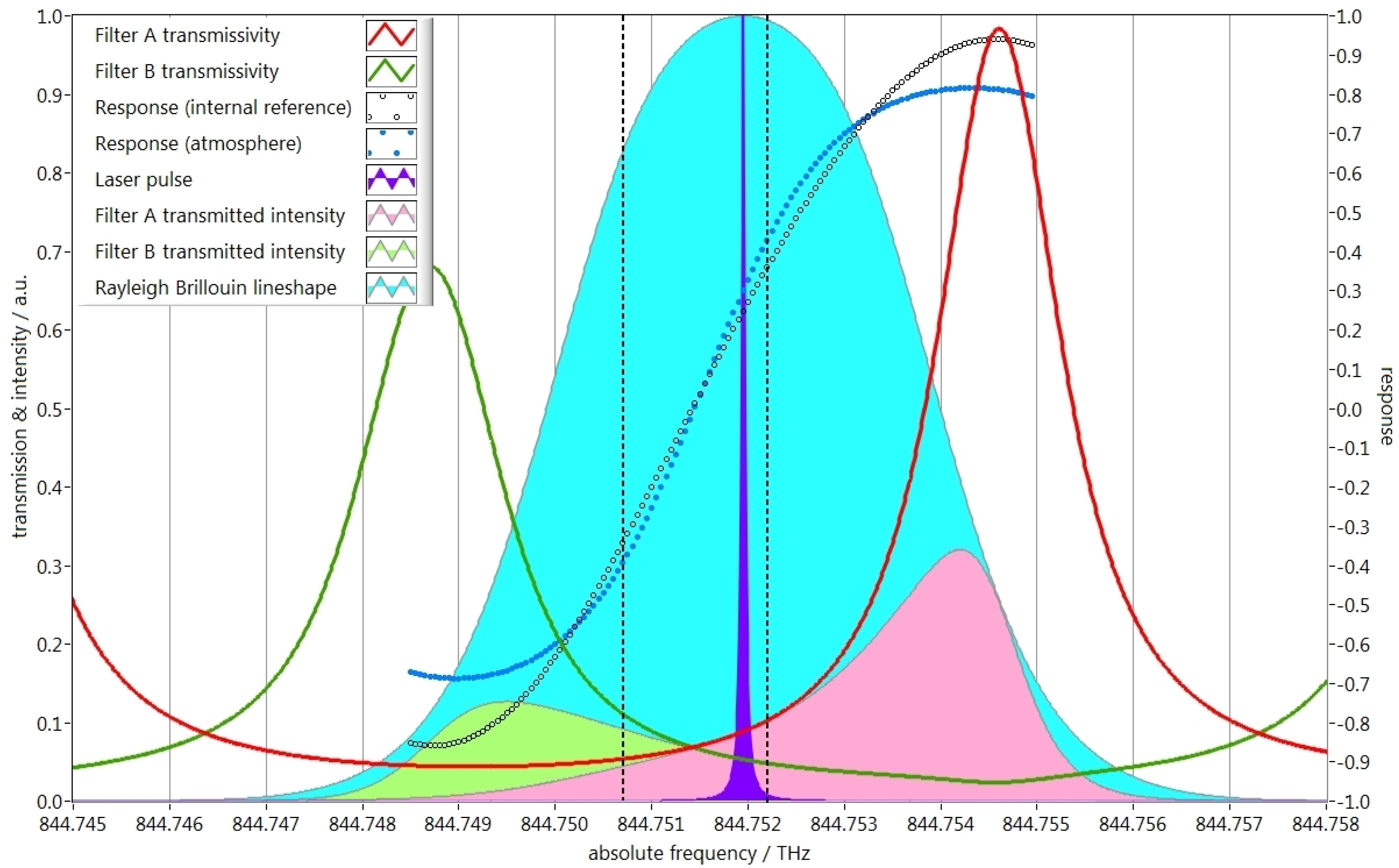 Figure 1
This is an open access article distributed under the
Creative Commons Attribution License
which permits unrestricted use, distribution, and reproduction in any medium, provided the original work is properly cited (CC BY 4.0).

Share & Cite This Article
MDPI and ACS Style
Marksteiner, U.; Lemmerz, C.; Lux, O.; Rahm, S.; Schäfler, A.; Witschas, B.; Reitebuch, O. Calibrations and Wind Observations of an Airborne Direct-Detection Wind LiDAR Supporting ESA's Aeolus Mission. Remote Sens. 2018, 10, 2056.
Note that from the first issue of 2016, MDPI journals use article numbers instead of page numbers. See further details here.
Related Articles
Comments
[Return to top]